Trending
Why is there a Vimto bottle monument in Manchester?
The story of the Granby Row gem that's been turning heads since the early 90s.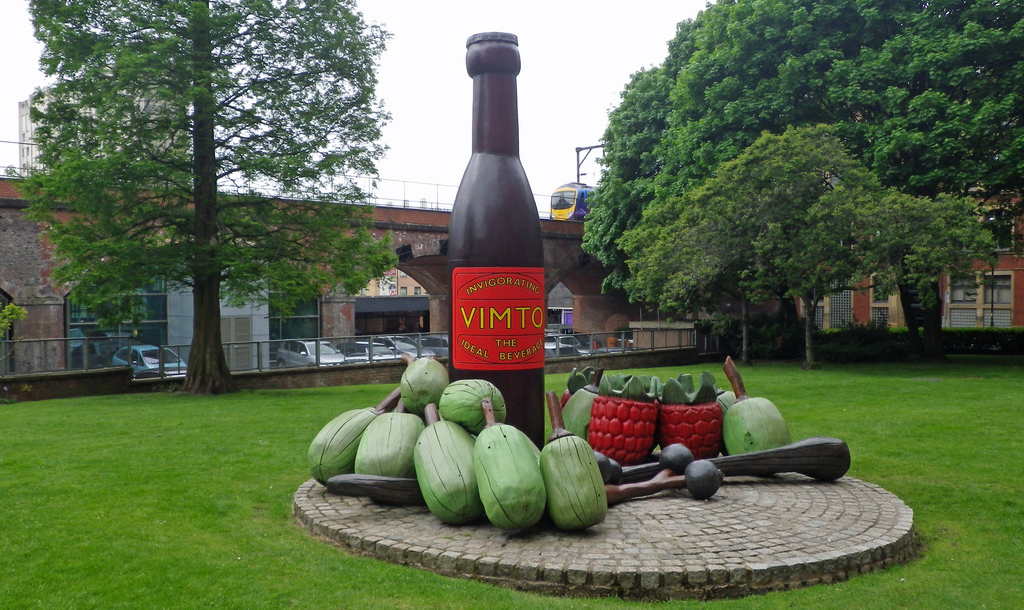 Every city has something to be proud of, and Manchester has a lot.
It might be a city with "so much to answer for", as the famous quote goes, but with a history that's as rich, vibrant, and culturally diverse as Manchester's, we're happy to answer for it.
From iconic music and sporting achievements, to groundbreaking inventions, political movements, world firsts, and so much more, there's no end to list of things that Manchester has gifted the world over the years, and we should have no shame in shouting about them from the rooftops with pride.
But are we forgetting something here? Is there something missing from that list?
Oh yeah, there's also Vimto.
Vimto is a much-loved Manchester-born soft drink that contains the juice of grapes, raspberries and blackcurrants – each in a 3% concentration – which is then flavoured with a selection of delicately-balanced herbs and spices.
It was created in 1908 at 19 Granby Row in Manchester city centre – now part of The University of Manchester's grounds – by John Noel Nichols, who was a wholesaler of herbs, spices and medicines that saw the market opening for soft drinks, due to the temperance movement and the passage of the 1908 Licensing Act.
It was originally sold under the name Vim Tonic, which Nichols shortened to Vimto in 1912.
It's hard to believe it now, but Vimto was originally registered as a health tonic or medicine when it was first created, but was then re-registered as a cordial in 1913.
It enjoyed so much success during the initial years following its creation that in 1910, because the Granby Row premises had become too small, Vimto production moved to a warehouse at Chapel Street, Salford, then to Old Trafford (1927), and finally to a state-of-the-art plant in Wythenshawe in 1970.
As well as its continued popularity throughout the 20th and 21st centrury, Vimto has even taken on a life of its own as a flavour too in more recent years, meaning that as well as being able to pop to your local shop or supermarket to buy some Vimto cordial, a bottle of still Vimto, a can of the fizzy kind from the chippy on a Friday, or even a Vimto slushie, you can now also buy some Vimto bon bons, Vimto ice lollies, candy sprays, chewy bars, and a cheeky Vimto cocktail to go along with it – although the latter doesn't actually contain Vimto, it has to be said.
There's even a Vimto Remix range too, boasting some other unique flavour combinations like Mango, Strawberry & Pineapple, and Raspberry, Orange & Passion Fruit, so it's really come a long way from its origins.
And yes, we know it's not for everyone.
Someone once pointed out that its name is an acronym for vomit, which you can make of that what you will, and it's also certainly got its fair share of competitors on the market too, but there's no denying it's a drink that's loved round these parts.
To cut a long story short, Manchester is pretty proud of Vimto.
So proud in fact, that we decided to dedicate a monument especially to it, and stick it pride of place in the heart of the city centre, on the very spot that it was created.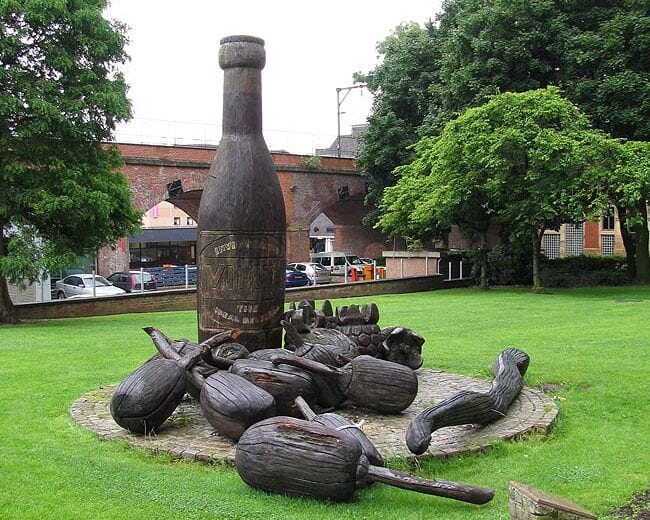 The sculpture is aptly entitled A Monument to Vimto.
The giant wooden bottle and berries was first commissioned by J.N. Nichols plc, and carved by environmental artist Kerry Morrison out of an oak tree from a sustainable forest, before being successfully installed in Granby Row in 1992.
And we're not kidding either, the monument now stands proudly at the site of the original factory where the first batch of Vimto was ever made.
After 19 years of the typical Manchester weather taking its toll, and plenty of attention from city revellers, the monument was ready for a refresh, and was thus "brought back to its former glory" in 2011 with a much-needed makeover.
The grapes and raspberries were restored – with the grapes changing from red to green to reflect the ingredients of Vimto – the blackcurrants were replaced entirely, a new wooden barrel was constructed to replace the bottom of the Vimto bottle, and new labels were carved and painted.
As bizarre as it may be, and despite the many heads it's turned over the years, Manchester is as proud of the Vimto monument as we are the drink itself.
And we would't have it any other way.
Featured Image – Flickr