TV & Showbiz
Love Island winners Kai and Sanam to spend part of £50k prize money on 'helping kids'
Fans of the ITV reality competition show have praised the "selfless" couple.
Love Island fans have been heaping praise on "selfless" winners Kai and Sanam after the couple revealed what they plan to spend part of their £50,000 prize money on.
In case you missed it, nearly two months after the smash-hit ITV reality competition show returned to our screens for its ninth series and it's second Winter edition, and a whole new lineup of hopeful singletons made the trip to South Africa in the look for love, the winners of Love Island 2023 were announced live on Monday night.
Host Maya Jama revealed that fan-favourite couple Kai Fagan and Sanam Harrinanan had clinched the coveted win.
The 24-year-old PE and Science teacher from Manchester, and the 24-year-old Social Worker from Bedford, beat runners-up Ron Hall and Lana Jenkins to take home the £50,000 prize money.
Tom Clare and Samie Elishi came in third, while Tanya Manhenga and Shaq Muhammad took fourth.
The couple certainly captured the hearts of Love Island fans after their romance first blossomed in Casa Amor when Sanam entered as a 'bombshell', and survived all other challenges thrown at it throughout the series.
ITV revealed yesterday that Kai and Sanam walked away with a huge 44% of the public final vote, compared to Lana and Ron's second place of 30%.
Kai and Sanam are the first winners in the show's history to have coupled-up in Casa Amor.
Kai – who also played semi-professional rugby for Burnage RFC alongside his teaching career – told presenter Maya Jama that Sanam had "blown me away straight away" after her introduction on the show, while Sanam admitted that "it was always Kai".
"I always said he was my number one and that, of course he is a very attractive guy, but apart from the looks, like I was just like… he's an amazing guy, everything about him," she added.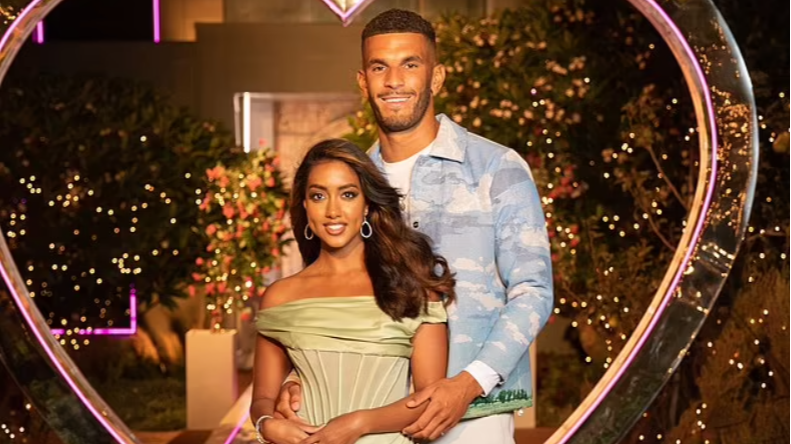 Now, the couple have spoken out for the first time since leaving the villa to dish on how they plan to spend their £50,000 winnings.
While they said that jetting off on a couple's holiday is definitely on the cards as soon as they get the chance to, they also explained how they plan to stay true to and honour their roots as a teacher and social worker by using part of the prize money to "help kids" – which has seen fans praise them for their "selfless" response.
In their first interview since being crowned Love Island 2023 winners, Kai and Sanam admitted that they know they have to be "sensible" with their prize money.
Kai explained: "Before I came in here, I wanted to start up a business and help kids get into physical activity. I don't want to turn my back on teaching, working with young kids and think I will use some of that to do that.
"I am not sure yet in what capacity."
"That's similar to me," Sanam added, "I came from social work – working with children who have been adopted. I know that sometimes in my area there can be limited services, so for me I want to be able to do something to aid and support them, being an advocate for them."
Read more:
Kai added: "Both our careers were pretty similar when we came in here, and the conversations we had and the reasons why we were doing them were very similar."
Featured Image – ITV