UK News
Hundreds hold vigil for Ukraine as Manchester lights up blue and yellow in solidarity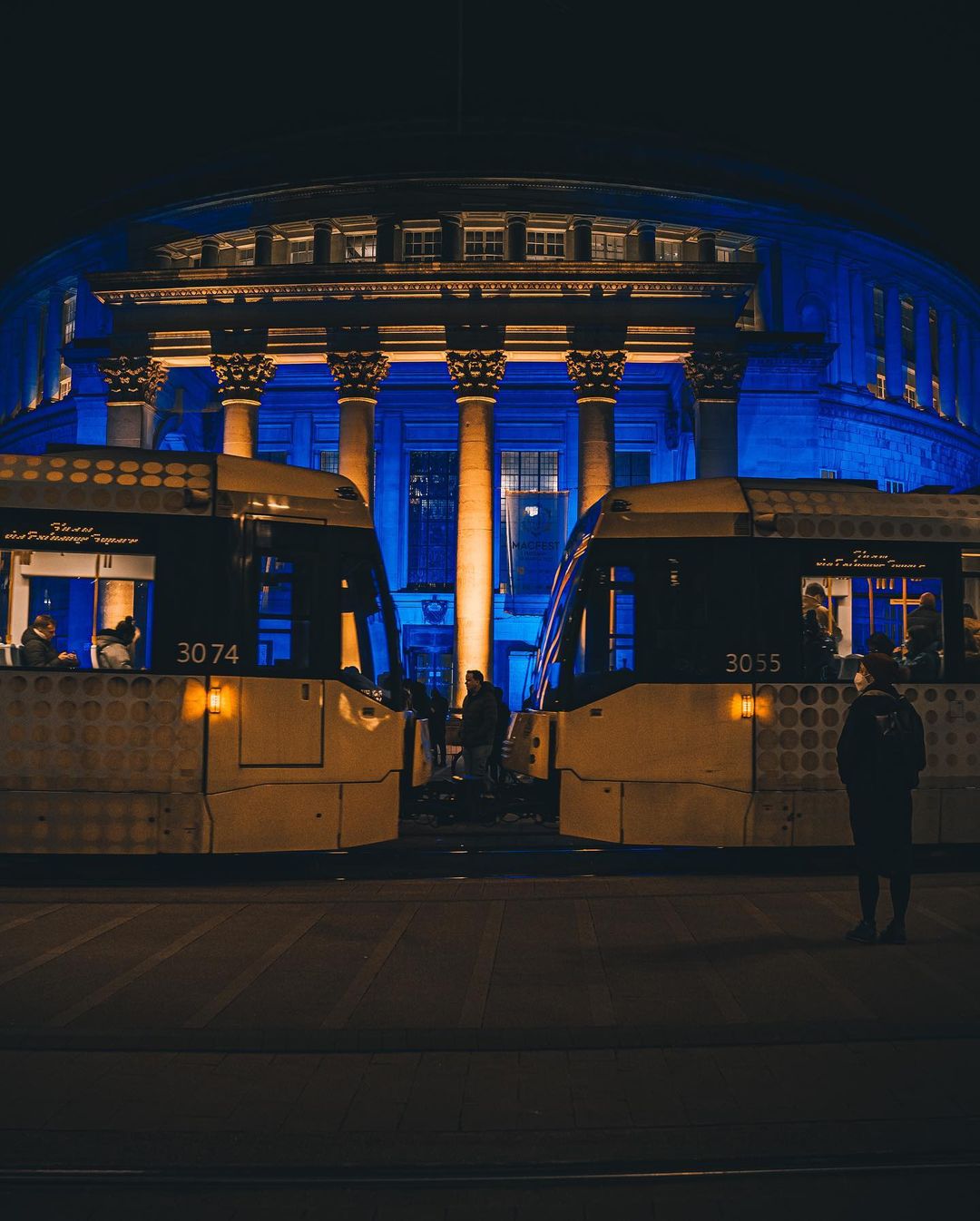 Hundreds of people gathered in Manchester city centre for a vigil for Ukraine last night.
The Central Library was lit up in blue and yellow, the colours of the Ukrainian flag, as a sign of solidarity with the nation.
Joining the crowds at St Peter's Square was Manchester City's Oleksandr Zinchenko, who has also spoken about the situation in his home country to his 1.5 million followers on Instagram.
Ukraine has been invaded by Russia this week, with reports of Russian troops now entering its capital city Kyiv.
Russia's full-scale invasion of Ukraine has also seen its troops seize control of the Chernobyl nuclear power plant.
At last night's Manchester vigil, around 400 attendees sang the Ukranian national anthem and listened to speeches, the Manchester Evening News reports.
The paper said that there were at least two Russians in the crowd last night protesting the actions of President Vladimir Putin.
Manchester City Council lit up one of the city's landmarks in the colours of the Ukranian flag overnight.
Zinchenko said on Instagram: "The whole civilized world is worried about the situation in my country. I can't stay away and try to convey my opinion.
"In the photo – my country. The country where I was born and raised. A country whose colors I defend in the international sports arena. A country that we try to glorify and develop. A country whose borders must remain inviolable.
"My country belongs to Ukrainians and no one will ever be able to appropriate it.
"We will not give up! Glory to Ukraine."
This morning, Ukraine's Defence Force tweeted to call for civilians to join the resistance, writing: "The statement, attributed to the Commander of Troops, Yuri Galushkin, reads:
Read more: Northern teens who made animal cruelty TikTok videos banned from keeping pets
"Today, Ukraine needs everything. All procedures for joining are simplified.
"Bring only your passport and identification number.
"There are no age restrictions."It tells people if they face problems signing up, they just need to refer to this official tweet.
Featured image: Instagram @yuliecler