Audio
Clint Boon takes us around Manchester's iconic Deaf Institute
Audio
Chatting with DJ Fabio ahead of 'A History of Jungle, Drum and Bass' with Grooverider and The Outlook Orchestra

Danny Jones
Ahead of their upcoming tour next year, we got the chance to one-half of legendary DJing duo, Fabio and Grooverider, who'll be coming to Manchester early next year.
'The Godfathers of Drum and Bass' were there at the very start of it all and have been able to see how the genre, along with offshoots like jungle, has evolved over the years — so it's only right that they be the ones to deliver a real education to ravers and newcomers this January.
Bringing their 'History of Jungle and Drum & Bass' to the Manchester Academy on Saturday, 13 January, 0161 is just one of three places that have been chosen for the limited run of shows and, as Fabio told us on the call, it because this city has a rich relationship with the genre and pioneering underground music in general.
Here's what else he had to say…
So you've got the tour starting in the New Year and it's a very limited run of shows — what can you tell us about what you've got in store?
What we've got in store is the best of live drum and bass and something very unique thing. It's a great show and honestly, even if I wasn't involved in this I'd go along and definitely enjoy it.
It's everything that we expected and with a project like this, it's not something that's not really been done before, especially not with an orchestra of this size, anyway.
We want it to sound authentic and that's what's happened with the band; The [Outlook] Orchestra's amazing, the musicians are great and it's a very entertaining two hours.
How have you found building this as a full production with the Orchestra and fine-tuning everyone's performances on stage?
Well, over the course of our careers in general, it's just got a lot tighter and we've all got a lot more confident. You've got to remember when this all started we'd never done anything like it before, you know — we're DJs and we were on BBC Radio 1 for 14 years and then Kiss for seven.
Public speaking is a completely different thing than speaking in front of a mic, so that was really daunting at first, I've got to say; the first one we did I was really nervous and we still get that sense of anticipation, but where it was a bit around the edge at the start, the audience didn't know that and now I'd say it's almost 100% the way we want it.
We've been doing it two years now and, yeah, it's just a process of tweaking those fine margins and getting your timings right — when you've got 40 musicians, even if you're a millisecond off it can kind of throw everything.
Sounds like you've really nailed it. The idea of a 'History of Jungle and Drum & Bass' — how far back are you going into the genre and how do you think it's changed over the years?
So we go back to 1992. It's crazy for us to think that was 31 years ago, but yeah, we're going right back to the beginning and we literally break up the set into years: '92-93, 94-96 and so on into the 2000s.
I think it has changed over time and you can certainly hear it when you compare the likes of the first track we do, Johnny L's 'Hurt You So', which is kind of like jungle techno, to the modern-day stuff which gets on the radio now, it's different. But that's the great thing about both genres, they move on real quick.
Say if you're a drum and bass head now and took a year off and then came back, you'd be like, 'What is this?' but drum and bass is always like that, every single year.
It's going through a great time at the moment, probably the best in three decades. It's bigger now than I think that it's ever been and I think it's because it's been accepted by the public get it; they understand it more and it's less of a niche.
People have always known about house music but now people actually recognise the big names like Chase and Status, Pendulum and so on. It's in a very healthy place and I know some of the real purists are a little bit p*ssed and feel it's gone a bit commercial but the underground scene is still there and I don't think that will ever die.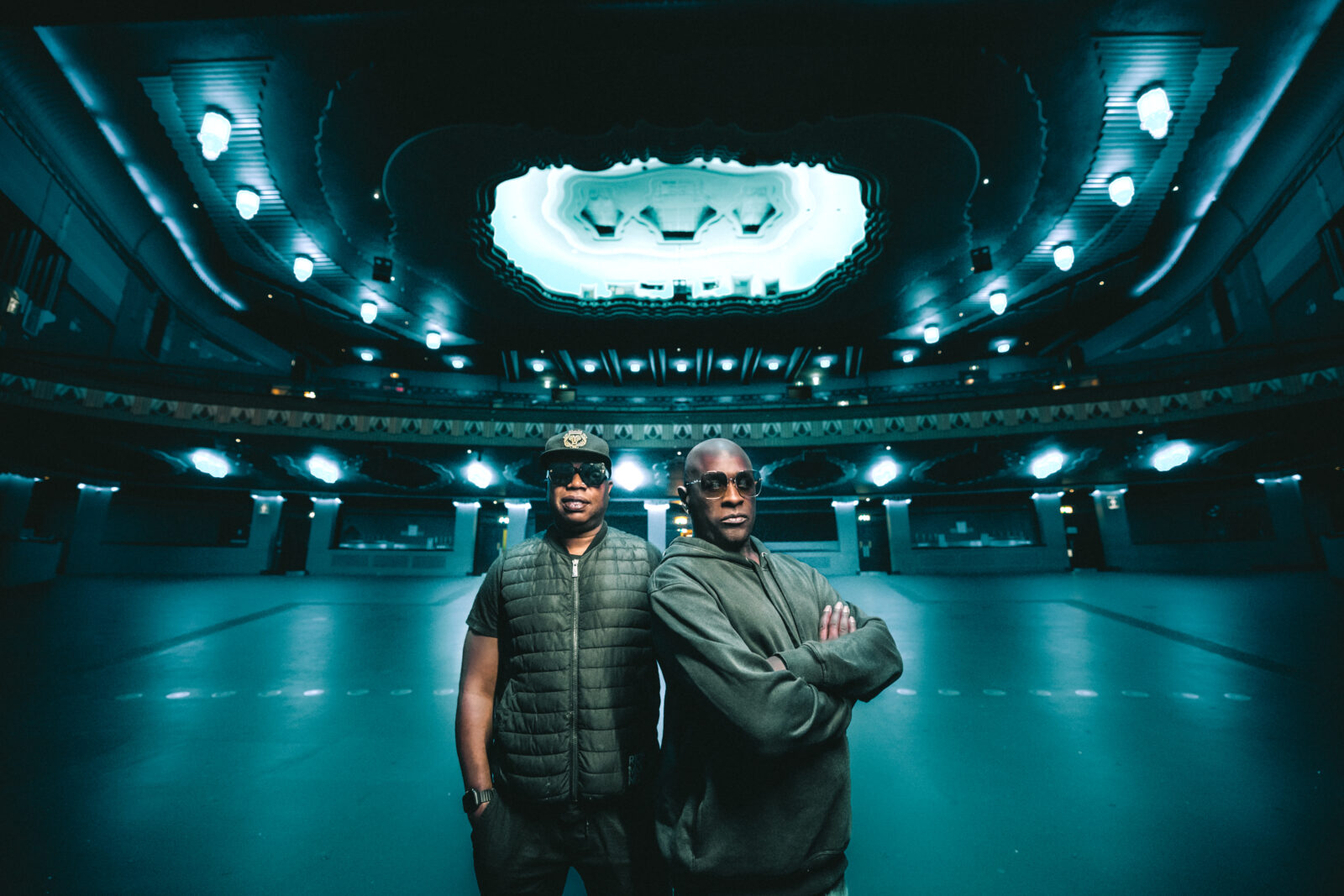 Yeah, and I suppose that's what the beauty of events like these is you can play to both of those crowds. Do you find the audience has that mix?
Well, that's why we've tried to get that fine balance between big tunes that your everyday, casual listener will recognise as well as keep some underground stuff in so the real 'heads' can come and dive into it.
It's been very deliberate and we've sat down to really think about how to strike that combination and it's another thing that's been done really well.
And, obviously, you guys are London kings but how big a role do you think Manchester has played in the scene and how it's progressed?
Oh man, it's always been really important. Going back to A Guy Called Gerald who was one of the first truly big English producers, when people listened to 'Voodoo Ray', even the Americans thought was a guy from New York and he's a bit of an unsung hero really.
He made some of the first jungle tunes as well, so we've always felt the influence and link with Manchester, especially over the last 10 to 15 years when it's been really, really strong here.
You know, you've got DRS and, of course, had Marcus Intellect, God bless his soul, who always flew the flag for Manchester, you know what I'm saying? And, um, you know, there's a really healthy, uh, seed in Manchester.
Strategy, Dogger, Mindstate: a lot of those guys are very important to drum and Bass and a lot of them grew up knowing each other as well, which is cool. We've also got Jenna G in the show and not only is she from Manchester but she's one of the real highlights of the show, she's absolutely amazing.
Also, it's really important that we put on a good show because the Manchester crowd know their sh*t as well — you can't really con them.
Absolutely, and in terms of artists right now, whether they're from Manchester or elsewhere, who's really exciting you at the minute?
I mean, the staple is obviously Chase and Status who have helped get [the genre] some radio play to the point where there were four drum and bass tracks in the top 40 just last year. Absolutely insane.
Hedex and all those guys are also helping grow the underground scene but, honestly, there's too many names to mention that lifting up others so we're in a real good spot at the minute.
Are there any favourite Manchester venues that come to mind?
Band on the Wall — I LOVE it in there and, of course, Warehouse Project which is basically flying the flag for drum and bass across Britain right now. It's possibly the hottest venue in the UK so, yeah, Manchester was always a no-brainer and we're really looking forward to coming there.
Nice, and lastly, if you could describe the upcoming shows in three words what would they be?
Pretty. Damn. Good.
Read more:
It was a pleasure chatting with Fabio; both he and Grooverider are not just radio veterans but drum and bass royalty.
From the glimpses we've caught of what the set looks and sounds like with the full might of The Outlook Orchestra behind them, this thing is going to be blockbuster.
There are still tickets left to see all three live at Manchester Academy on Saturday, 13 January HERE.
For all the latest news, events and goings on in Greater Manchester, subscribe to The Manc newsletter HERE.
Featured Images — Supplied/@matthiggs (via Instagram)
Audio
Ice Cube, Cypress Hill and D12 bring a night of West Coast classics to Manchester's AO Arena

The Manc Audio
Last night the AO arena found itself deep inside the West Coast, as Ice Cube, Cypress Hill and D12 gave Manchester the 'High Rollers Tour experience'. The 90s and Noughties at its finest.
2000s rap heavyweights D12 opened the show for a Manchester crowd that began filling the AO Arena from the moment the doors opened.
The Detroit legends paid homage to their heyday years with Eminem performing tracks like 'Lose Yourself' and 'Purple Pills' to get the crowd rolling back the years.
Serving as a brilliant support act for headliners, they did plenty more than just warm up the once-freezing fans on a frosty night in Manchester and before we knew it, Cypress Hill stepped up to set the arena alight.
Sen Dog, B-Real, DJ Lord and Eric 'Bobo' Correa demonstrated exactly how and why they have stayed in the game for more than 32 years now.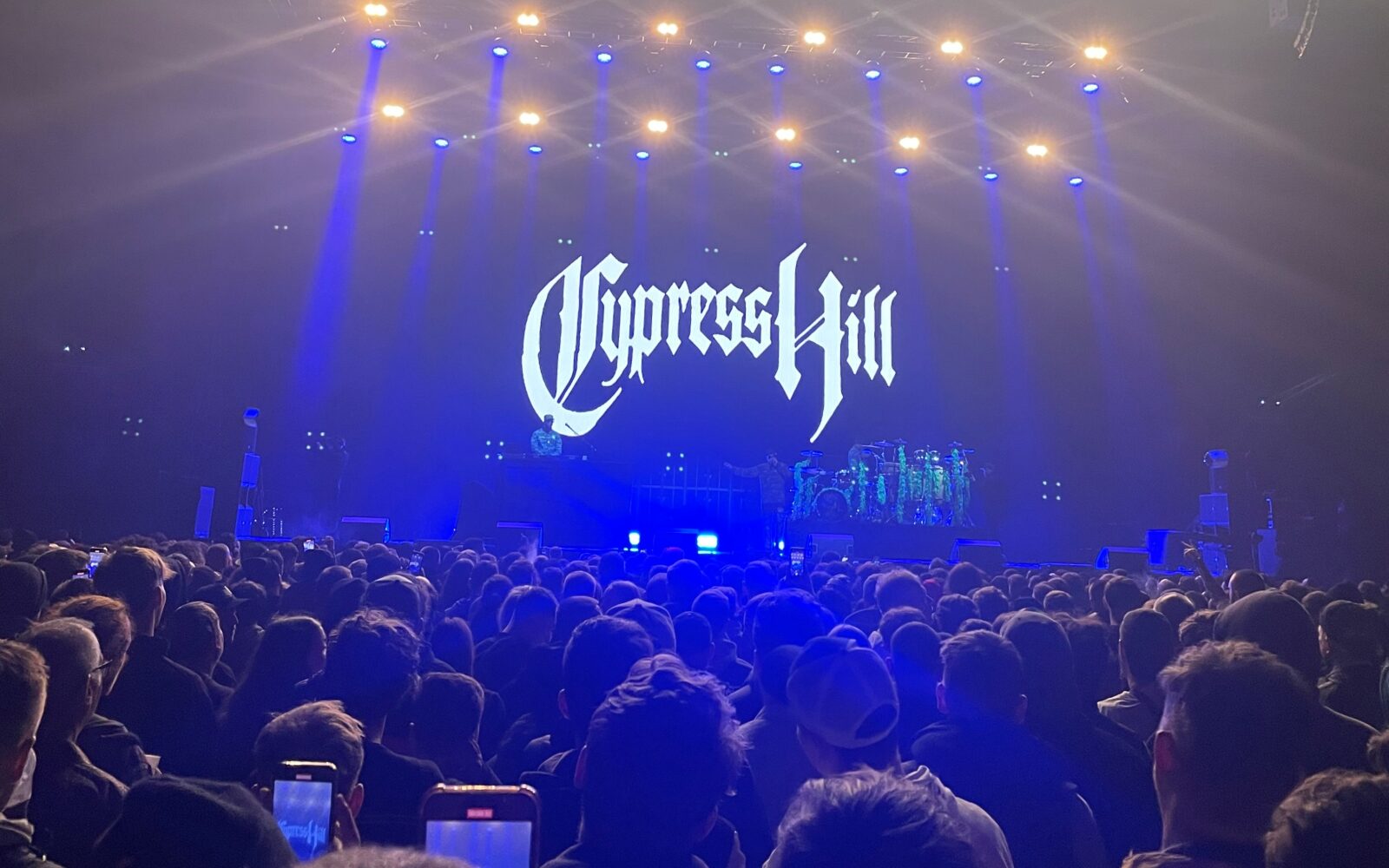 Lord commanded the turntables with a level of skill that's becoming more of a rarity these days, intertwining with Bobo's unfathomably fast and rhythmic percussion, all whilst B-Real and Sen Dog worked a lively crowd to tracks like "Dr Greenthumb', 'Rock Superstar' and 'Hits from the Bong'.
However, the real reminder of just how crazy their sets can be at times came when they dropped the iconic 'Insane In The Brain'. Old-school lyricism, marijuana-filled graphics on the big screen and a crowd clearly breathing just as much of the 'atmosphere' as B-Real himself, is was like Cali had been transported to Manny.
And then Ice Cube arrived. Chills, pun intended.
Proving to everyone in the building that he's still got it and then some, his arrival at the Arena was his first return to the UK since 2011, and oh how he's been missed.
Cube owned the stage; no dancers, no gimmicks — just himself and long-time partner in crime WC giving everyone a legendary recap of a legendary career all the way back to the 80s.
Read more:
From 'Natural Born Killaz' to 'Why We Thugs' and, of course, 'Straight Outta Compton', the duo showed precisely what an OG can really do. It felt like an honour to watch the N.W.A legend Crip-walking across the stage as a reel of film clips played behind him. The crowd were starstruck and rightly so.
One of the greatest MCs to ever do it even blessed us with arguably one of the greatest diss tracks of all time, 'No Vaseline', in which he kills off four rappers and a DJ — and makes sure nobody forgets. Mint.
As he asks the crowd if they want one more, he's met with an inevitable roar of cheers and applause four times over and then, as he's done a thousand times before, he signed off by letting everyone know that 'It Was a Good Day'. Perfection.
It was a truly special performance for those inside the AO on Thursday night and one which we can guarantee no one will be forgetting any time soon. Still going 35 years strong, that was all about Ice Cube making a point of reminding everyone why he's still one of the best in the game.
For all the latest news, events and goings on in Greater Manchester, subscribe to The Manc newsletter HERE.
Featured Images — The Manc Audio