What's On
All the winter and Christmas markets happening in Manchester 2021
From the 'world famous' Christmas markets to various indie pop-ups at venues around town, discover all the brilliant places to get festive in Manchester this Christmas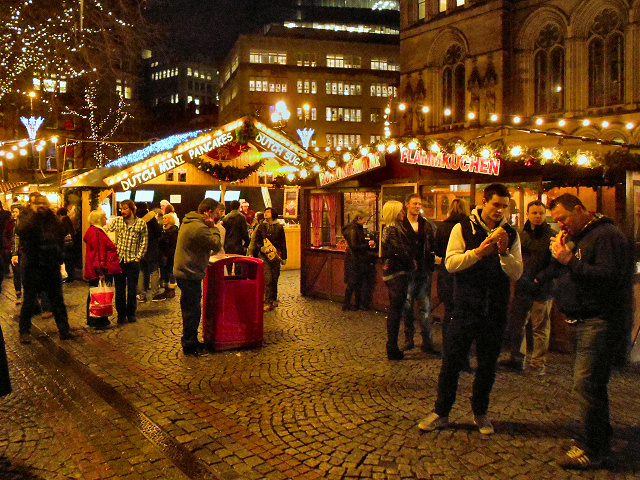 Christmas only starts when Manchester says it does – and our world-famous Christmas markets moving into town is confirmation winter is coming.
Manchester is the UK's capital of Christmas and we sure do it right. People travel from far and wide to catch festive feelings in our bustling streets, with thousands pouring into the city every year for the occassion.
The Manchester Christmas markets are the perfect place to complete your Christmas shopping, fill up on on the best food have a laugh with the littl'uns, or marvel at the lights over a steaming cup of mulled wine.
A maze of the best street food, retailers, and roasted chestnuts; the markets can seem overwhelming – but fear not, simply follow our lead.
We've made a list of all the greatest market spots in Manchester – noting when they start, and the treasures they offer, to help you get planned ahead of the festive season.
Our list includes markets across the whole of Manchester, but will also run you through the six city centre locations.
Keep reading to discover all the markets to discover in Manchester this Christmas.
Ramona and the Firehouse winter village
Ancoats, 4 November – 31 December
Ramona will be hosting winter parties through to the new year in its fabulous Winter Village.
Created in honour of the festive season, the whole of Swan Street, the walled garden of Ramona, and the Firehouse are being transformed into a festive Christmas market.
Colorado-style log cabins, a sparkling winter terrace, tepees, tequila cabins, and pop-up stalls from independent traders, are just a taste of what you can expect.
A huge outside sitting area is covered and heated by open fires creating a cozy winter feel, whilst a mix of artists brings the party firmly outdoors at the campfire stage.
Edwardian Christmas markets at The Refuge
Oxford Road, November and December
Escape the Christmas chaos of Oxford Street and browse Refuge's large gin selection in the shelter of their leafy winter garden, created as part of the venue's new Edwardian Christmas market.
The best place to go if you want to spend a classy afternoon tucking into mini cakes or sipping on a cocktail while the snow falls outside, up until Christmas you'll also be able to find festive stalls selling goods from local traders – perfect for picking out locally-made Christmas presents.
The Refuge also offers a Christmas program of events including wreath making sessions, running from 12 November up until New Year's Eve itself.
Hatch Christmas markets
Oxford Road, 15 November – 20 December
Hatch has announced the arrival of their 'Urban Narnia' – a festive wonderland market packed with local retailers and street food kitchens.
Set to double in size and add a brand-new stage, Hatch is transforming for Christmas – bringing its entire Manchester family together for the season.
Head down to find some of Manchester's best independent retailers and street food traders, with special appearances from the likes of NQ bar Cottonopolis selling their belly baos, plus Chorlton's Electrik bar, which will offer craft ales.
Elsewhere, Cayuco will bring authentic arancini and cannoli to the party. Festive cocktails, meanwhile, include mulled plum sake, hot toddies, and hot buttered rum.
Crazy P's Danielle Moore is gracing the decks on the new stage and performing live is Manchester's Jenna G. Get there quick – because the first 200 guests get a free cocktail!
Makers Market
Deansgate, 9 November – 22 December
At the Maker's Market, you find independent local traders, local products, local ingredients, and materials – it's a real salt of the earth stuff.
Pop down to this alternative Christmas Artisanmarket happening every weekend at the same location, Great Northern Warehouse, throughout November and December.
Choirs sing, DJs mix and artists perform live providing the perfect accompaniment to your Christmas shopping. It's a unique Christmas market without the mad crowds and provides the perfect sustainable and eco-friendly gift for a loved one.
There's no better way to support your local independent traders and help the planet this Christmas.
Victoria Baths Festive Winter Fair
Hathersage Road, 13 – 14 November 11 am – 4 pm
This historic venue was once home to pools and Turkish Baths, but this Christmas will be swimming in everything from ceramics to stocking fillers, all made by local craftspeople.
Manchester's water palace is about to become Manchester's gin palace as Victoria Baths collaborate with Cheshire-based Winding River distillery for the launch of Victoria Baths Gin at its Festive Winter Fair.
It all makes for the perfect pre-Christmas shopping experience, equipped with a Tea Room, mince pies, mulled wine, and apparently, Santa will be in the Grotto – if you're good, that is.
Manchester city center Christmas markets
Manchester's world-famous Christmas markets are back and found in six different locations across Manchester's city center. Opening from 12 November to 22 December, the Christmas markets brighten up the city with fairy lights and cheer.
Follow this list on what there is to do and how to navigate the big six.
Piccadilly Gardens
For the first time ever, Piccadilly Gardens has been crowned the central hub of the Christmas markets, or winter gardens, as they are known during this festive period.
For the first time in the market's history, the hub will have a live music stage – plus its usual array of the best foodie and gift stalls.
Bringing out a new side of Piccadilly Gardens, head down to enjoy a feast of the finest food and drink under the market's marquee-covered seating and glittering festoon lights.
We can't wait to see the central square, often unloved and tatty, finally brimming with festive joy.
Market Street
This year Market Street has been scaled down slightly to make sure people keep their distance if they want to.
Here, you'll be able to find products from some of the top makers and traders in the region.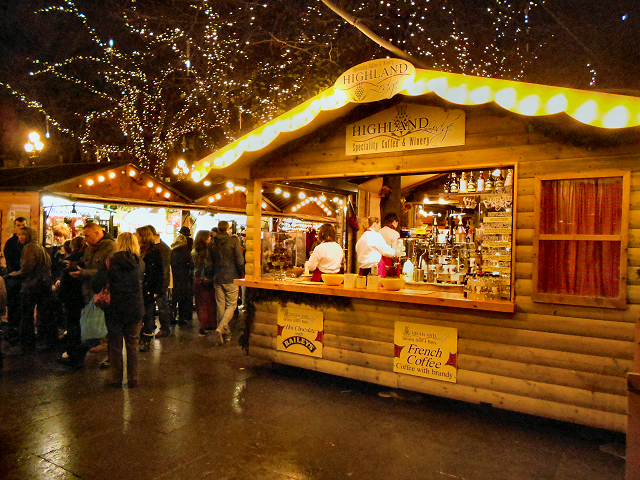 King Street
The French Christmas market of Manchester is one not to miss. Think the best gallic food, beers, wines and a huge gin bar with over 100 varieties to choose from all in Manchester's Christmas Markets.
Cathedral Gardens
Home to Skate Manchester's ice rink and a proper family favorite of all the markets.
Skate round with the littleuns then pop off and browse the best food and drinks stalls while recovering from the ice.
New Cathedral Street
Down on New Cathedral Street, there is some smoking cocktails waiting at Bar No.3 allongside boozy hot chocolates and coffees.
You can also purchase some local vegan skincare products, jewellery, or other crafted produce for your nearest and dearest.
Exchange Square
Food heaven. King of the Manchester Christmas Markets, the very best Porky Pig's Yorkshire pudding wraps will be back – bigger and better than ever.
You'll also find Tikka Kebab kitchen serving up their incredible curries and hot shawarma kebabs to spice up your Christmas.
Feature image – David Dixon via Geograph