What's On
An immersive 'dining in the dark' experience is coming to a secret Manchester location
'Pitch Black' is the city's newest dining concept - and it's stab in the (almost) complete dark.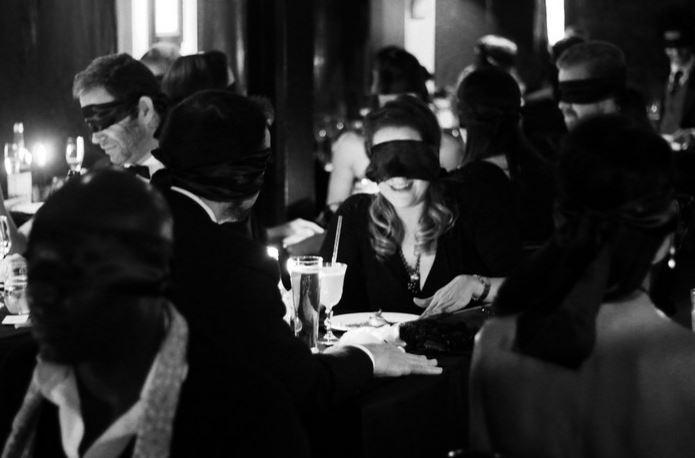 A secret location in Manchester is set to become host to one of the city's most unique and immersive dining concepts this summer.
Pitch Black truly is an experience like no other.
Aptly described as "a stab in the (almost) complete dark", diners will enter a warmly-lit waiting space and be asked to hand over their phones, watches and any other light sources, before being blindfolded, accompanied by waiters into the dining room and plunged into utter darkness to enjoy an unusual dining adventure.
Wondering what the benefit to this concept is? Well, you're not the first to question that.
The absence of, quite literally, all visual distractions is believed to promote the idea that eating in the dark heightens diners' senses and makes for a more pleasurable experience.
The focus is instead on taste, smell, feel and sound of the food, as well as promoting the art of conversation.
When it comes to the food on offer, there will be the option of three set menus at the Manchester event, but just like the location, the courses are to be kept secret – with dietary requirements and allergies still catered for – and diners will also have the option to pre-order all of their favourite drinks to accompany their food, before entering the dark dining room.
Arriving in Manchester from 1st – 8th July 2021, each Pitch Black dining experience lasts 90 minutes.
This gives diners an ample amount of time to get comfortable with their new surroundings and enjoy a delicious two-course meal with a drink, all while blindfolded.
With a cash bar on site, diners are also invited to hang around after their meal too.
Pre-booking is essential and tickets are set to go on sale very soon, so if you're keen to be one of the first to bag yours when they do, you can register your interest now and you'll also be sent a Google Form prior to the event to fill in your dietary requirements.
You can sign-up to Pitch Black: Dining in the Dark – Manchester here.