Audio
Ed Sheeran at Etihad Stadium Manchester – times, tickets, support act and more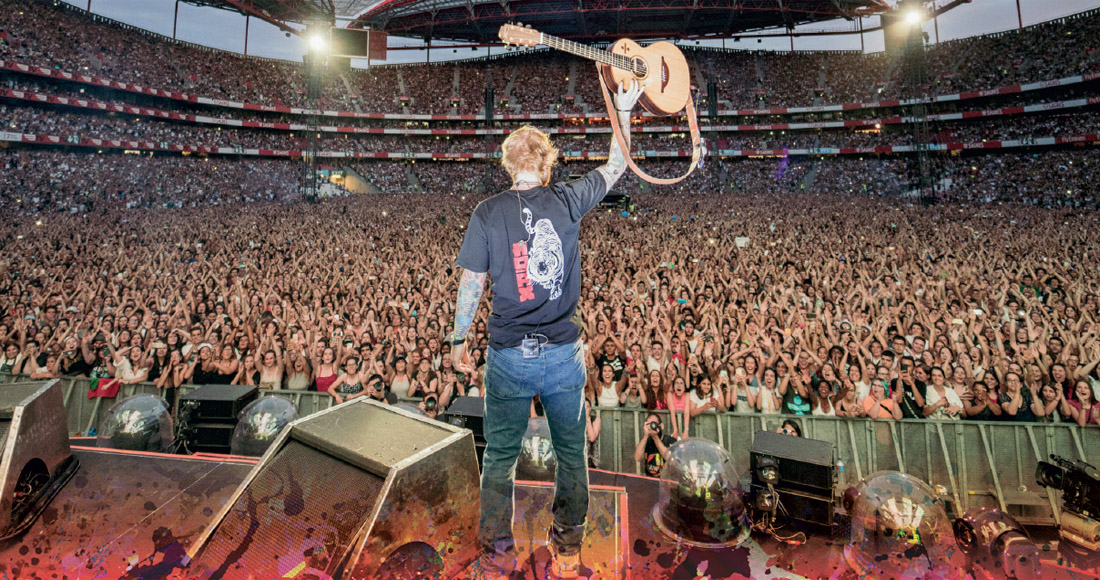 Ed Sheeran is about to embark on an enormous four-night stint at Manchester's Etihad Stadium.
The hugely popular singer-songwriter will take to the stage for the first time on Thursday 9 June, and will perform every evening until Sunday night.
The four-night run is part of the Mathematics Tour, with Ed heading on to Glasgow and then to perform five shows at the Wembley Stadium in Glasgow.
It follows the release of his fourth studio album Equals, released last autumn.
This will be the first time Ed has performed in the city since May 2018 when he again completed four nights at the Etihad Stadium.
With a capacity of a whopping 60,000 per night for music concerts, there'll be a lot of people heading to see Ed Sheeran this weekend.
Here's what you need to know.
How to get to the Etihad Stadium
There's a lot of travel advice out there this weekend, especially if you're heading to Ed's gig on Saturday night (when The Killer, Alicia Keys and Parklife are all taking place at once at other venues).
The roads are expected to be busy so gig-goers are urged to leave their cars at home and use public transport where possible.
Metrolink trams take less than 10 minutes to run between the city centre and the Etihad Campus stop.
Read more: Foo Fighters announce all-star concert in tribute to late drummer Taylor Hawkins
After the gig, trams won't stop at Holt Town or Velopark until the crowds have cleared from the Etihad Campus stop.
If you are driving, there are official car parks available which need to be pre-booked.
There are a handful of unofficial car parks around the stadium but you park at your own risk.
You can also walk to and from the stadium, which takes around half an hour from Piccadilly.
You can view TfGM's full travel advice here.
Are tickets still available for Ed Sheeran at the Etihad Stadium?
They are! You can still get tickets for the unreserved standing/seating zones for both Thursday night and Sunday night's gigs, priced at £82.50 each.
At the time of writing, this is what was still available for each night.
Thursday 9 June – Level 1 unreserved seating and pitch standing, £82.50; reserved seating in blocks 205, 239, 226, 223 and 309, £82.50.
Friday 10 June – Reserved seating in blocks 205 and 241, £82.50.
Saturday 11 June – Reserved seating in block 218, £82.50.
Sunday 12 June – Level 1 unreserved seating and pitch standing, £82.50; limited single seats in reserved seating, £82.50.
You can also pick up tickets through resale sites, though you should only pay face value for these through official websites like Ticketmaster's fan-to-fan resale service.
Who is supporting?
Maisie Peters
Maisie Peters' career launched on YouTube, before she signed with Atlantic Records and began her rise to stardom.
Her debut album, You Signed Up For This, was released under Ed Sheeran's label Gingerbread Man Records.
She's racked up more than half a billion streams online for her singles, including Worst of You, Favourite Ex, and Place We Were Made.
Dylan
Ed Sheeran has recruited a fellow Suffolk musician to join him on tour, in 22-year-old Dylan.
This up-and-coming indie-pop musician recently released her third EP, No Romeo.
She'll head out on her own tour this autumn, with gigs at Manchester's Gorilla and similar venues right across the UK.
What are the stage times?
Doors open for each show will open at 4pm to give plenty of time for all 60,000 music lovers to get through security and into the venue.
According to the Manchester Evening News, these are the approximate stage times.
6pm-6.30pm – Dylan
7pm-7.45pm – Maisie Peters
8pm – Ed Sheeran
10.30pm – curfew
Entry requirements
This tour of Ed Sheeran's has gone digital, which means your phone will act as your ticket.
Make sure to check your booking confirmation in plenty of time to see what you need to download and have ready.
Ed's website states: "To gain access to the concert you are required to bring your fully charged mobile phone or smartphone. You will be required to produce a valid form of photo ID that matches the name on the tickets.
"Accepted forms of Photo ID are – A current driver's licence (including provisional licence), a current or recently expired passport (provided the picture is a good resemblance of the holder)."
Featured image: Publicity picture