What's On
LEGOLAND is live streaming their resident sharks today
[siteorigin_widget class="SiteOrigin_Widget_PanelImage_Widget"][/siteorigin_widget]
[siteorigin_widget class="SiteOrigin_Widget_PanelText_Widget"][/siteorigin_widget]
What's On
Manchester Christmas Markets slammed with negative reviews after doing exactly what people asked for

Daisy Jackson
The Manchester Christmas Markets have been torn to shreds by several users on Tripadvisor this year.
Complaining about the huge festive event has become as traditional as the event itself for Mancs – too crowded, too expensive, too disruptive, etc etc.
Previous complaints have usually centred around the choice of traders working out of the market stalls, with people objecting to the repetitive pattern of bratwurst, mulled wine, ornament.
Many have also had a moan that too many traders travel over from Europe, and say that the markets take too much footfall away from the year-round local businesses positioned nearby.
So in recent years, the markets have started to go through a bit of a transformation.
The main one would be relocating down to Piccadilly Gardens, where a huge wooden festive village has been built, this year with live music stage, apres-ski-style bar, and a festive tipi.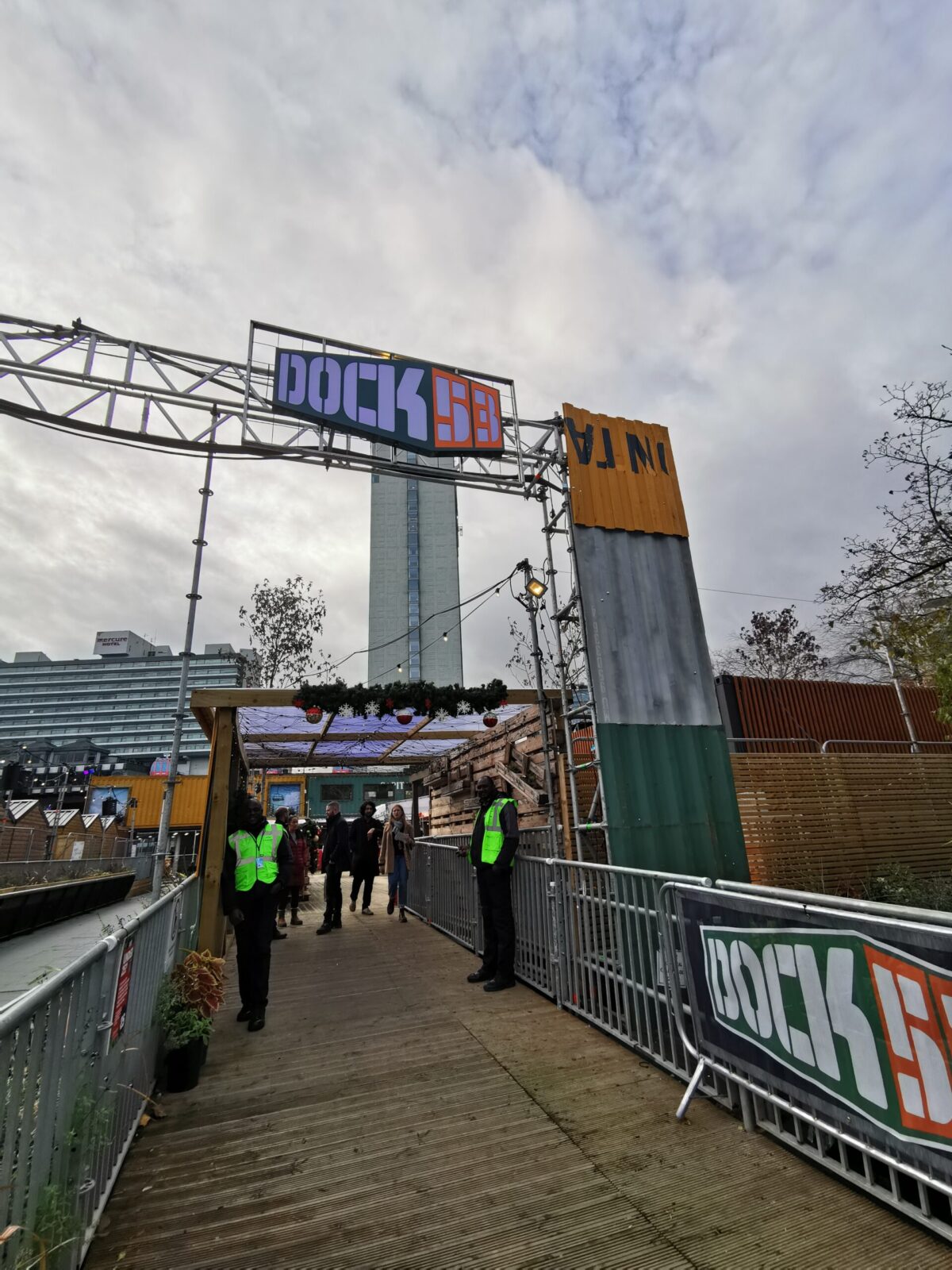 This is also home to a huge proportion of the food traders.
There's even a secret bar here, hidden from view by a Narnia-like wardrobe entrance.
And as time goes on, more and more of the food traders are local to Manchester (this year including Parmogeddon, Oi Dumplings, Triple B and Yum Yum.
The Manchester Christmas Markets have listened to feedback and gone a bit more local overall, so you'd expect everyone would be pleased – but of course they're not.
One scathing and lengthy review on Tripadvisor said: "Went on a day trip by coach to the Christmas Market, having been four years ago and LOVED it…sorry, but the difference between that experience and this year's is like night and day.
"First of all, whose daft idea was it to have the market scattered across nine different locations? People who aren't familiar with Manchester won't know where all these locations are!
"The first part of the market I came across was a collection of food stalls, the bulk of them not displaying prices – is that legal? – and the entire set-up looked like a building site. No festive atmosphere at all, and sadly this continued the further I walked.
"Gone was the wonderful variety of Christmas ornaments and gifts, replaced by food and drink stalls and, strangely, a stall selling wooden garden furniture. There is nothing remotely Christmassy about an overpriced Kingdom of Sweets stall, and when I came across a second one several minutes later I gave up and killed time in a Wetherspoons until my coach left to take everyone home.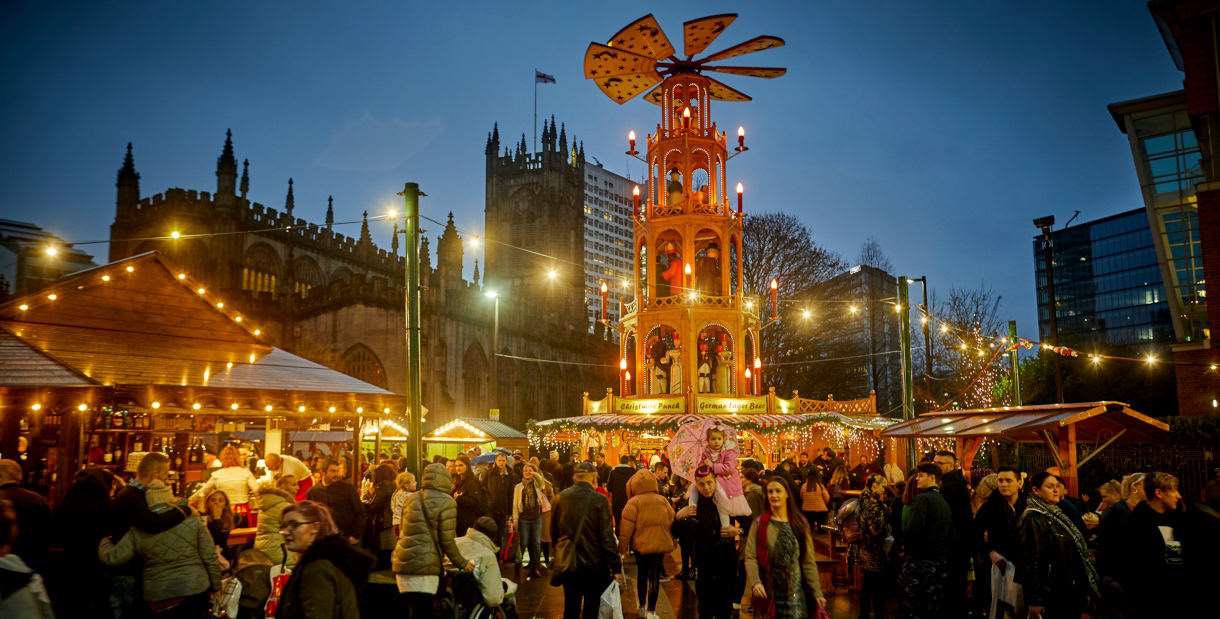 "I wasn't the only person let down by the experience, either; when an elderly lady boarded the coach on its way home, she was heard to mutter, "Well, I'd have been ready to go home three hours ago." I'm writing this trip off as a learning experience – and what I learned is that I won't be going to this market again next year."
A parent who visited said: "Where to start. This was my families first and last visit to Manchester, The Christmas Market felt very poorly planned with stalls not in one area. People kept knocking into my children manners seem to be missing in Manchester as a whole."
Someone else wrote in a one-star review: "Ridiculous prices, paid £6 for a hot dog for my son & was then charges £1 extra for tomato sauce, sorry but that is taking the mick.. usual stores have gone and replaced with food, drink or overpriced large goods. The Christmas feeling just wasn't there this year :(."
Read more
Another person said: "I visited the Christmas Market at the weekend with a friend and it felt more like a food festival than a Market. No price lists displayed. Utter waste of time. Cheaper to go the ones abroad."
One reviewer said: "Nothing at all Christmassy, pre-covid they was lovely stalls seeming Christmas ornaments ets, now it's all good and drink mostly £15 for 2 mugs of hot chocolate, cocktails £9 for a snowball just pure greed, very disappointed, definitely won't be back this year or in near future."
Someone else wrote: "All about overpriced food and repetitive stalls. Nothing European about it and not what it once was. £10 for a sausage save your money and try a market in actual Europe."
Featured image: The Manc Group
What's On
Peter Kay Live at Manchester AO Arena – times, tour dates, tickets and more

Daisy Jackson
Peter Kay will finally make his long-awaited return to the stage this week with a massive UK tour.
The beloved Bolton comedian is set to play a whopping 42 dates here in Manchester, as well as a monthly residency down in London at the O2.
His AO Arena dates begin on Friday 2 December and will run all the way through to 2025 (yes, really).
Peter received widespread praise when he announced his tour and promised to keep ticket prices low.
He said: "It's good to get back to what I love doing best, stand-up comedy and if there's ever a time people need a laugh it's now.
"And with the cost of living at an all-time high, ticket prices are starting from £35. The same price they were on my previous tour in 2010. "
But naturally, after he largely disappeared from public appearances several years ago, his return drove insane demand.
Peter Kay could barely keep up with demand from excited fans (who briefly broke the internet) and new dates kept getting added.
If you're lucky enough to have bagged a ticket, here's what you need to know.
What are stage times for Peter Kay at AO Arena?
As usual with the AO Arena, doors will open a bit before the show begins, and fans are advised to allow plenty of time to get through security and to find their seats.
The doors to the venue will open around 6.30pm.
Peter Kay's actual show will start at 8pm prompt.
What dates will Peter Kay play at the AO Arena?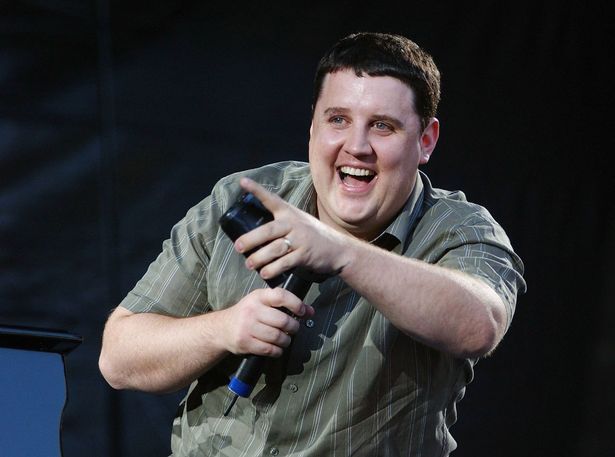 A lot of dates. Many many dates. Dates as far as the eye can see. Here they are:
2-3 December 2022
22-23 September 2023
19-20 October 2023
5-6 November 2023
1 December 2023
26-27 January 2024
9-10 February 2024
8-9 March 2024
5-6 April 2024
17-18 May 2024
14-15 June 2024
26-27 July 2024
23-24 August 2024
20-21 September 2024
18-19 October 2024
1-2 November 2024
29-30 November 2024
20-21 December 2024
10-11 January 2025
8 February 2025
5 April 2025
17 May 2025
21 June 2025
25 July 2025
Can I still get tickets and how much are they?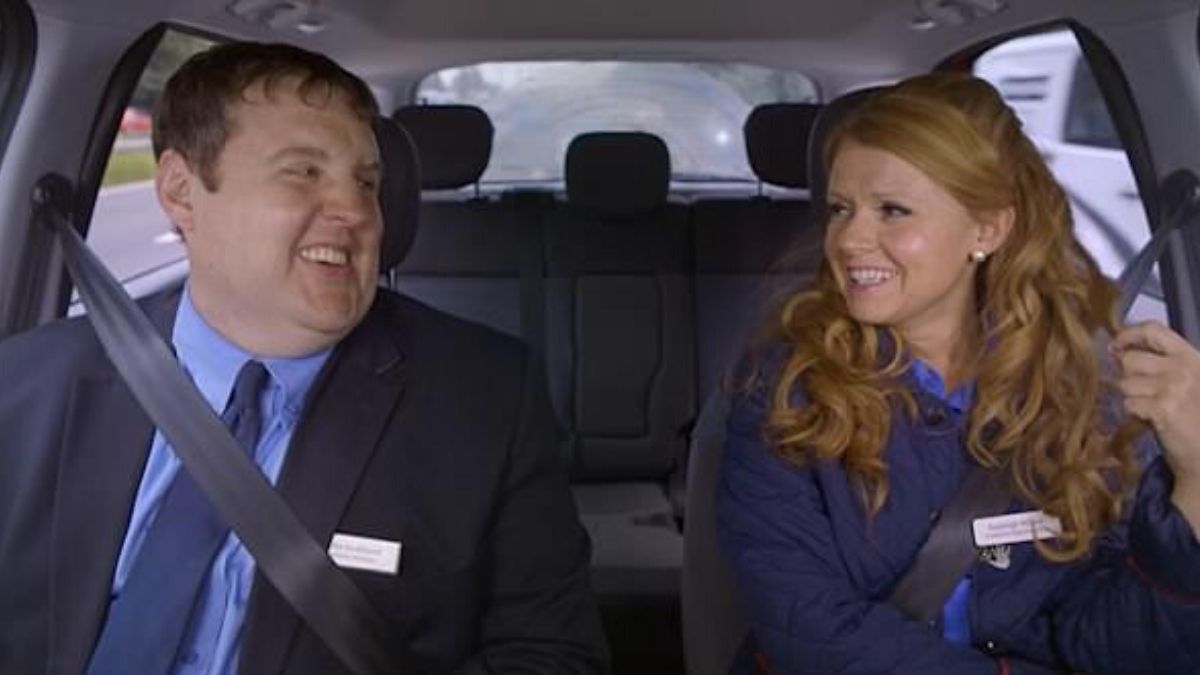 Ooooh you might struggle if you want to go any time soon.
The demand for Peter Kay's return was so high that several ticketing platforms crashed and he added tonnes of new dates to try and cater to all his fans.
There are still tickets available for later shows all the way in 2025 if you're happy to wait that long.
Your best bet for an earlier date is to keep an eye on official resale sites, and be careful that you're getting a genuine deal.
Tickets start from £35 and go all the way up to £50, £65 and £135 – you can buy yours from See Tickets here.
Seating plan for AO Arena Manchester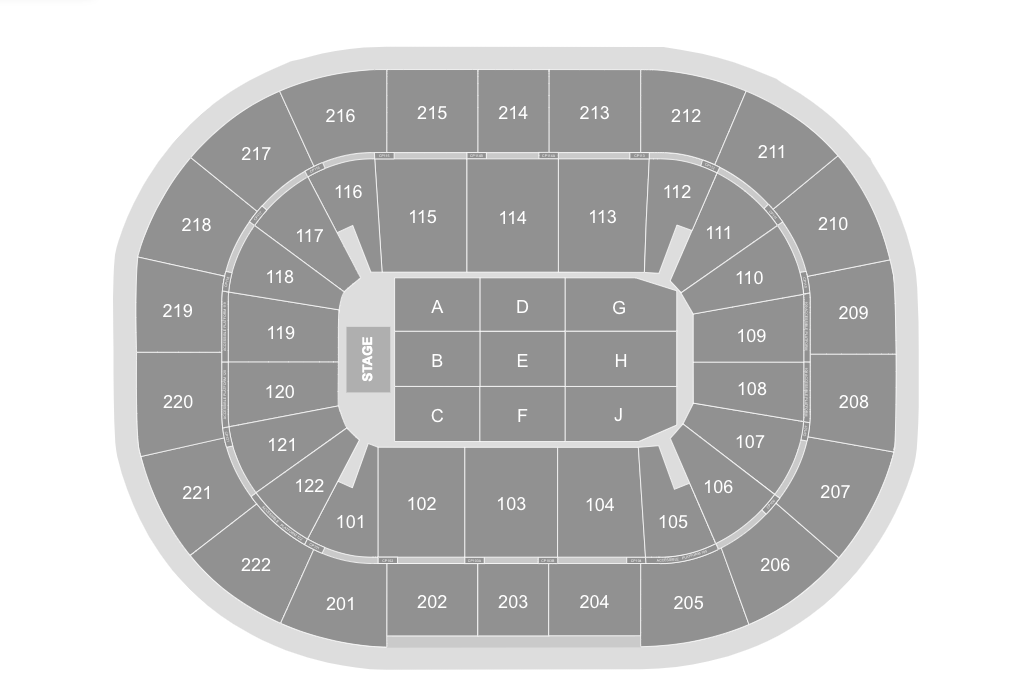 According to Ticketmaster, this will be the seating plan for the AO Arena for Peter Kay's gigs.
It's a fully seated tour but every block is set to be in use.
Venue security and requirements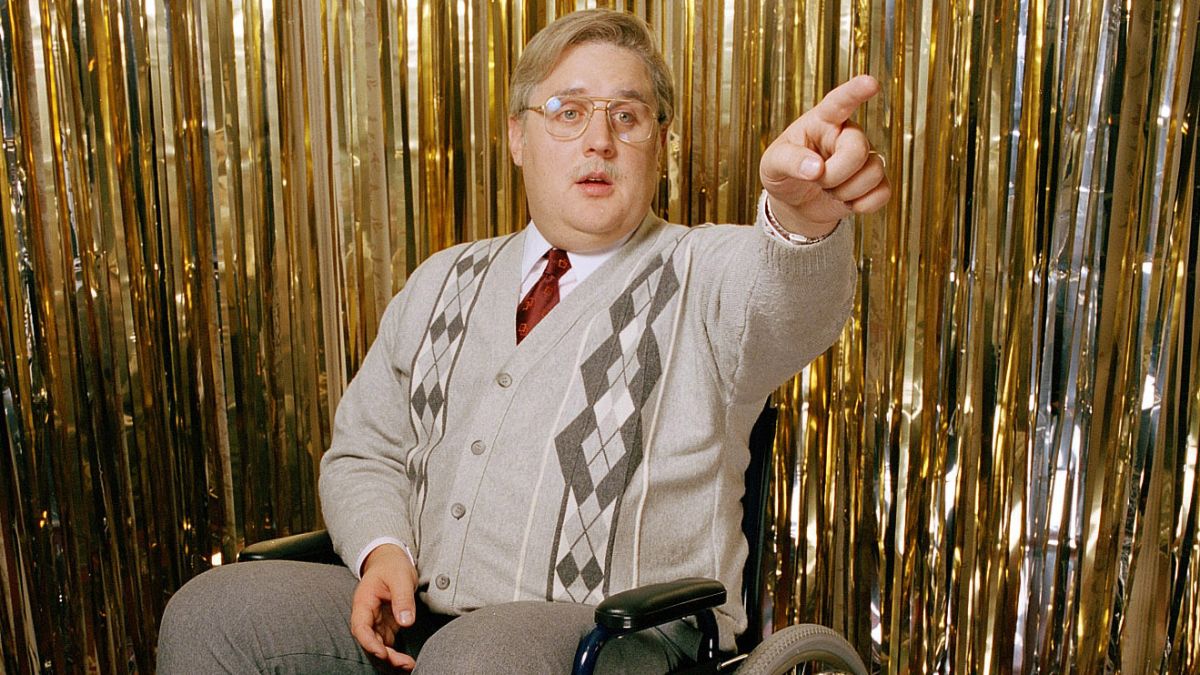 The show is strictly for people aged 15+.
The AO Arena has a few strict policies to keep gig-goers safe, so make sure to check entry requirements carefully before you travel.
For example, only one small bag per person is allowed, and bags like backpacks, travel cases and laptop bags are not permitted inside the arena.
All bags are scanned on entry to check for prohibited items like laser pens, flares, projectiles, weapons, drugs and alcohol, and even selfie sticks.
Featured image: Publicity picture