Art & Culture
People are still confused about the enormous beam of light above Manchester that looks like an 'alien invasion'
'I recorded it thinking alien invasion...'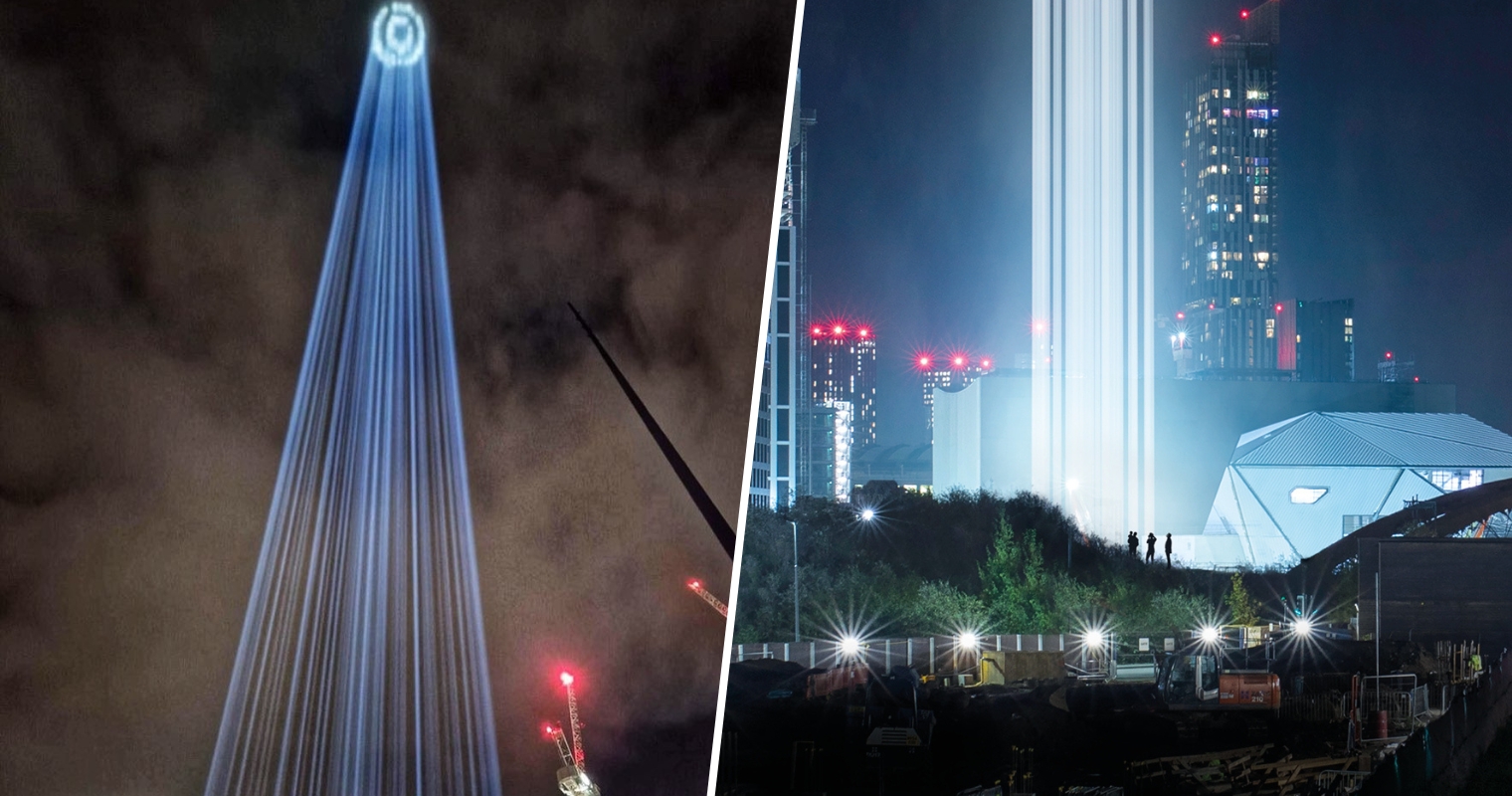 A lot of us will have noticed that there's a new feature on the skyline – and it's not yet another skyscraper, but something much, much taller.
The skies above Manchester city centre have been dominated since the new year by an enormous beam of light, which gently pulses.
And, as dozens of people have pointed out, it looks unnervingly like an alien invasion…
Others have questioned if it's a bat signal trying to summon Batman (if it is, he's ignoring us).
Despite it launching back on New Year's Day and being quite widely-publicised, some people have still said they had no idea it was happening – or what it represents.
The light beam is actually a huge, free art project – arguably the city's largest-ever – created to celebrate babies.
The incredible spectacle has been commissioned by Factory International, the brand-new, £186m arts venue that's set to open later this year.
The artist behind is is Luke Jerram, famed for his large-scale art installations – he was also behind the 10m Floating Earth at MediaCity last year, which sadly deflated in the bad weather, as well as the giant Museum of the Moon at Bluedot Festival.
First Breath pulses gently every time a baby is born in Greater Manchester, and is meant to represent their first breath.
You can get right up close and walk around Manchester's light beam, with Factory International sharing a handy video guide of how to get there (down Liverpool Road past the Science and Industry Museum; turn right onto Water Street; pass through the security gate; head up the ramp).
Mancs who have gone down to the installation, or spotted it from across the region, have been full of praise for the project.
One person wrote on our Instagram post: "We were walking the dog on salford wetlands and the beam perfectly lined up with the full moon !!!!! It was amazing."
Someone else described it as 'absolutely stunning'.
One Facebook, someone said about the beam of light: "Went to see this tonight…astounding and the start of something very beautiful in Manchester."
And on Twitter, a user posted: "Visited the new temporary art installation 'First Breath' on my way home from work. Needless to say I'm not a spiritual person in the slightest but standing under those lights on my own in silence I felt so moved. Worth a visit for those in Manchester."
Luke Jerram said: "I want to reveal, celebrate and connect the hidden community of people giving birth each day in Greater Manchester. Disconnected and yet going through the life-changing experience at the same time, there are on average over 70 babies born each day in the city.
"This new artwork is designed to celebrate the moment a child is born – the extraordinary moment when they take their first breath and a new life arrives in the world."
Read more
First Breath will take place between 4pm and 10pm, every day between 1 and 29 January 2023.
Expectant parents due in January 2023 from all backgrounds and pregnancy journeys can sign-up to First Breath at factoryinternational.org/first-breath.
Featured image: The Manc Group / Factory International