Art & Culture
United legend Eric Cantona launches sport-based art exhibition at National Football Museum
Rather fittingly, it opened up on derby day.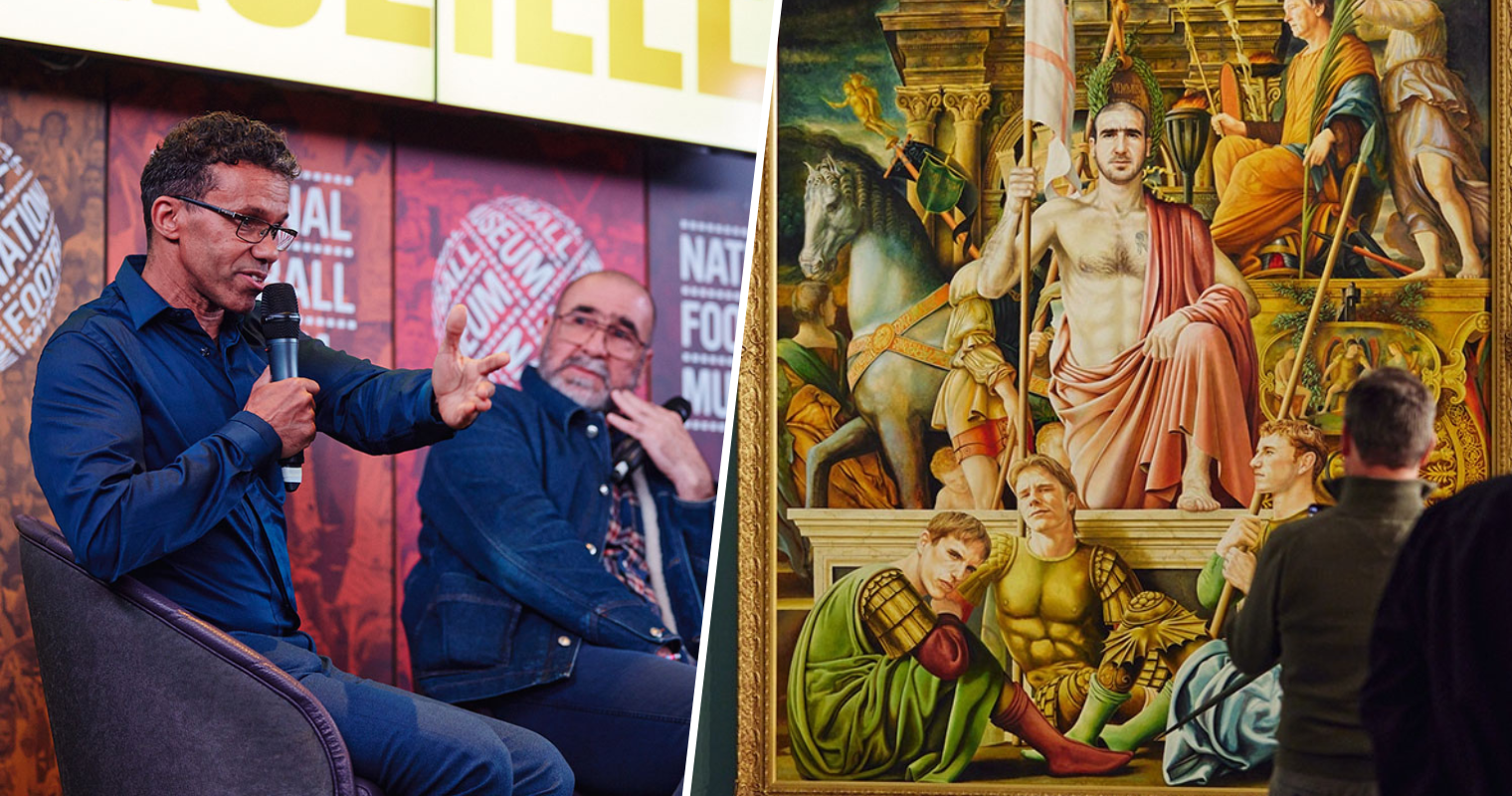 Manchester United legend Eric Cantona has set up a special sport-based art exhibition in the National Football Museum.
Spotlighting work by fine artist Michael Browne, who created a series of pieces exploring the relationship between sport, art and modern society, the new exhibition covers everything from "human rights, equality, injustice, the impact of power and elevations to a godlike status."
Cantona has never been one to shy away from his icon status.
Entitled 'From Moss Side to Marseille' – referencing Browne and Cantona's respective places of birth – the exhibition was commissioned by the Frenchman with the aim of celebrating influenced sporting heroes who used their positions to advocate for social change, even in the face of great personal cost.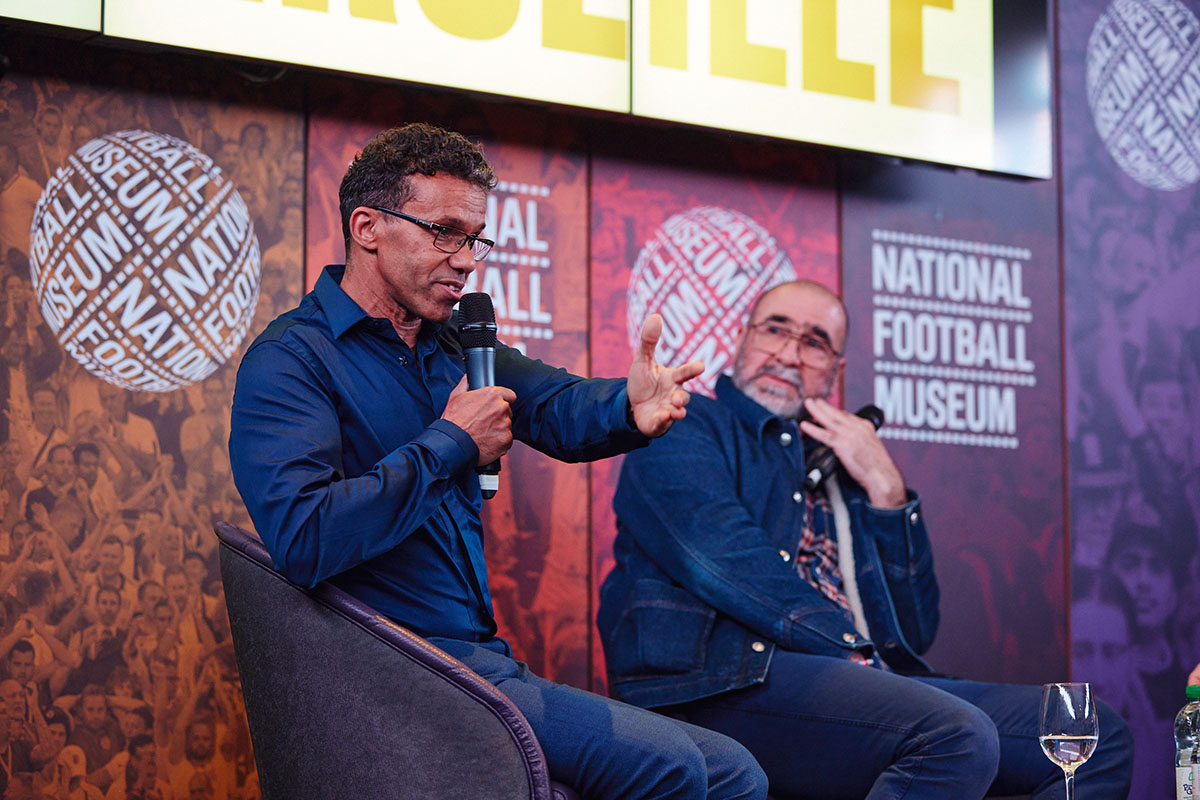 Browne has been creating art since he was a child and his talent was quickly recognised, going on to study at the Chelsea School of Art before completing a Master's at Manchester Metropolitan University. He has gone on to enjoy exhibits all across the UK, earning him public and critical acclaim.
Having grown up locally and as a football fan, it was hard for Manchester's rich sporting heritage not to find its way into his. Similar to fellow artist Stanley Chow, Browne soon became known for his use of sporting figures in his art, though he favours a neoclassical style over polygon-heavy geometric pop art.
Though both the man himself and football feature heavily throughout the installation, the significance of key sporting and cultural icons like Muhammad Ali, Jesse Owens, Wilma Rudolph and more are also highlighted.
Maradona and the Western Wall (2020)
Algeria Counter-Revolution (2021)
The Art of the Game (1997)
England and Brazil Real-estate and Human Rights (2019)
Muhammad Ali Freedom Without a Crown (2018)
John Carlos and Tommy Smith for 30 Pieces of Silver (2018)
Wilma Rudolph Throne of Impermanence. A letter to my Future (2022)
Carlos Caszely Theatre of Nightmares (2021)
Jesse Owens Scales of Injustice (2017)
Eric Cantona Family Portrait (2022)
As for his connection with Cantona, the two influential Mancunian figures struck up a friendship back in 1996, when Browne began working on his famous The Art of the Game painting, which chronicled Cantona's return to football after his infamous ban. Something about a kung-fu kick?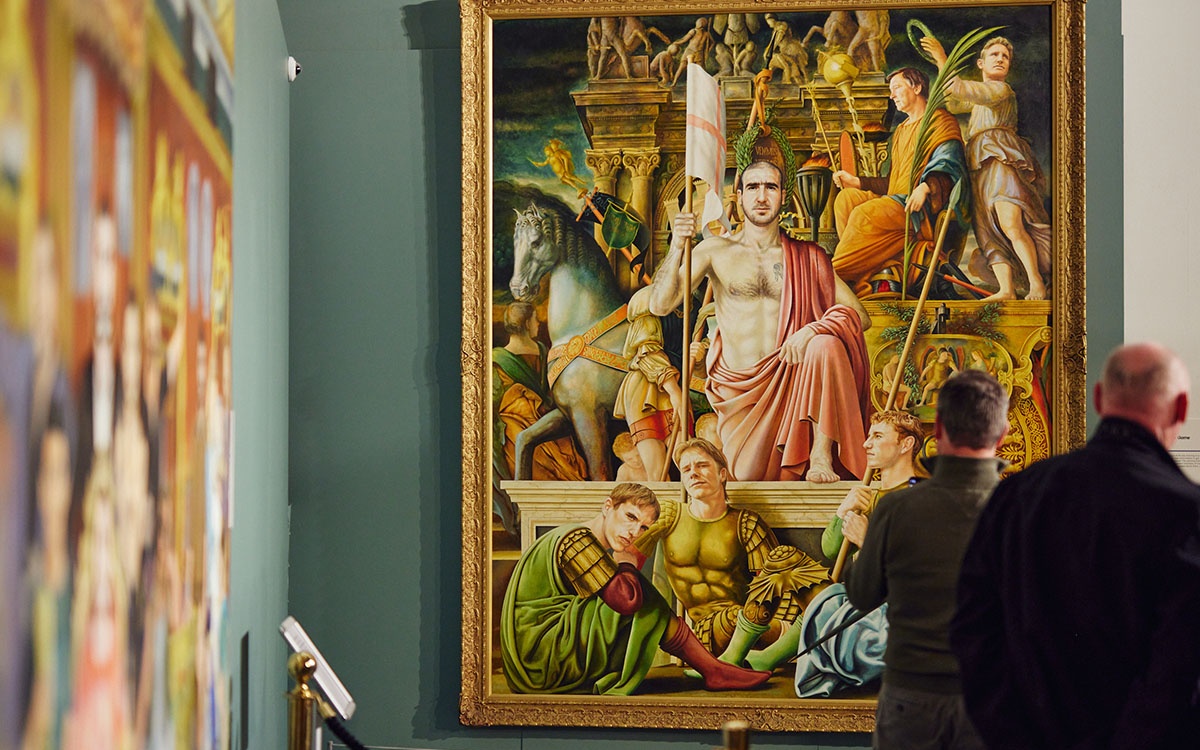 Debuting on Saturday, 14 January, each piece is said to be 'oversized' and inspired by a different sports story throughout history, as well as making a statement about the associated athlete behind it, so there's plenty to get stuck into.
Visitors will not only get to find out more about Brown and Cantona's unique relationship through the lens of the exhibition, but they will also get to look at never before seen items from his personal archive.
Better still, the National Footy Museum will be providing a whole host of activities in conjunction with the exhibition, including a performance by comedy duo Fan/Girl, life drawing sessions, a make-your-own 'King Eric' crown during half-term and lots more.
Read more:
Writing in a statement on the museum's website, Michael Browne said: "It has been a pleasure working in partnership with the National Football Museum to curate this exhibition, and it is very fitting for the collection to be debuted in Manchester."
Cantona touched on his great excitement for the work to finally be seen all in one place, remarking: "There are many unsung heroes featured in the collection and it is time their stories are told."
Admission is absolutely free, you only need to grab your tickets from the website HERE.
From Moss Side to Marseille: The Art of Michael Browne and Eric Cantona is now on show until June 2023, so be sure to get yourself down there sometime soon.
For all the latest news, events and goings on in Greater Manchester, subscribe to The Manc newsletter HERE.
Featured Image — National Football Museum/Michael Browne