Sport
United are already better without Ronaldo — and Rashford is the biggest beneficiary
Since the World Cup, he's been on absolute fire, but his red hot form has also coincided with a certain CR7s departure.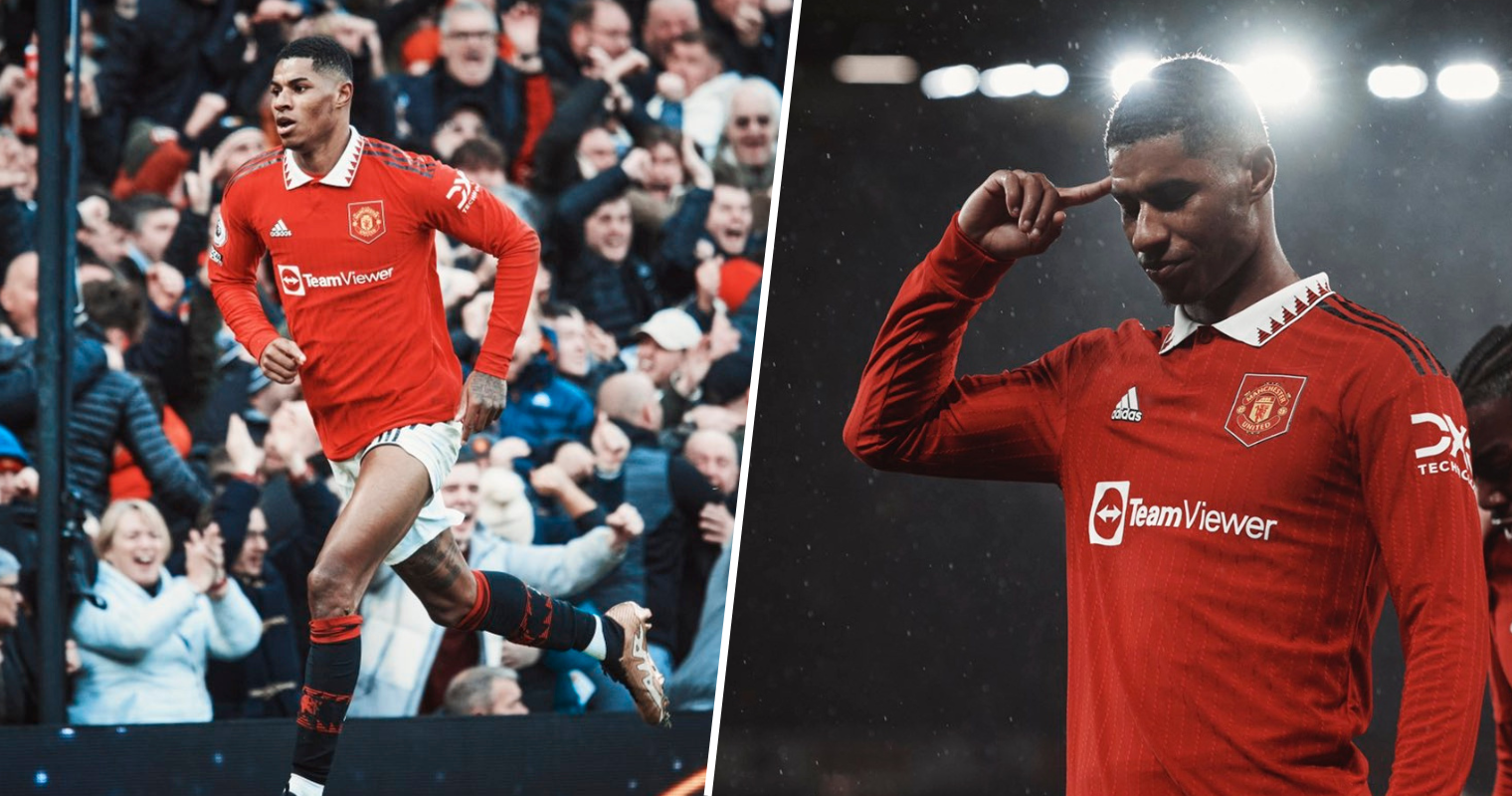 Manchester United look to be finally gathering some semblance of stability in Erik ten Hag's debut season, with the Red Devils now on a run of nine consecutive wins in all competitions.
Now, we're not going to go all Rio Ferdinand and declare United as 'back' just yet, but with a first Manchester derby victory now under his belt, 14 clean sheets; already more victories this season than they did in last year's campaign and a real chance of silverware, things are certainly looking up.
The Dutchman now seems to be getting a tune out of a number of previously underperforming players and having strengthened both the defence and midfield with revolutionary signings like Lisandro Martínez, Casemiro and Christian Eriksen, nailing those attacking outlets is clearly next on the docket.
Having said that, one of the main sticking points that appeared to be holding United back, ironically, was the issue of a legendary but ageing Cristiano Ronaldo. However, since leaving the club in spectacular fashion, the goals are starting to flow again — a lot of them are coming from one man: Marcus Rashford.
Since grabbing a trio of goals at the 2022 World Cup, including that wonderful free-kick against Wales, Man United's number 10 has been simply unstoppable, netting eight goals in his last seven games and already more than tripling his tally in the entirety of last season. We're only in January.
Despite a slower start to the campaign, he has now managed 16 goals and six assists in 25 appearances and currently averaging a goal or assist around every 88 minutes. That's some Haaland-level efficiency, right there.
Whilst many would argue that he has always been somewhat of a 'purple patch' player — his highest-ever-scoring season coming in 2020/21 (21 goals and 15 assists) — he is currently well on course to smash his personal best has already been breaking records along the way.
He surpassed Wayne Rooney's record with his winner against City and has now scored the most consecutive home goals for United in the Premier League era. Talking about keeping in good company:
With his current goal contributions going the way they are, not to mention his current trajectory for the rest of the year, this could be the season Rashford hits his so-called 'prime'. So what exactly is it that has led to this rapid resurgence and unparalleled level of performances?
Well, for one, he has found his self-belief once again. After the horrible scenes following the Euros and a subsequent tough patch of form for his club, he looked a shadow of his former self in terms of intensity, output, as well as his positivity and overall demeanour. Anyone would after such a horrible time.
Nevertheless, thanks to kickabout with mates at an old Powerleague site, spending time in America to refocus and being able to start a fresh chapter under ten Hag, he has somehow snapped himself out of that funk and now looks to be bursting with confidence and more threatening than ever.
In fact, he doesn't just look it, Marcus Rashford is statistically the most lethal player in Europe right now, if not world football.
Furthermore, it's worth highlighting that since United lost against Aston Villa 3-1 in the league, they have won their last nine games and the England international has scored in all but one of them.
Incidentally, that game was Ronaldo's last for the club, deciding to hit the self-destruct button with his now infamous Piers Morgan shortly after. Hmmm…
Obviously, correlation is not always causation but you only have to look at his stats and how he has driven his team's attacking play since what was once his 'role model' left the club to see the marked impact he is having, especially in attacking phases.
For instance, goals like this where Rashford begins wide and essentially sets himself up by shifting the ball onto the right player, before clearly signalling that he wants it back immediately with his movement, simply weren't happening as often with Ronaldo still in the side as gradually faltering focal point.
Put simply, though obviously not universal — he still scored both important and well-worked goals since his return — Ronaldo almost became just an extra body in already cramped areas, taking up key spaces where other players might have carved out a chance. Not ideal when he's less mobile than he used to be.
While operating out wide on his favoured left channel meant Rashford regularly initiated forward moves, when playing, the ball would often come to Ronaldo, who began to find himself not on the shoulder of the last man or deep enough to receive the ball and give it back it like above, but somewhere in between.
This became a huge source of frustration for United fans, especially as his willingness to press or lack thereof was widely noted. It meant that the second ball would often get jammed up as the number seven shuffled around the box or simply cushioned it back as he prepared to turn and set on his own run.
Essentially, there were several instances over the past year or so where you had two players trying to do the same thing; one was trying to play in the same mould as his predecessor back in his younger days, while the other now lacked the pace and agility to do so and had to adjust his game to get on the ball.
It's not like we're the first to make the comparison, by the way. There are a lot more similarities than their tricks and free-kick techniques — he's even been matching CR7 records:
More accurately, Ronaldo hasn't just needed to tweak his own game to become more of an out-and-out striker, prioritising poacher finishes over mazy runs, but he has also made teams change the way they play to suit him, as seen towards the end of his time at both Juventus and United.
Rashford will have no doubt learned from years of watching the winger turned recording-breaking striker when playing at his best, not to mention soaking up his experience as a teammate, but as his effectiveness and attitude dropped off for the club, there is an argument to be made that Ronaldo slowly became more of an obstacle than an example.
Once again, the statistics speak for themselves:
Prior to this season, Marcus was reportedly away getting his performance data captured and analysed, honing things such as his take-off speed by switching from his back foot and maximising his peripheral vision to gain that split-second advantage when receiving the ball or beating his man.
He also worked a lot on running drills as well as strength and conditioning. The lightning-fast forward has always enjoyed playing off the shoulder of the last defender and running in behind, scoring many goals in this fashion, but it's those fine margins that help you become an elite and, crucially, more consistent player.
Moreover, he looks stronger, creating even more chances as he's able to better hold off his opponent and shield the ball for longer. Rashford has enjoyed plenty of bright spells for his club but they have never lasted this long. Again, confidence and clinical ability are now being combined with consistency.
Last but not least, a huge part of his improvement might simply come down to the fact that he has reverted back to being the main man in the squad. He is no longer following Ronaldo's example but is leading by it instead. His resilience and determination to stay on the pitch in the derby despite struggling through injury speaks volumes.
He was rewarded by not only contributing to the first goal, controversial though it may have been (that's an argument for a different day), but by scoring another winner — again, now at the highest rate of any Premier League player in history.
One could even argue he is proving he is worthy of wearing the hallowed number given to him, as demonstrated by surpassing Rooney's home record, not to mention matching that of one of the greatest players to ever grace the game. If he keeps going like this, who knows what other feats he can achieve?
The likes of Bruno Fernandes and Luke Shaw have all said it now feels like a 'proper team', and it's evident that Rashford's commitment has been instrumental to that.
It doesn't hurt that he's clearly got the full trust of his manager too, having been put back on penalties and the majority of free-kicks too, which prior to his departure would usually go to Ronaldo or alternate between Rashford, Ronaldo and Bruno.
Now there is more clarity and conviction in his game, you expect to see the number 10 standing over the penalty spot and most free-kicks.
Rashford isn't the only top talent in the side that seems to have been unshackled since Ronaldo left either, as Fernandes himself also looks to be slowly getting back to his creative best as well, with his output getting back to normal levels. This team with Bruno's 20/21 numbers would be a serious problem.
Read more:
Are you starting to see a pattern?
United might have added the likes of Wout Weghorst to their ranks and variety of attacking options, but having first removed a rather big personality from those forward areas seems to have done wonders not only for Marcus Rashford but the team as a whole.
Ronaldo had his moment in red and has enjoyed far longer in the sun than most footballers could ever hope, but in stepping out the side he has also allowed Rashford to back out from underneath his shadow and allowed others to start shining in the process too.
Now, the question is how far can ten Hag take them?
For all the latest news, events and goings on in Greater Manchester, subscribe to The Manc newsletter HERE.
Featured Image — Marcus Rashford/Manchester United (via Twitter)