Art & Culture
Where to find the secret artworks hidden across Manchester
There is some incredible artwork tucked away amongst Manchester's bustling streets - use our guide to discover the city's hidden pieces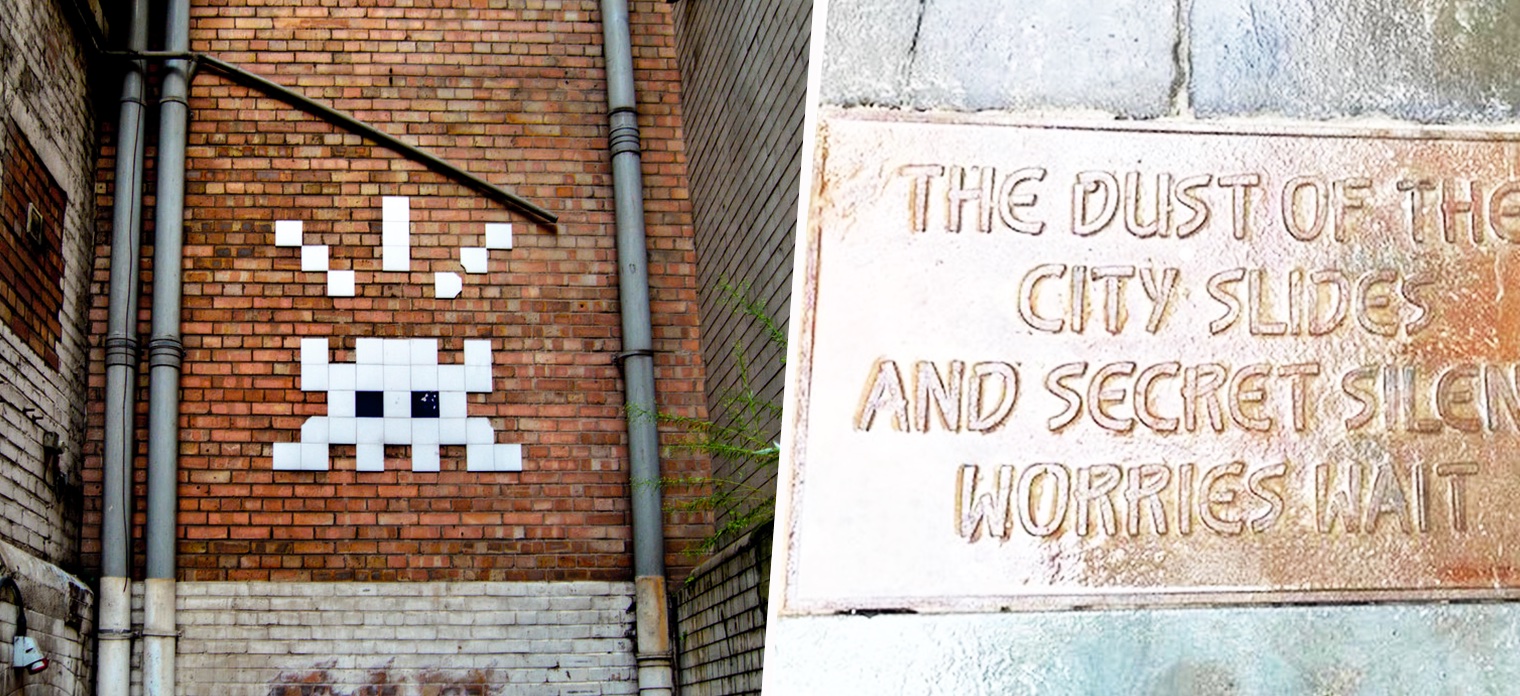 Manchester is bursting with hidden artwork. No wonder, arguably we are home to the most creative minds in the UK.
The work we are presenting you with today proves this in both their subject matter and beauty.
Here to help you make the most out of Manchester and learn all there is to know about the city, we'll even spill its best-kept secrets for you.
Read on to discover our list of secret artworks you may or may not have noticed in, around, over, or under Manchester.
LGBTQ+ Heritage Trail
A cluster of rainbow tiles marks the significant locations of Manchester's LGBTQ+ history.
Tiles are found outside Manchester's Magistrate Courts, where thousands from the LGBTQ+ community faced prosecution; by the Alan Turing statue in Sackville Park, and outside Manchester Town Hall.
In fact, you can follow a trail of these small but powerful works of art across the whole city.
Curated by John Browne, the tiles lead you on a trail down a greater understanding of the role Manchester played in introducing radical ideas and making them every day for LGBTQ+ people in the city.
Other locations include the Transgender memorial in Sackville Park, the Albert Kennedy memorial on Chorlton Street, Beacon of Hope in Sackville Park, and the Manchester office of the Campaign for Homosexual Equality.
The tiles are a source of pride and a constant reminder for city dwellers of our rich history.
Sound Bites on Oldham Street
Manchester-based artist Tim Rushton graced Manchester with our very own Hollywood Walk of Fame. We were long overdue.
On Oldham Street, 20 cast iron triangles are set into the pavement commemorating the greats of Manchester's music industry.
The artwork is Mancunian through and through. Rushton consulted with local musicians, DJs, and music venues, leaving no slab unturned.
From Twisted Wheel Club to Oasis and back to the Hacienda, the artwork demonstrates how Manchester's music forever supports the city we walk on.
Space Invaders
If you didn't know, the aliens have been hiding in plain sight for years.
The brainchild of anonymous French artist 'Invader', the artworks are dotted in various locations around the city.
Known locations include Salmon Street, Dantzic Street, Canal Street, Newton Street, and Bunsen Street – but there could be many more.
Invader calls themself a UFA, an 'Unidentified Free Artist'. Invader explores international densely populated urban areas and "invades" them. Displaying 20 to 50 pieces per city, Invader sometimes returns several times deploying different "invasion waves".
Manchester is one of the chosen ones, and we feel honoured.
However this wasn't always the case, as on their initial discovery, the ceramic features were feared.
In 2013 a Manchester city council spokesman said: "We will use all our power to identify the perpetrators."
Good luck with that – Invader always wears a mask so they can visit their own works without any visitors seeing their true identity, even if they are standing a few steps away.
Ancoats Peeps
Ancoats Peeps could not differ more from conventional artwork. Instead of hanging on the wall of a gallery, they are hidden deep in the walls of random buildings in Manchester's Ancoats neighbourhood.
Brass eyepieces are concealed in 12 different locations, which are known to be tricky to find.
Scenes found within the spyholes include a tunnel, a bell tower, a toilet, and even a space inside a mill closed since the war all provide a glimpse of what Ancoats once was.
Artist Dan Dubowitz was inspired by the ancient practice of walling up objects into the buildings as good luck charms.
Apparently, it takes 30 minutes to see them all – if you know where to find them that is.
Unfortunately, there is no map so we can't help you there, but we do have a tip for you.
If you're searching for them, keep an eye out for buildings that are hard to get to and appear derelict. You didn't hear it from us!
Spring Gardens Post Office Murals
The mystery of the Spring Garden Murals is one that has puzzled many art lovers.
Brutally bold murals sit above the counters of Spring Gardens Post Office but are often unnoticed by busy Mancs panic-mailing their Christmas presents or scribbling away in birthday cards.
It seems strange they are so overlooked, as it's hard not to notice them once you know they are there. Even stranger, however, is that no one knows who made them to this day.
Apparently, they were a gift from Manchester University when the Post Office opened in 1969, but some are not convinced.
There is no credit from an institution, student, or artist – and they sit unclaimed and unnoticed.
Can you solve the mystery?
Perched Exotic Birds
The Northern Quarter is bustling with art and colour, its streets are literally paved with art.
So is the sky.
Roosting above John Street, watching the shoppers go by, is Guy Holder's sculpture 'Perched Exotic Birds.'
The Brighton-based artist sculpted a cluster of ornamental birds and parrots to sit on old fire escapes and window ledges above the streets of the Northern Quarter.
At first glance they look like your standard street pigeon, however, closer inspection shows they are brass and have a much more interesting story.
Moving into the Victorian Era, Tib Street residents shaped the trading community by featuring live animals in their muddy markets – at one point it's believed 20,000 people descended on the area in one evening to enjoy the sights.
The idea behind Holder's birds is that although the markets are gone, the birds are not – they escaped capture and fled to the surrounding streets. Today they live freely and forever above our heads.
You wouldn't know they were there unless you were told. Now we've told you – you won't unsee them.
Mark Kennedy's Mosaics
Mark Kennedy's mosaics immortalise everything iconic about Manchester, which grants them supreme status in our eyes.
Though not hidden, they modestly line the arches and walls of Afflecks and we think they deserve more recognition.
Mosaics include city icons such as Tony Wilson (who Kennedy himself was friends with), George Best, and Smiths frontman Morrissey and are must-see masterpieces of Manchester.
There is also a more recent collaboration with Leeds-based artist Mary Goodwin, commemorating Mark E. Smith from The Fall. Kennedy, we understand, has hidden this artwork somewhere down Short Street.
Kennedy works with broken tiles in what he calls a Barcelona style with a Mancunian twist.
He's a proper Manc, Ardwick born and as iconic as those he illustrates.
Getting a picture with these valuable works of art now would be just as good as standing with the real people.
Big Boys Toy
A 12-meter-high art installation on the top of a Northern Quarter car park? We have so many questions.
Located in an NCP car park, Peter Freeman's installation often goes unnoticed, but its purpose is important to our city.
Originally installed as part of the Northern Quarter Street Festival in 1998, Freeman wanted to reflect the vibrancy of the regenerated part of town so when night falls the beacon lights up in brilliant neon lights.
Sadly, for five years, the lights were switched off due to a dispute between CityCo and the NCP on how the installations would be powered and paid for.
Thankfully they sorted out their differences last summer, and now between the hours of 11 pm and 1 am you can't miss the beacon as it lights up the Northern Quarter.
Our very own Northern star.
Lemn Sissay's 'Flags'
The poetry of Lemn Sissay has paved Tib Street for 24 years, stretching out for just under a mile.
Lemn Sissay was the official poet of the 2021 London Olympics and has been Chancellor of the University of Manchester since 2015.
Sissay is also the artist/poet behind Rain, the beautiful mural above Gemini Takeaway near the Oxford Road university campus.
The Flags poem had long been a part of the Northern Quarter's fabric but, understandably, the ceramic letters wore away – breaking it down into a valuable artwork and equally unreadable poem.
One could say it was words interacting with life on a very intimate level, but the Manchester City Council, Bruntwood, and the Arts Council decided it was time for a re-vamp.
Now you can visit an updated version of Flags with a new poem written by Sissay specially for the occasion.
Working once again with artist Tim Rushton, remember him from the Sound Bites? Well Rushton also designed with original Flags font back in 1997 and worked again on the most recent version.
The Northern Quarter's got Sissay and Rushton written all over it, you just need to know where to look.
The Binks Pineapple
Sat above one of the busiest street corners in Manchester is the Binks Pineapple.
The artist Kate Malone was commissioned in the late 1990s by Majolica Works said of the piece: "I see my pineapples as a symbol of friendship and hospitality."
The work sits at the top of the Binks Building based in an area steeped in history, art and culture with a view of the walls and gates of Speakman, Son and Hickson's Wholesale Fish Market.