Audio
Bluedot Festival 2023, where science and music collided with the muddy Cheshire countryside
Weather aside, we had a great time.
Our review of Bluedot Festival 2023
Bluedot is the festival where science, space and music come together and meet in the Cheshire countryside. Just outside the massive Jodrell Bank Observatory, to be precise, which I learnt at is the third biggest movable telescope in the world. Every day's a school day.
The Bluedot team had an amazing week of live music and science talks planned, it's just a shame Mother Nature had other ideas and decided to open the heavens onto the North West of England. How rude of her.
As a 9-5 worker, I was planning to be there all weekend but as it got to Friday evening and I was sleepy, so I joined in on the fun Saturday morning. I was already jealous of the previous day's sun and blue skies because straight away we were met with heavy rain and cars having to be towed out of mud. Oh, joy.
Now this part might be confusing to some (it's confusing still to me), but after successfully traversing the soggy car park I went ahead and hopped out of my car, in Converse. Big mistake.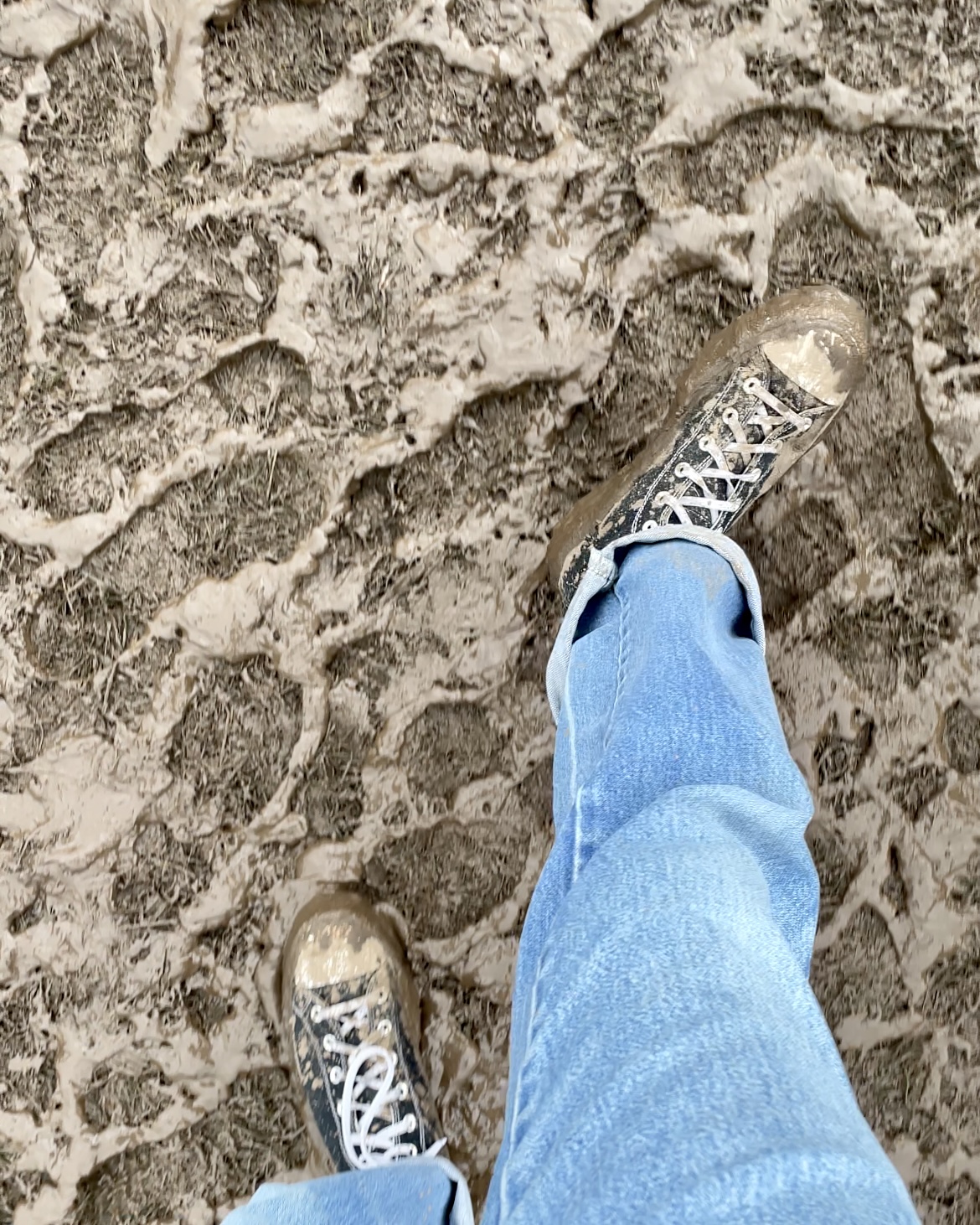 Once my shoes were two inches deep in the sludge I gave up trying to ballerina on the dry parts of the grass and got fully into what Bluedot 2023 had to offer.
And there was plenty of it.
Walking into Jodrell Bank, I was teleported into another world; a world where science fiction characters had all got together for one big party. Straight away I was greeted by an R2-D2 casually rolling up on me, and across the way were stormtroopers accosting a woman trying to buy socks at the gift shop.
There were people with UFO umbrellas, babies with alien ears, astronauts and more. Everyone was head to toe in their best sci-fi get-up. Here were some of our favourites:
First on my music schedule was Manc band, Nightbus, who are still in the early days with just two singles out at the moment, but already gathering a lot of attention, including ours.
There was plenty more post-punk on the schedule today, including one band I caught after just hearing them from afar, Treeboy & Arc, who I really enjoyed watching.
My favourite part of the festival was the main stage and just listening to the live music whilst occasionally glimpsing up at the gigantic Jodrell Observatory just beside it — it's truly breathtaking in size and engineering.
In between the music, there was plenty of chance to check out everything else Bluedot 2023 had on show and after a short walk, I found myself wrangled into a group of people who were all getting a tour around the observatory and watching it reposition itself was mind-blowing to see.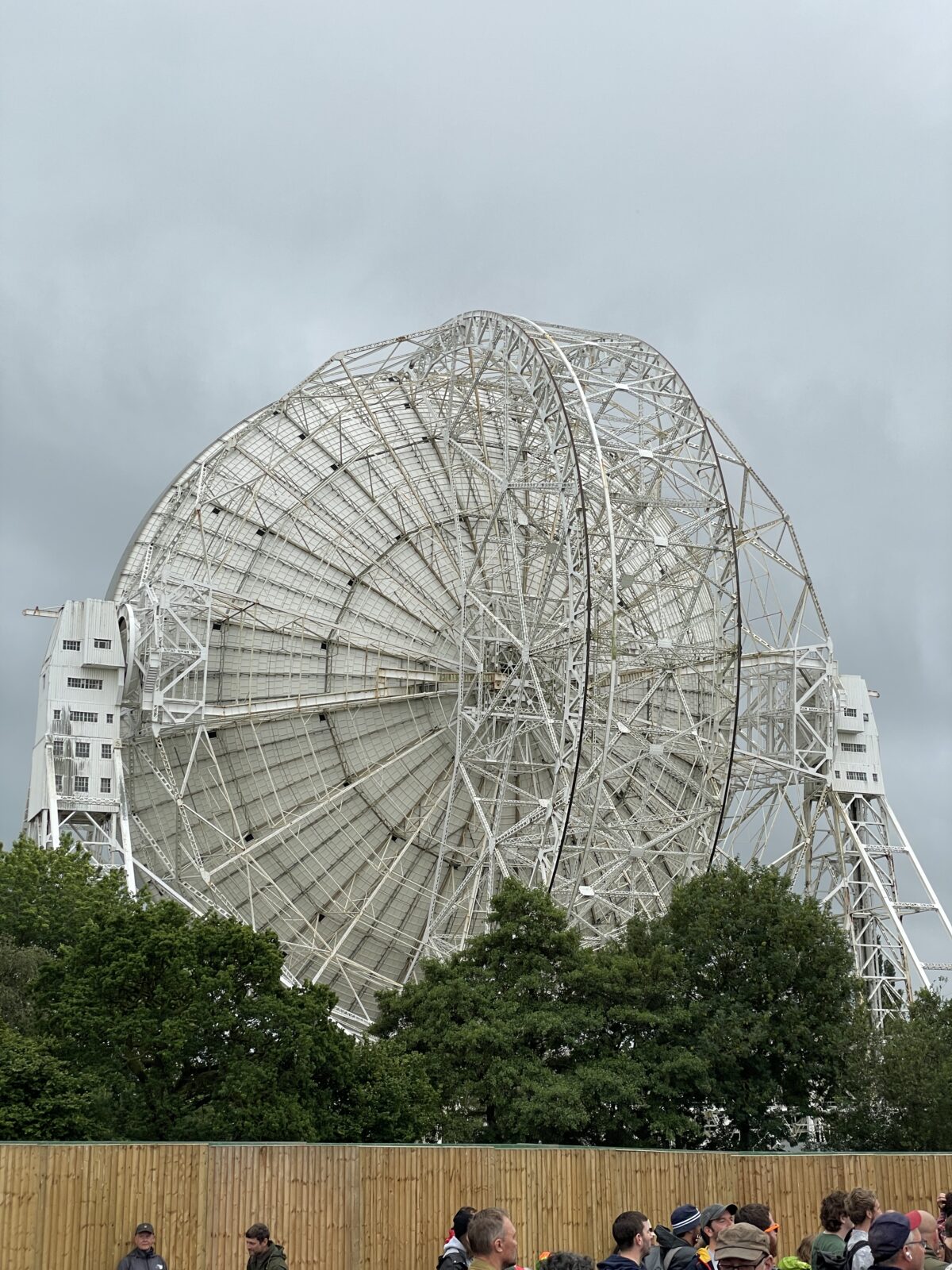 It was great to see how many kids were soaking up all the fun as the festival was filled with families too, from parents dancing with their babies at the main stage, to the groups of kids participating in lightsaber training and running around with balloon sabres for the remainder of the day.
I definitely recommend this festival for next year if you're a family with younger ones wanting to get out of the house and since it always aligns with the school holidays, Bluedot is a great place to spend a weekend, especially if the sun manages to stay out longer than an afternoon.
Unfortunately for everyone, including the Bluedot team, who tried their best to prevent a mud bath by putting bark and walkways down, it was a complete washout.
And even though as the day went on and the bands got better and better, with incredible sets from Snapped Ankles, Dry Cleaning, Folly Group and Pavement, who closed the main stage, there was no doubting the impact the rain and mud had on the festival.
Where perhaps if it was Parklife you would've seen a younger generation mud sliding and various other shenanigans, this festival had plenty of older families and couples and even though most people just 'got on with it' the conditions were simply too much and that led to the cancellation of Sunday tickets.
As you can probably guess and much to my sadness, I didn't go on Sunday but still, the Saturday of Bluedot 2023 was brilliant.
Read more:
For anyone still unfamiliar with this wonderful annual event, Bluedot is a science festival which has multiple talks on the consequences of global warming and a whole exhibition titled 'Our Fragile Space' which is on the negative impact we're having even in space.
So it's kind of poignant and ironic to me that this whole festival, which is trying to teach people about the ramifications of global warming and our impact on the Earth, is completely washed out by a month's worth of rainfall in the height of summer.
People will just say, "That's just English weather for you", but if that's not an anymore obvious indication of global warming already impacting us while you've got wildfires burning over in Greece, then we don't know what is.
Grab yourself a Bluedot 2024 ticket, attend some of those talks and, hopefully, we'll see you there.
For all the latest news, events and goings on in Greater Manchester, subscribe to The Manc newsletter HERE.
Featured Image — The Manc Group