Audio
Potato peelers are banned at Parklife festival — and it's all Liam Gallagher's fault
'You best not be bringing your peeler to Parklife, otherwise you'll be getting gripped, sunshiiiiine.'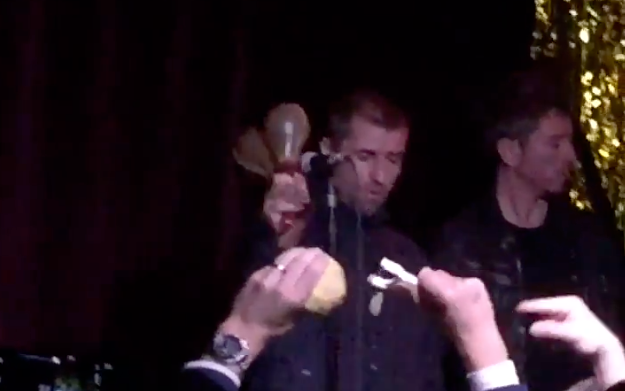 The list of prohibited items and illegal contraband at a festival is long and, in most instances, very obvious, however, one thing we never expected to see banned is potato peelers and for that we have Liam Gallagher to thank.
You can file that one firmly under sentences we never thought we'd write.
After a Parklife punter tweeted a picture of the conditions for entry and the list of banned items and was understandably confused when she saw potato peelers on the list, she simply had to know what happened in the past for the festival to put this on their list.
Apparently, she was unaware of the infamous 'Spudgate' incident of 2017.
For any of you haven't heard about until now either, a few years back the former Oasis frontman decided to take the piss out of his big brother Noel after he enlsited the help of someone to play scissors during a performance on Jools Holland.
Taking inspiration from an admittedly random and easily memeable moment, his younger sibling asked fans to bring along potato peelers "peel some spuds live on stage" in an effort not only to mock the random 'instrument' choice but to make yet another dig at his brother, who he's often called a "potato".
Naturally, his die-hards took the request seriously and began bringing along the kitchen utensil to gigs and literally started peeling potatoes in the crowd.
No, we're not joking. This happened at a random little intimate gig in London's Bethnal Green:
Read more:
A truly unbelievable and crease-worthy sight, we're sure you'll agree — Liam certainly seemed to enjoy this legend's commitment anyway, tweeting: "To the peeler who peeled his little heart out last night you my friend are truly out there psychedelic even as you were King Parka Monkey x".
However, as hilarious and iconic a moment it is in music history, it came a great cost as the following year Parklife announced they were banning potato peelers from the festival from 2018 onwards.
The rule seems to have been kept in place ever since and while it's become a bit of a running joke, we genuinely wouldn't fancy your chances of sneaking one past security.
While we obviously don't condone potato peeling at festivals, if you manage it we want video proof.
For all the latest news, events and goings on in Greater Manchester, subscribe to The Manc newsletter HERE.
Featured Image — George Godfrey (via Twitter)/Pixabay/The Johnathan Ross Show (via ITV)