Audio
Matty Healy delivers perfect reply to being called a 'slack-jawed f***wit' by Noel Gallagher live on stage
For comedy's sake alone, we hope this beef continues indefinitely.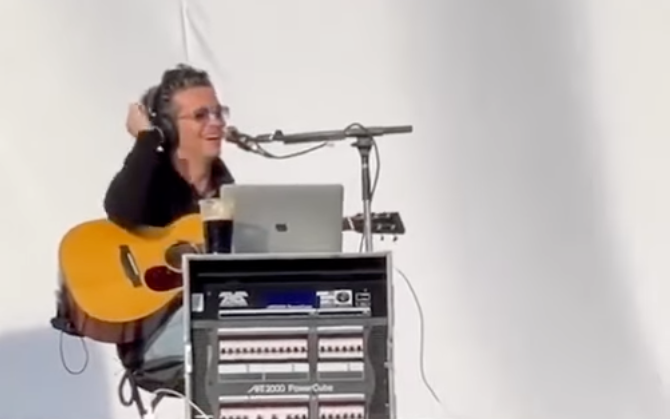 Matty Healy is once again poking the beehive and after being called a "slack-jawed f***wit' by Noel Gallagher, The 1975 frontman delivered the perfect comedic response to his comments.
Healy was on stage in Dublin on Wednesday, 7 June, essentially warming up for himself after American singer Caroline Polachek had to pull out of the show, playing an hour of additional 1975 songs that didn't make it onto the headline setlist.
A much more informal set than the main show — just Matty, a guitar, a keyboard his laptop and a little help from bandmate Jamie Squire — he spent lots of time chatting with the crowd and at one point, addressed the Manc music legend's recent roasting.
The former Oasis songwriter and guitarist was sitting down with The Spin when the interviewer asked what he made of Matty Healy's comments that he and brother Liam should "stop marding" and get back together — to which Noel said: "Oh, that slack-jawed f***wit… He needs to get over how shit his band is and split up." Bit harsh but the 34-year-old seemed to take it in stride and had his own cold comeback.
Read more:
Clearly enjoying having riled up the 56-year-old, Healy fired back by saying "The difference between me and Noel is I do a series of interviews to promote an album, whereas he does an album to promote a series of interviews".
As one person posted in the comments, "I'm not the biggest 1975 fan but he's absolutely mugged him off here", and a lot of people tended to agree.
Healy did assure the cheering crowd that he and the band all "love Noel Gallagher" and claimed that they even "asked Liam to open up for [them] but he was busy" — we would have paid good money to see that happen.
Nevertheless, we're certainly enjoying this hilarious little spat between the two and whatever you make of the two of them, they sure. Also, Matty's right, the Gallagher bros should just get over it already and give the people what they want: an Oasis reunion. One day, we can always pray.
For all the latest news, events and goings on in Greater Manchester, subscribe to The Manc newsletter HERE.
Featured Image — @bertrandrustless (via Instagram)/NME (via YouTube)