Audio
Rockstock, one of the UK's biggest and best tribute festivals, returns to Stockport this May
When Woodbank Park channels the spirit of Monsters Of Rock in its prime.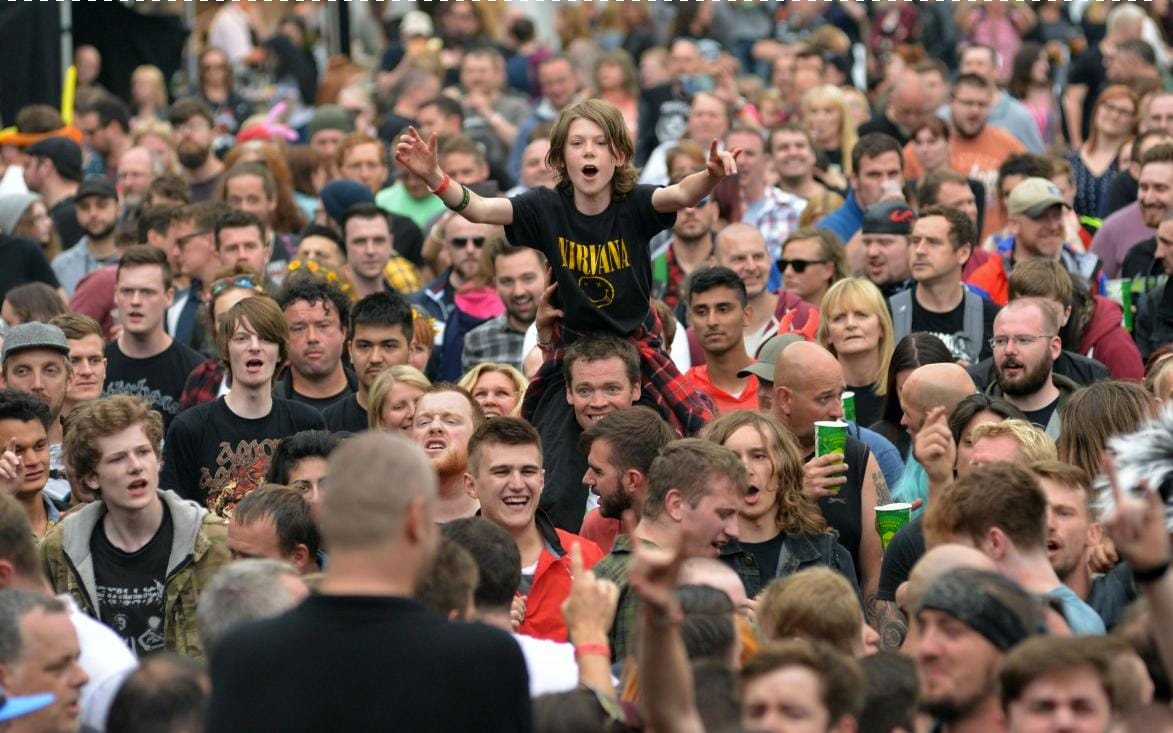 One of the few pains of being a music fan is that no you can't always manage to get tickets for the biggest bands in the world, certainly not if you're looking to see them all in one place.
Moreover, not only is there only so many people you can fit on a big field, but tickets for the likes of Download, Slam Dunk, Reading and Leeds and so on seem to be getting pricier every year, meaning it can be harder and harder for some gig-goers to make it to all the shows on their list.
So, what's the next best thing? Well, we don't know about you but a super affordable tribute festival where dozens of acts play nothing but the biggest bangers from some of your favourite artists all weekend sounds pretty good to us.
In fact, we know it is: we've been to Rockstock before and we can well and truly vouch for this local cult favourite.
Rockstock is the two-day Stockport-based tribute festival created by the same minds behind Festwich, the biggest tribute festival held just down the road in Prestwich's St Mary's Park every summer for the past 11 years.
Copying the winning formula set out by its popular predecessor, Rockstock 2023 returns for its third year on May 27-28, with more than 30 different bands turning up to not just imitate the greatest rock bands in the world, but sometimes put them to the shame. No, not exaggerating.
The tribute act scene is one we've always had a real affection for — there's nothing quite like going down to your local and watching a bunch of often middle-aged musicians giving it their all as 'Metalicker' or 'Iffy Byro' — and it doesn't get much better than this.
Organised by UK Tribute Festivals, their ethos is all about sparing no expense in creating the best possible festival experience possible and delivering the same high production value you'd get if you were going along to any to see the real thing, as well as making sure there's all the usual festival attractions.
Read more:
AC/DC, The Killers, Linkin Park, The Madness, Mötley Crüe and countless others are among this year's Rockstock lineup. It drew a massive crowd in 2022 and is sure to do the same again this summer.
Although there will obviously be plenty of sunny beers enjoyed, just like at any festival, one of the reasons we like this festival is that it has always proven to be an extremely fun-filled and safe family environment, not to mention serving as a great way for the little ones to go along to their first rock show.
Last but not least, perhaps the best part about this lovely and not-so-little festival is that despite promising to be bigger and better than ever this year, admission will only set you back a tenner, with kids' tickets costing just £3. Absolutely ace.
You can grab your tickets for Rockstock 2023 HERE.
For all the latest news, events and goings on in Greater Manchester, subscribe to The Manc newsletter HERE.
Featured Image — Rockstock/Festwich