City Centre
Shoppers report getting stuck for FIVE HOURS in Manchester Arndale car park
'I can't get out'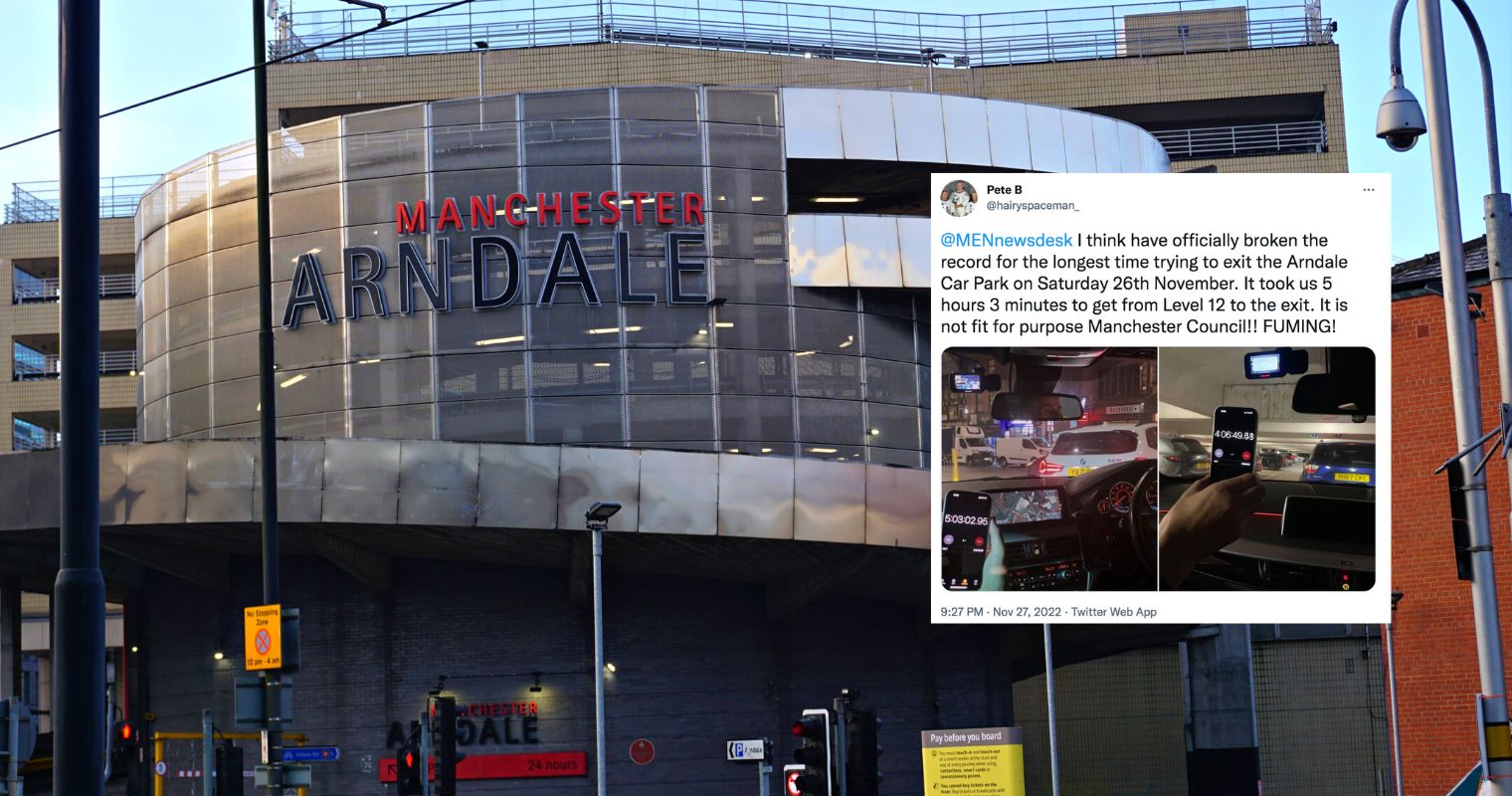 Shoppers in the city centre say it took almost five hours to exit the Manchester Arndale's multi-storey car parks this weekend.
Motorists say they were crawling along in the multi-storey car park for hours on end.
One person slammed the lack of management of the parking complex after spending 'four hours in bumper-to-bumper traffic'.
Another 'trapped' shopper said they arrived back to their car at 5pm but didn't manage to actually exit the Arndale car park until 9.40pm last night.
They even helpfully shared a diagram showing that a car in front had travelled only 'five spaces' in the space of three hours.
One tweet showed someone timing their journey (or lack of) on their phone, racking up an eye-watering five hours, three minutes and two seconds in the multi-storey.
Someone described it as 'absolutely crazy' after spending four hours trying to exit the Arndale car park.
Other images show cars snaked back on the spiralled ramp leading in and out of the space.
They wrote: "Can someone come and help in the Arndale carpark! On floor 11 and we have been static for 1hr. Most expensive carpark I've ever been in and now I can't get out.
"I have seen online this happened yesterday, so why isn't anyone managing this today???"
The user later added: "Is anyone coming to help? This is a massive safety /fire issue."
The Manchester Arndale has said it believes the congestion was caused by traffic on the surrounding streets.
Read more
One person tweeted: "Never again. A nightmare being stuck in your car park yesterday for 4 hours!!!! Bumper to bumper traffic queues, no management from staff, wasted fuel, extortionate fees! Babies, children, disabled & elderly all trapped. Disgusting (none) management!"
Replying to several people on Twitter, they said: "Hi – we're sorry to hear about your experience. The car park adjacent to us is owned & managed by @ManCityCouncil.
"We believe the congestion was due to traffic flow on the surrounding streets. If you have any other queries we would recommend you contact the Council directly."
TfGM's Head of Highways, Peter Boulton, said: "Manchester is a top destination and with a number of events and the Christmas markets adding to the usual retail and leisure offering, the last couple of weekends have seen increased numbers of people travelling into the city centre by both car and public transport.
"We'd encourage anyone coming to Manchester to think about how they are going to get in, around and out of the city and to plan their journey in advance, avoiding the busiest times and routes where possible."
Featured image: Unsplash / Twitter @hairyspaceman_