City Centre
Siam Smiles, the authentic Thai cafe on a Manchester backstreet
With bills firmly on the rise once again, we thought we'd pop in to shine a light on this longstanding Mancunian gem.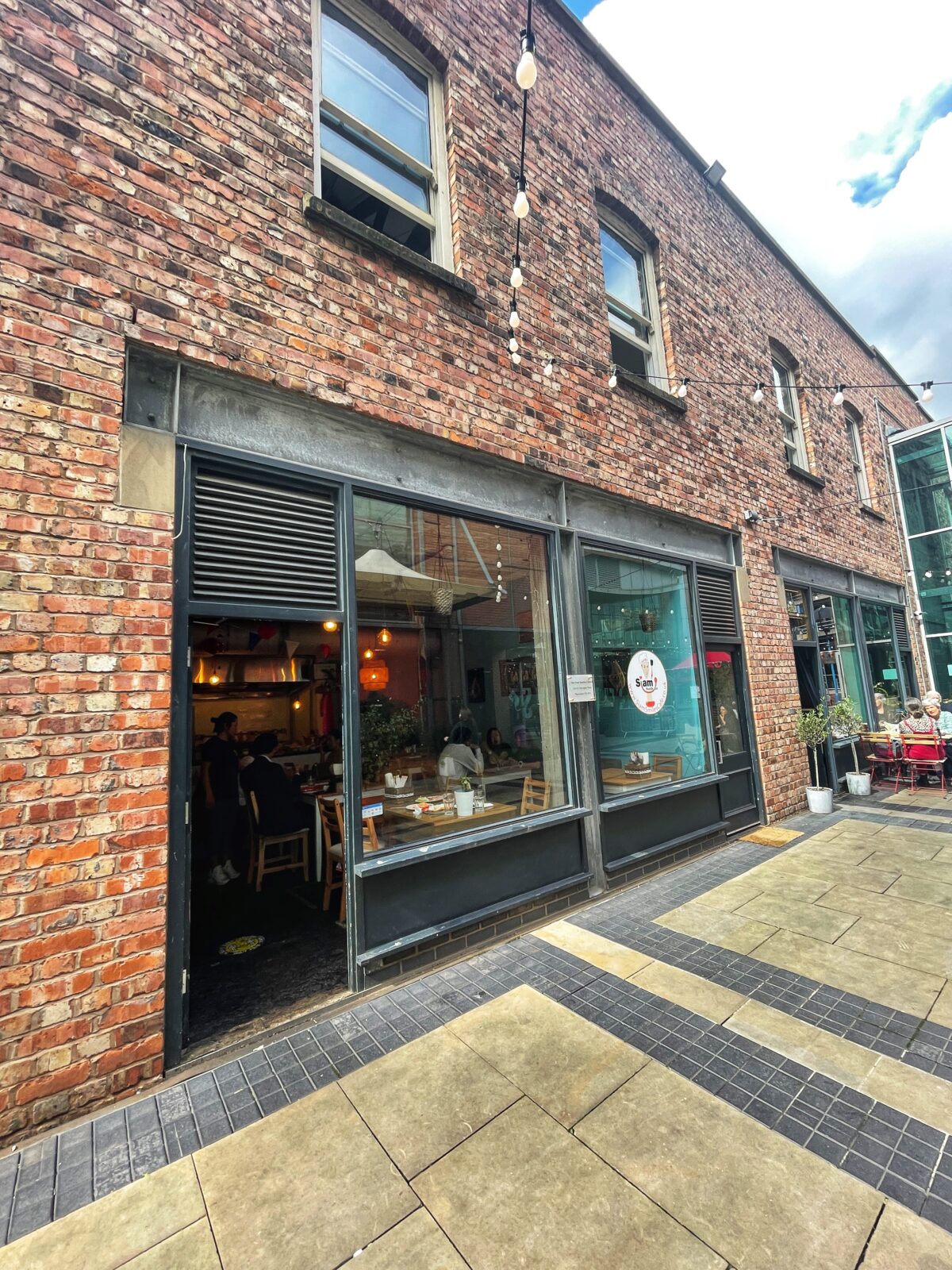 When Siam Smiles was still a little cafe in a Chinatown supermarket it received serious rave reviews. Since moving up to Deansgate Mews, however, it seems to have been forgotten about a little.
Most famously described as "the most exciting thing to happen since the days of the Hacienda" by Marina O'Loughlin in a 2014 review for The Guardian, owner May also made headlines for teaching herself to cook on Youtube after her chef left the business one month after opening.
National critics, like O'Loughin and others, were seemingly drawn in by the cafe's novelty – not one review missed the opportunity to mention the supermarket, or tell you how the ingredients in the dishes were often the same as the ones on the shelves.
But since it has moved over to The Mews, an oft-forgotten back street within the Great Northern Warehouse complex, the reviews have gone suspiciously quiet – so we thought we'd pop in to see if it's all still up to scratch.
Spoiler alert, it definitely is.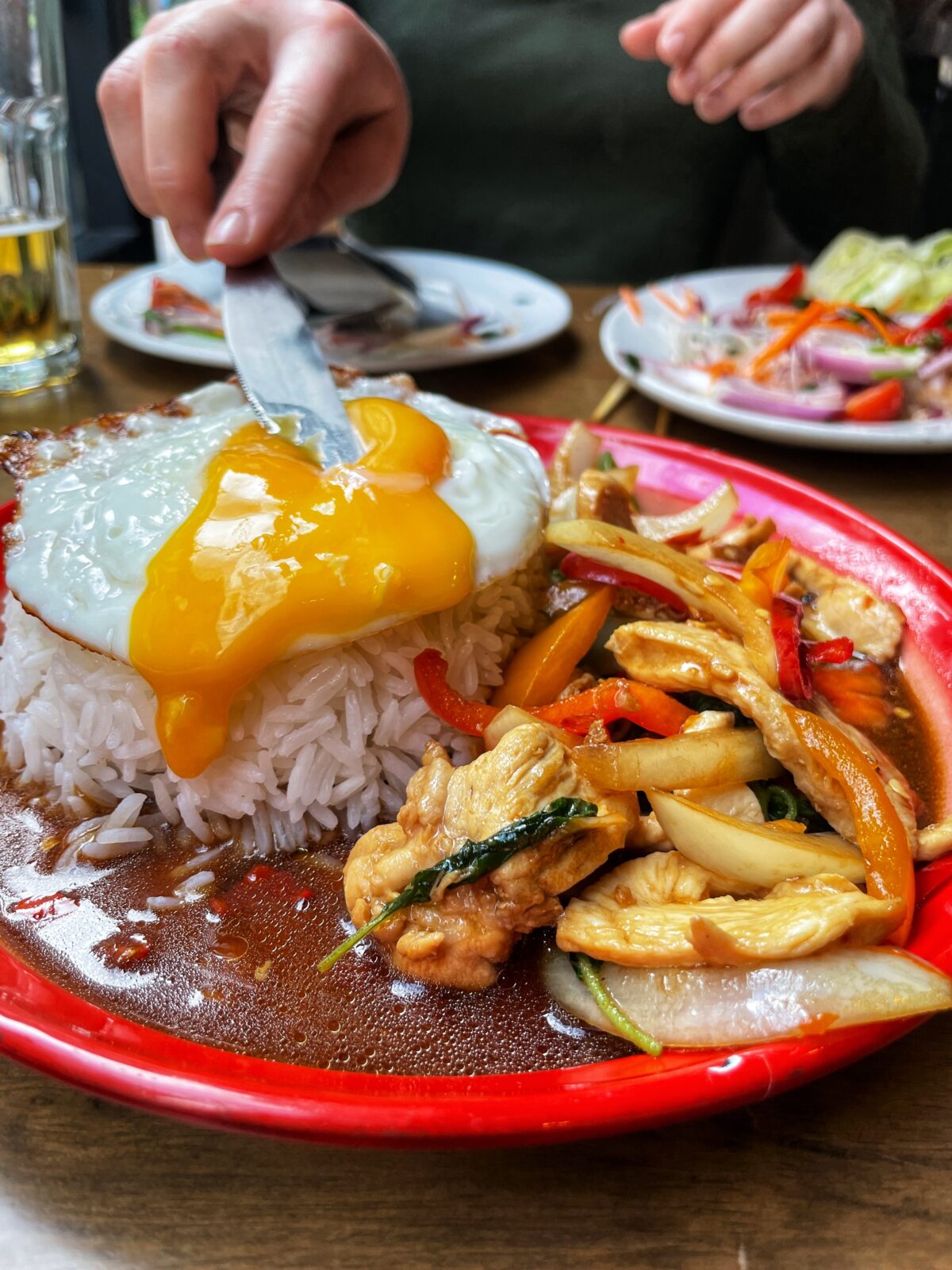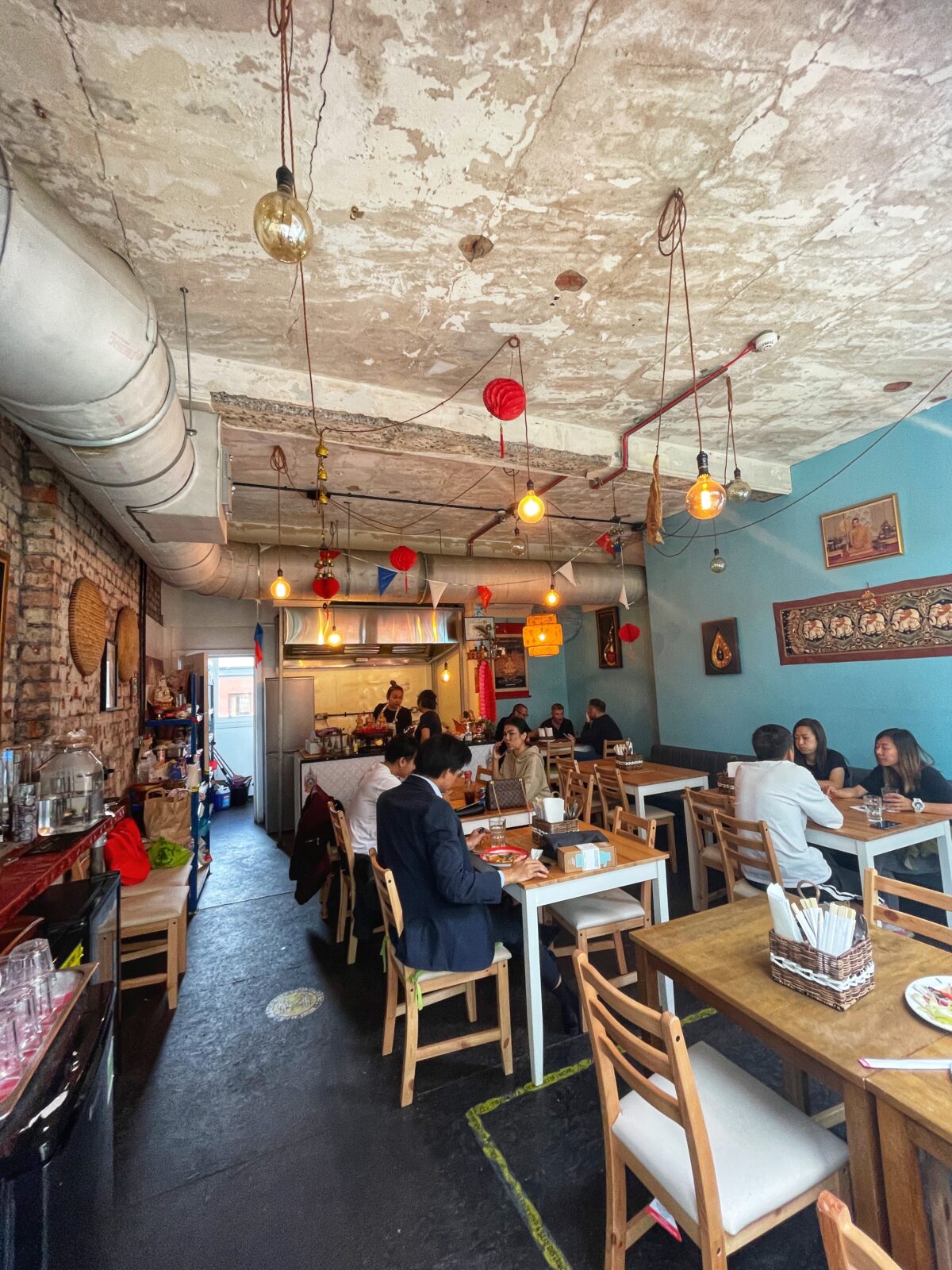 Two years after that rave review from O'Loughlin, rising bills forced the cafe to close – but with a little help, May reopened in 2016 at the Great Northern Warehouse. It's here that you'll still find her cooking up a storm today.
With bills firmly on the rise once again, we thought we'd pop in to shine a light on this longstanding Mancunian gem and are happy to report her food hasn't faltered one iota.
We went for stir fried chicken Pad Ka Paow with jasmine rice and a fried egg, and a steaming bowl of KuiiTiwe Moo Nam Tok with fresh egg noodles and roasted duck breast, with two glasses of Singha on the side.
Read more: The swanky new Manchester cocktail bar housed in an old bank vault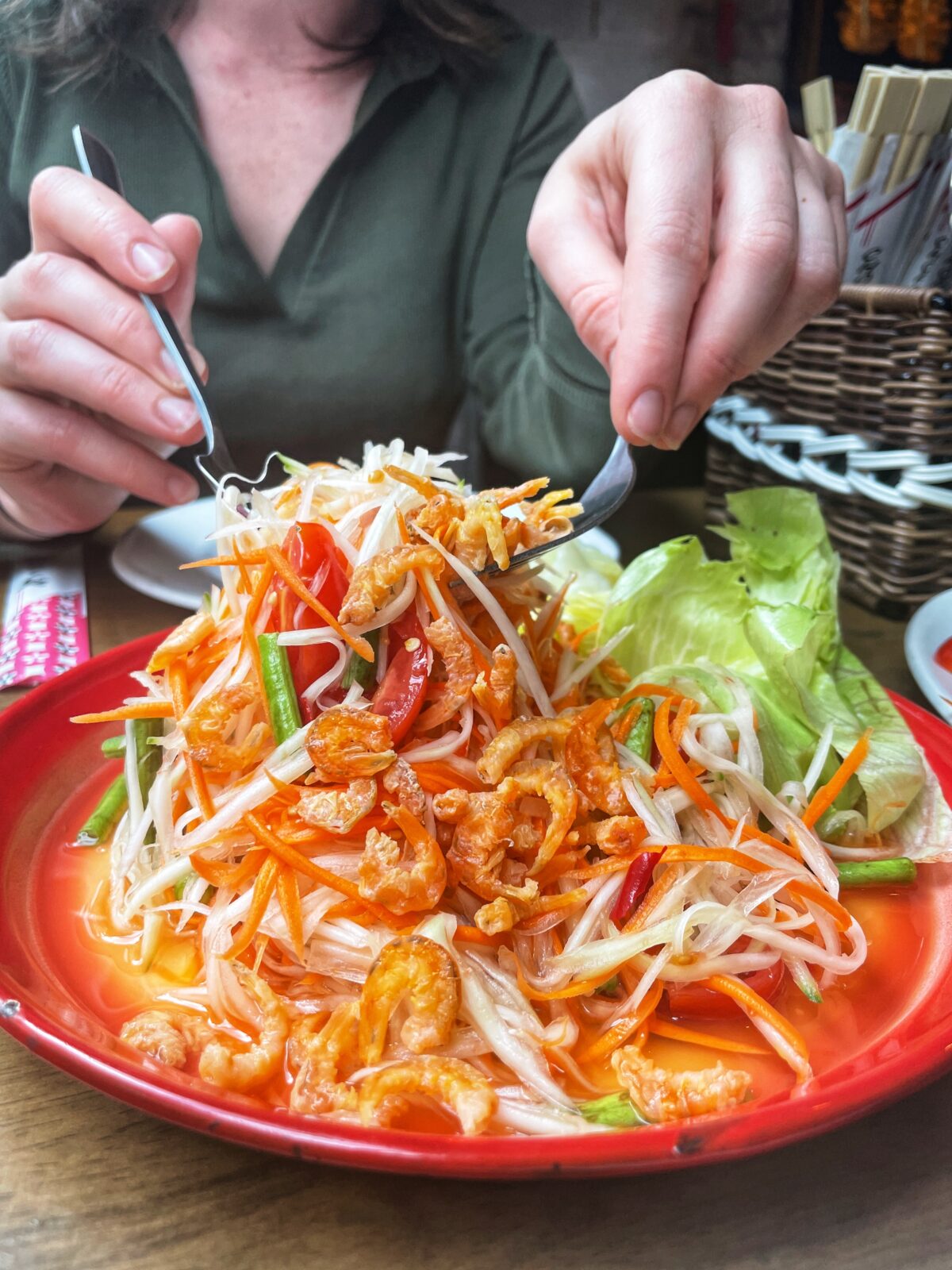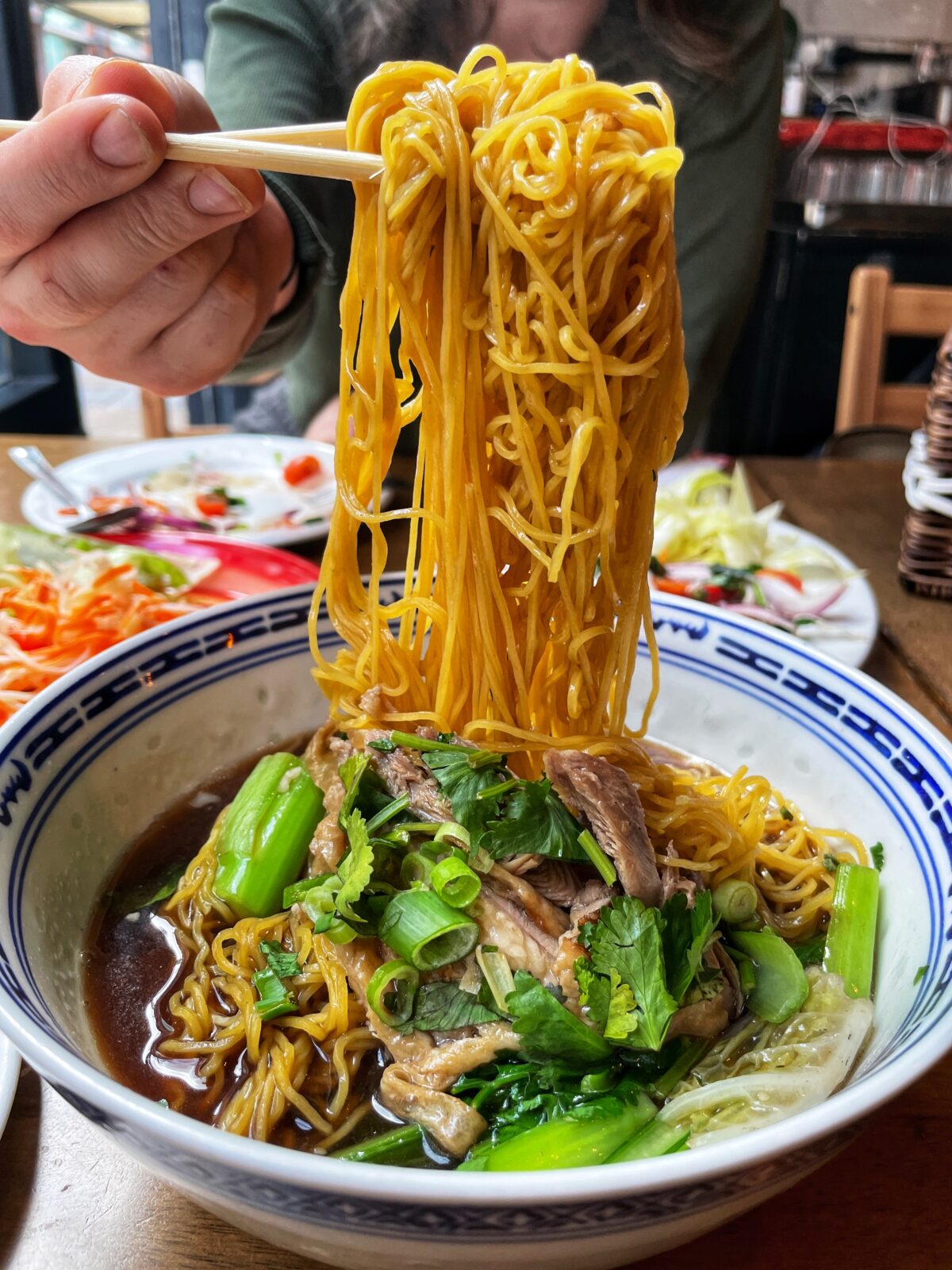 We also couldn't help but opt for a hearty portion of green papaya salad with dried shrimps, a dish that's hard to find but something of a speciality here, as well as a second glass noodle salad with plump prawns and minced pork.
The dressings, always made by May herself, completely hit the spot with their balance of hot, sour, salty and sweet.
Read more: 'We are facing extreme economical pain' – District suggests it could be closing
We strongly recommend you pop in and show Siam Smiles some love. It's not all just about the shiny new restaurants, after all. We need to treasure the veterans too – and this is one we need to protect at all costs.
Find the cafe on Deansgate Mews Unit G Upper Level ,Great Northern, 253, Deansgate, Manchester M3 4EN.
Feature image – The Manc Eats