City Centre
This is why a group of totally naked people were drinking in a Manchester pub yesterday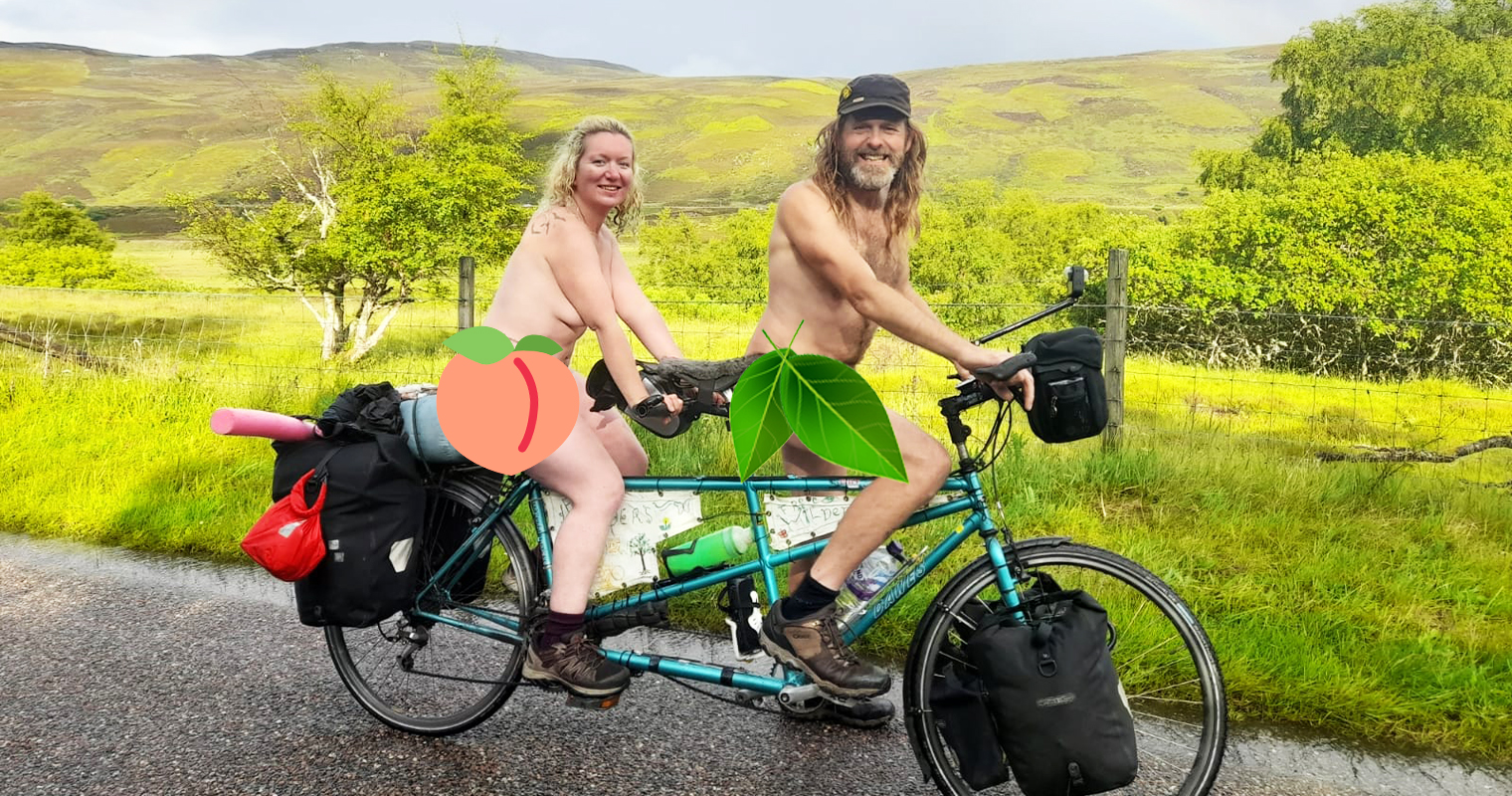 Several Mancs were caught by surprise yesterday by the sight of a group of totally naked people having a pint in a local beer garden.
The group of four were spotted having a drink outside the New Union Hotel on Canal Street, with not a scrap of clothing between them.
They were later seen cycling around the city – including a pair on a tandem bicycle – and grabbing a takeaway from McTucky's in the Gay Village.
The duo on the tandem, known as the Free Wilders, are actually on a pretty epic bike ride across the UK for a very worthy cause.
Colin Unsworth and Sadie Tann are naturists, and advocates for rewilding, the basis of which is that nature can look after itself if ecosystems are properly restored.
They're currently cycling the massive distance between John o'Groats and Land's End to raise money for charity, and doing it all starkers.
During their stop-over in Manchester, Colin said they had a 'great reception and positivity from the people of Manchester', a section he'd been looking forward to all along.
On their JustGiving page, which has currently raised almost £2000 for both Rewilding Britain and mental health charity Mind, they say they chose to do the ride naked to help spread their message.
They wrote: "If you're reading this it is most likely because of the attention that this challenge will get. If we just ride the LEJOG in cycling gear, no one will notice our message. But also, we're going to have a scream.
"We are going to visit rewilding farms and projects along the route and stop for parties wherever we can. This is a celebration of our future and of body freedom."
They advocate for the mental health benefits of naturism in a world that treats nudity as 'humiliating'.
Read more: The first baby beaver has been born in Cheshire for over 400 years
The Free Wilders say: "We grow up in a world that expects us to be ashamed of our bodies as though there is something so bad, so hideous that there are few things more humiliating than being seen naked.
"This is reinforced by images that sexualise nudity and tell us that without a magazine perfect body, we have something to hide and be ashamed of. We are breaking free of that. Non sexual nudity should be celebrated and seen as normal!"
If you want to join in with the Free Wilders, you can follow along on Facebook to join in with a leg of their cycle from John O'Groats to Land's End.
You can also donate to their JustGiving page here.
Featured image: Free Wilders