Eats
Greater Manchester chocolatier Slattery's is selling a Hacienda-inspired Easter egg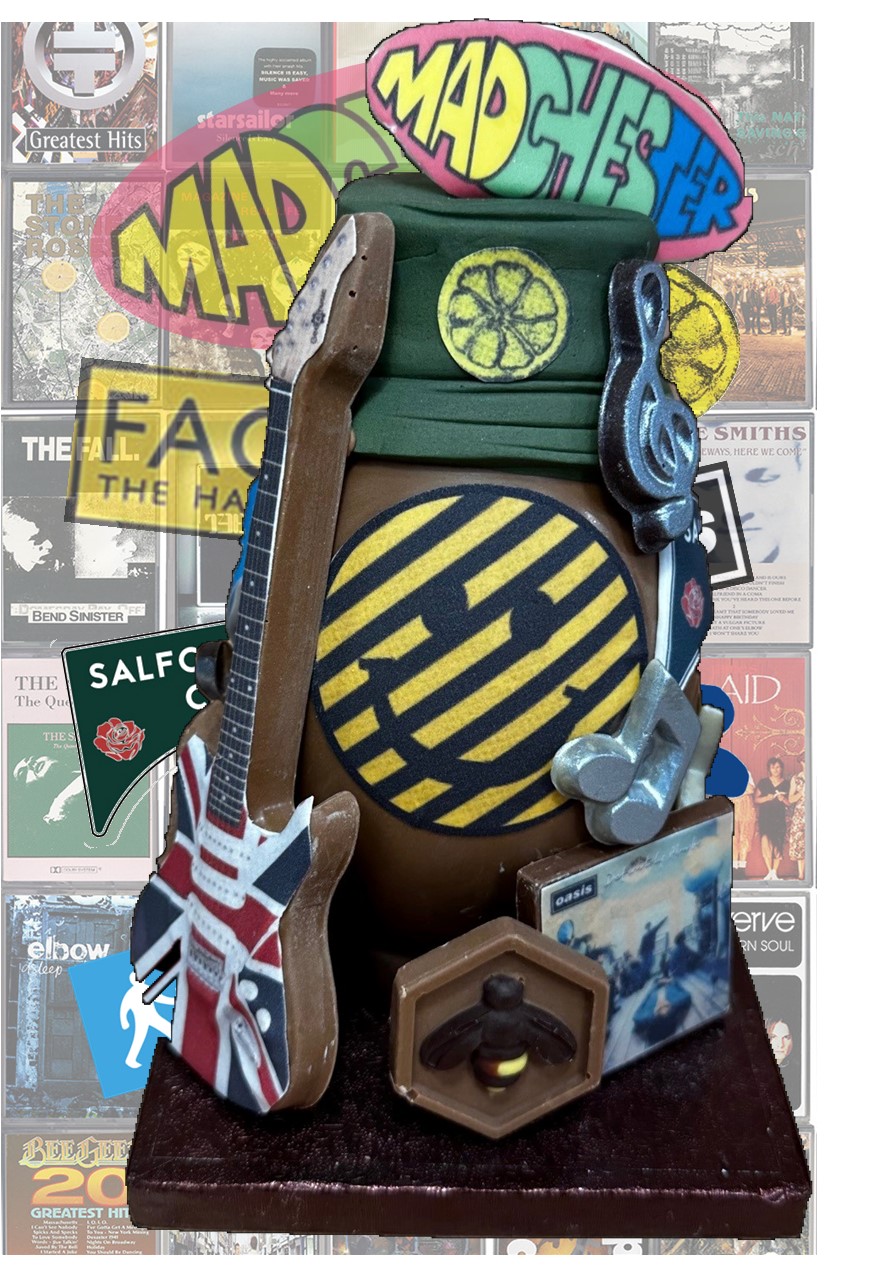 Greater Manchester chocolatier Slattery's is selling a Hacienda-inspired Easter egg, and it looks absolutely brilliant.
Featuring an Acid House smiley face in The Factory's signature black and yellow stripes, a green bucket hat, silver music notes and a Brit Pop-style electric guitar emblazoned in the Union Jack, Slattery's has really gone all out this year.
The special Madchester Easter egg also features Oasis's debut 1997 album Definitely Maybe, although the Whitefield-based chocolatiers told The Manc that customers can opt to request a different album cover on their egg if they prefer.
Priced at £21 each, the edible work of art is made of milk chocolate and decorated with edible icing to create the effects of the album covers, bucket hats and other nostalgic Madchester memorabilia.
It is available to purchase in person from the Whitefield chocolatier's store, and customers can also place orders for collection closer to the Easter weekend if they prefer.
However, it is not available through the online shop as due to its delicate nature the Hacienda-inspired egg is not able to be delivered by courier.
Read more: All the Michelin recommended restaurants in Greater Manchester
The family-run Slattery Patissier and Chocolatier is one of Greater Manchester's absolute go to's for a sweet treat, spanning three floors and attracting visitors from far and wide.
Based in Whitefield, Bury, it's so much more than a cake shop: selling everything from handmade Belgian chocolate, freshly-made cream cakes, tarts, pastries, tortes and gateaux, all made fresh each morning, plus chocolate novelties, bars and gifts ranging from Easter eggs to chocolate lollies, discs and tubs, plus a dedicated vegan chocolate range.
Read more: Manchester brewery Squawk is opening a bar in the Northern Quarter
Add to that bespoke build your own chocolate hampers that are packed and ribboned whilst you wait, and a selection of specially selected wines, beers and liqueurs, and it's not hard to see why so many flock here – not just at Easter, but all year round.
Featured image – Flickr