Eats
Kopparberg 'Passionfuit & Orange Gin' has been spotted in UK supermarket
[siteorigin_widget class="SiteOrigin_Widget_PanelImage_Widget"][/siteorigin_widget]
[siteorigin_widget class="SiteOrigin_Widget_PanelText_Widget"][/siteorigin_widget]
[siteorigin_widget class="SiteOrigin_Widget_PanelImage_Widget"][/siteorigin_widget]
[siteorigin_widget class="SiteOrigin_Widget_PanelText_Widget"][/siteorigin_widget]
Eats
Inside One Eight Six as Manchester cocktail bar finally reopens two years after devastating New Year's Eve fire

Daisy Jackson
One Eight Six, the Manchester cocktail bar that was destroyed in a blaze on New Year's Eve, is finally ready to reopen.
The stunning subterranean bar and live music venue has been closed since the very early hours of 2022, when a fire broke out shortly after the midnight countdown.
Terrifying CCTV footage at the time showed balloons across the ceiling catching fire and around 170 people fleeing the blaze.
It's since been confirmed that the cause of the fire was real pine Christmas trees that were fastened to the ceiling, set alight by celebratory sparklers inside the bar.
Ever since that fateful night, One Eight Six has been quiet – until now.
The popular Deansgate bar is finally ready to quite literally rise from the ashes, having undergone an extensive refurbishment.
Its interior was completely destroyed in the New Year's Eve fire, but has been reborn better than ever before.
Customers will again enter the bar through a barbershop at street level, with in incredible twisting neon light feature hanging from the ceiling.
Then after heading down the stairs you'll find yourself in an art deco speakeasy, with the stage set for live music until the early hours.
Huge curved velvet booths in shades of pink and red will provide guests with a luxurious night out setting.
One Eight Six has installed opulent black marble floors and glowing light arches too – not to mention a giant 'One Eight Six' sign in mirrors.
Walls and pillars have been covered in even more mirrors to reflect the huge mirror ball and stage lights.
Founder Dean Mac said: "After nearly two years, we are finally allowed to be back on our feet giving the people of Manchester what they have been waiting so patiently for.
"Thank you again for sticking with us and supporting our journey this far. This new chapter of ONE EIGHT SIX will be better than ever. Same vibe. Same location. Just a whole lot sexier…"
It's all looking pretty luxurious – just like before.
One Eight Six will officially open its doors this weekend on Deansgate, with bookings live here.
Read more
Featured image: The Manc Group
Eats
Namaste Nepal – West Didsbury favourite reveals new look and even more phenomenal curry

Daisy Jackson
Namaste Nepal, one of the best restaurants in West Didsbury – if not all of south Manchester – has undergone a big refurbishment, with new menu dishes to boot.
The family-run business has become a local institution over the last 15 or so years, famed for its comforting, authentic Nepalese food.
For the first time since it opened, Namaste Nepal has had a full-scale cosmetic transformation to become a modern – but still cosy and welcoming – neighbourhood restaurant.
You'll now find green suede, gold, and marble, in amongst the Nepalese artefacts on the shelves.
Namaste Nepal is known for its menu of curries and street food which takes influences from India and China.
One of its hero dishes is its handmade Momocha dumplings, which are stuffed with lamb mince and topped with a classic peppery, spicy sauce.
There are platters of mixed shashlik, the meat slow-cooked in the tandoor oven; fiery traditional Chwela; and Kantipur Methi, where Tandoori chicken and minced lamb are mixed together.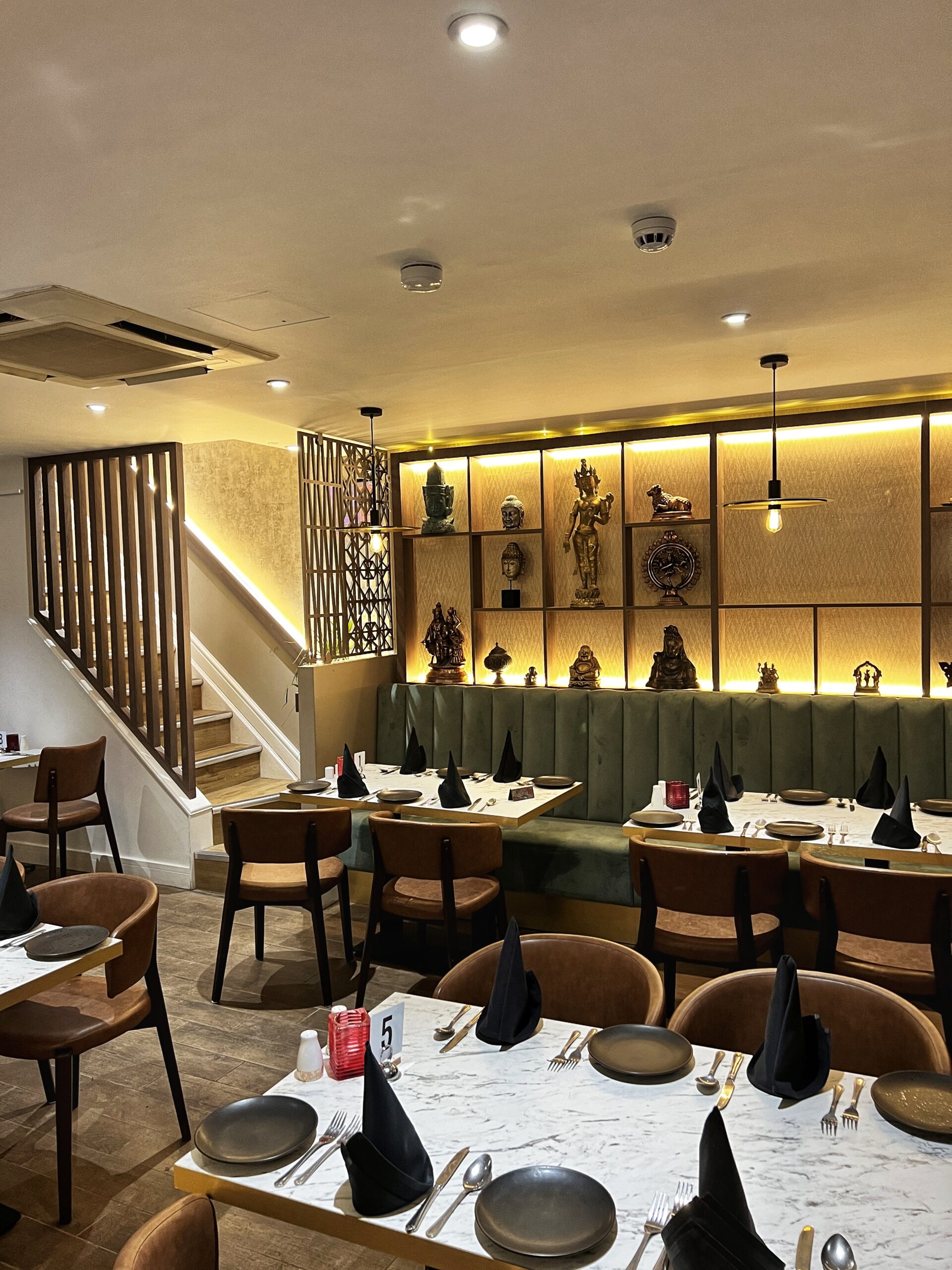 Curries range from the mouth-numbingly spicy (looking at you, vegetable naaga) to a crowd-pleasing Makhan Chara (aka butter chicken).
There's plenty to keep vegetarians well-fed, from saag paneer to aloo gobi.
Namaste Nepal has been spicing up our lives since 2005 and is well and truly standing the test of time.
The restaurant is taking bookings for Christmas now.
You can find Namaste Nepal at 164-166 Burton Road, West Didsbury.
Read more
Featured image: The Manc Group