Eats
The new restaurants and bars opening in Manchester this month | June 2022
Some big, familiar restaurant names have rocked up in Manchester in recent weeks, and will continue to do so into June.
But there's plenty of homegrown talent popping up all over the region, including some old favourites moving up in the world.
Take Pollen, who have just moved into their enormous new site at Kampus, or pizza pedlars Corner Slice, who have paired up with Jimmy's in Ancoats.
Then there's a very familiar old name in the form of a new Blockbusters cocktail bar, and plenty more newcomers joining the fray.
Keep reading to see the new restaurants and bars opening in Manchester this June.
Kitten Izakaya, Deansgate Sq
When it opens on Deansgate Square this June, Kitten will feature modern Japanese fine-dining and contemporary cocktails in a swanky setting
Guests can dine with a front-row seat to the sushi chefs, glancing into the semi-open kitchen to see dishes grilled over one of the largest charcoal Robatayak grills in the city.
Bringing modern Japanese fine-dining to the heart of the city, the menu will focus on high-end sushi, sashimi, and robata-grilled dishes, all served in an exceedingly glamorous setting boasting a 5-metre-high Bonsai treet, bamboo walls and elegant Venetian plastering.
Opens 17 June
Blockbuster NQ
Nothing says Y2K quite like spending your Friday night in a Blockbuster, which makes the arrival of this new Northern Quarter bar particularly timely.
Paying homage to the glory days of video rental, the video shop-themed bar has gone the whole hog with cocktails like the 'VHS Presso Martini', 'Alcopop-corn' and the 'PG&T'.
Split across two floors, its main floor is modelled on the classic Blockbuster store set up and even includes a 'naughty films' section hidden at the back.
DVD cases line the walls and there's even a separate x-rated section dedicated to adult videos.
Downstairs, meanwhile, black walls, velvet chairs, and a sparkly stage for performances lend a cinematic feel to the bar's entertainment space.
Open now
Tim Hortons
Tim Hortons has opened on Market Street, bringing its best-selling donuts, breakfasts, and burgers to Manchester city centre for the first time.
Open until late, you can get your fix of Tim bits (made using the leftover dough taken from the donut holes) and those liquid gold French vanilla lattes on Market Street throughout the week.
Open now
Adelphi Lads Club
Salford's historic Adelphi Lads Club will reopen this month as a new bar and kitchen after over a decade of closure.
The 134-year-old building will be brought back to life by the teams behind Elnecot and Tokyo Ramen, who will bring a new BBQ food concept to the historic Salford site.
Diners can expect to see similar themes running through the new bar and kitchen, with signature bold flavours, smoke and fire all playing a prominent part on the menu.
Opens 17 June
Read more: Salford's historic Adelphi Lads Club to become bar and kitchen
Paradise Skate World
From the team behind crazy golfing aficionados Junkyard Golf comes Paradise Skate World – a new 'intergalactic' roller skating rink set to open on Deansgate this June.
With a cutting edge rink and huge bar serving 'intergalactic cocktails' alongside a selection of Japanese and Mexican bar snacks, it's certainly something a little bit different.
If you fancy sipping on space cocktails and skating off into the cosmos, well, then look no further.
Opening in June
Neon Tiger
A new Thai BBQ restaurant, Neon Tiger opens in Manchester this June in the former Grindsmith unit on Bridge Street.
It will pay homage to traditional charcoal cooking methods with a host of grilled skewer dishes and sharing plates, bringing street food-style barebque dining to the city.
Using traditional cooking processes of live fire and smoked meat, diners can expect to find the likes of house made lemongrass and turmeric smoked sausages, King oyster mushroom skewers, and coal-roasted aubergine on menu when Neon Tiger opens its doors later this month.
Read more: New Thai BBQ restaurant Neon Tiger to open in Manchester
Big Grillie
Manchester's hip-hop-themed burger shop has returned to Stockport after an eight week hiatus, and we're buzzing to have them back.
The dirty burger peddlers are back at The Drawing Room in Bramhall serving up a menu full of towering smashed patties, fried chicken, and loaded fries.
Dishes are named after hip-hop icons like Snoop Dogg and Childish Gambino, and are are available to order for delivery or collection only.
Read more: Manchester's hip-hop-themed burger shop has returned to Stockport
Open now
Pollen at Kampus
Six years after its fledgling opening in a Piccadilly archway, Pollen is gearing up to open its second Manchester cafe.
The new cafe and kitchen at Kampus will serve a varied menu alongside pastries, cakes, speciality baked goods and its much-loved range of sourdough bread.
It will also boast a 'glass gallery' looking into the kitchen, meaning diners will be able to watch Pollen's talented pastry chefs at work as they tuck into a seasonally-changing menu of breakfast, brunch and lunch dishes.
As well as offering diners a front-row seat to all the kitchen action, the new cafe will also be significantly bigger than the Ancoats site.
It will open from Wednesday to Sunday, with plenty of seating both indoors and out, with an al fresco area overlooking the green foliage of the Kampus garden.
Opens 9 June
Corner Slice x Jimmy's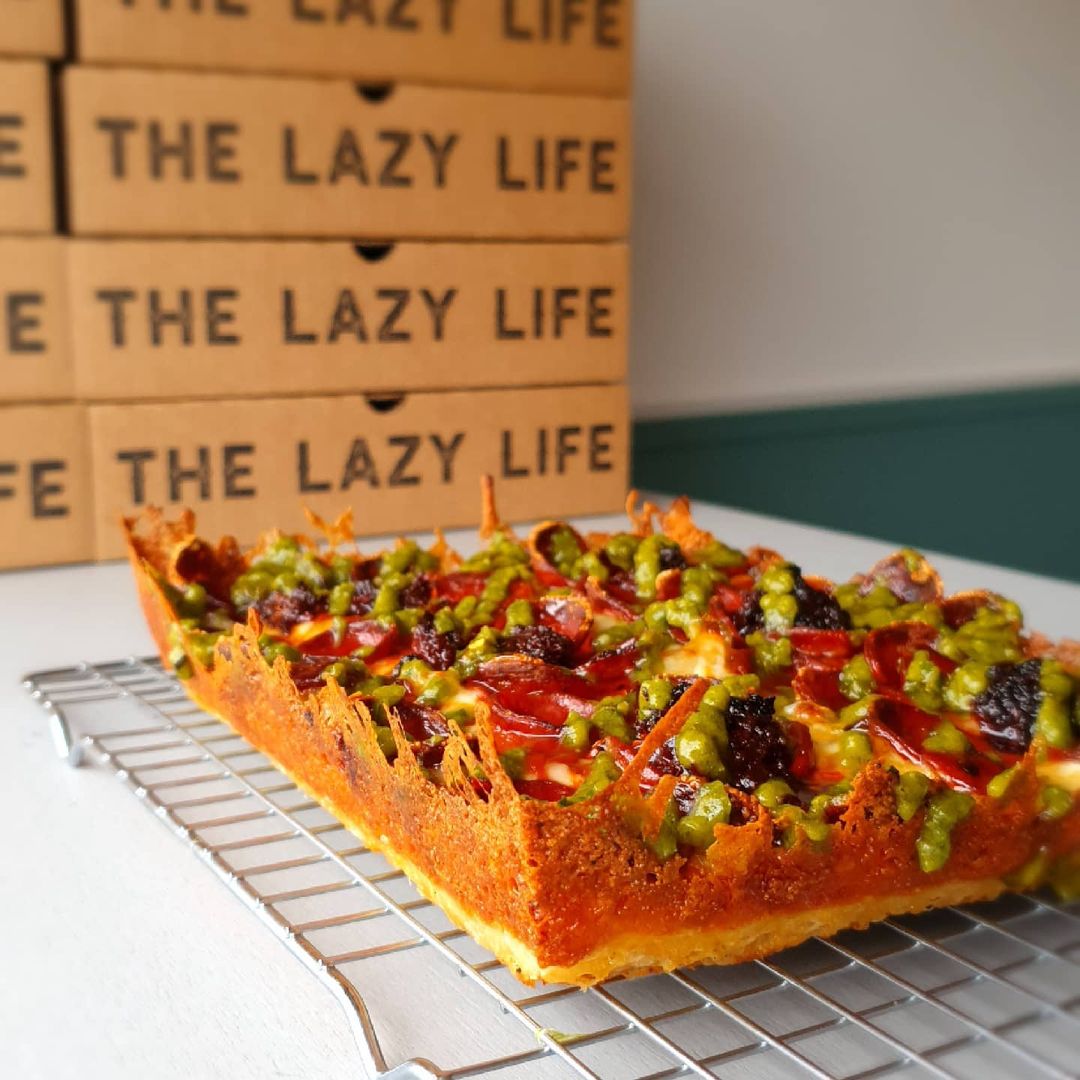 Manchester's original Detroit pizza slingers, Corner Slice, are officially making their move into the city centre with a new dine-in kitchen at Jimmy's in Ancoats.
The hugely popular Failsworth pizzeria still retains its original location, adding a second string to its bow with a kitchen takeover at Cutting Room Square.
Known for its exquisitely fluffy deep pan pizzas, finished with marinara, traditional Italian toppings and a curly cheese crust, its already cornered the market in East Manchester – now its moving into town.
Corner Slice will be in the kitchen at Jimmy's all summer, serving up their Motor city-inspired rectangular pizzas. If you've not tried one yet, this is your cue to go.
Read more: Popular pizza 'peddlers' Corner Slice to take over Jimmy's kitchen in Manchester
Opens 3 June
Box on the Docks
Box on the Docks returns to Salford Quays this month with flowing beers, freshly-baked bagels, and boozy ice cream.
Back for its third year in a row, MediaCity's popular outdoor dining concept takes on a brand-new format for 2022.
Working in partnership with Salford-based brewing company Seven Brothers, head down to discover a rotating residency of the region's best established and emerging independent food and drink pop ups.
There'll also been an exciting lineup of live music and events for all ages.
Opens Friday 10 June
Read more: Box on the Docks is back in Salford with beers, bagels, and boozy ice cream