Eats
Wetherspoons is introducing six new cocktail pitchers
[siteorigin_widget class="SiteOrigin_Widget_PanelImage_Widget"][/siteorigin_widget]
[siteorigin_widget class="SiteOrigin_Widget_PanelText_Widget"][/siteorigin_widget]
[siteorigin_widget class="SiteOrigin_Widget_PanelImage_Widget"][/siteorigin_widget]
[siteorigin_widget class="SiteOrigin_Widget_PanelText_Widget"][/siteorigin_widget]
Eats
The Oast House confirms return of legendary Christmas tipi with twinkling lights and festive cocktails

Emily Sergeant
The Oast House has confirmed that its legendary Christmas tipi draped in twinkling lights is set to return for the festive season.
And there's really not long left to wait now before the magic arrives.
The popular Spinningfields venue's winter tipi has played its part in brining the festive spirit to Manchester for the past 11 years now, so it's fair to say it's become something of an institution – and now, with the air getting nippier by the day, The Oast House has given Mancs the news they've been waiting for.
That's right, The TeePee is back once again for another year, and it's set to open for the festive season in just a couple of weeks time.
Complete with two roaring fires, twinkling fairy lights, faux fur throws, The Teepee will be made up of three tents joined together with a huge open hub, and is all sounding set to be a popular spot for locals and those who've finished a hard day at work during the colder months.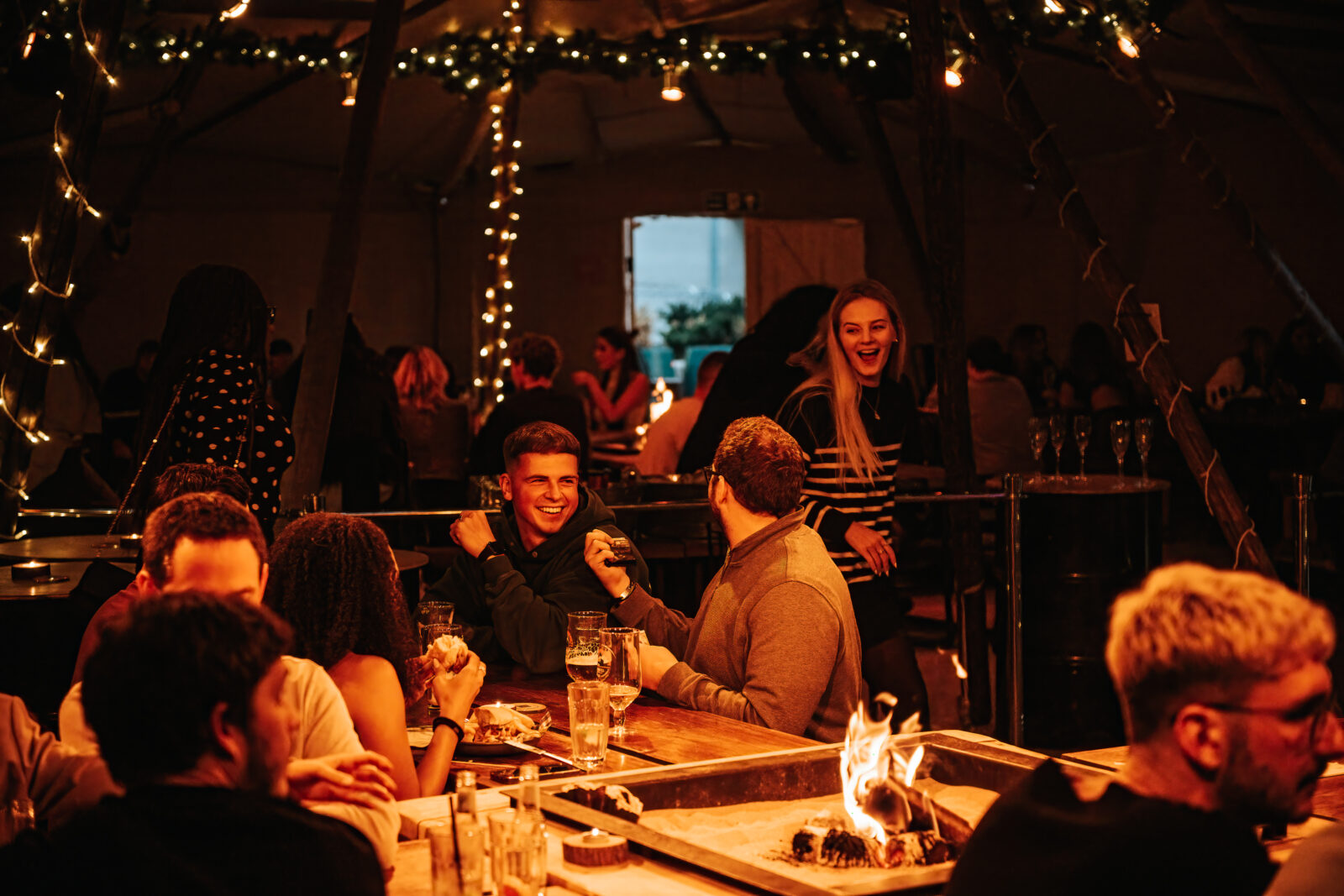 Set to reopen on Wednesday 11 October, and then staying open to festive revellers every day of the week throughout the winter, The Teepee is famed for its free live music, house-cooked food, and laidback warm and welcoming atmosphere.
There'll be a mouthwatering street food menu, a selection of limited-edition winter cocktails, mulled wine, and festive hot chocolates, and, of course, a stage area set up for guests to dance the night away – with a packed lineup of live gigs all planned over the next few months.
Katsu chicken fries, Northern poutine with bone marrow gravy, Shorrock's Lancashire cheese, chicken, or plant-based gyros, stacked burgers, hot wings, and hanging kebabs, are just some of the warming dishes you can tuck into from the street food menu.
There'll also be a wide range of festive tipples also on offer to wash it all down with.
The TeePee reopens for 2023 on Wednesday 11 October.
The Oast House and The TeePee are then open every day 12 noon until late throughout the winter, and will continue hosting a packed roster of live musicians covering a range of genres – from pop and rock, to funk and soul, and so much more.
Read more:
Bookings for The TeePee are now open, so to reserve your table for the festive season, you'll need to head on over to The Oast House's website.
Book your table here.
Featured Image – The Oast House
Eats
Honest Burgers giving away 100 FREE burgers from their Spinningfields site today

Danny Jones
Get ready to race half of Manchester city centre over to Deansgate as Honest Burgers are giving away 100 free burgers from their Spinningfelds location today (Tuesday, 26 September).
As part of a nationwide promotion, the increasingly popular and ever-delicious chain of burger restaurants is handing out 100 complimentary smashed burgers from their 40 different locations around the UK, meaning there's going to be 4,000 free patties flying out the doors this lunchtime.
With fries included. Today is a great day.
Set to run from 11:30am until 2pm this afternoon, Honest Burgers will be welcoming Mancs and people all over the country to queue up outside their city centre spots to try and get their hands on a tasty smash burger and some of their irresistible rosemary salted chips.
The rules are simple: 100 portions of burgers and chips are handed out for free per restaurant and it's first come, first served, so when they're gone, they're gone.
However, the excitement doesn't stop there…
In an incredible twist and bold bit of marketing for the burger joint, one lucky diner will also win a whopping £5,000 worth of Honest Equity Shares and therefore become a co-owner of the Honest Burgers franchise.
Yes, seriously.
Read more:
All you need to do to find out if you've won is check your free burger ticket in their Spinningfields restaurant for details.
Honest Burgers co-founder Tom Barton had this to say on the incredibly generous scheme: "We started in a marquee, in a muddy field, mostly in the rain! It's fair to say, we never dreamed we'd get to where we are today.
"One thing for sure is we wouldn't have got here without our loyal customers. So we wanted to give them the opportunity to become co-owners of the brand as we set up the next chapter in our story…
Nothing says thank you better than a free burger! We've been totally overwhelmed with the response to our crowdfunding campaign and we're super excited that our customers can join us for the next stage of our adventure".
For all the latest news, events and goings on in Greater Manchester, subscribe to The Manc newsletter HERE.
Featured Image — Honest Burgers (via Instagram)