Feature
A snapshot in time: Photographer shares images captured in 1970s Manchester
Michael Kay came to Manchester in the 1970s to join the Polytechnic - capturing some incredible images during his stay in the city as a student.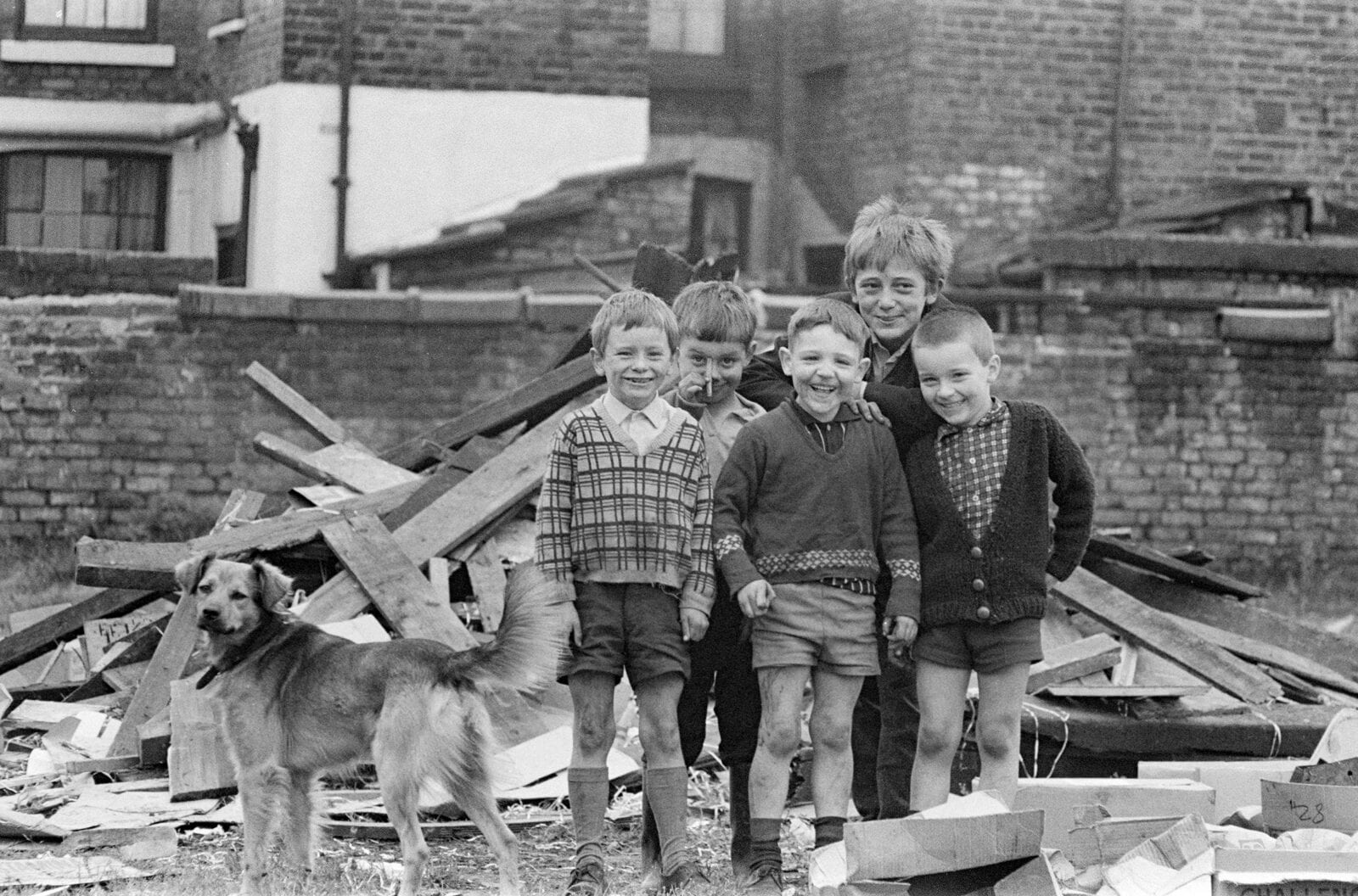 When Michael Kay arrived in Manchester, he found himself in a whole new world.
He'd accepted an offer from the new Polytechnic to study photography – swapping his humble, isolated cottage surroundings of Snowdonia for the bright lights of Mancunia.
It was a change of pace – not least due to the fact he had access to mains water and electricity for the first time.
Intoxicated by the foreign sights and sounds of the city landscape, Michael eagerly grabbed his camera and bounded into the streets – snapping everything he could along the way.
It might have been bigger and faster way of living than the young man was used to, but during his shoots, he saw that Manchester was troubled.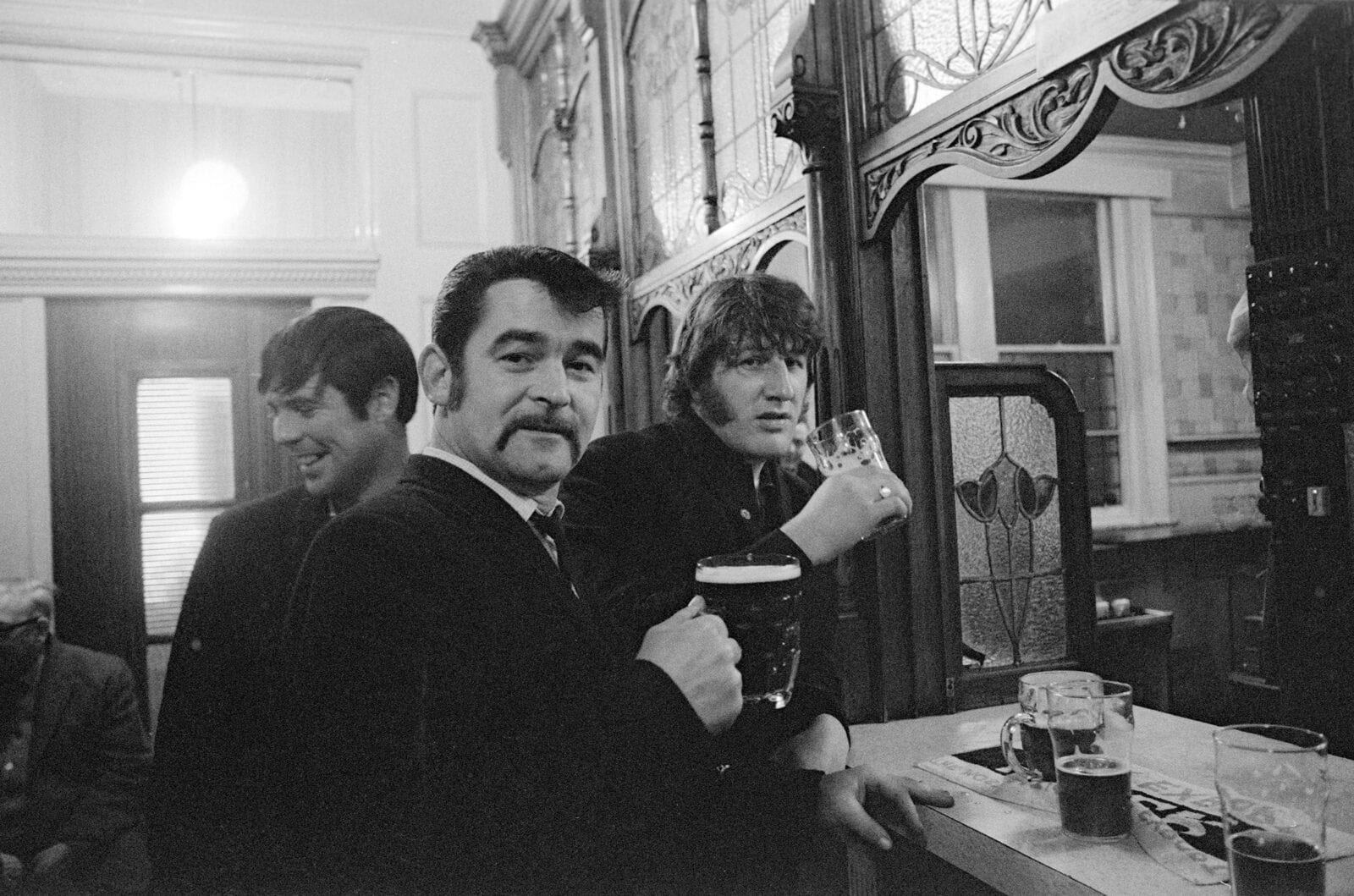 The city was poor, poverty was rife, and gloom hung heavy in the air.
Council leaders, recognising the necessity for change, had just launched a programme of local urban regeneration in an attempt to spruce things up – leaving inner-city slums piled high with rubble as work commenced on clearing the path for a seemingly brighter future.
With Manchester on the cusp of a new chapter, Michael caught it all on camera, sharing a dozen of his favourite photos from the 1970s with The Manc.
Down comes Moss Side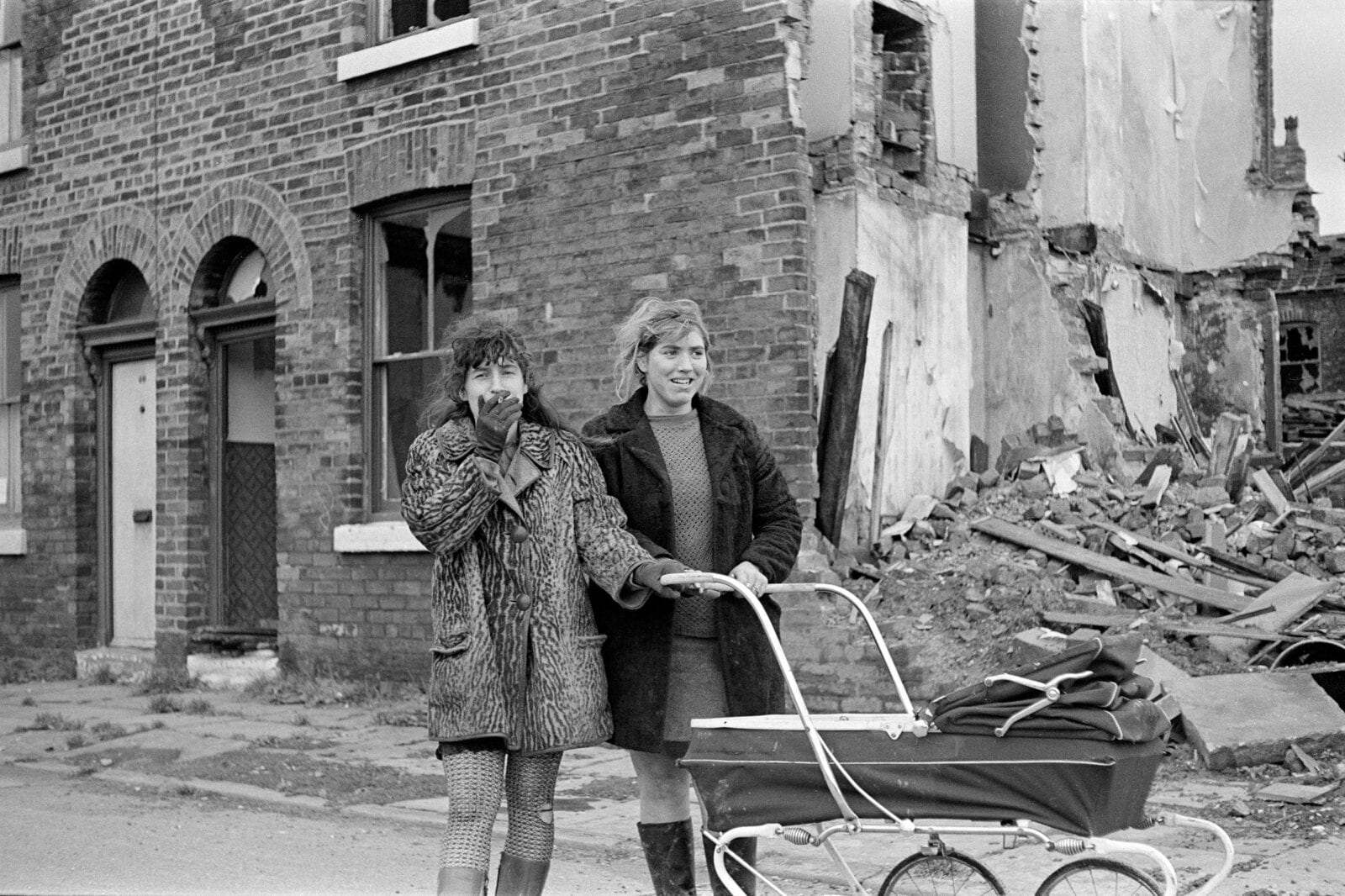 Fifty years ago, Moss Side was one part of Manchester undergoing significant transformation – as city leaders decided to tear down the old Victorian properties and replace them with council houses and flats.
"Most of this Moss Side street had been demolished," Michael explains in reference to the image above.
"But one or two properties were still occupied and these two friends still lived there."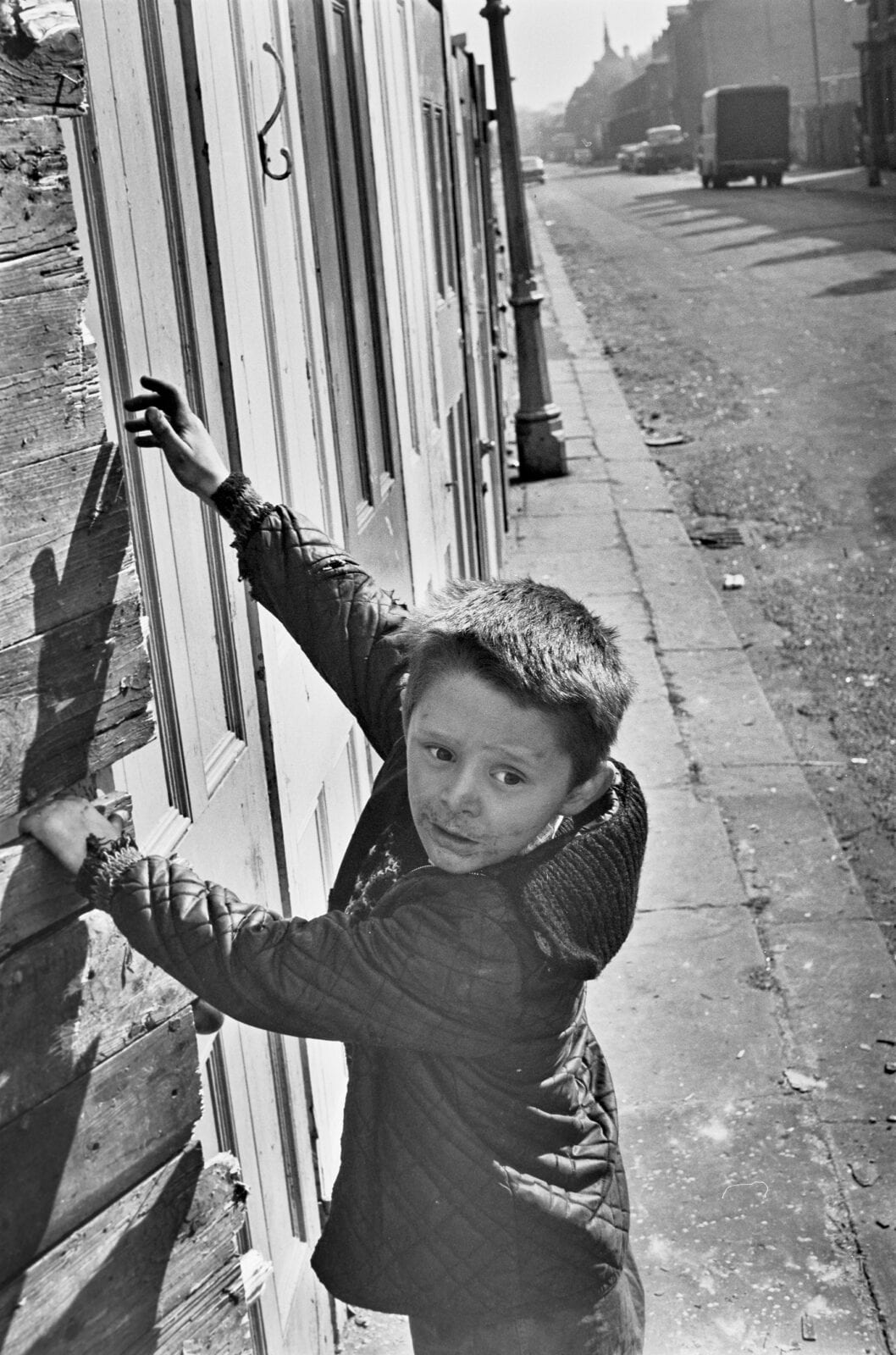 Also shown is a young boy – standing against the backdrop of another street scheduled to be mowed down by construction vehicles.
In the distance, Hulme's controversial Crescents were being assembled; making the area home to the largest public housing development in Europe (with space for over 13,000 people).
The infamous project proved to be an enormous failure, turning Hulme into one of the most deprived places in Greater Manchester.
Within months, the block was overrun with infestations of mice, cockroaches and feral dogs prowling through the derelict complex, with hundreds of residents seeking new accommodation.
Big money has been pumped into the area since those dark days, with Hulme now considered a safe and vibrant place to live.
Playing in the rubble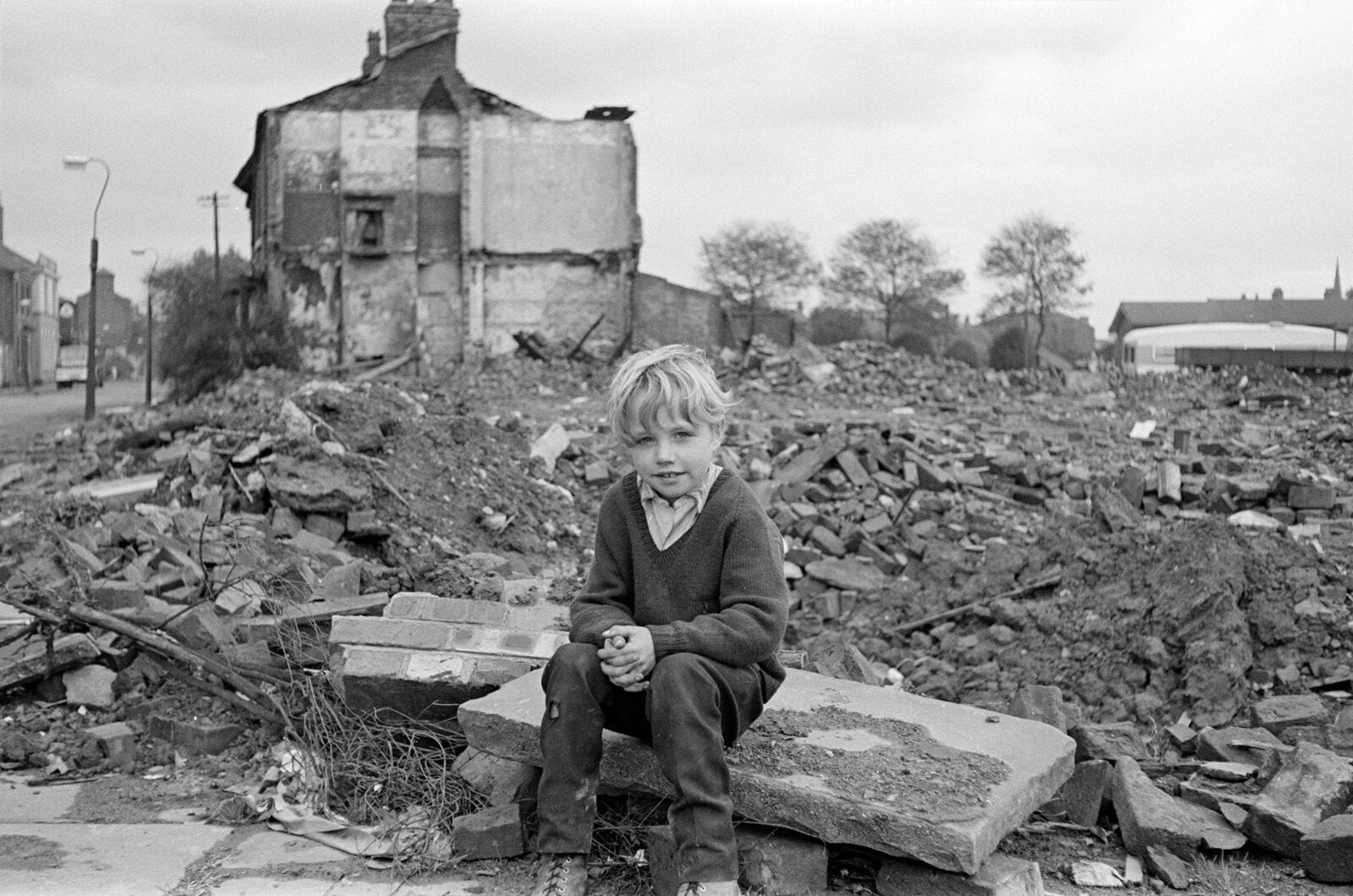 Much of the north was living hand to mouth during this decade, and although Michael describes the scenes of poverty as "heartbreaking", he often used to see children scampering amongst the ruins of old houses without a care in the world
"The children played amongst the rubble and seemed happy," the photographer tells us.
"I'd love to know what became of this young lad."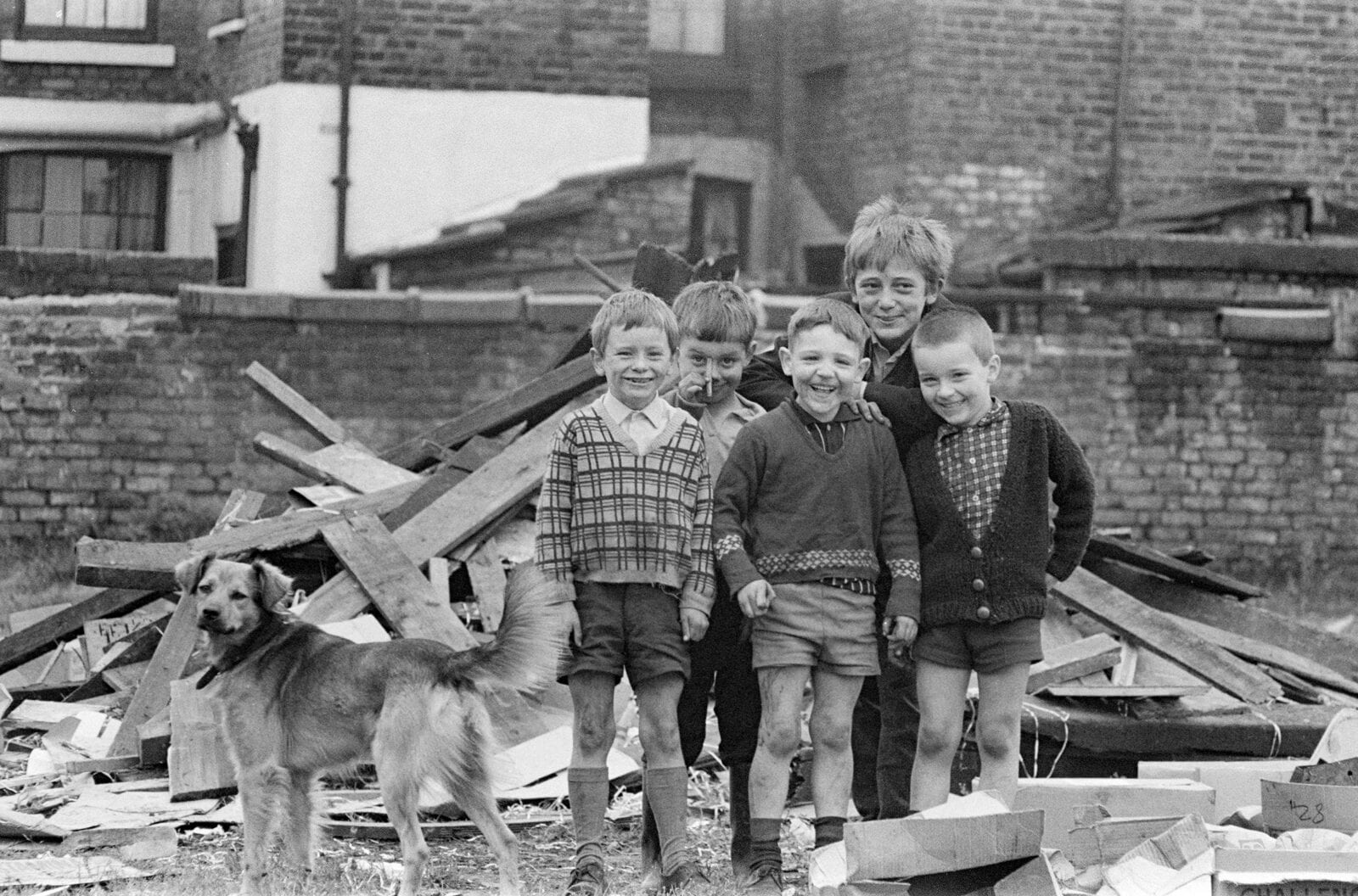 This carefree spirit of youth is embodied in the image above – with five young boys beaming for the camera with unkempt bundles of wood at their backs.
They're accompanied by similarly-satisfied-looking pooch.
According to Michael, the dog used to follow this group of friends around wherever they went.
Pints and pennies
Michael took his camera indoors from time to time – seizing the opportunity to grab some pictures inside the local pubs.
These photos were shot at Birch Villa on Wilmslow Road in Rusholme – which eventually became known as Hardy's Well (a famous old building with a Lemn Sissay poem written on the side wall).
"I spent a couple of hours taking photos in this pub," Michael tells us.
"I liked the way that this lady had dressed up in her finery. The man to her left was playing the mouth organ for most of the evening."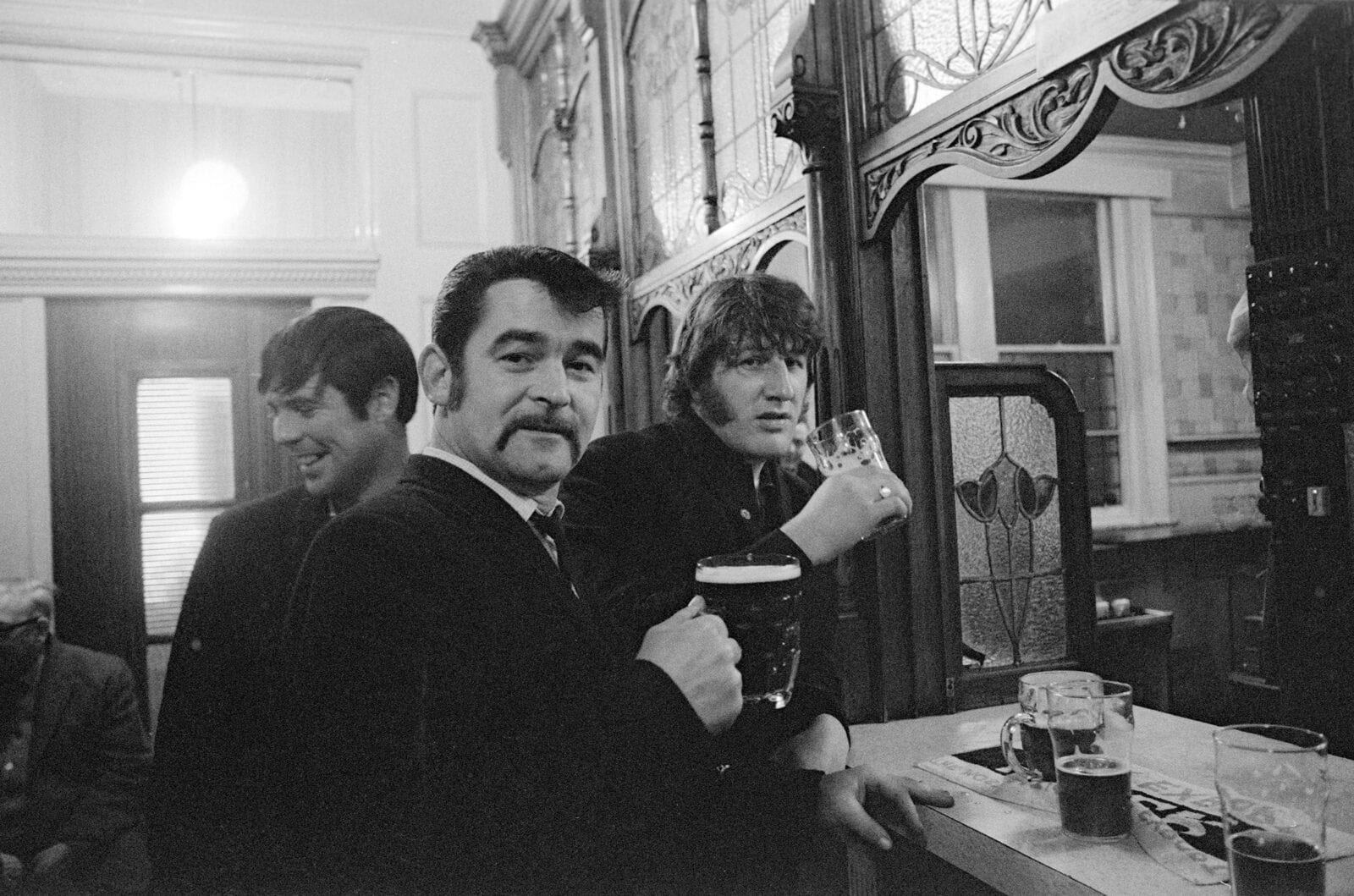 Despite the boozer being a little rough around the edges, Michael said he felt completely comfortable snapping away within its confines.
"Although there were some tough characters in there I didn't feel at all unsafe and everyone seemed to be having a good time."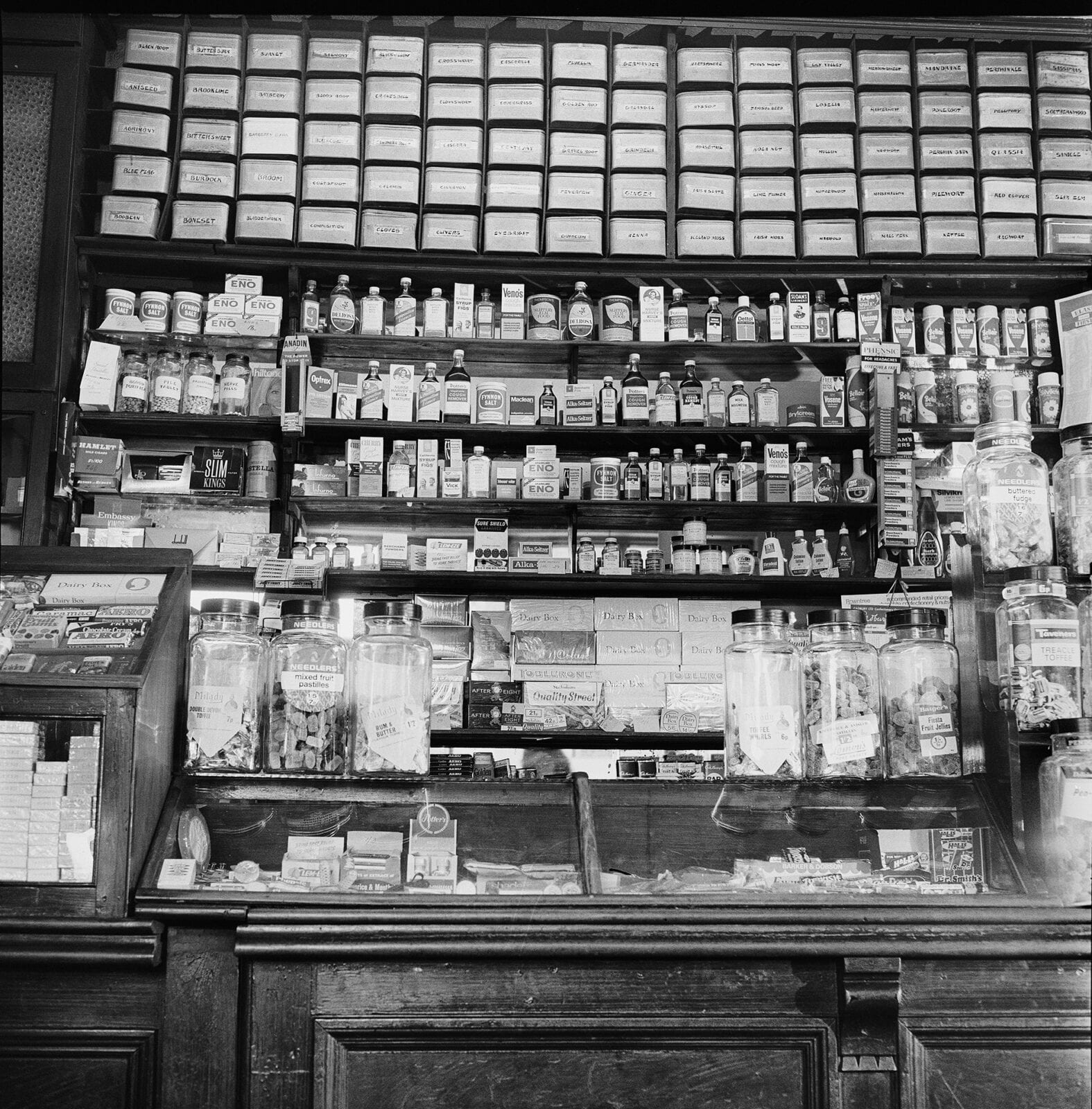 A little further afield from the drinking den was a sweet shop – which found itself trapped between two separate sets of currency around the time Britain changed the makeup of its legal tender; evolving from pounds, shillings, and pence.
"This shop was on Wilmslow Road near the junction with Platt Lane," explains Michael.
"[It was] just post decimalisation – with some of the sweets marked up in old and new currency."
In amongst the crowd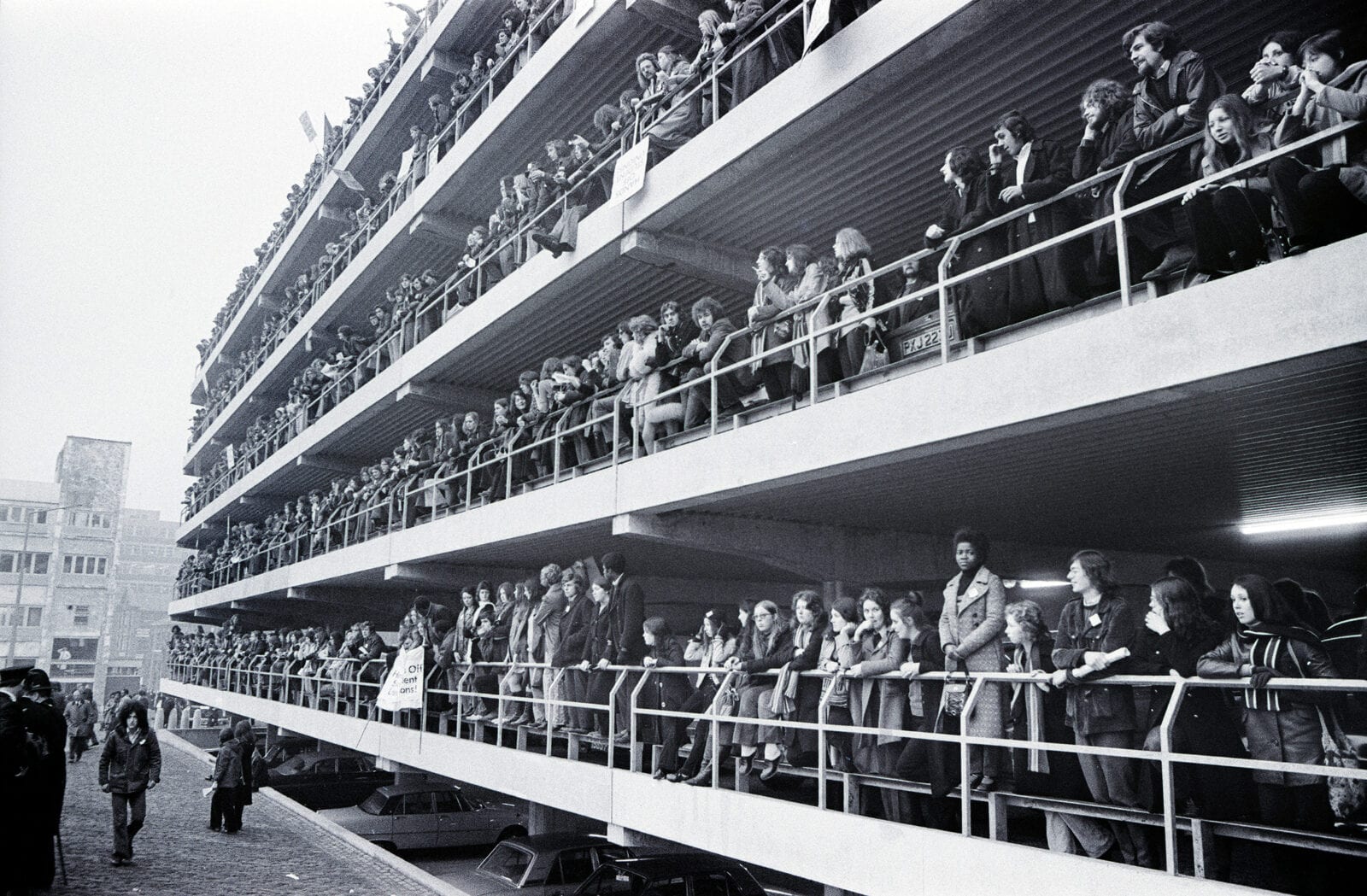 Margaret Thatcher was an unpopular figure in Manchester long before she moved to Number 10.
The Iron Lady also managed to ruffled feathers in her preceding role as Education Secretary – a position she held between 1970 and 1974.
The photo above shows "one of many student protests from the early '70s," says Michael.
"[Thatcher] was Secretary of State for Education and students generally disagreed with many of the changes she brought in."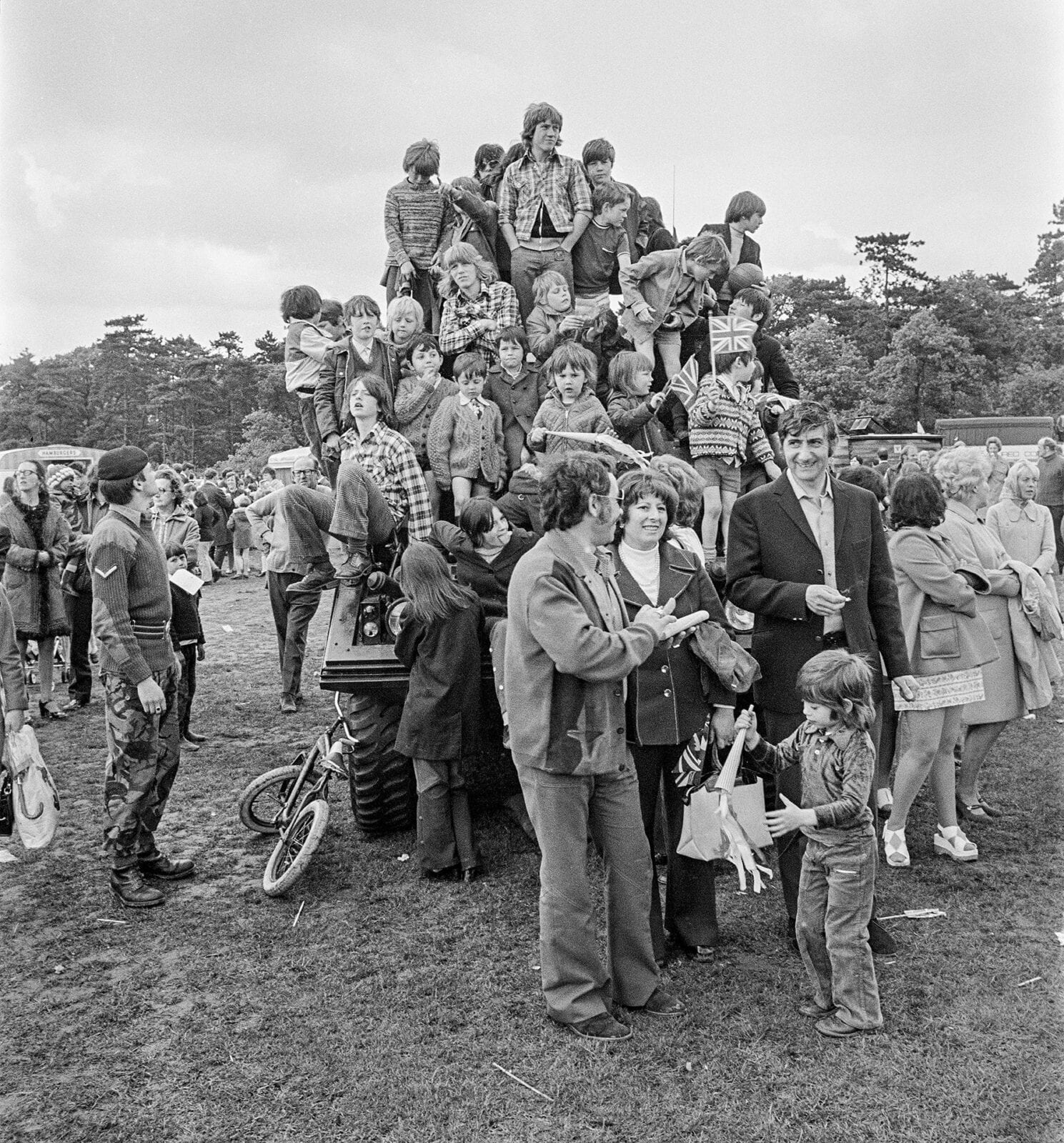 Michael also managed to capture a superb shot of seventies crowds coming together for an "Armed Forces Fete" during his trek around the city.
"I think [this] was in Platt Fields but it could have been Wythenshawe," Michael muses.
"There's an armoured car somewhere under those kids."
The city in the seventies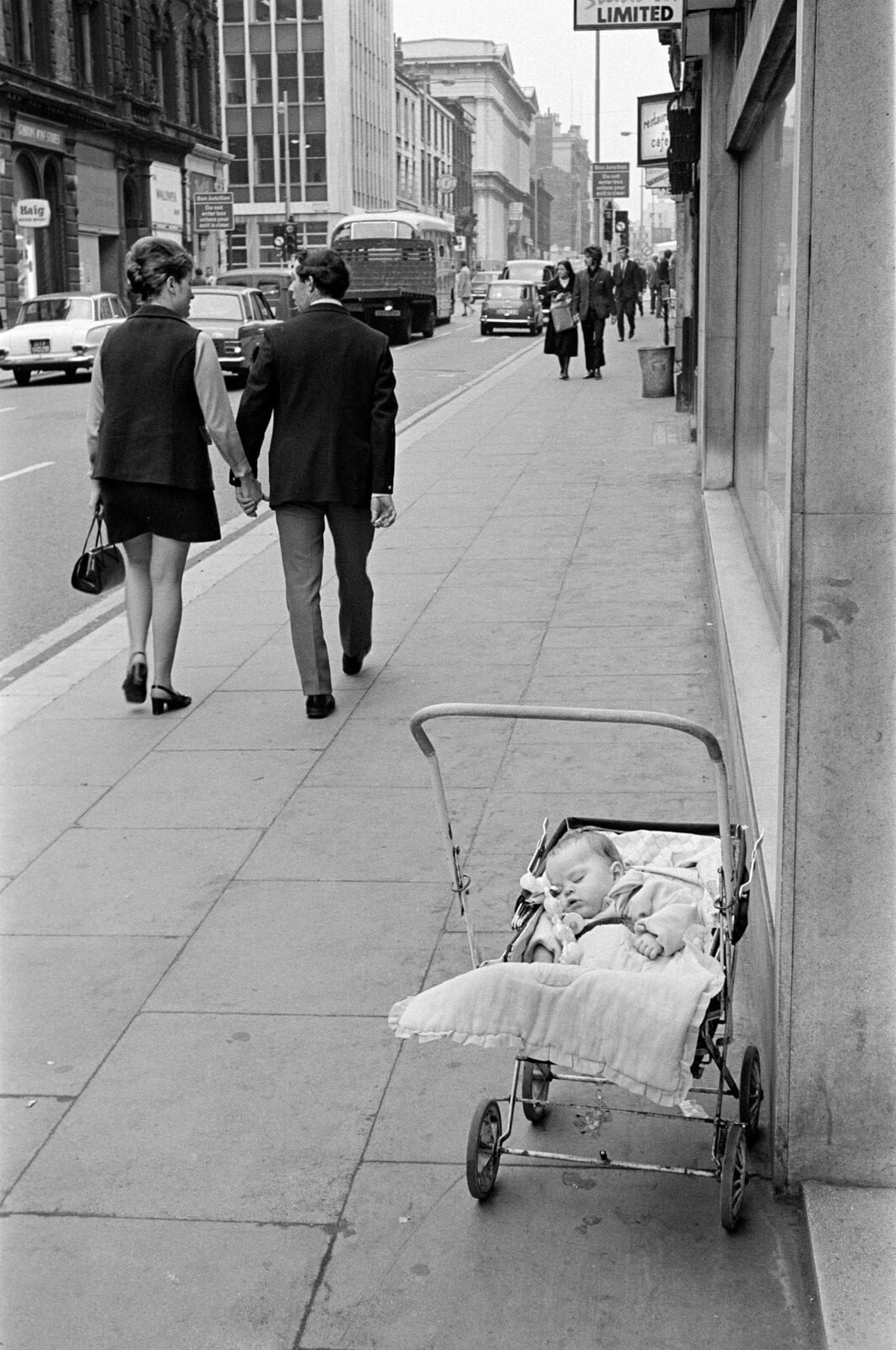 Manchester's nucleus has changed beyond recognition in the half-century that has passed since these photos were taken.
And so has the typical way of life.
Take this shot for example – with a baby left outside a shop in the middle of the busy city centre streets.
"No one thought anything of it in those days," Michael says.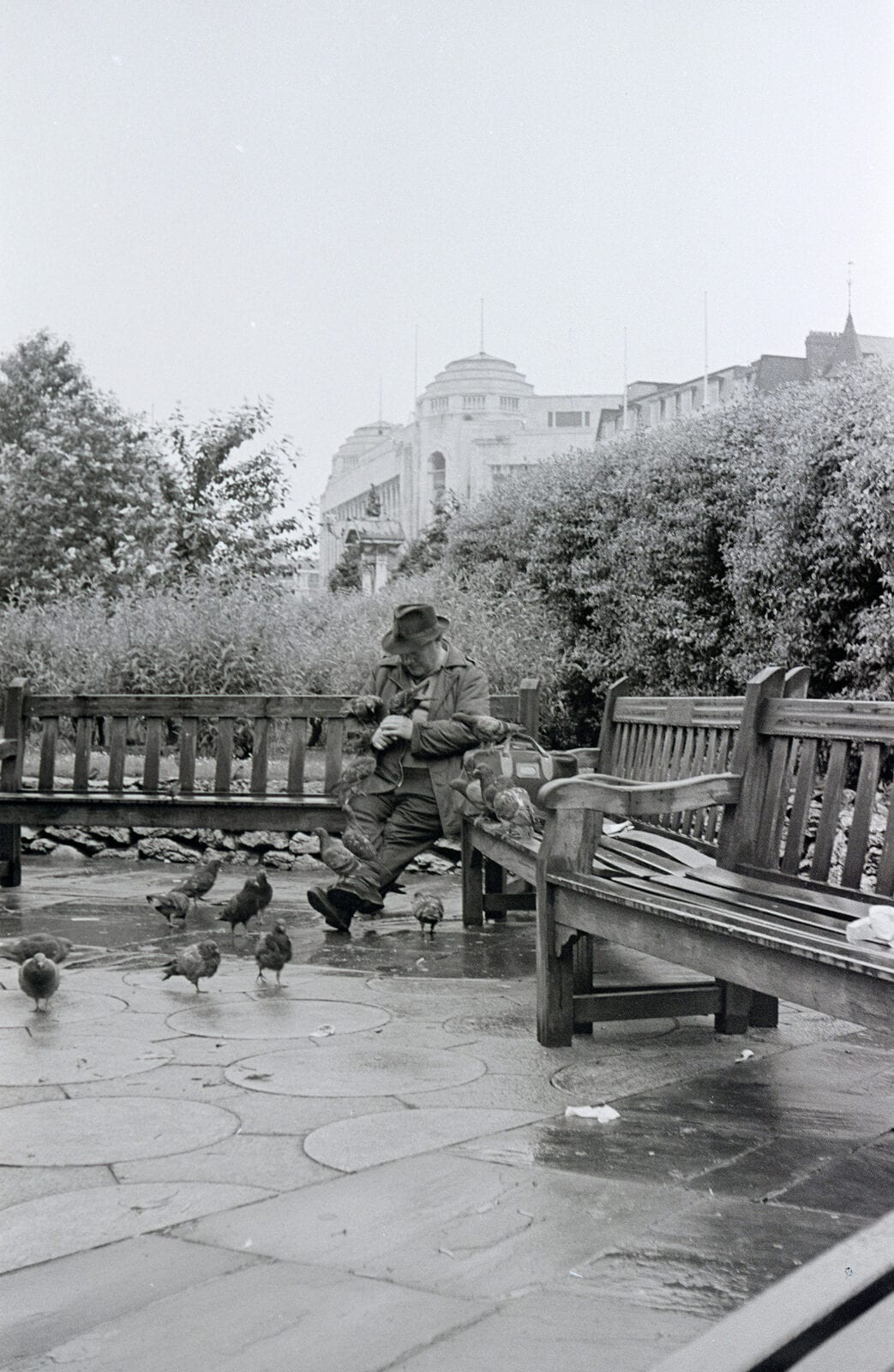 Still, despite the city remaining in a permanent state of flux, the presence of local cult characters has never wavered.
Before Frank Sidebottom and The Piccadilly Rats, there was the Piccadilly Gardens Man – who used to spend most of his days sat on a bench feeding the birds.
"I thought some people may remember him," Michael says.
"Apparently he used to regularly visit the Dance dept. of the Polytechnic which was nearby and give red roses to the girls!"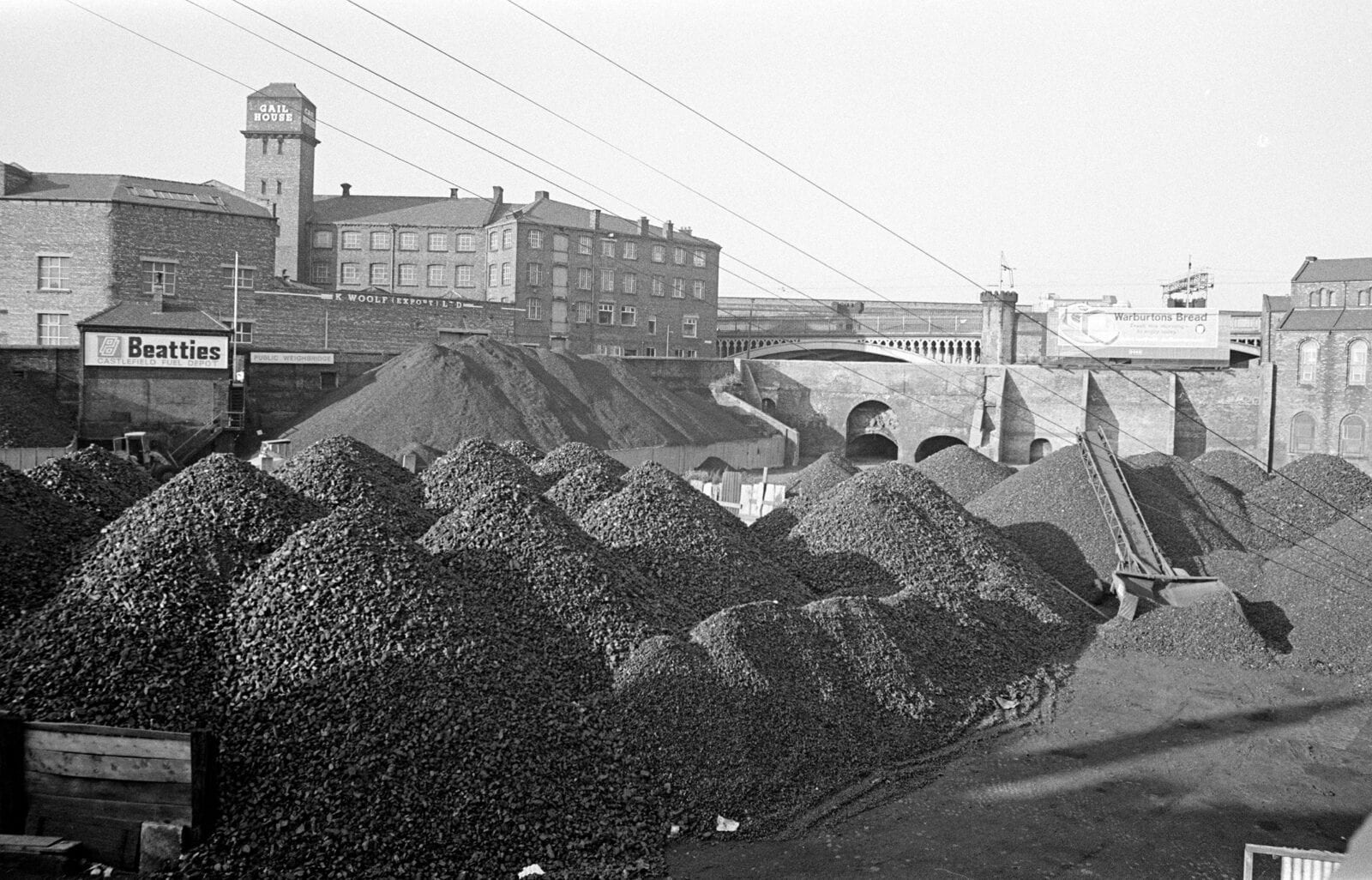 The final image in the collection is particularly striking – a snapshot of a space that has undergone so much renovation it looks like its from another city.
Look closely, and you'll be able to see that beyond the heaps is actually the neighbourhood of Castlefield.
"[This was] the huge Castlefield fuel depot," Michael tells us
"The buildings in the background and the bridge still remain.
"But so much has changed in this area."
One look at the cranes populating the city skyline reveals that plenty more change is yet to come.
After graduating, Michael moved away from Manchester and had a successful career as an advertising and food photographer with a studio in Wimbledon.
He is now semi retired and works from home in Surrey. Because of the lockdown he's been digitising his old negatives. Most of the images shown here have never been seen before and none have ever been published.
View some of Michael Kay's wonderful work online on the photographer's official website.