Feature
Gimli, the Cheshire Oaks-obsessed cat with her very own Facebook page
From curling up in a hidey hole at All Saints to making herself part of L'Occitane's window display, one thing about Gimli is clear. The cat's got excellent taste.
If you've ever spotted a furry tail whipping around corners or burrowing into blankets whilst on a shopping trip at Cheshire Oaks Designer Outlet, well, then this cat will likely need no introduction.
Gimli, or as she's more commonly known, Gimli Queen of the Oaks, is the Cheshire Oaks-obsessed cat who loves to tunnel into blanket piles in homeware sections and carry out regular health and safety inspections in the designer outlet's back-of-house.
An unofficial mascot for the designer outlet, she's so often spotted playing mannequin in the store windows or curled up on shelves that she's even got her own Facebook page detailing her luxury outlet adventures.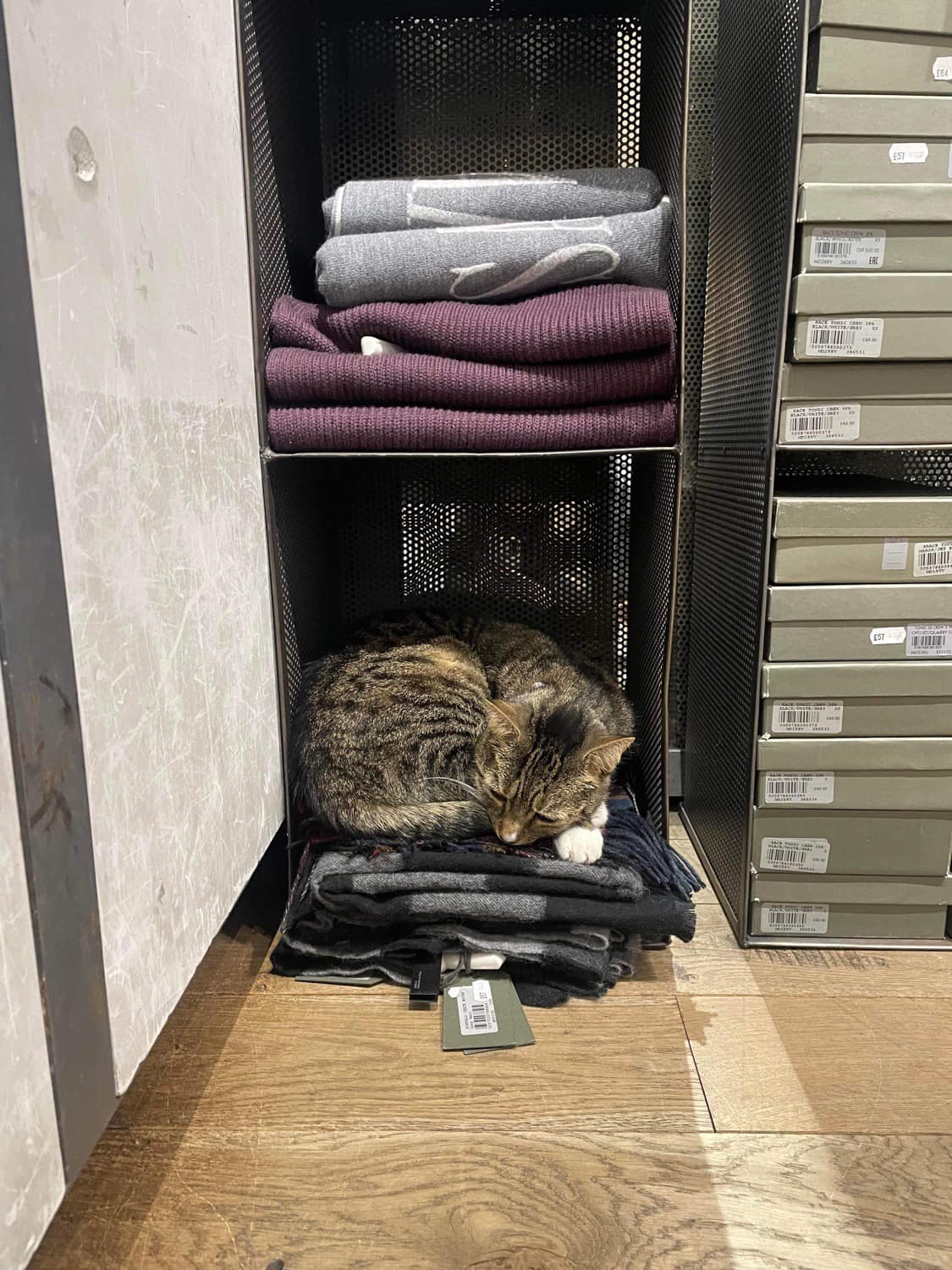 Run by her loving owner, 5-year-old Gimli's page has over 4,300 followers – drawing in shoppers and staff from the Oaks alike, all keen to be kept informed of her latest escapades.
The pair live right behind the designer outlet, just a two minute walk away – making it easy for Gimli to pop over for some fuss, then back home for her breakfast and a snooze whenever it pleases her.
Her owner has had her since she was a kitten, and says that from the moment she first spotted her she was immediately 'drawn to the kitten that was trying to escape the box/bed she was in with her litter mates'.
Evidently, Gimli's always been somewhat of an adventurer.
Photos posted on her page are often sent in by visitors to the shopping outlet who manage to clock her, often depicting her strutting her stuff down aisles and looking sassily into the camera as if to say 'how did you find me here?'
Others come from staff, amused at finding her once again roaming their stores.
From Visitor Information Officer, to Health and Safety and Public Protection Officer, it appears Gimli has many roles to play at the Oaks – and wherever she goes, she finds new fans.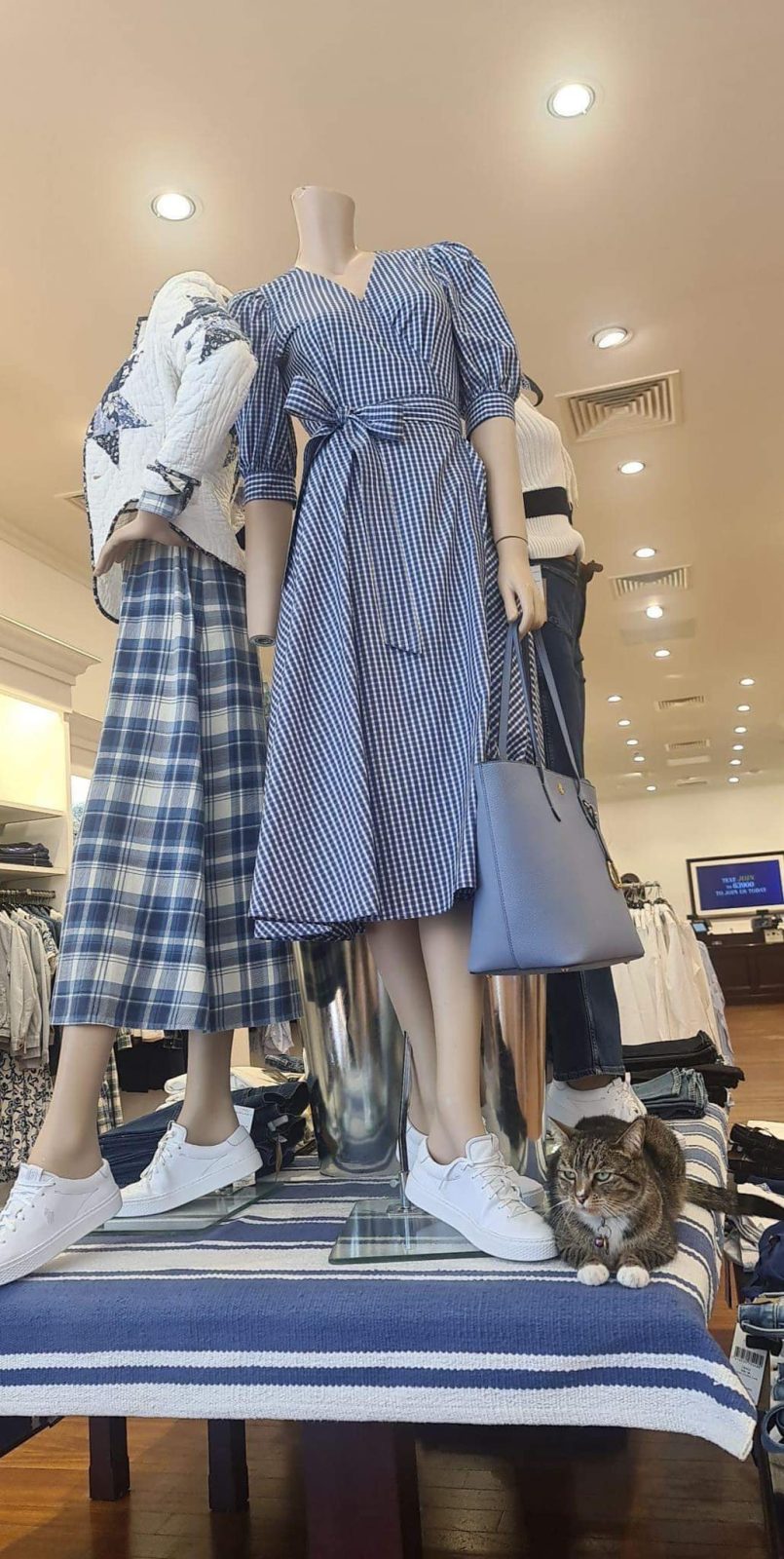 One recent post, showing her curled up under a trio of mannequins wearing the new collection ospring/summer dresses at Polo Ralph Lauren, reads: "After spending most of the day napping on my bed her majesty decided it was time to go out… For another nap at Ralph Lauren.
"I wish I had time for as many naps as my cat."
Another, shared in March, styles her as somewhat of a guardian angel: "This one made me smile… 'Hi! Just thought you'd want to know I sometimes finish work late and Gimli will emerge from the bushes nearby and come for a pet! She sits on my lap for some cuddles until I get picked up haha.'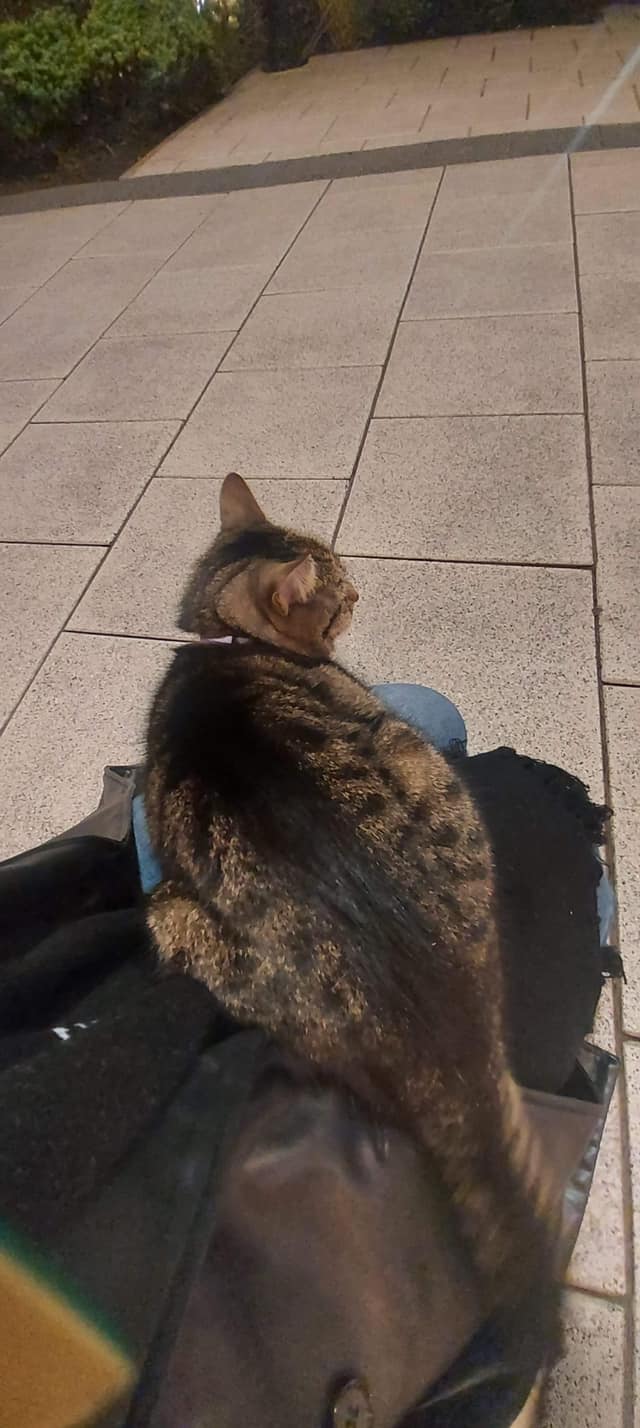 "So it seems we can add personal protection officer to Gimli's list talents! There was a little video that came along too but technology is letting me down and won't let me save it."
Read more: All the Peaky Blinders filming locations around Manchester as final season ends
Speaking about the elusive Gimli, her owner told The Manc: "Personality-wise she's a stereotypical cat really, quite aloof mostly but also has moments of being incredibly sweet and enjoys a fuss on her terms, but when she's had enough if you don't spot the warning tail twitch she'll definitely let you know"
As to why she thinks Gimli is so enamoured with the Oaks, she confessed that she's not entirely sure.
"I have zero idea if I"m honest, [my] best guess is she found a whole heap of people that she could convince she hadn't been fed for days with her cries (lies of course) combined with warm comfy spots under shop heaters for a snooze."
From curling up in a hidey hole at All Saints to making herself part of L'Occitane's window display, whilst her motivation for constantly visiting isn't neccessarily apparent, one thing about Gimli is clear.
The cat's got excellent taste.
To follow more of her adventures at Cheshire Oaks, check out her Facebook page here.
Feature image – Facebook