Feature
Manchester Christmas Markets 2023 — dates, locations, prices and everything you need to know
They're FINALLY back and we couldn't be happier. Merry Christmas!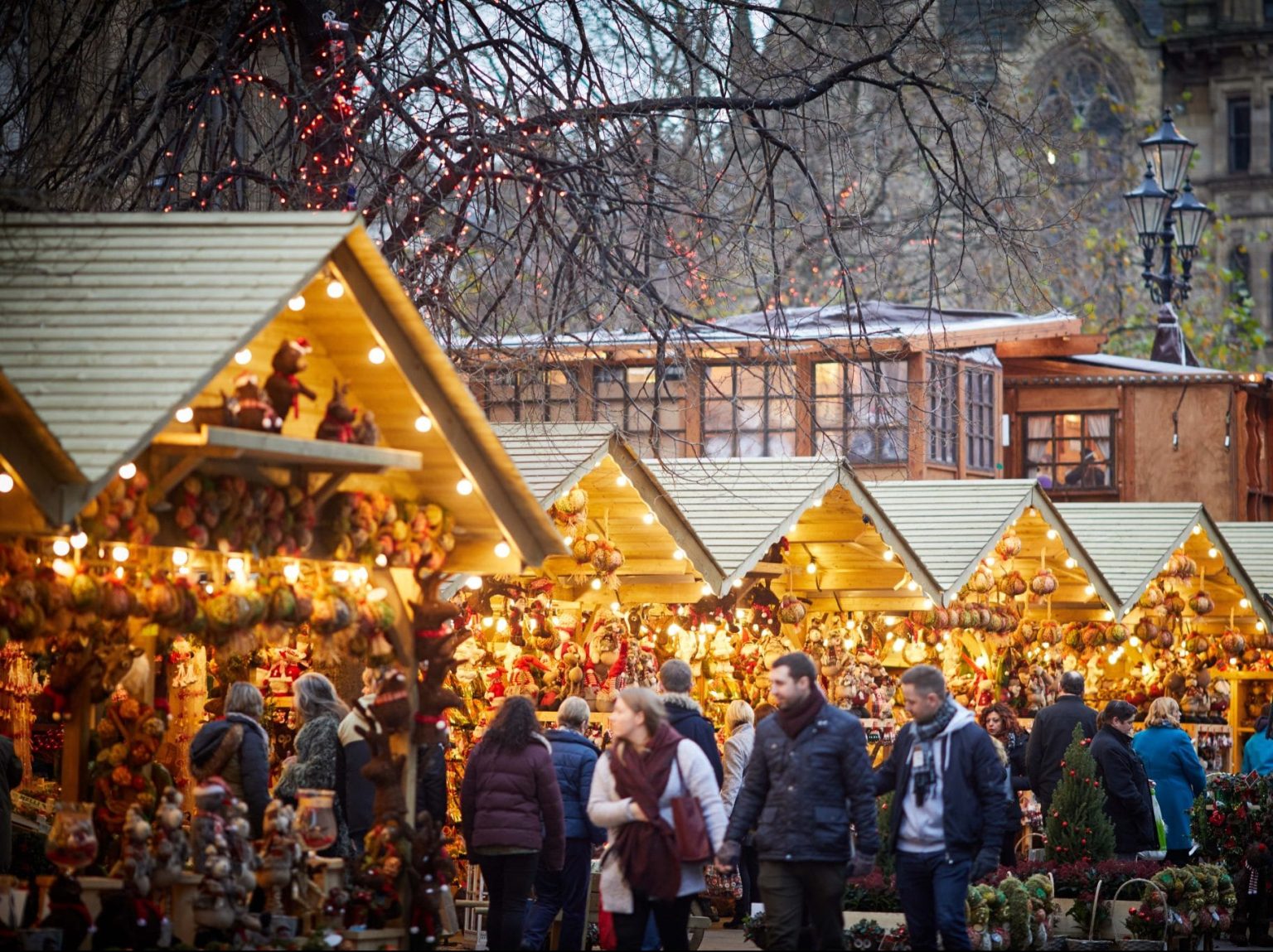 Rejoice, Manchester it's that time again — famously the most wonderful time of year, and you know what that means: we'll soon be filling our faces with bratwurst, cheersing steins of Bavarian beer and filling our houses with far too many festive trinkets because the Christmas Markets are back.
We're not even tooting our own horn when we say this, it's just a fact that the Manchester Christmas Markets are some of the best and most popular on the planet and this year we celebrate 25 years since the seasonal stalls first opened up in 0161 and started a legendary annual tradition.
It doesn't matter how many years roll by, we still await their arrival like little kids waiting for Christmas morning and set our schedules for what time we're going to head out on which day to cross off the must-haves on our markets checklist.
With that in mind, we thought we'd help you put together your own plan of attack this holiday season and give you all the info you need to know to make the most of the 2023 Manchester Christmas Markets. You can thank us later.
When do the Manchester Christmas Markets start this year?
The Manchester Christmas Markets 2023 will return to the city on Friday 10 November.
The main hubs, across locations including Piccadilly Gardens — a.k.a. the 'Winter Gardens' come this time of year — King Street and St Ann's Square, will all be open until 21 December.
But the Cathedral Gardens site, which is home to the ice rink, opens a little earlier each year and is already welcoming customers, with a handful of stalls operating through until 31 December.
That means that 2023's dates for the main Manchester Christmas Markets will span a whopping six weeks. Heaven.
Opening and closing times for the Manchester Christmas Markets
These are the opening and closing times for each of the Manchester Christmas Markets sites:
The Winter Gardens (Piccadilly) – Open daily from 10am-9pm (street food stalls open until 6pm, craft stalls open until 8pm)
King Street – Open daily 10am-9pm (Craft stall open until 8pm)
St Ann's Square – Open daily 10am-8pm
New Cathedral Street – Open daily 10am-8pm
Exchange Square and Corn Exchange – Open daily 10am-9pm (Craft stalls open until 8pm)
Market Street – Open Monday to Saturday 10am-8pm. Open until 6pm on Sundays
Cathedral Gardens – Open daily 10am-9pm (Craft stalls open until 8pm)
All the Manchester Christmas Markets 2023 locations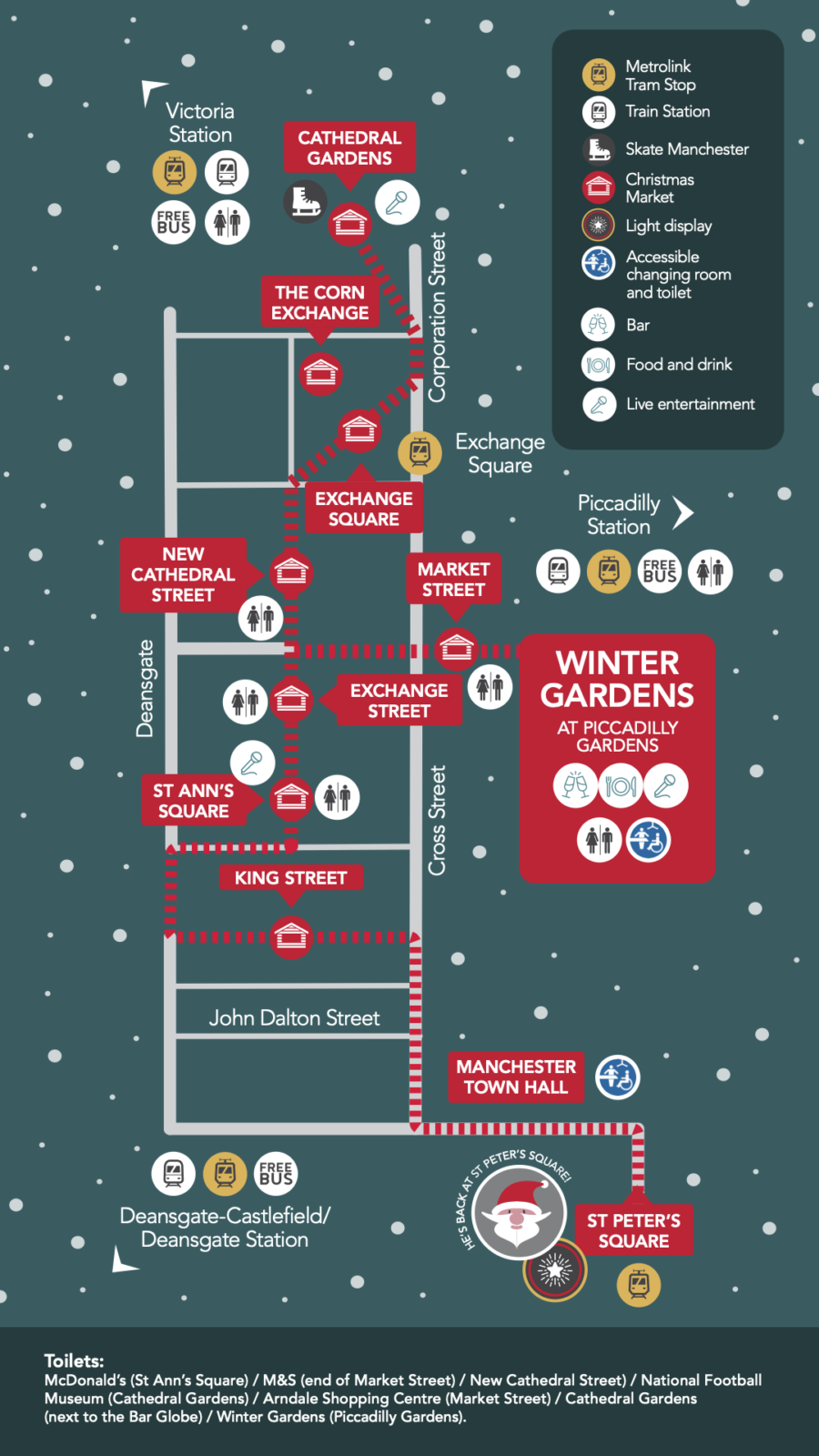 The markets will be sprawling right across the city centre as usual, with wooden huts lining the streets at nine different locations this year.
Manchester City Council has now confirmed all the places you'll be able to enjoy the Manchester Christmas Markets, and you can find out more about what's on offer at each one here.
The council have also published a handy map to help you plan your route around the Manchester Christmas Markets.
Winter Gardens at Piccadilly Gardens
St Ann's Square and Exchange Street
Market Street
King Street
New Cathedral Street
Exchange Square
The Corn Exchange
Cathedral Gardens
How much is food and drink at the Manchester Christmas Markets 2023?
Until the Manchester Christmas Markets open on Friday 10 November, we don't know exactly what the price of food and drink will be.
But as a few stalls have already opened alongside the ice rink, we do know a couple of traders' prices.
The Yorkshire pudding wrap — which has huge queues forming every year (rightfully so) — has gone up a little and will now set you back £10, a £2 increase on last year.
Mulled wine has also gone up to £5.50 from £5 last year, and don't forget to factor in the price of a Christmas Market mug deposit with your drinks too!
To be honest, we'll pay obscene amounts for those unreal deep-fried pigs in blankets that debuted last year. My word…
Manchester Christmas Markets 2023 mug design and price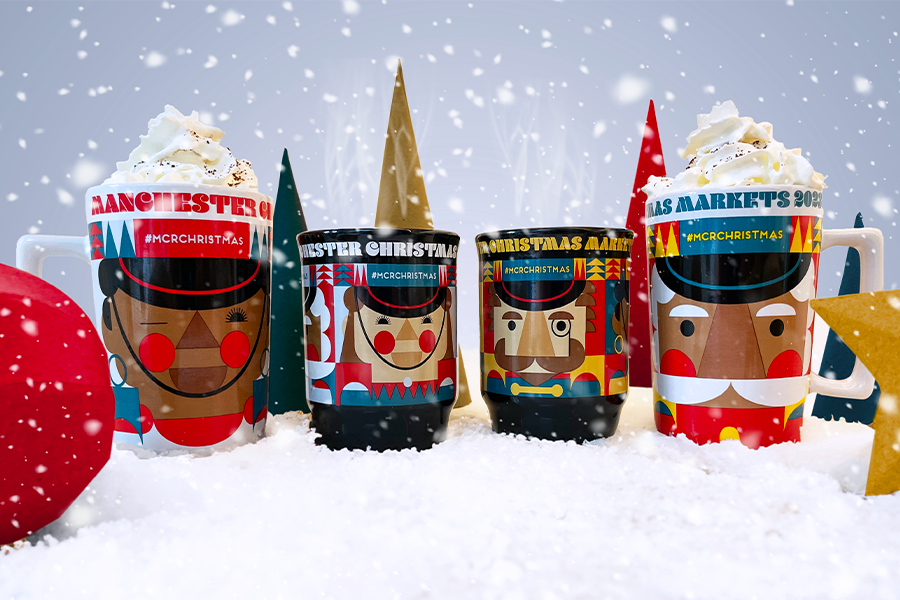 Every year the Manchester Christmas Markets has a limited-edition mug design, and this year the collectable souvenir has taken inspiration from the Nutcracker.
There are two different sizes and 2023 designs to collect when the markets officially open next week.
When you order a hot drink at the markets you'll be charged a £3.50 deposit for a mug (that's up from £3 last year).
You can then return your cup when you're finished to get your money back, or take it home as a memento.
Last year, the Manchester Christmas Markets mugs were so popular they ran out before the markets had even finished – but they've ordered extras this year to be on the safe side.
Travel advice and how to get to the Manchester Christmas Markets 2023
Transport for Greater Manchester has urged people to use public transport wherever possible to travel in and out of the city centre for the Manchester Christmas Markets.
That's because of all the events running alongside the festivities, from huge football matches to gigs at the AO Arena to Black Friday sales.
The Bee Network app will help you to plan your journey and you can read all the latest travel advice here.
The best hotels to stay in for the Manchester Christmas Markets
Now, for those of you travelling into town to sample our world-famous markets — as literally thousands do every single year — you might be in need of somewhere to lay your head after a few too many steaming mugs of Glühwein.
Fortunately, since this city continues to be such a popular tourist attraction all year round, there are plenty of hotels to suit whatever your budget is.
In fact, you're so lucky that we already put together a list of the best hotels in Manchester a little while back, so you're welcome in advance.
Read more:
And that should do you for now and your guide to the 2023 Manchester Christmas Markets — we're sure most of you know the score by now: it'll be a big, cold, a bit busy but utterly wonderful as it always is.
We've found the trick is to try out a few days during the week if you want to beat the rush and then come back at the weekend for the full-bellied crowds brimming with festive cheer.
There really is nothing like it in our opinion and we'll be sure to keep bringing you plenty of updates on all things Christmas Markets-related going on in Manchester over the next couple of months.
Happy holidays, you lovely lot!
For all the latest news, events and goings on in Greater Manchester, subscribe to The Manc newsletter HERE.
Featured Image — David Dixon (via Geograph)/The Manc Group/Wikimedia Commons/Supplied