Manchester
Clever new 'ballot bins' where you vote with your litter have appeared in Manchester
It's asking Mancs the big questions.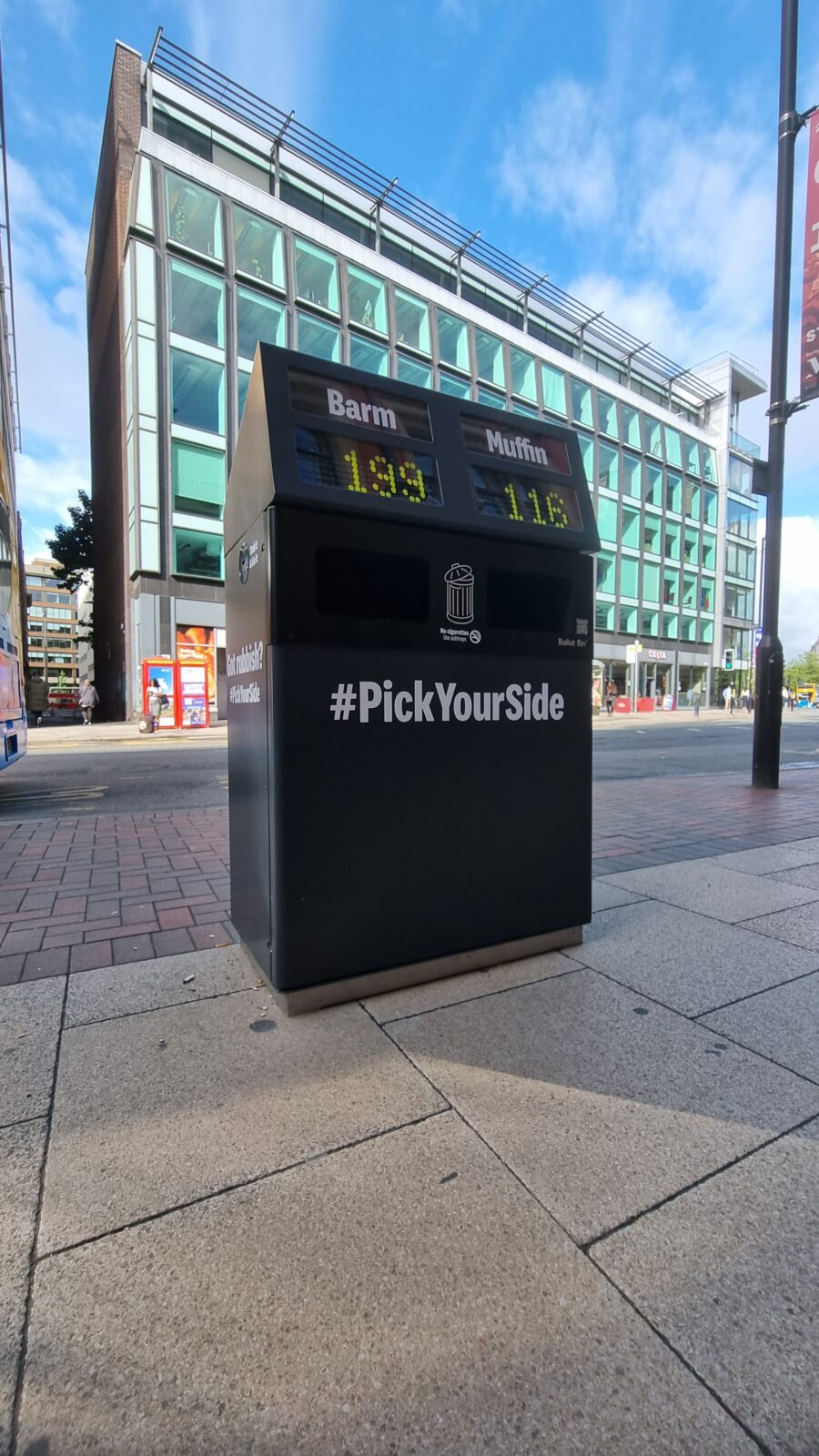 New bins have appeared across Manchester today – and they act as a ballot box for some hot topics.
Mancs will be able to vote with their litter on subjects like who the best Gallagher brother is, what you call those round breads, and which film is better out of Barbie and Oppenheimer.
It's similar to the cigarette butt bins that popped up in Ancoats earlier this year, but on a much larger scale.
When you place any rubbish in your chosen half of the bin, it adds another vote to the counter.
For example, when we chucked a bottle away earlier, we helped 'Barm' edge into the lead on the never-ending 'Barm vs Muffin' debate.
It's hoped that the scheme will encourage people to reduce their litter while also weighing in on popular debates.
Manchester City Council have worked with environmental charity Hubbub and in collaboration with KFC on the Big Ballot Bins, as part of the #PickYourSideMCR campaign.
The bins are the first of their kind and have been placed on commuter routes to and from Piccadilly station.
They use sensors to detect and count which option the public vote for as they throw away their rubbish, with digital screens keeping track of the score.
It comes as new figures show that the UK is spending £1 billion each year to clear 30 million tonnes of litter.
Councillor Lee-Ann Igbon, Manchester City Council's Executive Member for Vibrant Neighbourhoods, said: "I am pleased that we're teaming up with Hubbub to launch this new scheme in the city centre. This initiative is one of the many innovative ways that the Council are trying to reduce littering in the city and encourage people to put their rubbish in the bin.
"By getting people voting we hope that residents will be encouraged to vote on funny topics, and throw their rubbish in the bins, keeping our streets clean. "
Gavin Ellis, Director and Co-Founder at Hubbub, commented: "Since we created the Ballot Bin voting ashtray back in 2016 and saw it successfully nudging smokers to bin their butts, Hubbub has wanted to test the same approach with litter bins.
"We're always looking for creative ways to reduce littering and we hope the new Big Ballot Bins, which are built based on proven behaviour change principles, will do just that. We'll be tracking the impact they have through independent, scientific measurement."
Read more
Jenny Packwood, Chief Corporate Affairs & Sustainability Officer and Interim CMO, KFC UK & Ireland, said: "Litter is an eyesore and is bad for the environment. We all hate to see it, and we take our responsibility to reduce the impact of litter in our communities very seriously.
"That's why this pilot scheme using behavioural insights to test new approaches to tackling litter is an exciting next step for us. We want to play our part to find real solutions that work for the people of Manchester."
The impact of the project will be measured by environmental tech company Ellipsis Earth who will use artificial intelligence to identify and scientifically measure changes to litter levels around the bins. This data, combined with results from a parallel project being run in Southampton, will help determine the impact of the bins and whether using voting bins could help other city centres tackle litter too.
Featured image: The Manc Group