News
40-year-old scaffolding removed from Band on The Wall as it prepares to reopen 'bigger and better'
Band on The Wall will reopen its doors in March 2022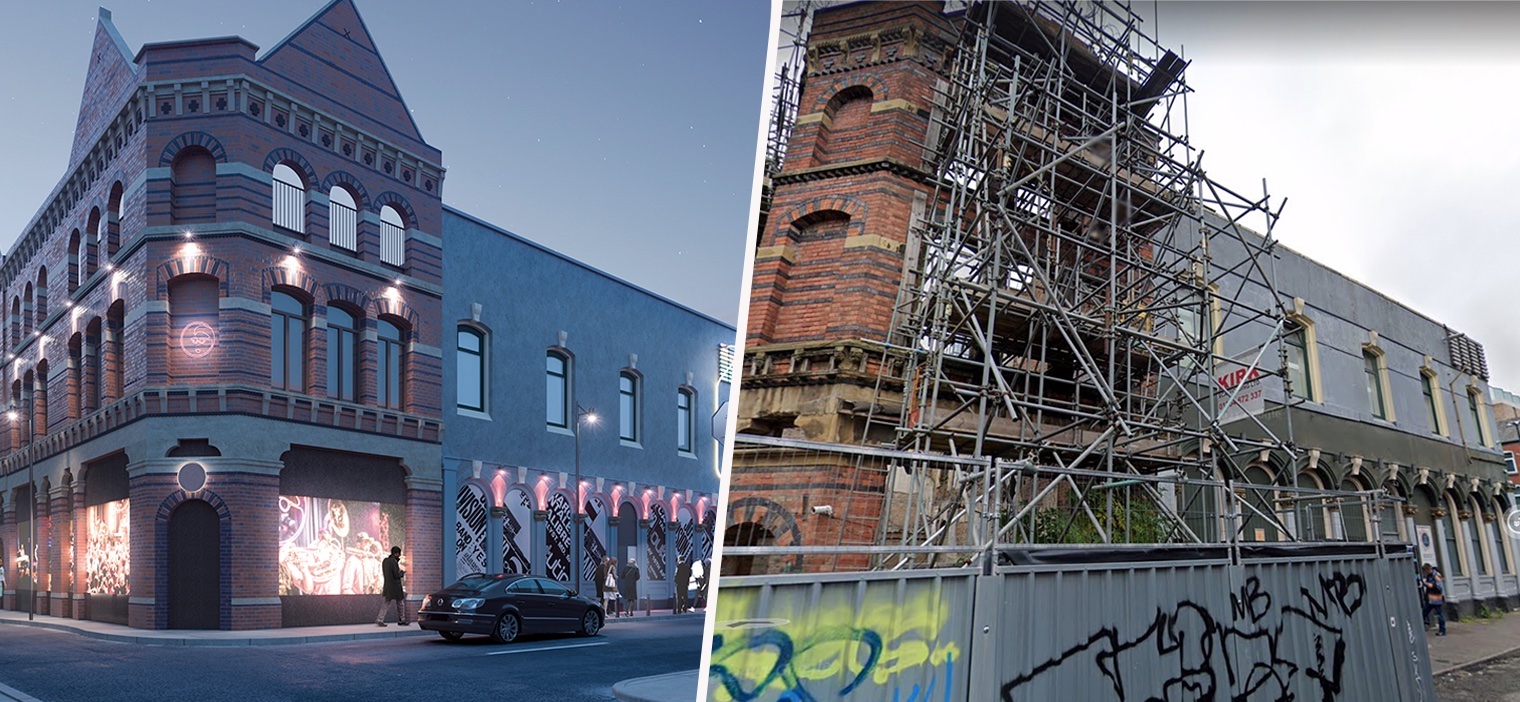 Iconic Manchester music venue Band on The Wall is preparing to reopen its doors this spring following an extensive £3.5 million expansion project that has transformed the 200-year-old venue into a 'bigger and better' version of its old self.
As part of the refurbishment, the 40-year-old scaffolding that's long concealed the dilapidated adjoining three-storey Cocozza Wood building behind it has now been removed – and new CGI images give a picture of how the new and improved music venue will look once it reopens its doors in two months' time.
Thanks to funding from The National Lottery Heritage Fund, the deteriorating old building has been restored and joined together with Band on the Wall to form a larger ground floor venue space, which also features a new 'grand and ambient' bar area.
A second, newly created bar space, meanwhile, now boasts a new stage, perfect for smaller capacity performances of up to 80 people, and will serve a menu of hot and cold food throughout the day from March 2022.
Both the bar stage and main stage are designed with step-free access, with the venue now more accessible than ever before.
The work, which has been ongoing for nearly two years now, sees the adjoining Cocozza building brought back to life after nearly 50 years of neglect.
It has extended the main room's capacity to 500 and helped to create a whole floor dedicated to its innovative learning programme, World of Music – a broad and integrated programme of heritage, music, learning and research projects.
This means that local and grassroots community projects working out of the space today now have a dedicated space on the first floor, where previously they were working out of just two rooms.
Purpose-built to deliver community-based learning engagement that celebrates Manchester's migrant communities and their musical legacies, the first floor is now a dedicated learning space with one large main group space, two breakout group rooms and a state-of-the-art AV suite where budding creatives can record music, interviews, podcasts and film.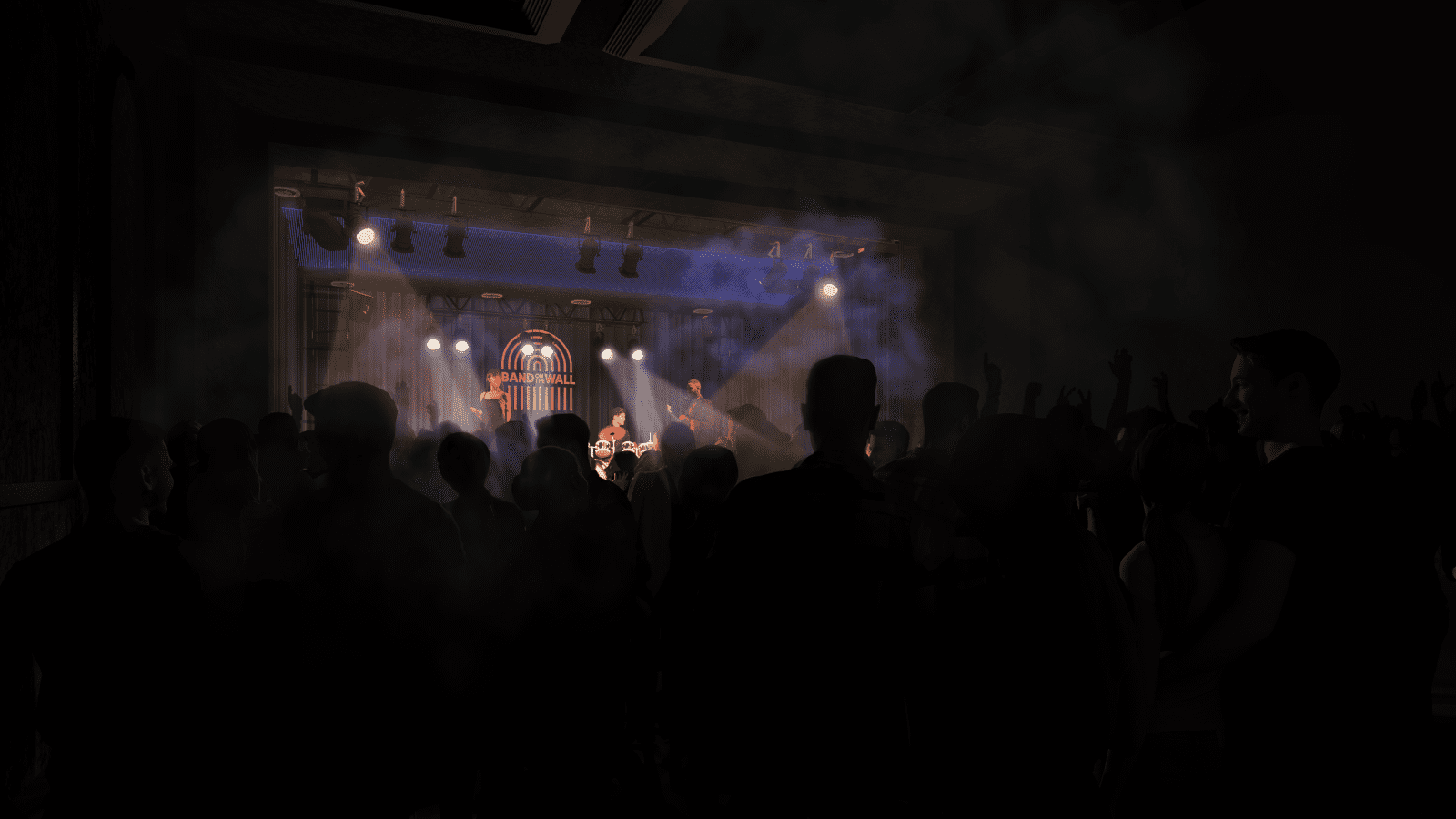 As a registered charity since 1984, the driver for the transformation of the venue is to create a collaborative hub for young people, the local community and Manchester's creatives, and to celebrate the cultural diversity of Greater Manchester.
Speaking on the new and improved look, Gavin Sharp, CEO of Band on The Wall, said: "Band on the Wall has always been bigger than just a venue, and over the last two years we've been very busy working on our expansion project […}
"We are delighted to open our doors once again this March, and we look forward to welcoming guests back to our newly improved venue."

Read more: Original Hacienda DJ Paulette is writing a tell-all book about her 30-year career
Band on The Wall itself has been a hub for Manchester's music scene since 1803 and takes its name from its time as The George and the Dragon pub, when performers would literally play on a stage situated halfway up the wall – put there to ensure there was more room for dancing below.
The venue, which has a very impressive history, was at the epicentre of Manchester's punk scene in the late 70's, welcoming early performances of the likes of The Fall, Buzzcocks and Joy Division as well as hosting a young Björk, Nadine Shah and Sun Ra Arkestra.
The refurbishment is made possible thanks to designs by Manchester-based architects OMI and funding from The National Lottery Heritage Fund, who supported with a £1.4million grant.
Further support came from the Arts Council England, Foyle Foundation, Oglesby Foundation, DCMS, Charities Aid Foundation, Carlsberg, Ticketline, Lloyds Bank and Manchester City Council.
Jennifer Cleary, director, Combined Arts & North, Arts Council England, said: "Band on the Wall is an iconic music venue with global recognition. It has been a wonderful journey seeing the venue modified and modernised, whilst keeping its historic charm, and we have been pleased to support this redevelopment with National Lottery funding through our capital programme.
"We look forward to seeing the new possibilities that the re-opening of the venue will continue to bring – both locally and internationally."
Read more: 2022 is the year to skip Dry January and support your local pub
David Renwick, director, North of England, The National Lottery Heritage Fund added: "Thanks to National Lottery players, we are proud to support Band on the Wall and its growth as one of the UK's leading creative and cultural venues – with an important and diverse heritage that dates back from 1803. We are really excited to see its programming unfold – and especially to see new talents from their learning programme, World of Music."
For Band on the Wall's much-anticipated reopening, fans of the venue old and new can expect a jubilant celebration of Manchester's international musical heritage.
The reopening season features shows by Binker & Moses, Ibibio Sound Machine, Balimaya Project, Emma Jean Thackray, Jazzanova, Bill Laurance, Asian Dub Foundation and much more. To see the full line-up and purchase tickets, view the full listings for reopening here.
Feature image – Band On The Wall / Google Maps