News
Altrincham grandma beats personal best at Trafford 10k on her 85th birthday
A reminder you're only ever as old as you feel. Turns out, Barbara is legend-years-old.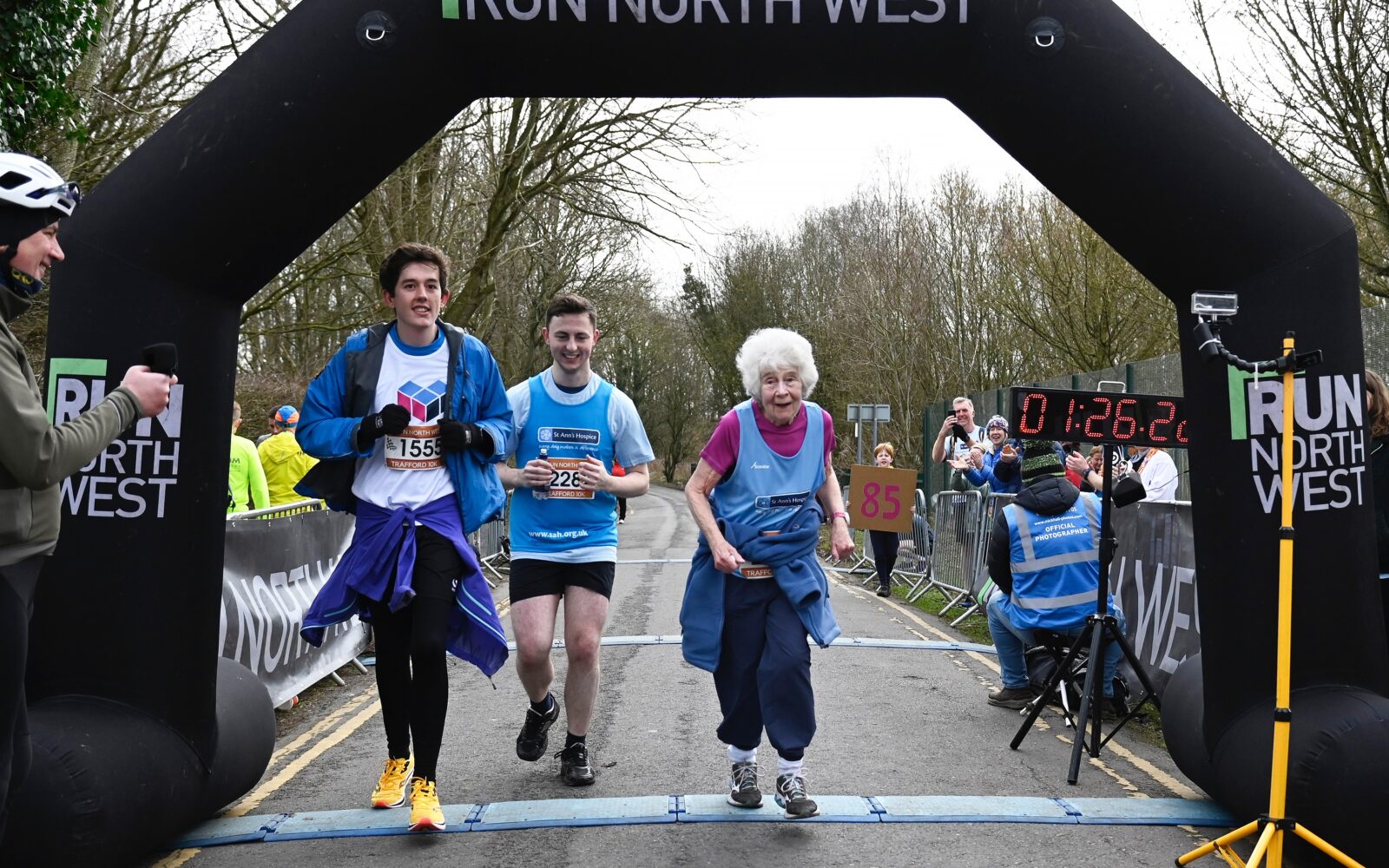 In news you simply love to see, an Altrincham grandma not only completed her second Trafford 10k in two years this past weekend, she also managed to beat her personal best — all on her birthday!
Running for Greater Manchester charity St Ann's Hospice along with 20 members of her family, Alty nan Barbara Thackray managed to complete the popular 10k running challenge in 85 minutes, nearly a whole two minutes quicker than she did last year at her hometown Altrincham 10k.
To make the occasion even more wonderful, Barbara just so happened to be running on her 85th birthday and was met at the finish line with plenty of cheers and a cake at the ready.
Have to say, the fact it was everyone's favourite Colin the Caterpillar makes this story even better.
Barbara only started running when she turned 77 and has steadily been smashing PBs left right and centre ever since. Go on, Barbs!
She now runs around 12 miles every week and is a big proponent of 'you're only as old as you feel'. Speaking to BBC's North West Tonight in 2022, she said that running for a cause "enables us to keep our body going" and has only increased her mileage since lockdown.
The 85-year-old raised a whopping £1,325 with her latest feat on Sunday, 5 March and has raised well over £20,000 with her runs over the past few years. She has been raising money for the organisation for over a decade now, doing so after her late sister Audrey became a patient at the hospice.
She told Altrincham Today: "This race is always special to me as my family come from across the country to run with me and some crossed the finish line with me too!"
Although she has kept fit all her life, whether it be walking or otherwise, she says that running has changed her life by giving her a new purpose and spreading plenty of happiness along the way.
She went on to reinforce just how important the charity has been for her family. "My sister's death was much better due to St Ann's Hospice, they'll do whatever they can for their patient to have the best quality death they possibly can have – and that's worth supporting," said Barbara.
As for her message to anyone of a similar age who might be considering taking up running, she simply advises to "begin gently and listen to your body."
Read more:
You can still donate to Barbara's fundraiser or help St Ann's Hospice in their mission to support those who are 18 and above and affected by life-limiting illnesses, as well as their loved ones and carers HERE.
For all the latest news, events and goings on in Greater Manchester, subscribe to The Manc newsletter HERE.
Featured Image — St Ann's Hospice (via Twitter)