News
Celebs are holding a charity football match to fund a statue for 'uncrowned boxing champion' Len Johnson
He is widely-considered one of if not the greatest ever British boxer, but could never be crowned a champion.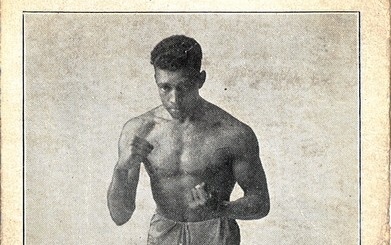 A charity football match is set to be held to raise funds for a statue in honour of legendary Manc boxer, Len Johnson, widely considered one of the greatest fighters to never be crowned a champion.
Len Johnson is one of the most inspiring yet saddest sporting tales you'll ever come across. Born in Clayton (the former home of Manchester United's precursor club Newton Heath) back in 1902, Len Johnson was a British boxer who famously won 96 fights throughout his remarkable 135-bout career.
However, it was a career that was cruelly limited and hamstrung by outdated and racist laws, as according to a piece of legislation known as 'Rule 24', (a.k.a 'the colour bar'), Johnson could not compete for a title as he did not have two white parents.
Despite the painful history behind his life, the light-heavyweight is often referred to as 'Manchester's best ever boxer', perhaps even Britain's, and now famous faces from within the sport and beyond are looking to raise money for his long overdue statue and recognition.
Teaming up with FC United and a team of Legends, boxing icons Ricky Hatton and Anthony Crolla, as well as a horde of celebrities from the likes of Coronation Street, Hollyoaks and more are lacing up their boots for a charity match this May.
Aiming to raise enough money to pay for the statue of Johnson, Manchester's uncrowned boxing champion, the players will be facing off in the Moston-based semi-pro team's home ground at Broadhurst Park.
With numerous sponsors already signed up and even more famous faces set to join the charity match, both coverage of the event and knowledge of Johnson's story has increased.
With documentaries made in his honour now being selected for the Paris Film Awards and more people learning of Len's legacy, the turnout for the game and its attached fundraiser looks like it's going to be massive.
Read more:
Johnson died in Oldham back in 1974 at the age of 71 and while we will always wonder what could have been if he was allowed to fight officially, his impact both on boxing, Manchester and sport at large will never be forgotten.
As well as being known for nearly a century of victories in the ring, he also did more than his fair in the fight for civil rights and by contributing to anti-racism efforts.
As well as helping black sailors sacked by a shipping company keep their jobs, staging several protests outside a pub in Hulme after he refused service, he also served in WWII and helped organise the 5th Pan African Congress over decolonisation, held here in Manchester. He wasn't just a boxer, he was a hero.
As campaign lead Lamin Touray told ITV, he believes "the Len Johnson story has been kept from us purposely" and erecting a statue of him, pride of place in the city centre, will not only help people learn the tale of this remarkable man, but it's what he and his family deserve.
For all the latest news, events and goings on in Greater Manchester, subscribe to The Manc newsletter HERE.
Featured Image — Manchester Libraries/Working Class Movement Libraries