Manchester
Eric Cantona pictured at Peveril of the Peak on reopening day
A footballing legend heads down to one of Manchester's most famous pubs as they prepare to pour the first pints after lockdown.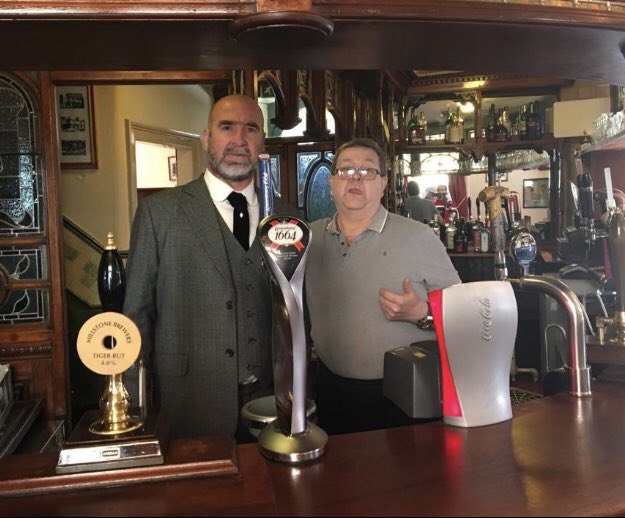 Thursday was always going to be an important day for Peveril of the Peak. The doors to the famous pub had been locked for months – and this was the date when the pints would finally start pouring again.
But the arrival of a very special guest at the Great Bridgewater St boozer on April 22 turned reopening day from a big occasion into an unforgettable one.
As the barrels were prepped and the tables were propped up outdoors, the first visitor pictured at 'The Pev' turned out to be none other than Manchester United legend Eric Cantona.
The former striker – who scored 82 goals during five years at Old Trafford – was seen stood behind the bar on Thursday afternoon.
Posting on social media, The Pev revealed that some filming was being completed at the venue during the daytime and they planned to reopen to the public around 5pm.
Cantona has been spotted shooting in other locations around the city this week – with another photo showing him in conversation with current United star Bruno Fernandes.
Peveril of the Peak is not just one of the most beloved old boozers in Manchester but also one of the most visually distinct for its iconic green tiled Victorian architecture.
It is operated by one of the longest-serving landladies in the region – with 89-year-old Nancy Swanick celebrating 50 years behind the pumps in January 2021.
The Pev had originally planned to reopen on May 17 following the national lockdown, but owners brought the date forward "due to much popular demand and nice weather."
Serving recommences outdoors from around 5pm tonight (April 22).