News
Grandmother stuck in Coronavirus lockdown will not fly home as planned
[siteorigin_widget class="SiteOrigin_Widget_PanelImage_Widget"][/siteorigin_widget]
[siteorigin_widget class="SiteOrigin_Widget_PanelText_Widget"][/siteorigin_widget]
[siteorigin_widget class="SiteOrigin_Widget_PanelImage_Widget"][/siteorigin_widget]
[siteorigin_widget class="SiteOrigin_Widget_PanelText_Widget"][/siteorigin_widget]
News
Major property developer criticised for 'anti-sex worker' billboard in Manchester city centre

Daisy Jackson
One of Manchester's most recognised property development companies has faced backlash this week for a 'disgraceful' billboard placed beside its newest residential site.
The enormous advertisement was erected beside Capital & Centric's Crusader Mill and Phoenix developments in Piccadilly East.
On it are the words 'From red light, to green light' – a slogan that's been branded as a 'discriminatory, anti-sex worker billboard' by a local charity.
Capital & Centric has now acknowledged that people 'don't like the banner' and said that it will be changed.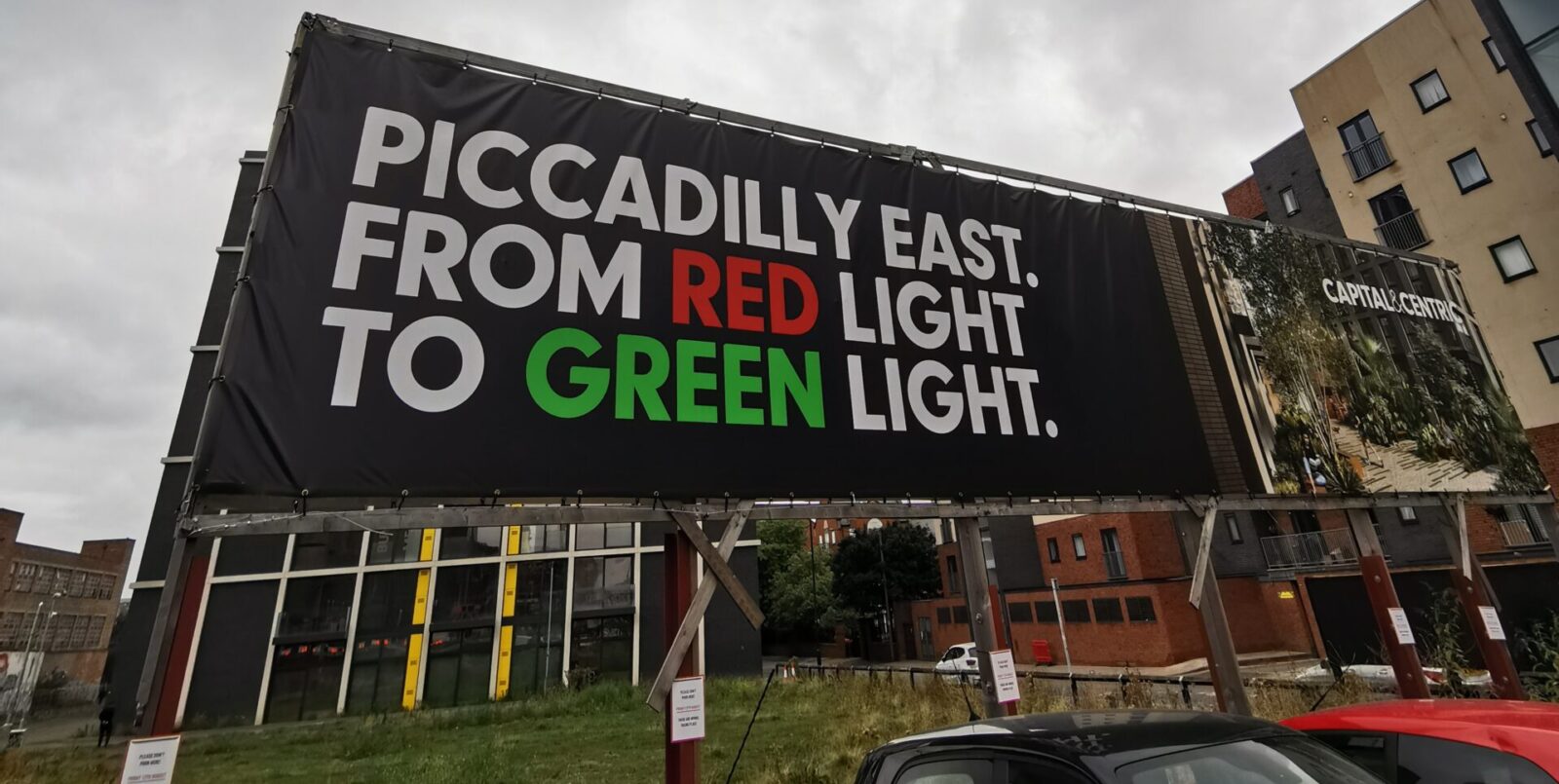 MASH (Manchester Action on Street Health) offers support to women who sex work – be it for emotional wellbeing or sexual health – and has its headquarters near to the new billboard.
They wrote: "We're saddened that a discriminatory, anti-sex worker billboard has been put up nr MASH.
"If we want Manchester to be a welcoming city where all can thrive, this isn't the way.
"We stand with sex workers, always. Help to counteract the hate by supporting us mash.org.uk/donate."
On Twitter, one person said: "Disgraceful for a property developer to espouse any kind of morality over sex workers who were here decades before them ~on a literal billboard~. @CapitalCentric you should be ashamed of this."
Someone else said: "Unbelievably poor taste advertising from so-called social impact investors at @CapitalCentric."
Adam Higgins, co-founder of Capital&Centric, said: "There's been a handful of comments on social media from people who don't like the banner. We never want to cause upset, so it's being changed.
"Anyone who's followed us will know about our efforts to have positive social impacts on the communities where we work.
Read more: The neglected Moss Side ginnel that's been turned into a plant-filled art gallery
"From building new homes and creating inclusive neighbourhoods, to actively supporting those most in need by working with frontline homeless charities."
A Manchester City Council spokesperson said: "We have been made aware of an advertising banner installed by Capital and Centric in the Piccadilly area.
"We understand that this banner was not intended to cause offence and they have agreed to remove it.
"Capital and Centric play an important role in the city's development, working with a number of voluntary and community organisations in this area, and have apologised for any unintentional upset caused by this marketing campaign."
Featured image: The Manc Group
News
The public will get to have their say on the Greater Manchester Clean Air Zone – but not until 2023

Emily Sergeant
New reports have suggested that the Greater Manchester public are to be consulted on the latest Clean Air Zone (CAZ) proposals – but this won't be done any time soon.
The Clean Air Zone was to initially hand motorists daily charges of up to £60 for some of the most polluting vehicles on Greater Manchester's roads, but many will remember that the deadline for the scheme had been put on hold until while the plan was referred back to the government for "urgent review" in January, following huge backlash and after Prime Minister Boris Johnson conceded that it was "completely unworkable" for the region.
The government agreed to delay the deadline for the scheme until 2026, but local leaders wanted to scrap all charges and help to fund vehicle upgrades instead.
Greater Manchester Combined Authority (GMCA) then set out evidence supporting an investment-led, and, crucially for residents and motorists, a non-charging Clean Air Plan back in June 2022 – which it said was "the best solution" to address the roadside nitrogen dioxide (NO2) problem.
But ministers are reportedly yet to respond to this latest plan.
Read more: New non-charging Clear Air Zone plan for Greater Manchester published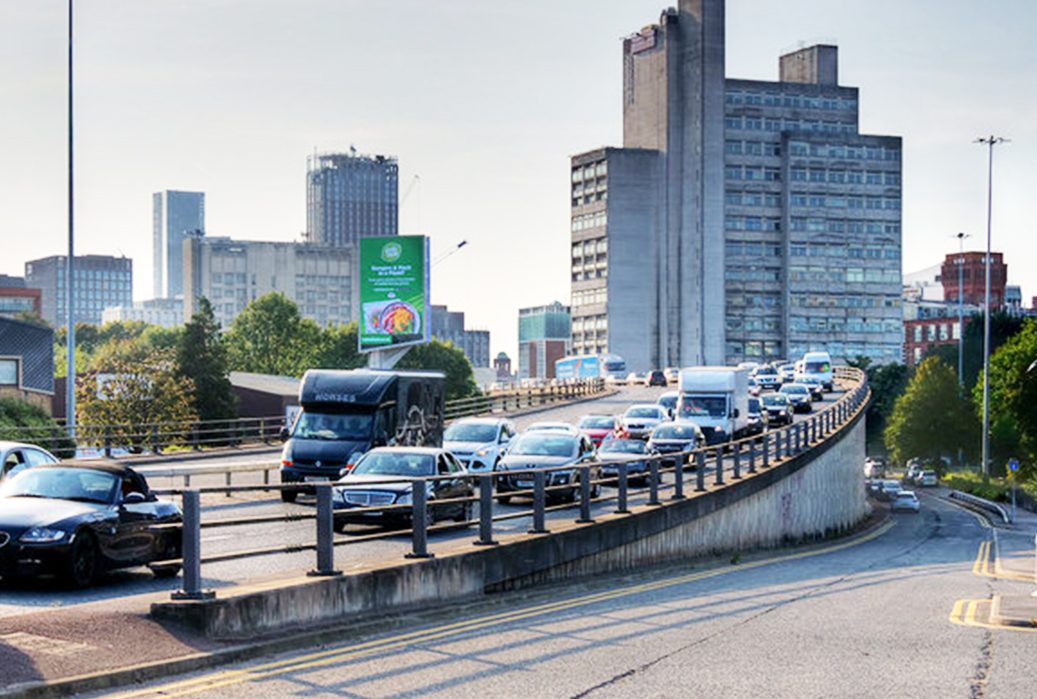 The closest thing to a public response from the government on the plan was when environment secretary George Eustice said he believed there was "little robust evidence" that it will work effectively.
Mr Eustace suggested that taxis, vans, buses, and lorries should still be charged in the city centre.
It's now being reported that, ahead GMCA's plan for a non-charging CAZ is to be formally-submitted to the government in its final form following a meeting on 16 August, 'targeted engagement' is currently taking place on the proposal and an online survey for some motorists is set to launch in a couple of weeks – but this will not go out to everyone.
ITV Granada reports that transport bosses have confirmed the wider public will not be able to have their say on the new proposals until early 2023.
Read more: Greater Manchester's Clean Air Zone plan has been referred back to the government for 'urgent' review
This has already been met with criticism from industry leaders and campaign groups.
Prominently addressing the fact the public will not be consulted on plans until 2023, spokesperson for RethinkGM – a campaign group set up in opposition to the Greater Manchester Clear Air Zone – said: "It is extremely disappointing that leadership of Greater Manchester continue to ignore the public and residents of the region once again, by leaving public consultation on any CAZ scheme until early 2023.
"With a national cost of living crisis currently under way and residents now choosing between eating, heating and survival, GMCA still fail in their duty to residents and maintain their ill-advised attempt to impose further unnecessary limitations on livelihoods.
"It is quite clear that this scheme now needs scrapping in full and consideration given to the poor, low paid, business and those suffering above all else."
Featured Image – The Manc Group