News
Greater Manchester Police dog violently attacked during arrest wins bravery award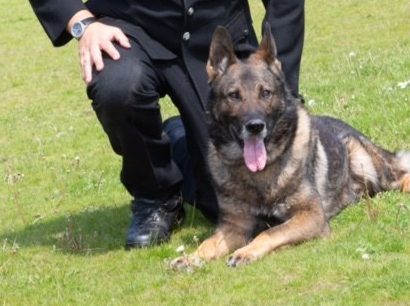 A Greater Manchester Police dog who was repeatedly attacked during an arrest has been recognised for his bravery.
During an arrest back in 2018, PD Bomber received a violent and painful blow to his body while apprehending a suspect who was on the run – but he managed to keep hold of the man, even when he became increasingly violent towards Bomber.
The suspect repeatedly hit and bit Bomber, refusing to let him go.
Even when his handler, PC Oram, reached them and attempted to arrest the suspect again, the man continued to attack Bomber and was determined to cause serious harm to the dog.
Despite the "prolonged and repeated" attacks on Bomber, he didn't give up and protected his handler throughout the extreme violence.
Greater Manchester Police said that Bomber carried out his duty, despite suffering severe pain from his injuries and detained the suspect until further patrols arrived – and for this incredible feat, he has been quite-rightly honoured.
PC Oram was first awarded a GMP award for his outstanding dog handling, and has now been recognised on a national level.
The pair have received the 'National Police Service Dog Bravery Achievement' award for their efforts during this traumatic arrest.
"It's fantastic that Bomber's actions have been rewarded as I don't know what would have happened if he wasn't there to help and protect me," PC Oram said after being honoured with the award.
"Sadly PD Bomber recently passed away, but I was proud to work with him for six years until his retirement where he spent his last days surrounded by his favourite things at home with me."
Greater Manchester Police said this award demonstrates that police dogs are a vital part of policing and of the GMP family, and that incidents like this show just how important their work is.
Featured Image – Greater Manchester Police