News
Huge 'one mile' fire breaks out on Marsden Moor
Firefighters from West Yorkshire and Greater Manchester services have been drafted in to tackle the blaze - which has been raging overnight.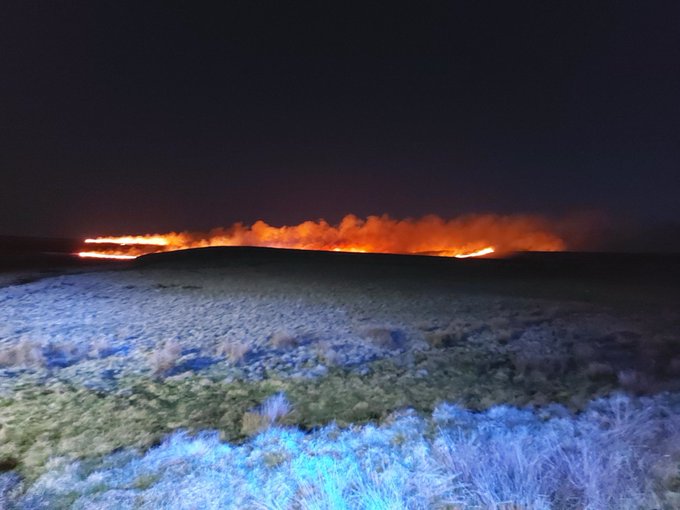 Firefighters from across the north have "working tirelessly" overnight to bring a ferocious "one-mile flame front" under control on Marsden Moor.
The fire – which is believed to have been "started by people" – first erupted at around 7pm on Sunday (April 25) evening.
West Yorkshire Fire & Rescue Service said that more than 10 crews plus specialist wildfire units arrived on the scene last night in attempt to tame the blaze, which has already "destroyed a crucial area for rare birds and mammals."
Greater Manchester Fire Service is working with local services this morning to dampen the flames using specialist vehicles and systems.
West Yorkshire Police, Mountain Rescue and the National Trust have also been assisting in an attempt to get the situation under control.
Local residents are being advised to keep their doors and windows closed.
Countryside Manager for the National Trust, Craig Best, said the situation "could have so easily been avoided."
"It's so frustrating to see yet another fire on our moors after all the hard work our team have put in to try and restore the landscape after last time.
"Although not on the same area of land as the 2019 fire, this fire has also destroyed a crucial area for rare birds and mammals."
"Unfortunately this was another fire started by people, and could have so easily been avoided."
The National Trust tweeted an update at 7:26am on Monday: "Whilst the flames appear to be out, moorland fires can reignite very easily, especially as the weather gets warmer today."
Feature image: West Yorkshire Fire & Rescue Service