A terminally ill patient at a hospice near Chester got to say an emotional goodbye to her animal companions.
68-year-old Jan Holman arrived at Hospice of the Good Shepherd in Chester after spending four weeks in hospital, but hospice staff soon realised that she was deeply missing her two King Charles Spaniels, Monty and Rowley, as well as her horse Bob – who she described as being "such an important part of her life".
Jan's husband Dennis said he never imagined it would be possible for her to say her final goodbyes to Monty, Rowley, and Bob – but the hospice was able to go the extra mile and arrange for them to surprise her at the hospice grounds.
Even though Jan wasn't able to get out of bed, staff said she was so excited to have the chance to see Bob and the dogs one more time.
The nurses wheeled Jan's bed to the hospice patio doors and the team from Thornleigh Park Farm Stables – where Bob is kept, and Jan would visit regularly, walked him into the hospice courtyard for a very emotional reunion between horse and rider.
They said that Jan's face lit up the moment she saw Bob, and he thoroughly enjoyed his treats of carrots, bananas, and apples.
"I just can't believe what the staff here at the hospice have done for me," Jan said.
"Until a few weeks ago, I was still riding Bob every day and he is such an important part of my life, and I have missed him so much.
"I knew that arranging for my dogs to visit was possible as we had a neighbour who was a patient at the hospice a few years ago and we were allowed to bring the dogs to visit her, but I just didn't expect that they would ever be able to give me the chance to see Bob one more time."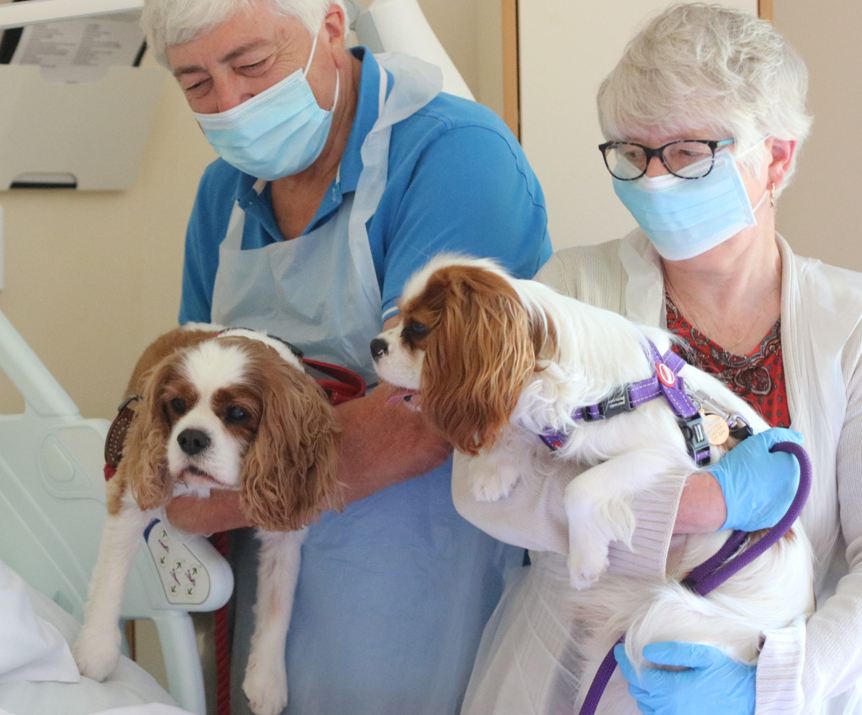 Sharing the heartwarming reunion story on its social media platforms, the Hospice of the Good Shepherd said: "The ethos of hospice care is not just about caring for the clinical needs of our patients but also looking after their emotional and spiritual needs as well.
"It's about making a difference to our patients and their families in whatever way we can."
Featured Image – Twitter (@HospiceGS)