News
Manchester United fan who wore shirt mocking Hillsborough banned 'indefinitely'
The mocking of football tragedies needs to stop once and for all.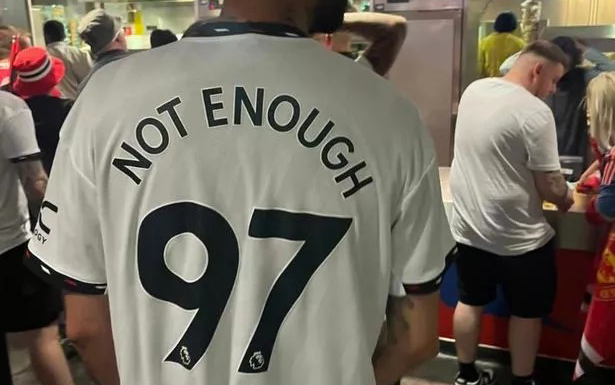 A Manchester United fan who wore a shirt mocking the Hillsborough disaster has been banned from attending games for four years and from attending the club "indefinitely".
The so-called fan, 33-year-old James White of Warwickshire — who has many previous convictions — was arrested on 3 June during the Manchester derby FA Cup final after he was reported for wearing a Man United shirt with the words '97 Not Enough' on the back in reference to the horrific tragedy.
Appearing at Willesden Magistrates' Court on Monday on charges of displaying threatening or abusive writing likely to cause harassment, alarm or distress, the man was hit with a four-year ban from all regulated football matches, fined £1,000 plus total surcharges of £485, and has also been banned from all United games for the foreseeable future.
He is also reported to have been smiling before, during and after the sentence, with Kevin Christie of the Crown Prosecution Service (CPS) London North stating that he "showed no sympathy towards [the 97 victims and their families], nor did he care about the impact of his actions".
Read more:
Despite pleading guilty and his defence claiming that White "deeply regrets" his actions and accepts that he "hurt people very deeply", he was said to be laughing in the stands during proceedings and during his arrest told police, "You haven't even asked me what the T-shirt means: my grandad died aged 97 and didn't have enough kids."
As district judge Mark Jabbitt told the court: "It is hard to imagine a more… offensive reference to the 1989 Hillsborough disaster", describing the custom-printed shirt, its "hateful expression" and the impact it has on the families of the victims as "profound and distressing".
Vice-chair of the Hillsborough Survivor Supporters Alliance, Diane Lynn, issued a statement saying "How dare he make us feel like this", with the group also expressing their gratitude to the Football Association, Metropolitan Police and Wembley staff for their swift action on the matter.
As for the likes of the FA and Manchester United themselves, both issued statements once again condemning such behaviour, with the Red Devils insisting that the "mockery of Hillsborough and other football tragedies is completely unacceptable and the club will continue to support firm action to eradicate it from the game."
For all the latest news, events and goings on in Greater Manchester, subscribe to The Manc newsletter HERE.
Featured Image — Twitter