News
McDonald's explains why its Northern restaurants won't reopen next week
[siteorigin_widget class="SiteOrigin_Widget_PanelImage_Widget"][/siteorigin_widget]
[siteorigin_widget class="SiteOrigin_Widget_PanelText_Widget"][/siteorigin_widget]
[siteorigin_widget class="SiteOrigin_Widget_PanelImage_Widget"][/siteorigin_widget]
[siteorigin_widget class="SiteOrigin_Widget_PanelText_Widget"][/siteorigin_widget]
News
This Manchester restaurant serves an all-vegan roast with 'meat' and all the trimmings

Georgina Pellant
A Manchester vegan restaurant is serving an all-vegan roast with mock 'meat' and all the trimmings, putting an ethical twist on the British Sunday classic. Keen to see if it's worth the hype, I took a trip down to try it out for myself – and left feeling pretty impressed.
Not being a vegan personally, I enlisted the help of two friends of the plant-powered persuasion to accompany me to get a real feel for every option.
Suffice it to say, it was a success and, whilst I won't be converting to veganism any time soon, it's nice to know that there are options out there for when I feel like being 'good'.
With three different roast choices on offer, Wholesome Junkies is the first restaurant in the city centre to venture past the usual vegan choices of mushroom Wellington and roasted squash and go all-out with a variety of mock meat options.
Meats have been created in partnership with Liverpool vegan brand CB Sushi, using their mock beef and turkey joints to give vegans the feeling of a 'proper' roast.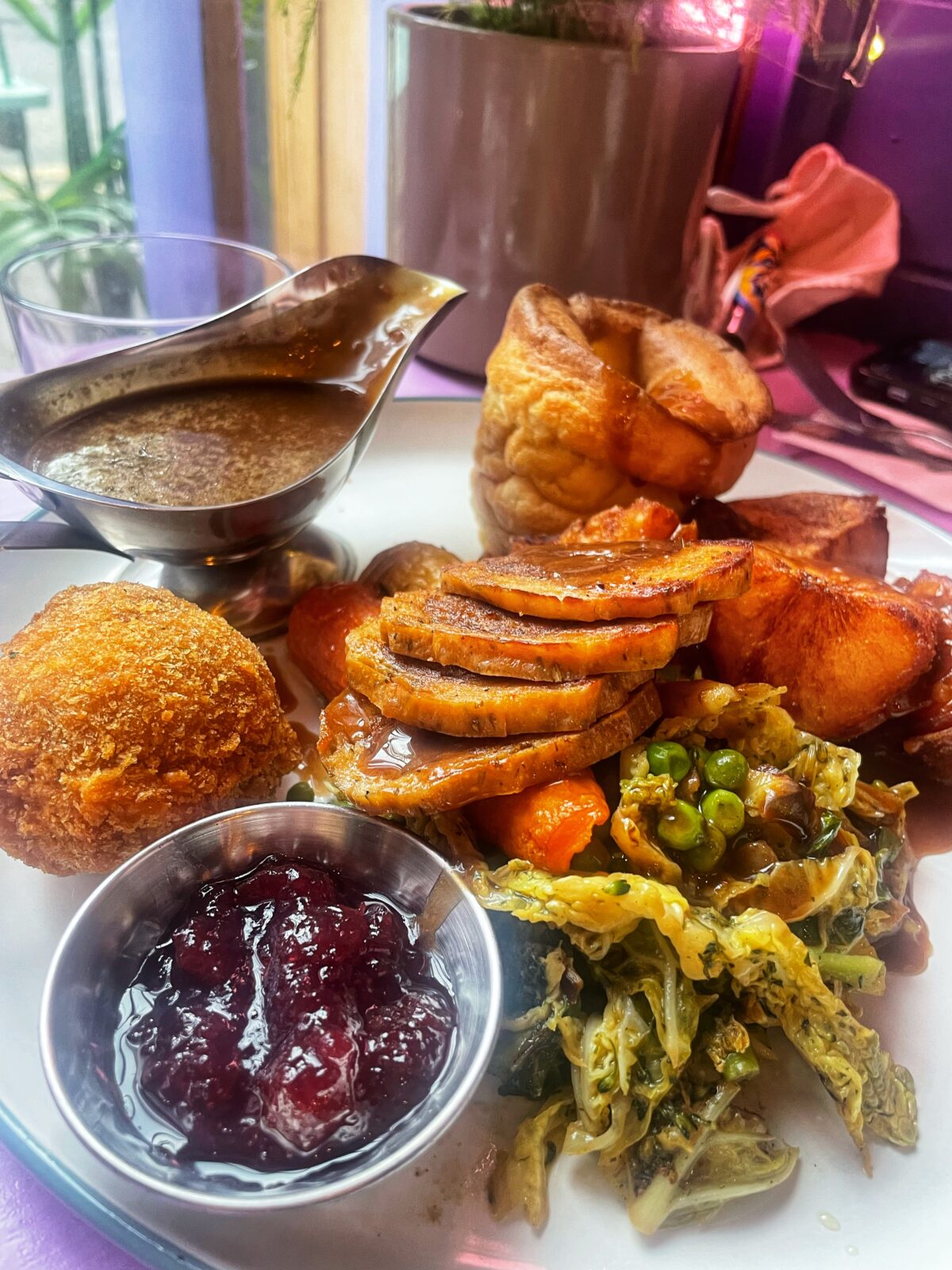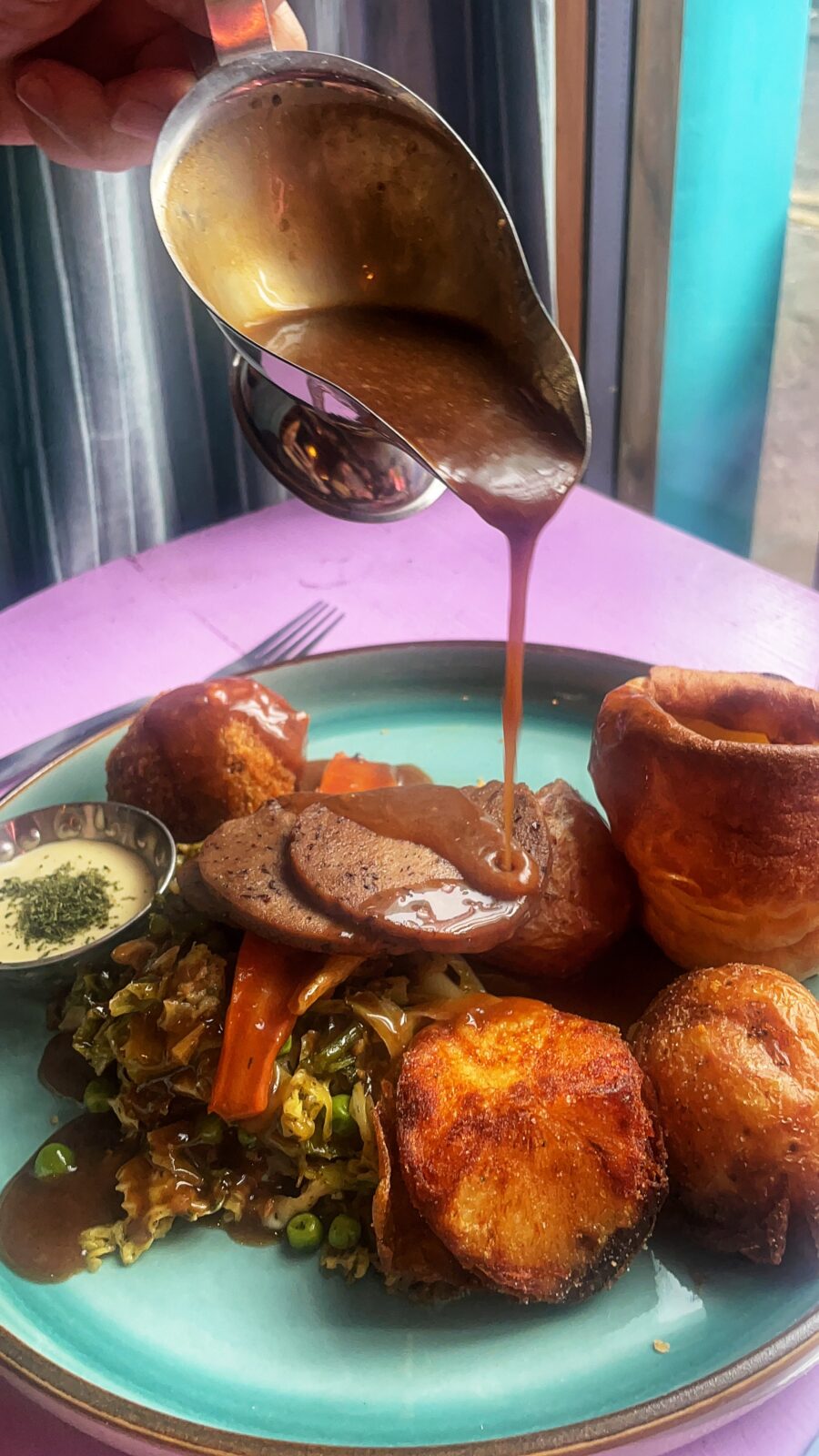 Think glazed 'turkey' filled with stuffing, medallions of 'beef' and crispy deep-fried oyster mushrooms, all served with lashings of onion gravy, 'buttered' seasonal greens, glazed carrots and parsnips, deep-fried stuffing balls, crispy roasties and fluffy Yorkshire puddings created by Mabel's.
Having tried all three, I have to say that my favourite was the turkey. It's actually my least favourite meat to eat, so it was something of a surprise to find I enjoyed the vegan version much more than the real thing.
The texture was spot on, and there was none of the dryness you typically associate with the bird. Washed down with a pint of locally-brewed Cloudwater Fuzzy Hazy Pale Ale, it absolutely hit the spot.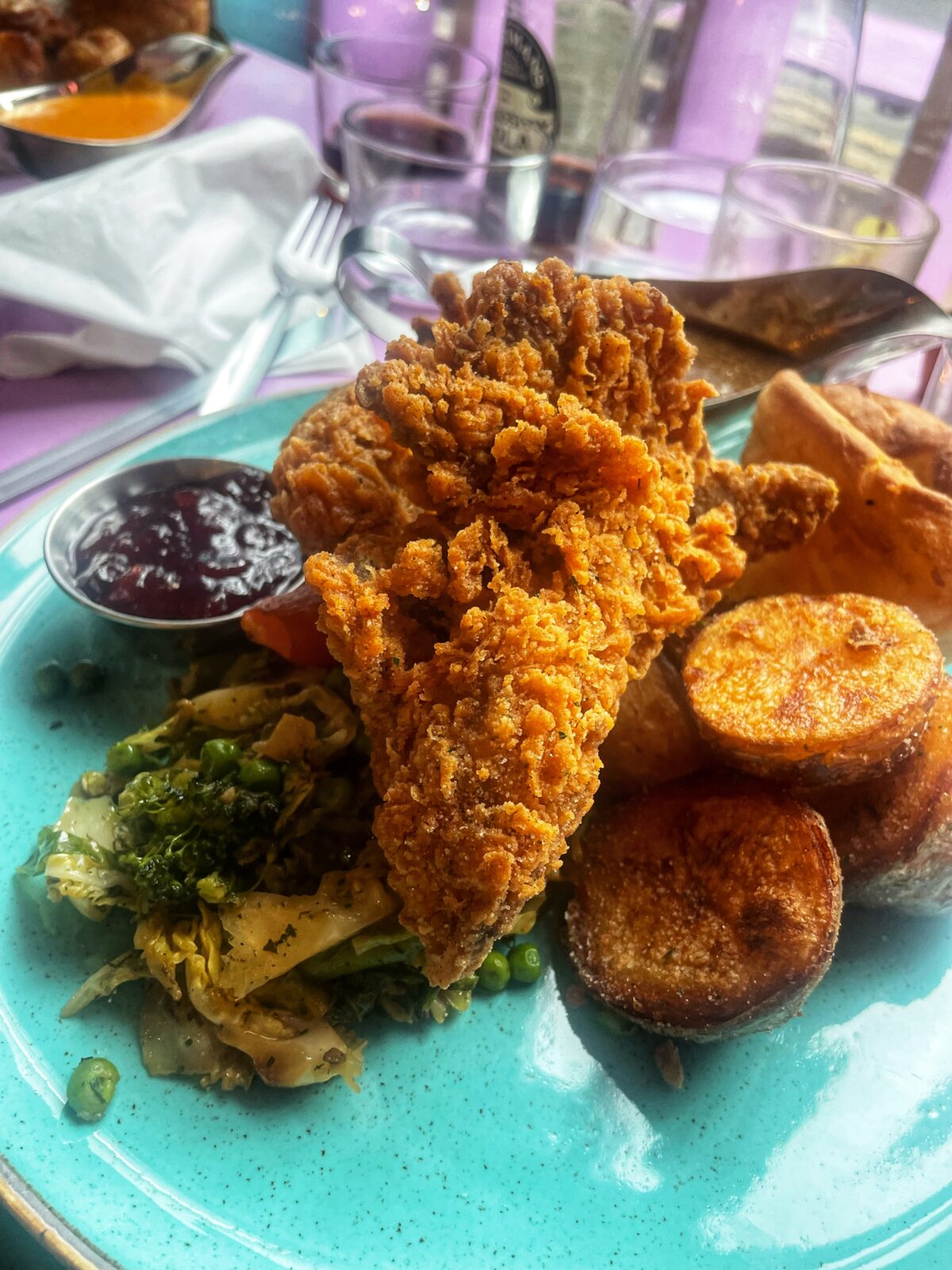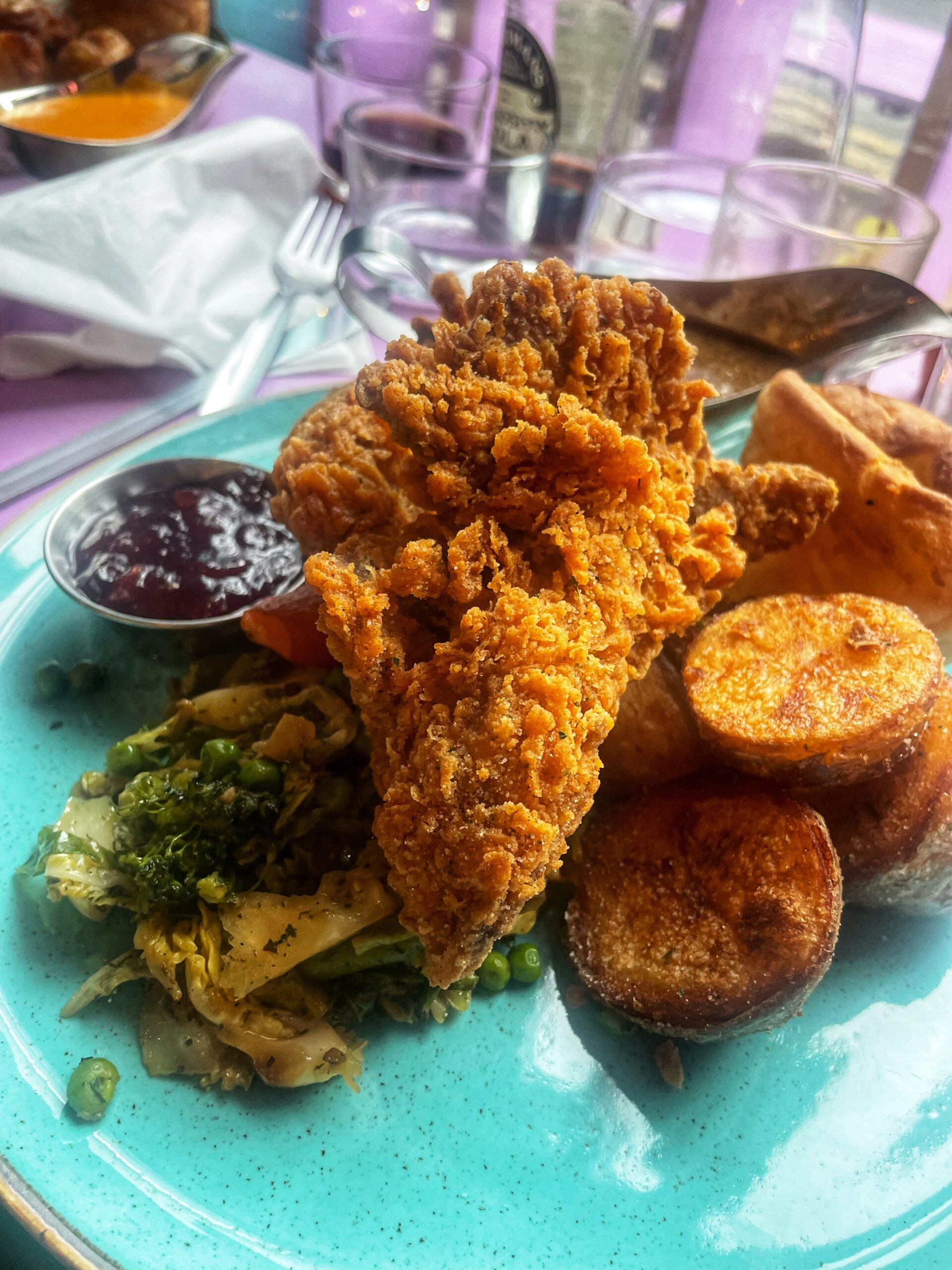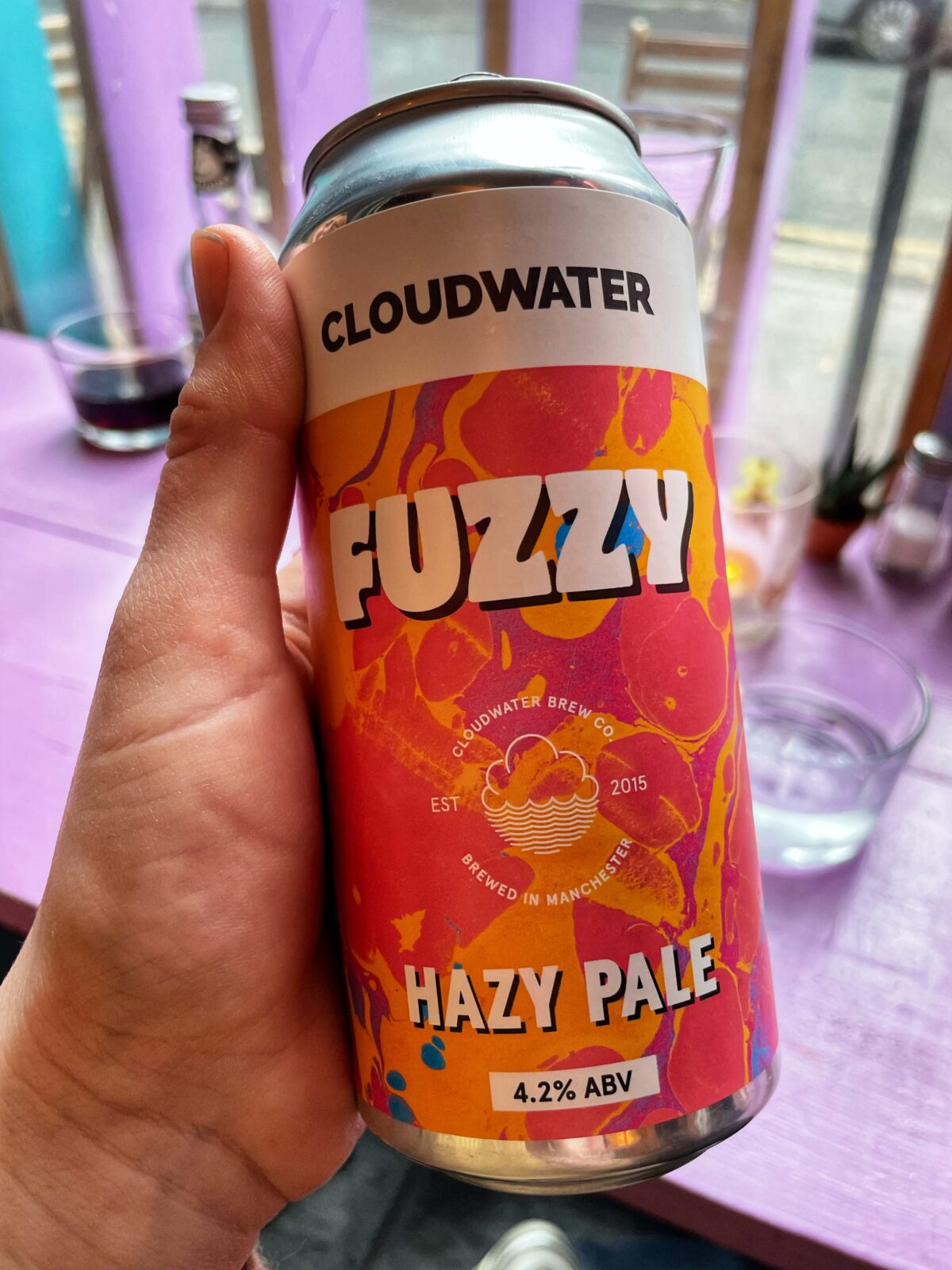 Coming in a close second was the deep-fried oyster mushroom roast, which was so packed with flavour that it almost felt like I was eating fried chicken with my Sunday dinner.
As for the beef, it didn't really do it for me – tasting more of herbs than red meat, but then, I don't suppose there are many vegans queueing up the block for a bloody meat substitute.
Wholesome Junkies has long been a favourite with Manchester vegans. First shooting to fame in 2018 with an appearance on BBC2's Million Pound Menu, owner Chelsea appeared on the show to ask for 95,000 to open her own vegan junk food restaurant.
Prior to that, she'd been running her Wholesome Junkies concept as a street food pop-up at sites like Grub and Ancoats General Store.
Whilst her bid to impress the BBC judges was not successful at the time, the TV appearance put her on the map and within a year she had her own Arndale market stall.
Read more: This hidden Manchester pasta and dumplings restaurant has just made the Michelin Guide
Fast forward a few more, and in 2022 she opened her first bricks and mortar restaurant – taking over the former Umezushi site at 4 Mirabel Street.
Since moving in, she's completely transformed it: decking it out in bright colours and filling every corner with quirky little ornaments and decorations.
Strings of fairy lights, hanging mushrooms and frames filled with pictures from local artists all make the small space feel incredibly warm and welcoming – and our visit the restaurant was absolutely packed.
Read more: Tim Martin is blaming 'people drinking at home' for UK Wetherspoons closures
At a time when so many vegan restaurants seem to be closing, it was an absolute joy to see so many bums on seats during our visit.
Veganuary might almost be over, but if you're a vegan – or simply just trying to cut down on your meat consumption – it's definitely worth giving this one a go.
Feature image – The Manc Eats
News
Meet the couple who quit their jobs to sell sandwiches from their Northern Quarter flat

Georgina Pellant
If you're a fan of things in bread (and honestly, who isn't) then there's a new Italian sandwich dealer in town that you absolutely need to get down your neck.
Serving up some of the best butties we've had in a long time, it's called Ad Maiora and is being run by a couple who are making absolutely everything out of a kitchen in their little Manchester flat.
Collected from a nondescript door on a Norther Quarter back street, we're talking giant focaccia-style loaves generously stuffed with premium ingredients like 'nduja, spicy Tuscan sausage, smoked scamorza, mortadella, burrata and red pesto.
The brainchild of Sardinian couple Daniela Steri and Enrico Pinna, all of their sandwiches are made using only top quality Italian ingredients with a total of nine different options to choose from.
From the vegan-friendly La Nonna (Italian hummus, roasted aubergine, olives, sundried tomatoes and rocket) to a huge array of different cheesy and meaty delights, fillings include parma ham, gorgonzola DOP, truffled brie, Milano salami and crumbled pistachios.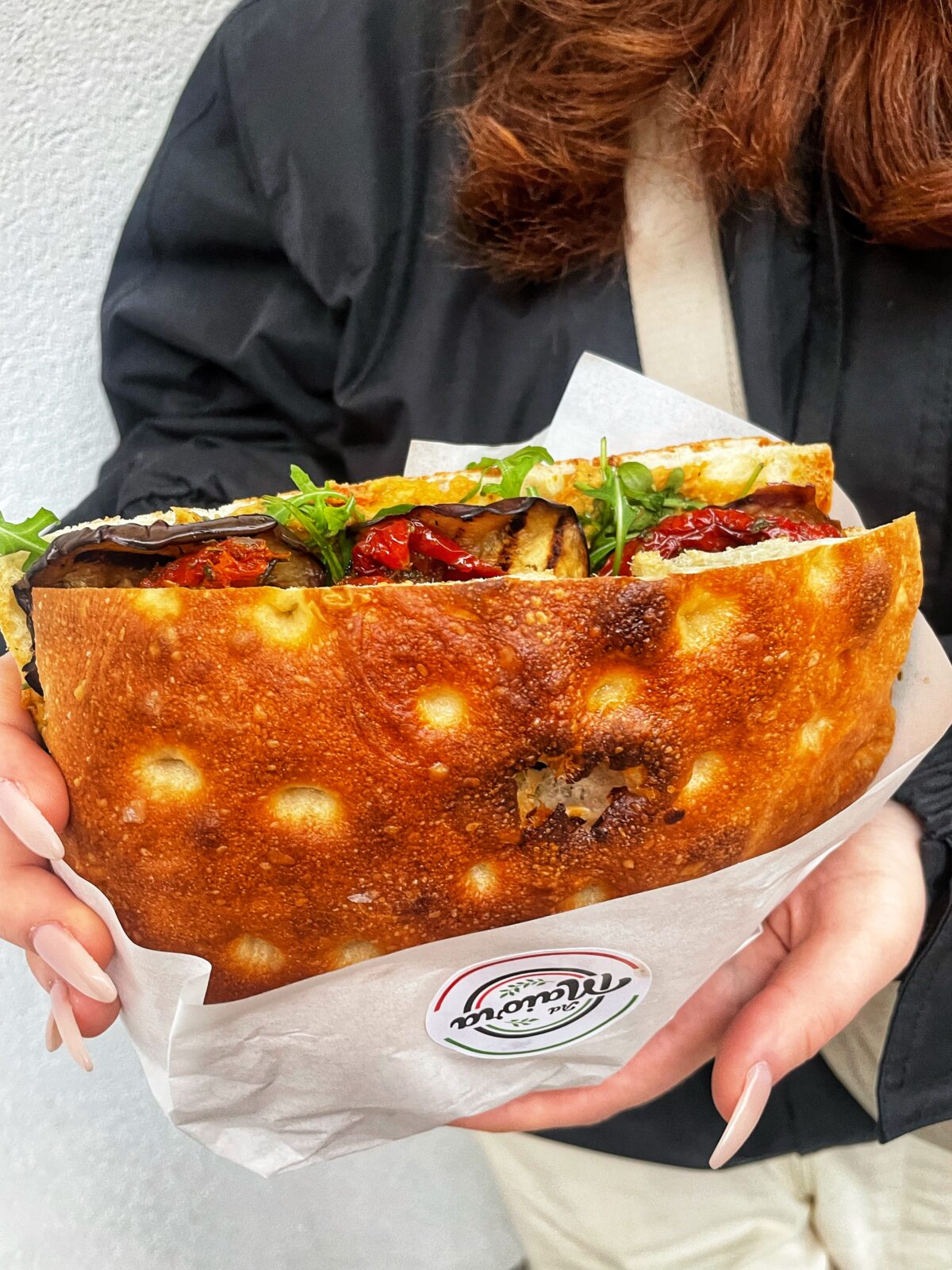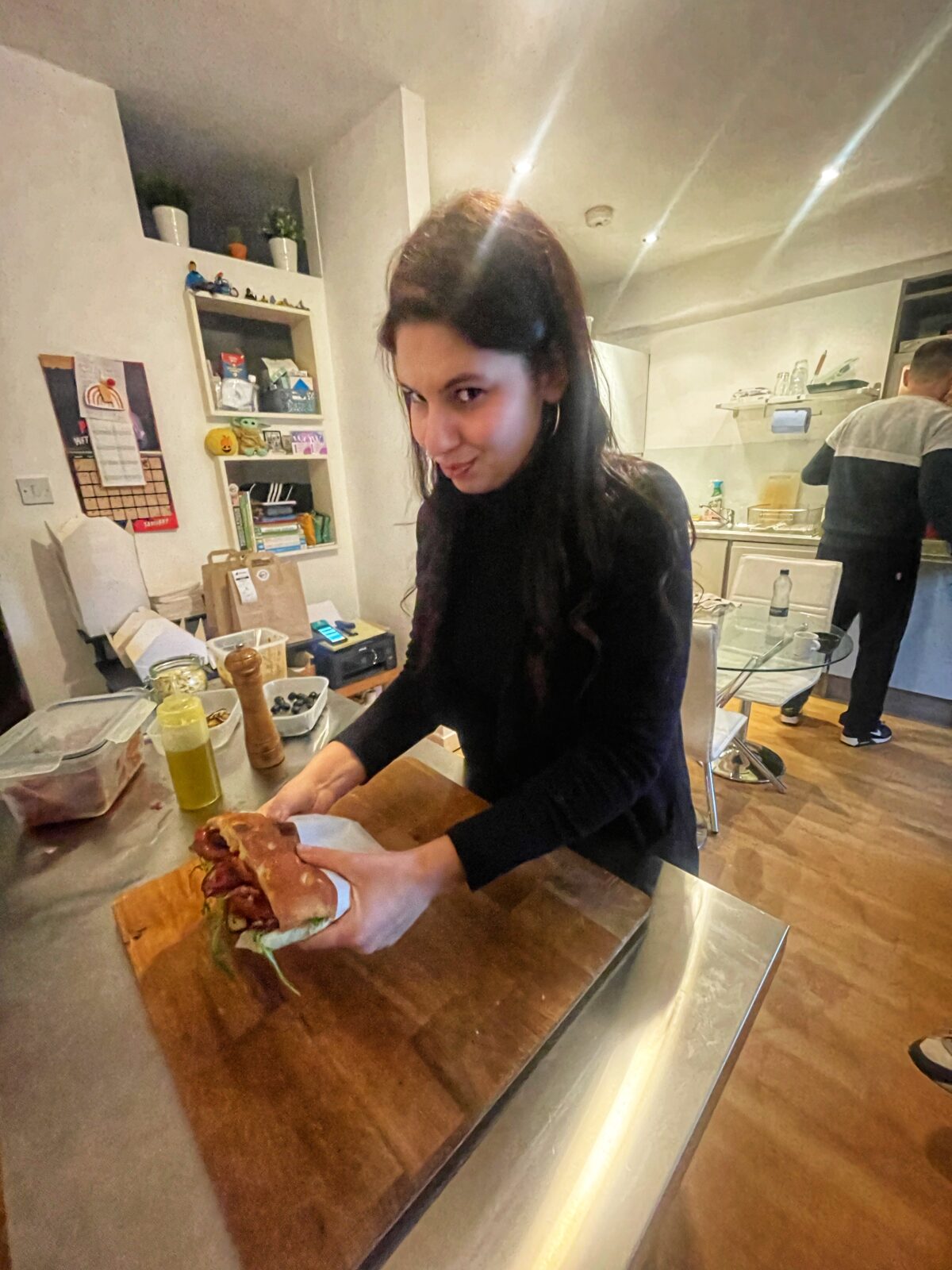 Their bread is baked freshly by hand each morning using a tiny domestic oven, and they're already baking up to 60 loaves of schiacciata (a traditional Tuscan flatbread) a day to keep up with the demand – putting just four in the oven at a time, over and over again.
Read more: This Manchester pub is hosting an all-you-can-eat Valentine's cheese night
On our visit, the pair tell us that they moved over from Sardinia to the UK six years ago and first tried living in London for a year (they say they hated it) before making the move up to Manchester.
In that time, they say they've fallen in love with the city of Manchester and with the Northern Quarter in particular.
Inspired by the brilliant food scene in their area, two months ago they both decided to pack in their jobs and pursue their own business instead – and haven't looked back since.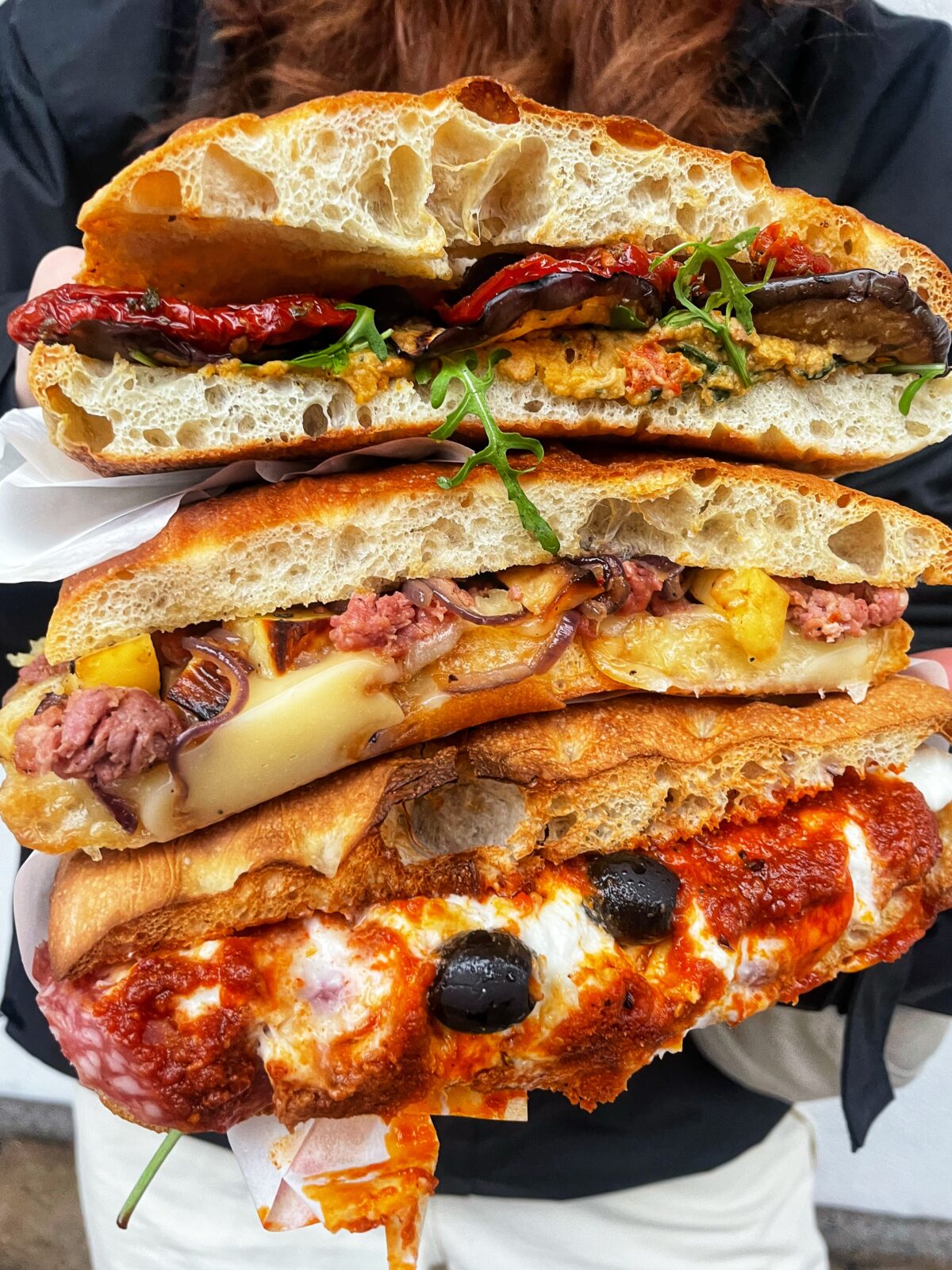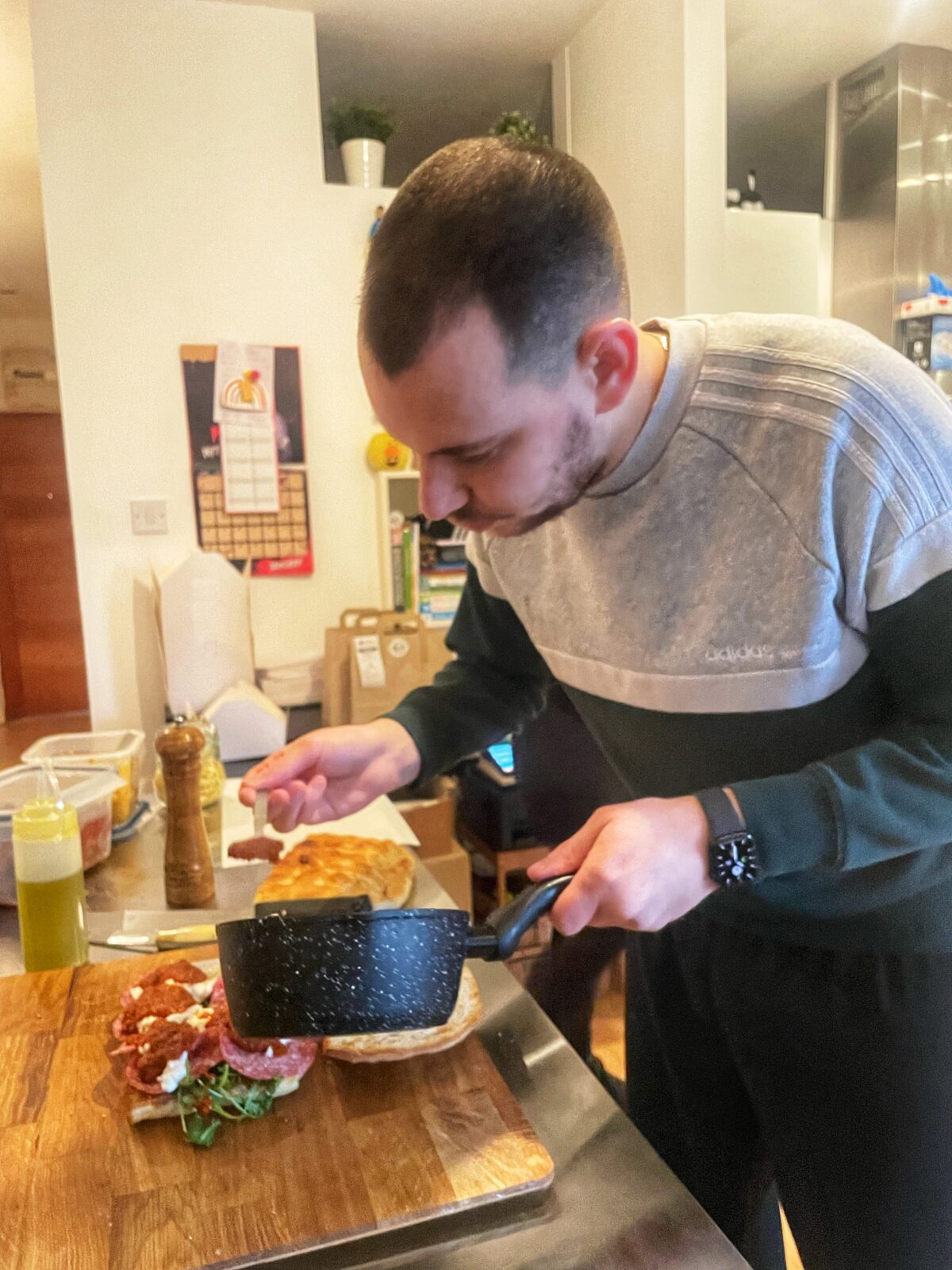 Previously, Daniela tells us she'd worked at hotel Dakota in housekeeping for three years whilst her partner, Enrico, had been employed at Ezra and Gil. Despite their hospitality experience, though, neither of them had made bread before.
That doesn't seem to be holding them back, though, and demand for their sandwiches is rocketing as word spreads about the new homemade Italian butties for sale on a Manchester backstreet.
Read more: Northern Belle in Manchester – one of the world's most luxurious trains with £440 tickets and seven-course dinners on board
Available to order via Deliveroo for collection or delivery, use the code ADMAIORA5 to get a cheeky five pounds off your order courtesy of The Manc.
Feature image – The Manc Eats