News
New Marcus Rashford mural in Manchester highlights social media abuse
The footballer has been awarded an MBE for his campaign to support vulnerable children, but he still receives torrents of abuse online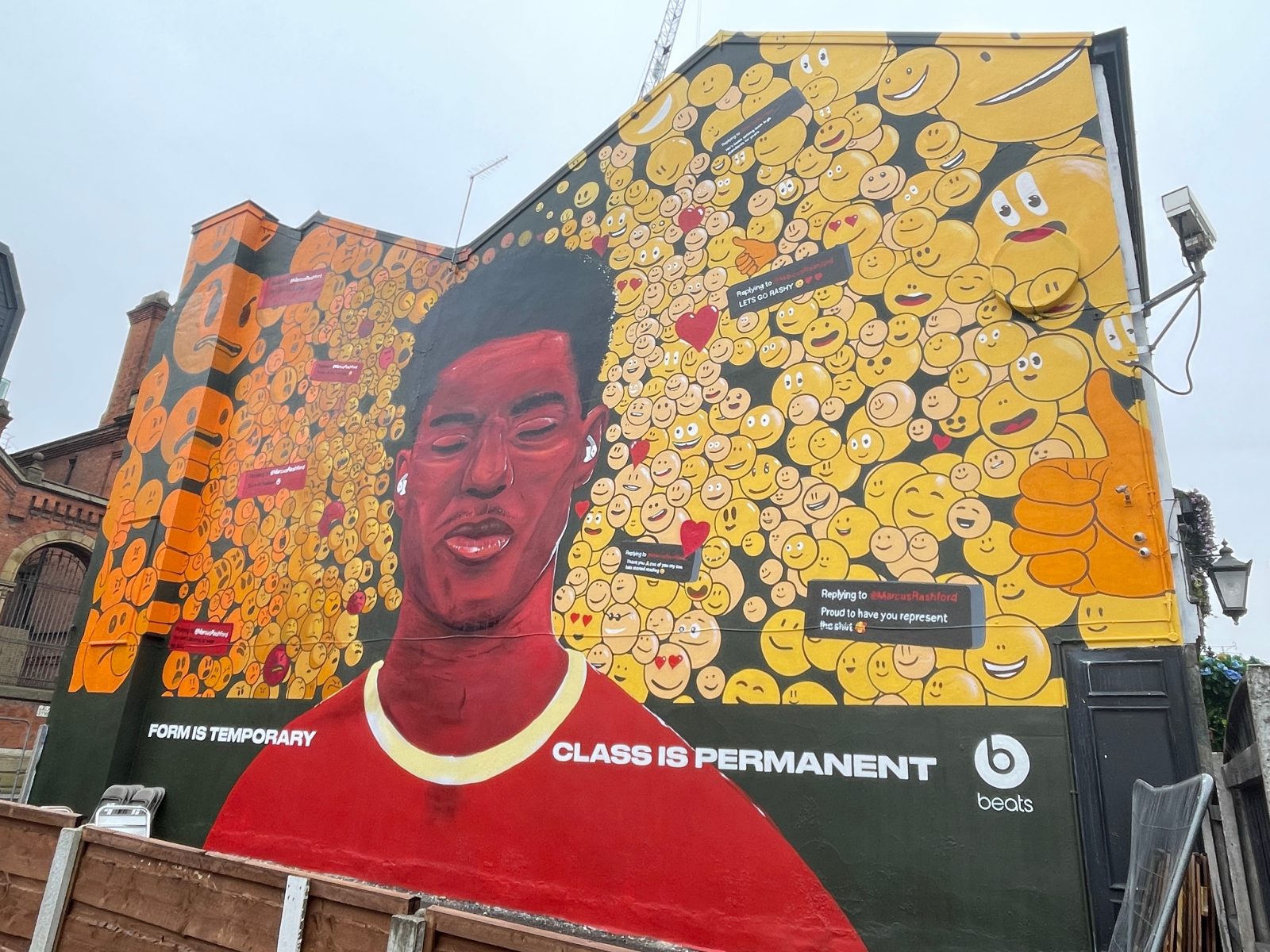 A new mural of Marcus Rashford has appeared in Manchester city centre over the weekend, highlighting the huge amount of abuse the footballer receives online.
Split into two – with one side full of unkind messages and the other spilling over with praise for the footballer, who campaigns tirelessly to improve the lives of Britain's poorest families – it tells a stark tale of what is deemed acceptable behaviour online today.
The new artwork has been created by Reuben Dangoor, a British artist whose work is heavily influenced by current affairs and his own surroundings, in collaboration with Beats by Dre headphones.
The company, Dangoor said: "wanted to do something to show support for Marcus, who is subject to a huge amount of abuse on social media. At the same time highlighting the positive work he has been doing off the pitch and the impact that it's had."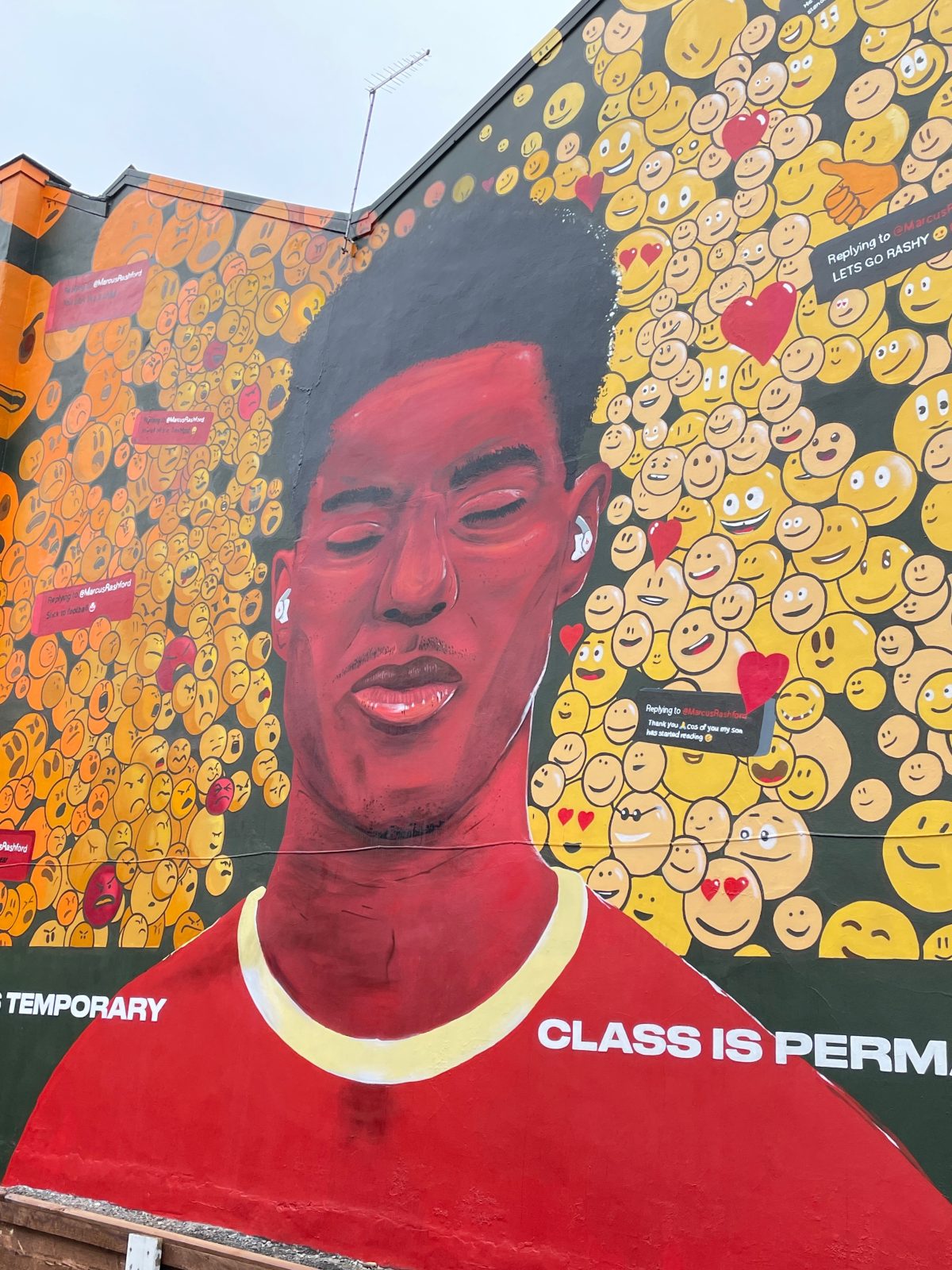 A message reading 'Form is temporary, class is permanent' stretches across the bottom of the artwork, with Marcus depicted in the centre with his eyes shut and his ears plugged with wireless headphones.
Behind him swarm hundreds of yellow, orange and red emoji-style reactions, a mixture of smiling and angry faces, thumbs up and hearts, alongside positive and negative messages stylised as Twitter replies.
It isn't clear if these are real replies the footballer has received, or if they are merely inspired by them.
Negative messages like "You don't deserve to wear the shirt", "you play like a child" and "stick to football" dominate one side of the mural (and serve as a stark reminder of the unsolicited abuse Rashford and many other public figures face online every day).
On the other side of the mural, there are overwhelming messages of positivity. One says simply "Replying to @MarcusRashford Let's go Rashy", whilst another says: "Replying to @MarcusRashford Proud to have you represent the shirt."
Another, acknowledging the footballer's book club and the work he's done to encourage young people to read, says: "Replying to @MarcusRashford Thank you. Cos of you my son has started reading."
Marcus Rashfod has previously reported the racist abuse he has received on social media to the police.
He regularly receives tides of racist and abusive messaging online, and this seems to get even worse when Manchester United loses a match, reporting at least 70 different abusive messages after his team's 2021 Europa League loss – including one from a teacher.
Sharing his concept sketches on Instagram today alongside the finished piece, mural artist Reuben gave followers a peek behind the scenes at what his process was when designing the new Marcus Rashford mural for Manchester.
He wrote: "First one was the final last one is my best work to date."
Reuben Dangoor has previously painted portraits of Stormzy, Skepta and Dizzee Rascal, and debuted these at the Tate Britain Museum for his debut exhibition 'Legends of the Scene'.
It's also not his first rendezvous drawing footballers, having had his line drawings of the England football squad picked up in both TV and print in 2018. His viral drawing of Gareth Southgate was later acquired by the Southgate family.
Read more: Police confirm Katie Kenyon died of head injuries after body found in forest
He has had his work featured in Design Museum's Sneaker Exhibition, was the first artist to collaborate on the new Adidas Predators, is collaborating with Arlo Parks on her world tour campaign and merchandise, and has worked alongside David Beckham to design an exclusive in-game "David Beckham" kit for FIFA 22, released last month.
Find the mural over on the border of Shudehill and the Northern Quarter by the old fish market.
Feature image – The Manc Group