News
Man charged after NHS worker punched in face and left with fractured cheekbone
[siteorigin_widget class="SiteOrigin_Widget_PanelImage_Widget"][/siteorigin_widget]
[siteorigin_widget class="SiteOrigin_Widget_PanelText_Widget"][/siteorigin_widget]
News
Inside the underground Manchester noodle bar serving Chinatown's spiciest scrans

Georgina Pellant
Over in Chinatown, there's a relatively new little noodle bar that's been making a big, spicy stamp on the city's dining scene.
Its owner, Wendy Ren, hails from the Chinese province of Sichuan – a region that's home to giant pandas, traditional Sichuanese opera, and some of the spiciest food going, thanks to its famous Sichuan pepper.
Also known as the Chinese prickly ash, the citrus-like peppercorn leaves a tingly numbness in the mouth and on the lips that you'll either love or hate.
It's an acquired taste, by all accounts – but those who love it can't get enough. In fact, on my visit during a packed-out Wednesday lunch service, Wendy stopped to chat with an Italian family holidaying in Manchester who had been in to eat three days in a row. Now that's an endorsement if I ever heard one.
She's opened the restaurant alongside her Cantonese husband, Ken Chen, but the recipes are all hers – and on our visit she laughs with us about how it has taken him some time to get on board with her spicy food, saying: "he found out pretty quickly that he either eats it or he doesn't eat at all."
For big fans of spice, this is fast becoming the absolute go-to spot in Chinatown – and for those who aren't so tough, don't worry, because Wendy's put some things on the menu for you too (and possibly, also, for Ken).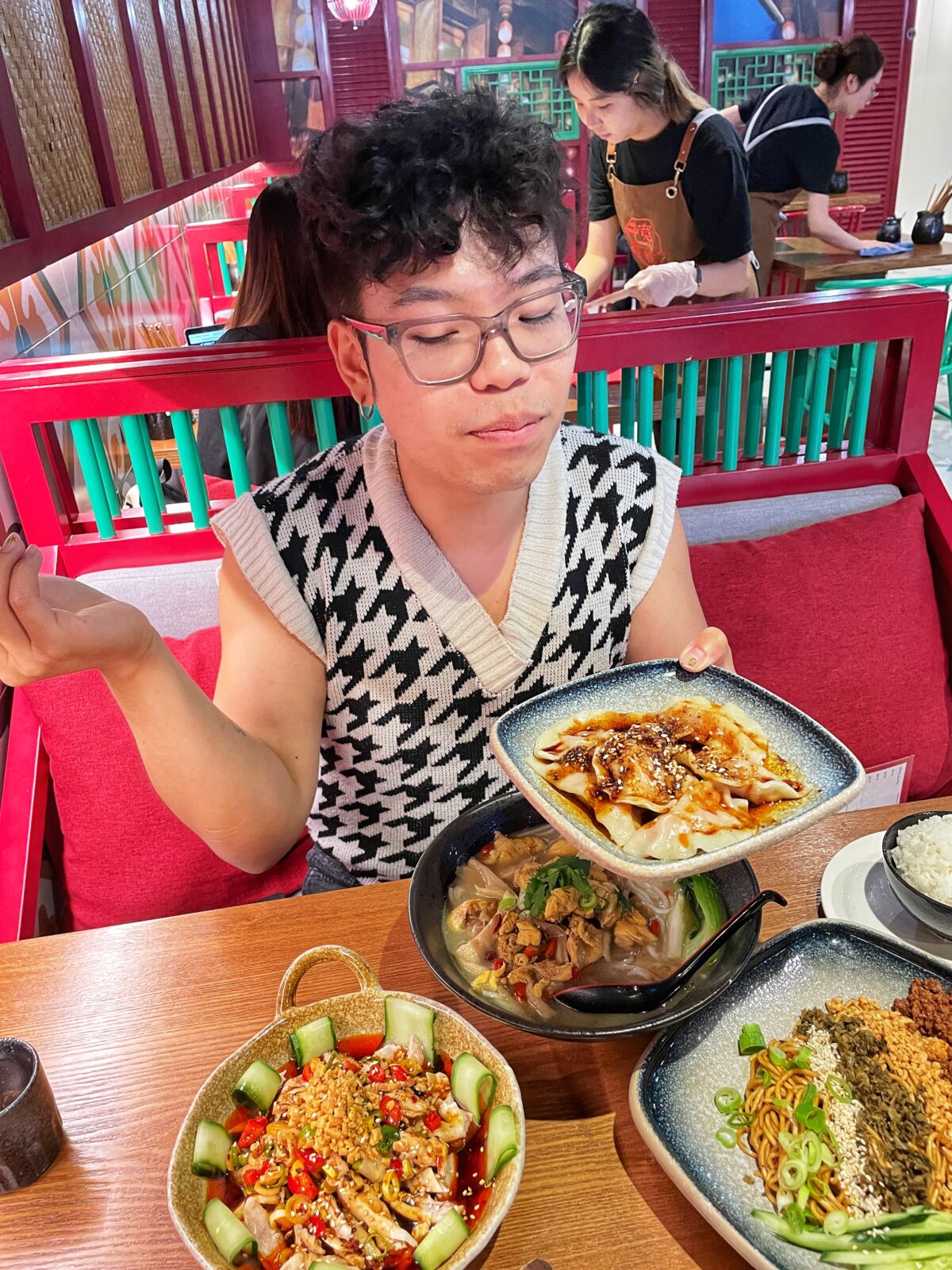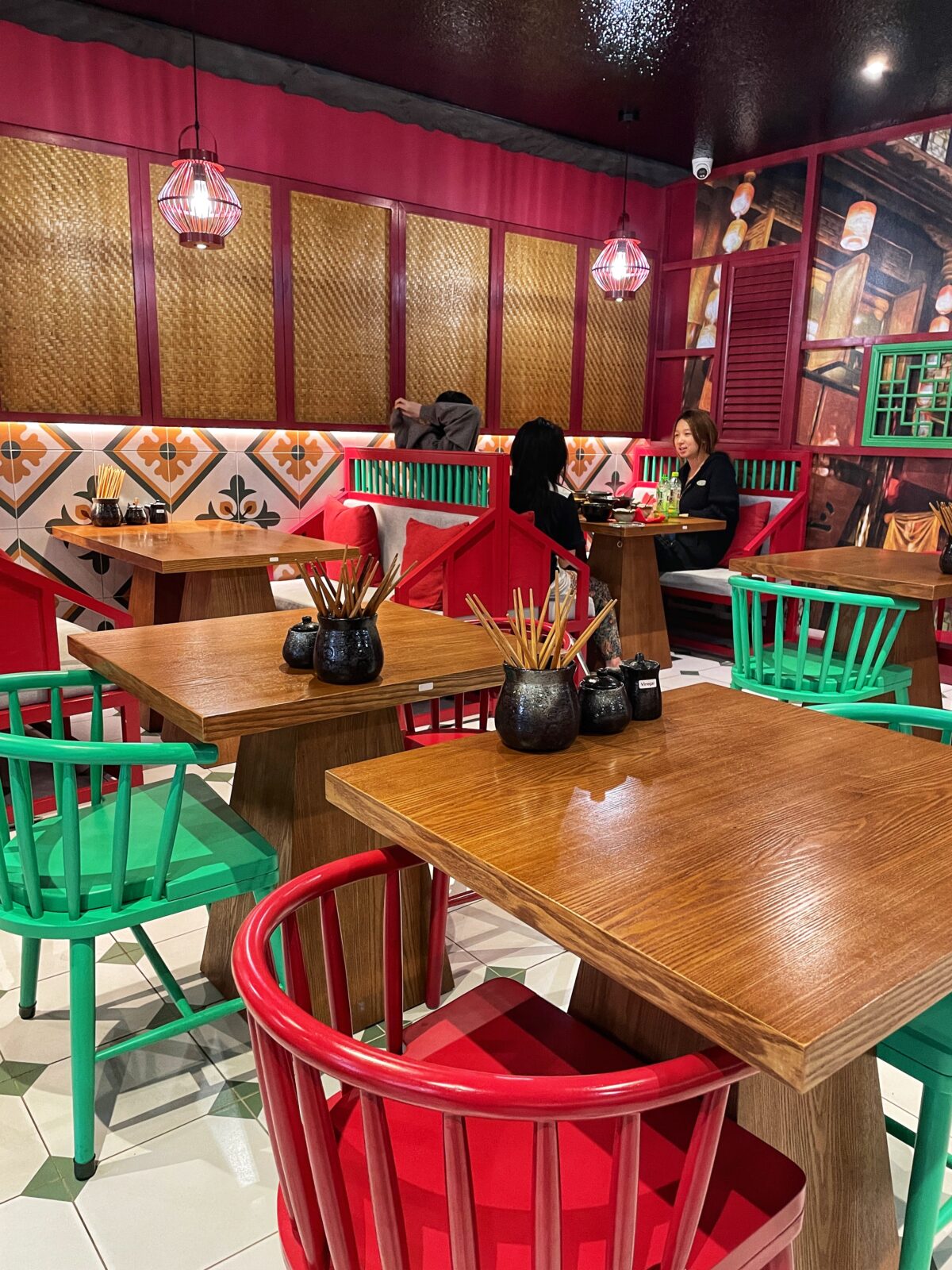 Called Noodle Alley, the restaurant is tucked away underground on Faulkner Street and beautifully decked out in red and green with little nods to the famous wide and narrow alleys of Chengdu.
Formerly home to China City, a real old-school Chinatown legacy restaurant, the space has a special place in Wendy's heart.
She tells me that she and her husband used to come and eat here "all the time" when they first started dating, so the location really means a lot to both of them.
Chinatown restaurants aren't exactly known for their glamorous interiors, and China City, Wendy jokes, was one such place – with the same old carpet, and the same old tables that had been used for the past twenty years.
Now the space is her own, though, it's markedly different – lovingly decked out in cheerful colours, with little green windows, hanging lanterns, and bamboo rattan paneling on the walls.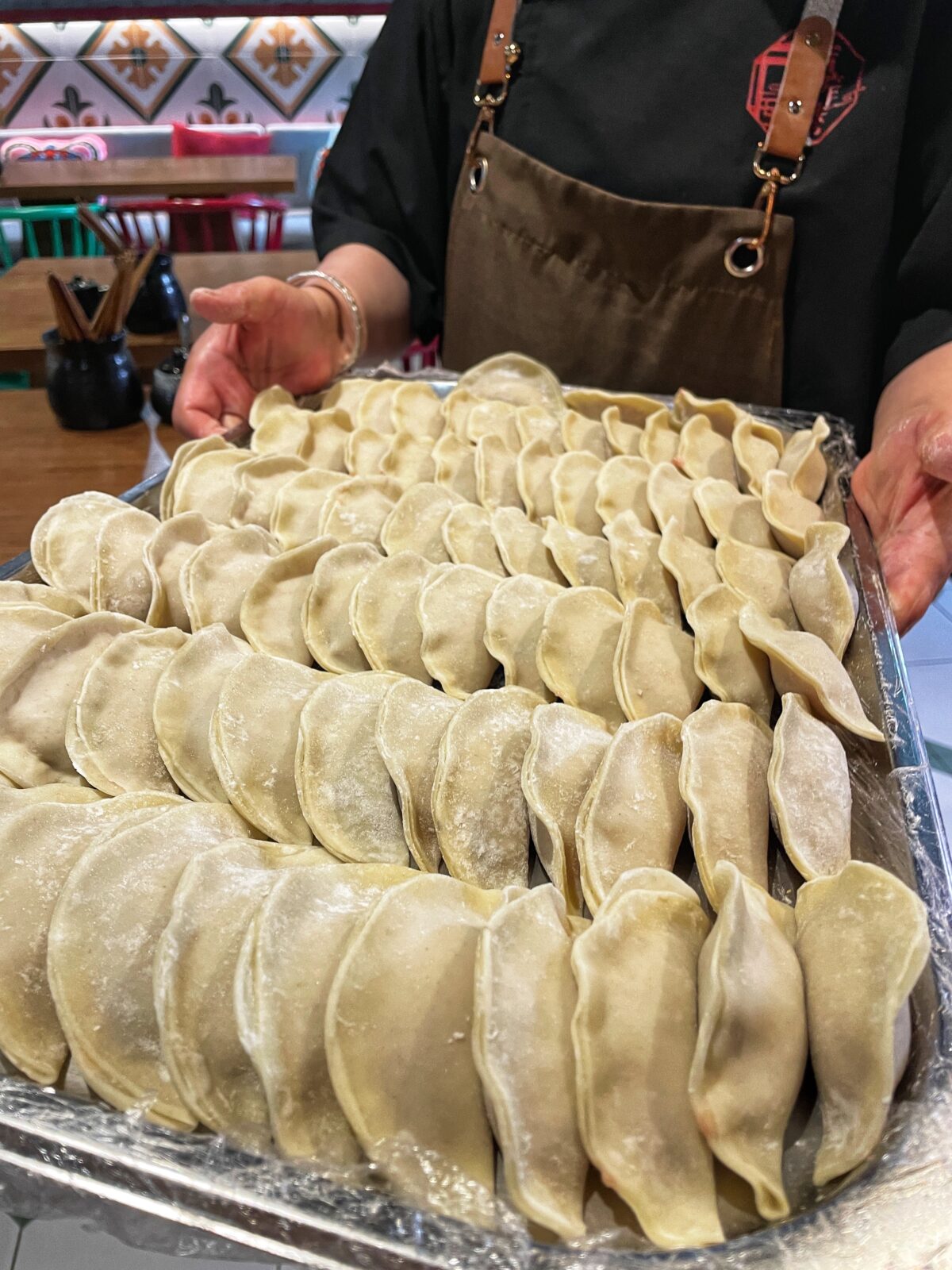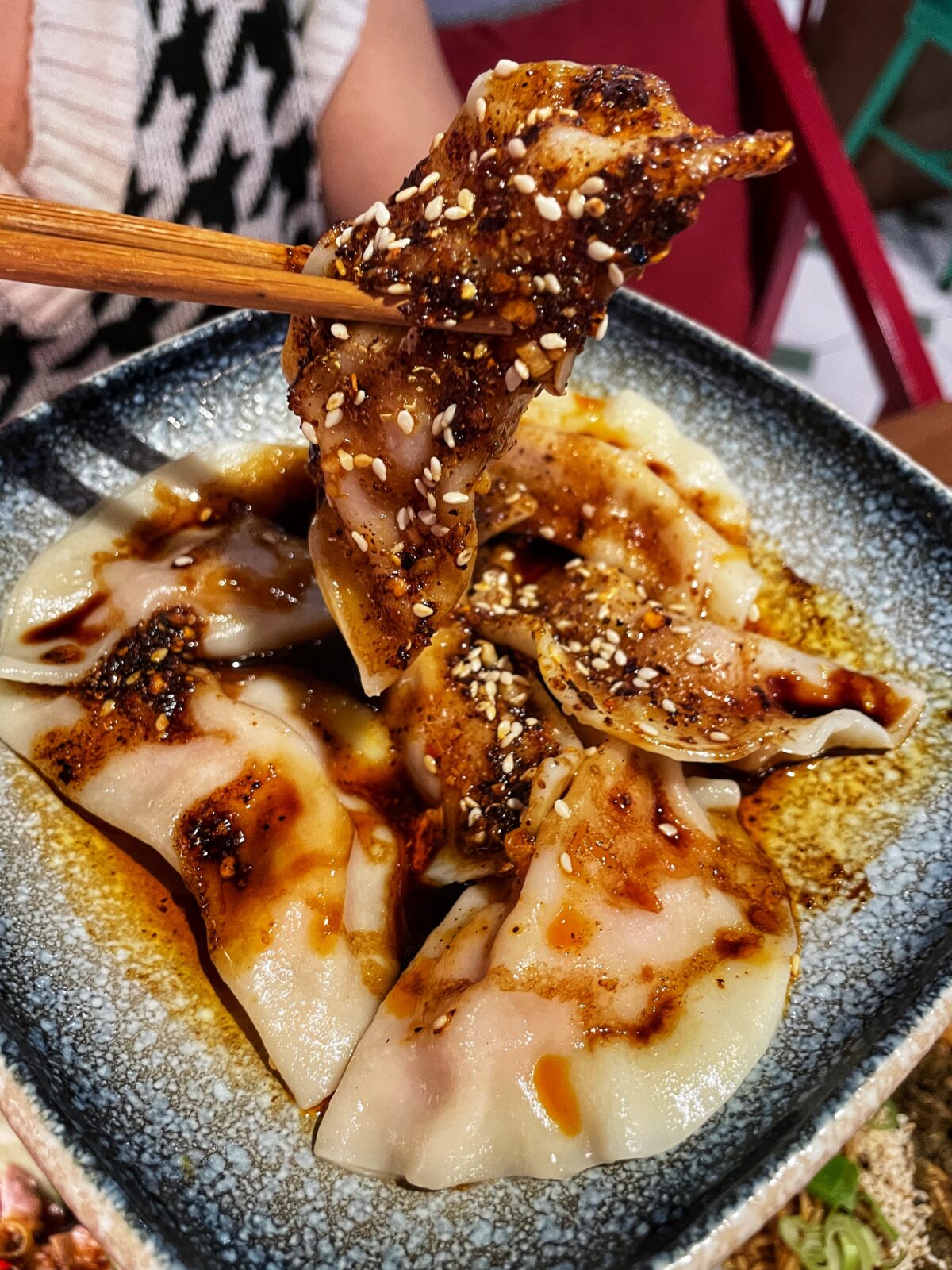 Her story of getting into the restaurant business is something of an unusual one. Prior to opening Noodle Alley, she tells me, she spent nearly two decades working at The Marriott Hotel.
After seventeen years of service and the birth of her second child, she asked to go part-time but her request was refused – so she quit the very next day, and began building her own route to independence.
It was during the Covid lockdown, she says, that she really got into cooking group meals – making meals for her friends and spending hours in the kitchen busying away happily over her stove.
A friend with several restaurants in Chinatown suggested she start her own business, and the rest – as they say – is history.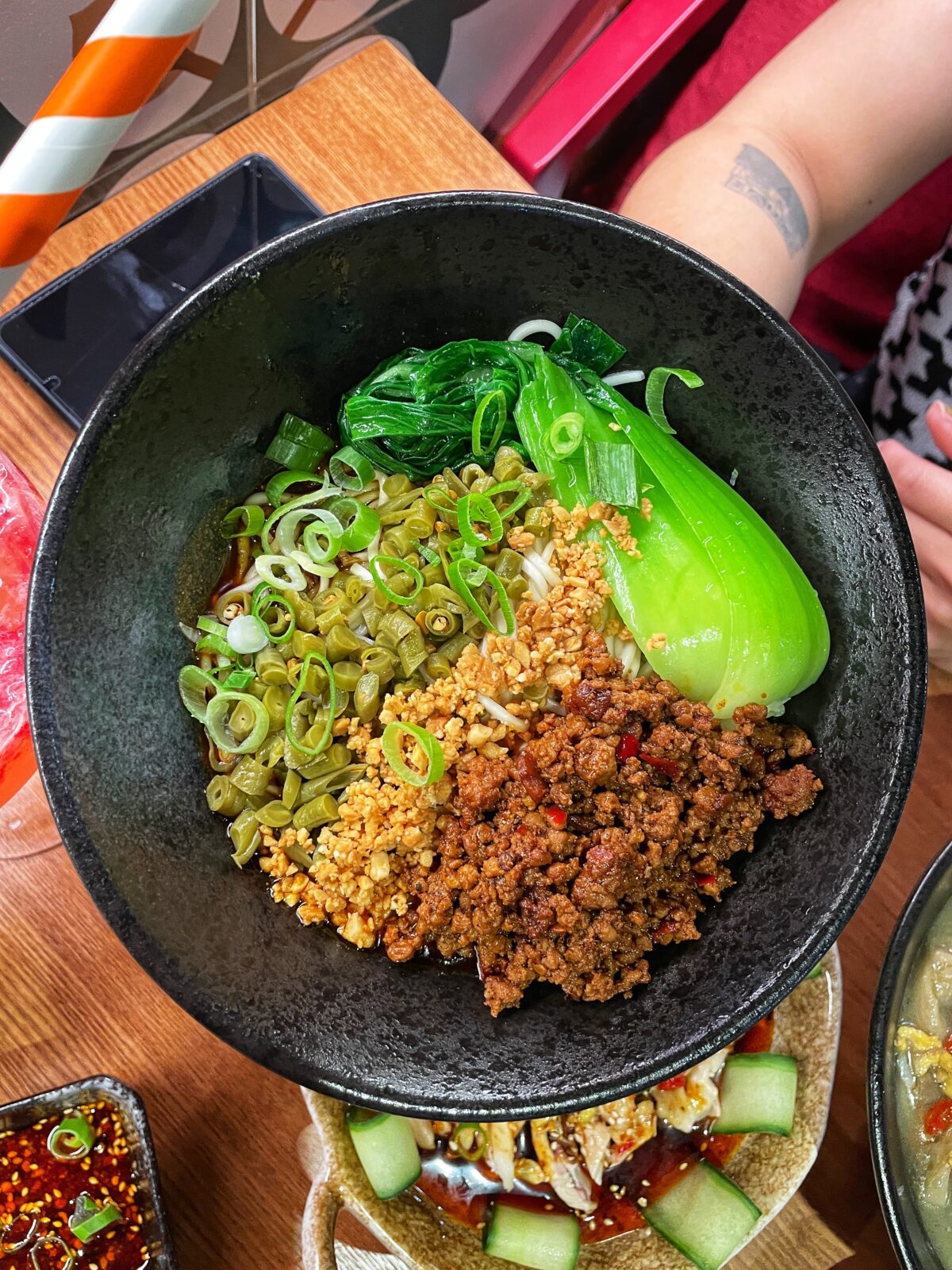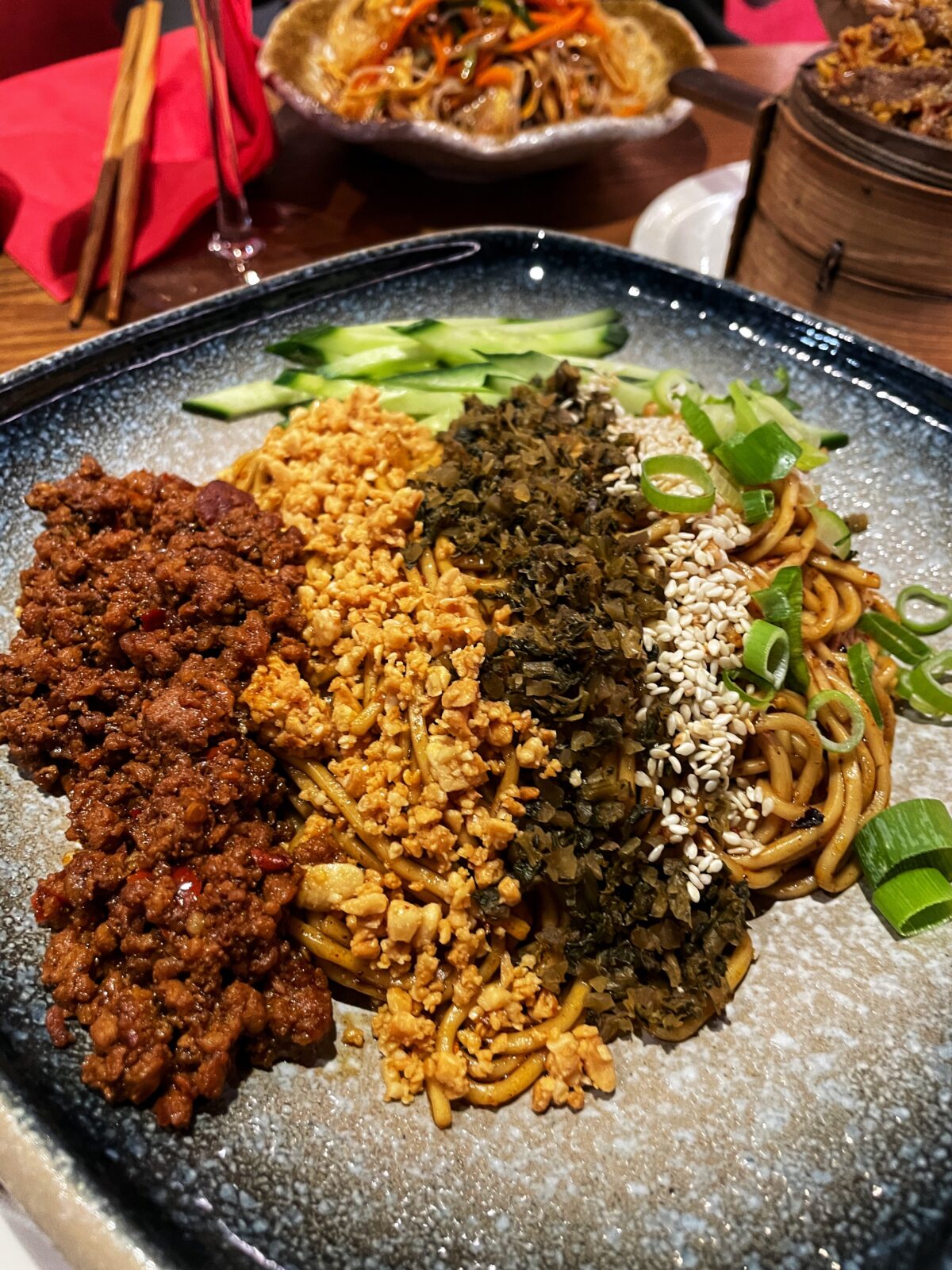 Dish-wise, her menu spans a mouthwatering selection of dry noodles, soup noodles, street food, and small plates, including the likes of deep-fried wavy potato chips with chilli and Szechuan pepper and steamed beef strips wrapped with chilli paste, numbing Sichuan pepper, and five-spiced rice powder.
Dan Dan noodles, the Sichuan dish we probably all know the best, don't feature – they're a bit old news now, apparently, and Wendy has some cooler alternatives for us to try.
Read more: This blink-and-you'll-miss-it basement restaurant in Manchester's Chinatown serves the ultimate yum cha feast
One is her Su Jiao Mian, a mixture of minced pork, sesame sauce, and house chilli oil, the other is the Wan Za Mian, a fiery mixture of spices combined with minced pork, soft yellow peas, and more chilli which Wendy says is "one of the most popular noodles in Sichuan."
Apparently, if you're eating with the cool kids in Sichuan, you should order this. Not one to argue, I dig in – and it's safe to say her food is pretty damn exceptional. Almost immediately, I'm planning my next trip back.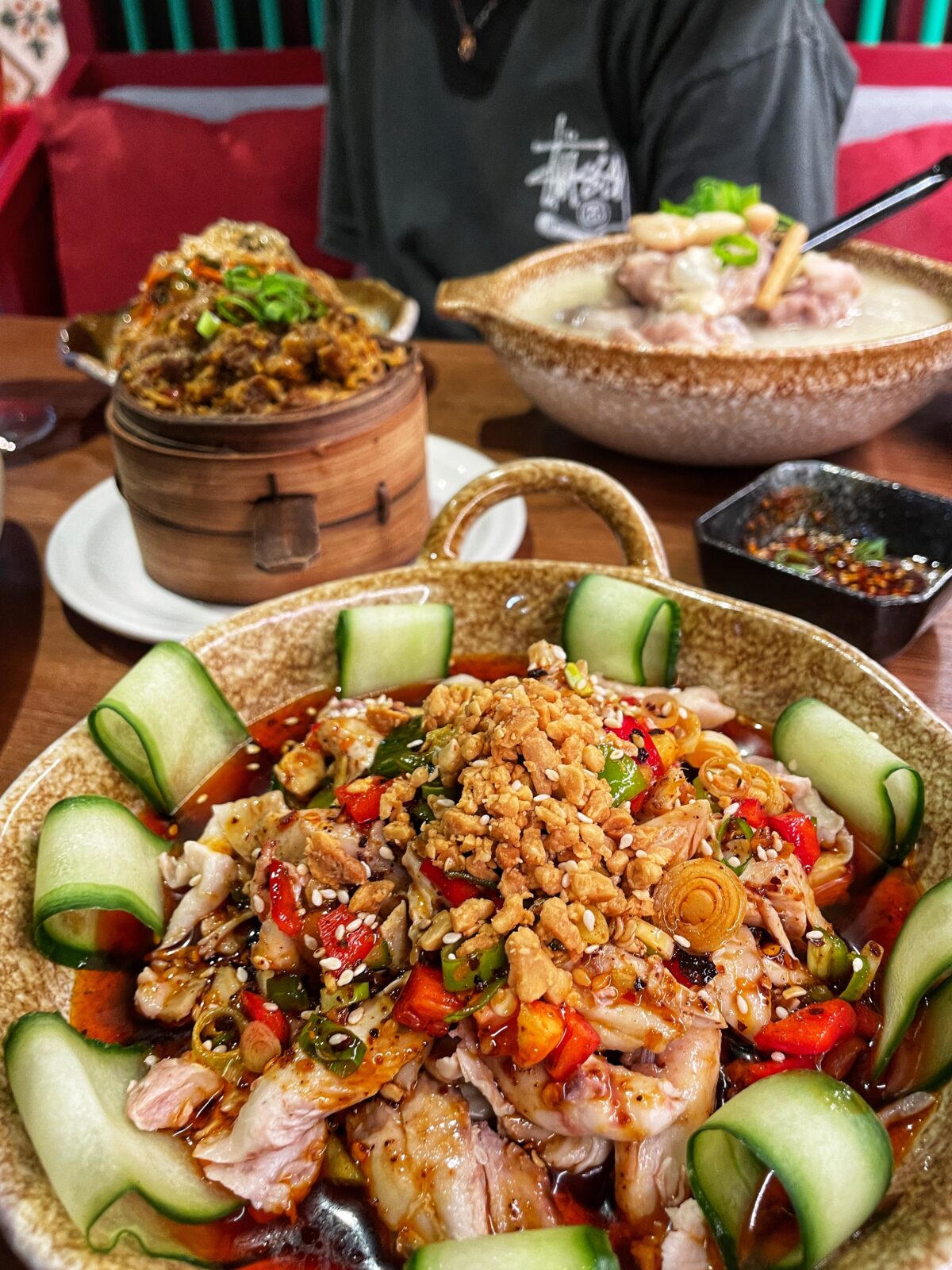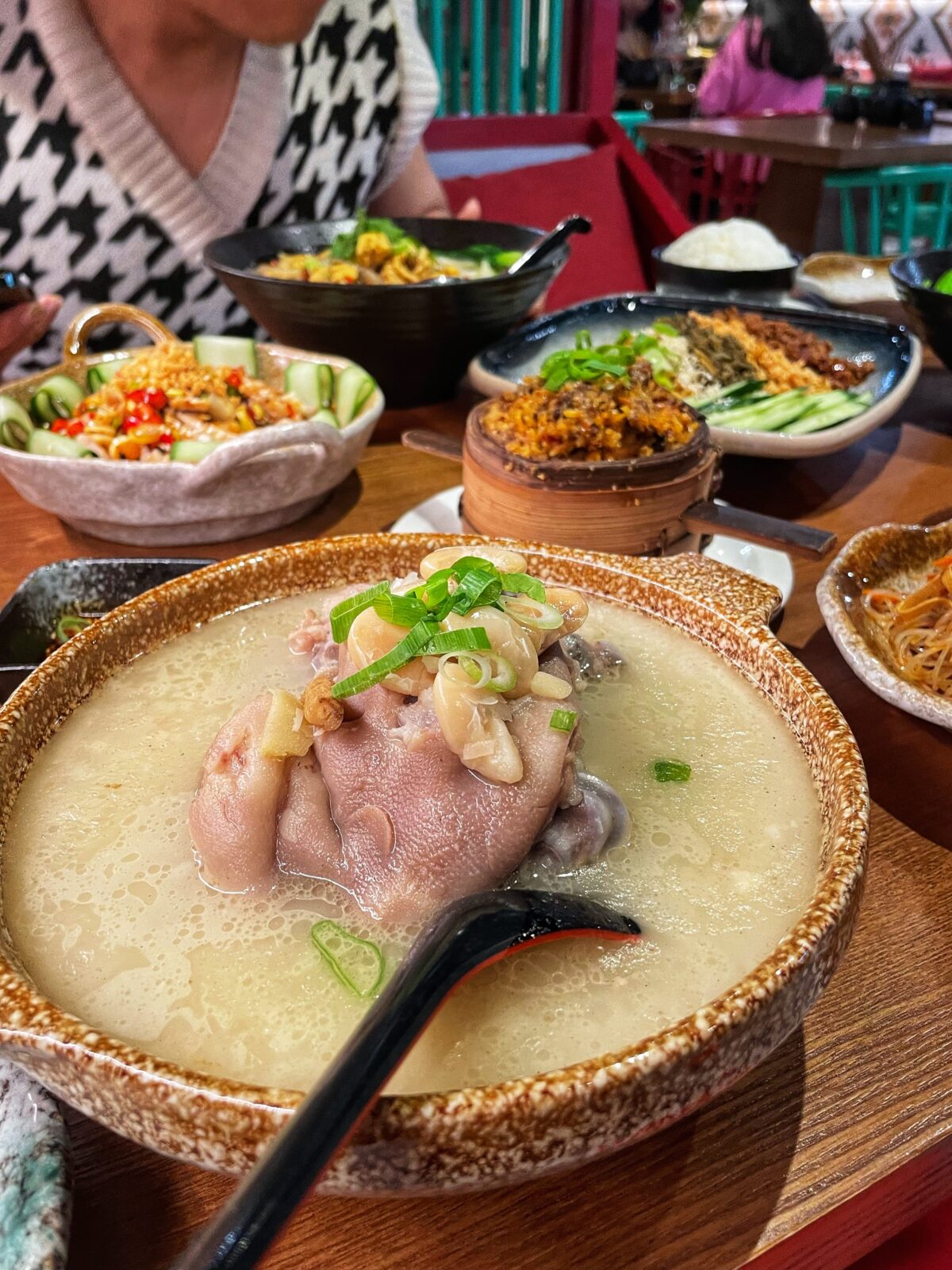 Other signature dishes here include Wendy's steamed beef strips, which can be eaten alone or dipped into one of her noodle soups, and a dish of 'saliva chicken' – a crunchy, cold, textural dish with steamed chicken, fresh chillis and ribbons of cucumber that sit swimming in a bath of homemade Sichuan chilli oil, so named because it literally makes your mouth water.
We also opt for a dish of pork knuckle with butter beans in an umami-rich pork bone broth. Not one for the faint-hearted, even Wendy seemed a little cautious to recommend this one, but as fans of 'the weird stuff' we insist – and it really ends up being a highlight of the meal.
Read more: Top Manchester chef to host special £250 dinner – but vegans aren't welcome
We end up needing a little help with it. It's a slippery bugger and I end up wearing a fair bit of the broth. before she returns with a knife and fork to cut it up properly for us.
That broth it's in, though, is so beautiful I could happily bathe in it. Some might say I did, to be fair. As for the soft, succulent pork meat? When sliced into tiny morsels and dipped into an extra special Sichuan chilli oil she retrieves from the kitchen, is something else entirely.
If this is Sichuan heaven, then I'll happily stay here forever. From plump hand-made dumplings stuffed generously with flavourful pork and drenched in chilli oil, to chicken giblet soup noodles, there's so much on the menu I will be coming back for.
And for those who really can't handle the spice, I guess I'll be recommending the scallion oil noodles with soy sauce and crispy egg. No matter what you order here, I don't think you can go too wrong.
Featured image – The Manc Eats
News
Kellogg's introduces domestic abuse support policy for its Greater Manchester staff

Emily Sergeant
Kellogg's has just introduced a new support policy for its Greater Manchester staff who are sadly victims of domestic abuse.
The company's pioneering new support policy means any one of its more than 1,360 employees across the UK who are suffering from the impact of domestic abuse will be entitled to an additional 10 days of paid leave.
On top of this, they'll also be provided with financial help for an initial legal support meeting, and a one-off payment for expenses and costs incurred for setting up a new bank account, or any other activity that provides employees suffering domestic abuse with financial security.
The support package will be available to all Kellogg's staff in its Manchester HQ, and those working in its two factories in Trafford Park and Wrexham.
This additional support for those impacted by the devastation of domestic abuse also comes on top of the access to a free 24-hour confidential counselling service and flexible working arrangements that Kellogg's already offers.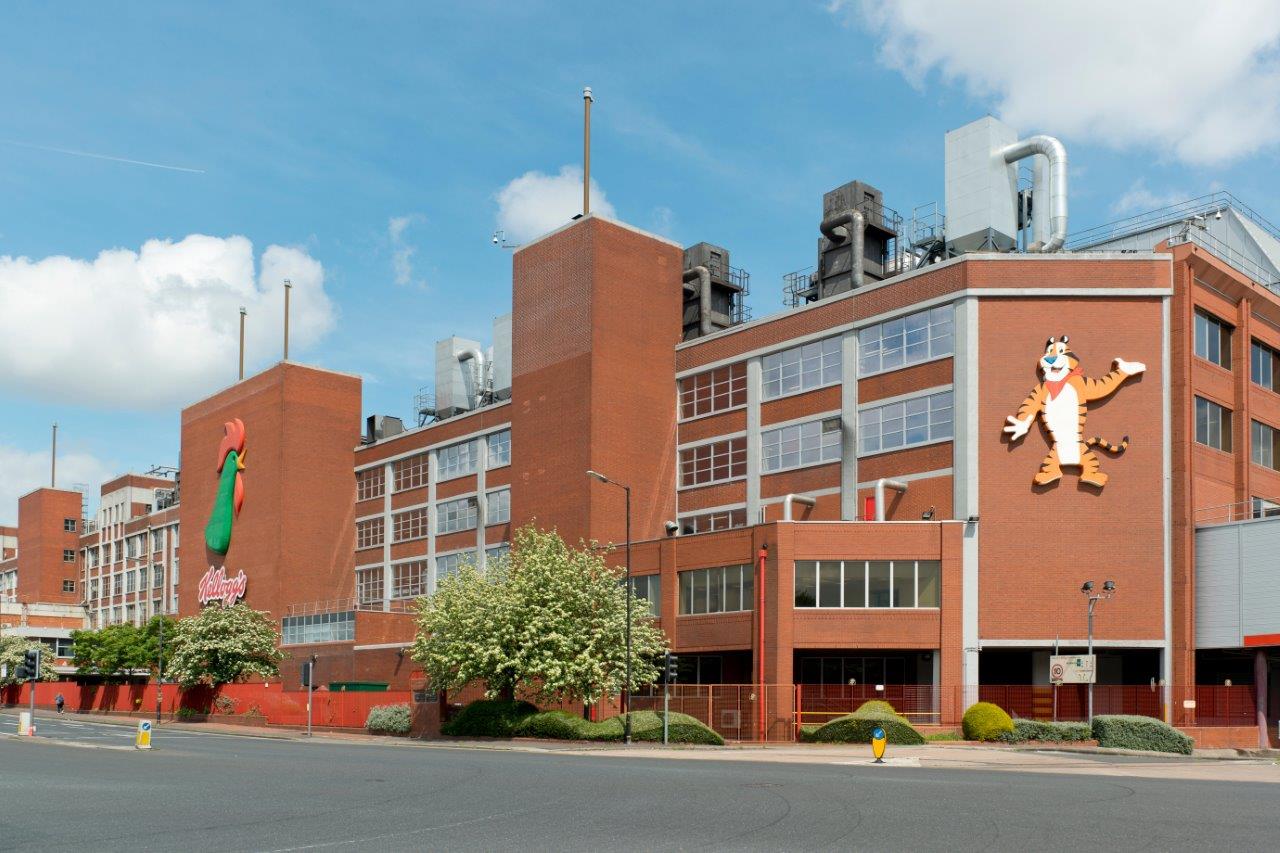 A Kellogg's employee, who wishes to remain anonymous', has welcomed the new policy after describing their experience with domestic abuse as "completely isolating".
The decision by Kellogg's to introduce the new support measures has also been welcomed by charities.
Michelle Hill, who is the chief executive of the charity Talk, Listen, Change, praised the company for creating "a supportive policy" that comes with a number of "key elements" to enable its staff to feel safe and confident in disclosing domestic abuse.
She added: "The new domestic abuse policy not only commits to supporting employees, but also to increasing awareness of domestic abuse through resources.
Read more:
"We know that the stress and trauma that come with domestic abuse have a profound effect on victim-survivors [and] Kellogg's has demonstrated, as an organisation, that they are committed to supporting victim-survivors to the best of their ability."
Featured Image – Kellogg's UK