News
Prime Minister Boris Johnson has been discharged from hospital
[siteorigin_widget class="SiteOrigin_Widget_PanelImage_Widget"][/siteorigin_widget]
[siteorigin_widget class="SiteOrigin_Widget_PanelText_Widget"][/siteorigin_widget]
News
65-year-old stabbed in park for refusing to hand over Range Rover keys

Daisy Jackson
A 65-year-old male has been stabbed in an attempted robbery in a Bolton park on Sunday afternoon.
The victim was approached by two males in dark clothing wearing face coverings at around 2pm on 2 October, in Longsight Park.
One was armed with a machete, the other with what is believed to be a dagger.
They threatened the man for the keys to his Range Rover, but when he refused to hand them over, he was stabbed twice in the stomach.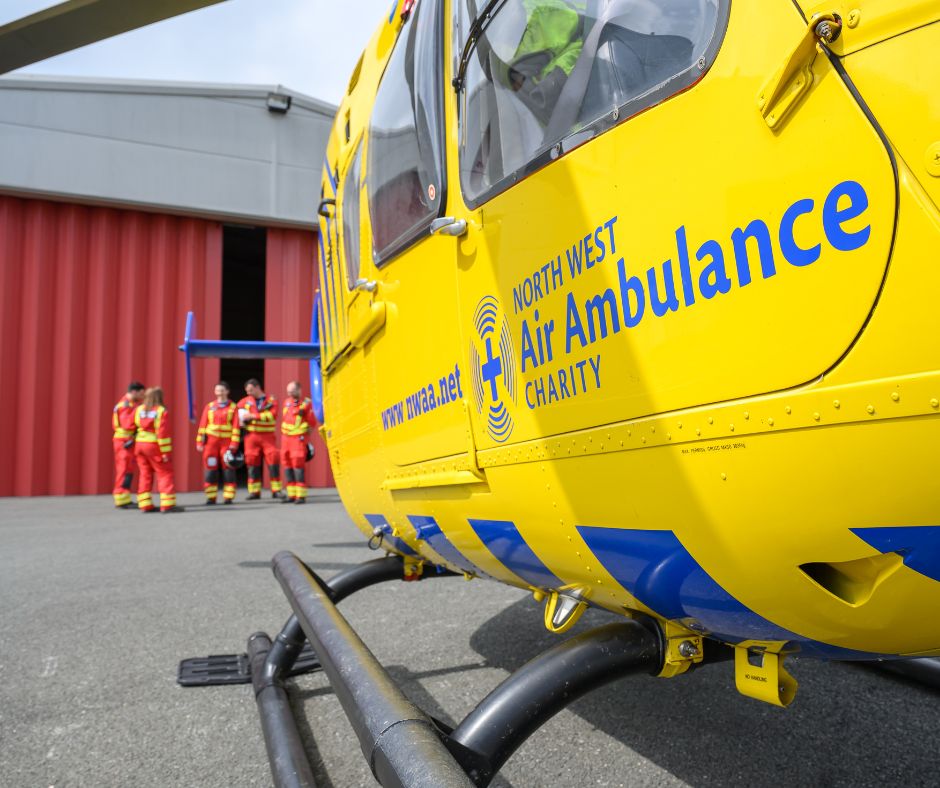 The slash-style injuries required hospital treatment, and both police helicopters and air ambulances attended the scene.
Both suspects are believed to be white males aged around 20 years old, of slim builds of 5'8″ and 5'10".
One – the male carrying a machete – was wearing a black baseball cap, black jogging bottoms and black tracksuit, with a ski mask covering the lower part of his face.
The other had on a black baseball cap with a distinctive red trim, black jogging bottoms, black tracksuit top and a full-face balaclava.
A 15-year-old male was later arrested at the location, and has been bailed pending further enquiries.
Read more
GMP officers in the Bolton district are keen to hear from anyone with information that could lead to the suspects described above.
Detective Inspector, Stuart Woodhead of Bolton's CID said: "We understand this will be a worrying incident for those in the local area, but rest assured we are working hard to identify the two suspects and continue to increase patrols as a result to offer visible reassurance.
"This happened in broad daylight in a public place, so we would urge anyone with details either of the incident or who may know who the two suspects are to come forward in confidence as our investigation continues and we look at all possible lines of enquiry."
The GMP statement added: "If anyone has any information they are urged to ring the district direct on 0161 856 5757. Alternatively details can be shared via the LiveChat portal on gmp.police.uk or anonymously through the independent charity Crimestoppers on 0800 555 111."
Featured image: Geograph
News
A Polish vodka and dumpling festival is coming to Manchester

Georgina Pellant
Independent Polish restaurant Platzki is bringing back its famous vodka and pierogi festival to Manchester this week, and we couldn't be more excited for some hearty dumpling fare.
Notorious for its top-tier filled pierogi, which are made by wrapping unleavened dough around a savoury or sweet filling and cooking in boiling water, Platzki is already something of a go-to for fine Polish food in Manchester.
But now, traditional European dumpling fans have another reason to get themselves down as the restaurant will be focusing almost entirely on pierogi for two days this week.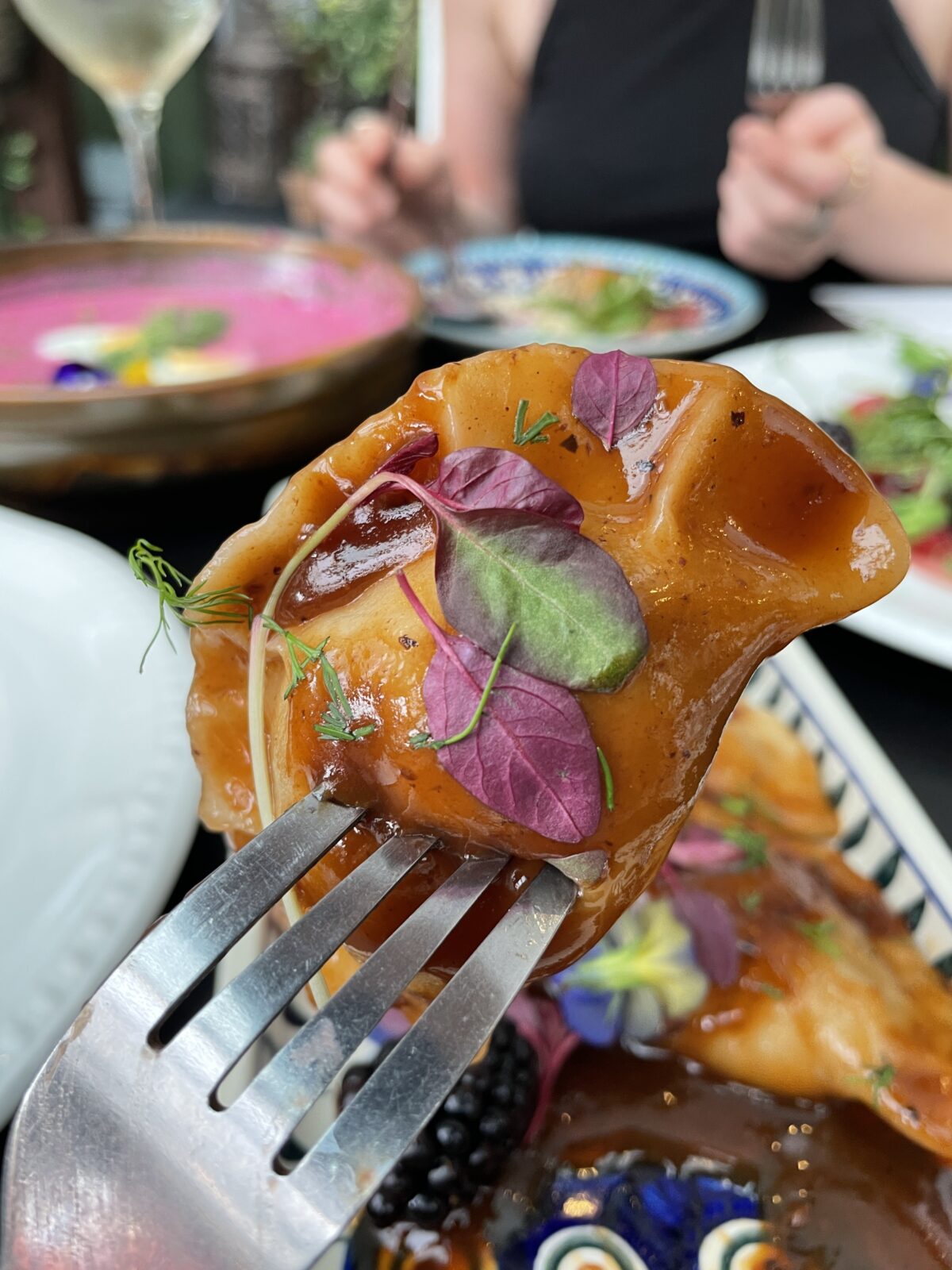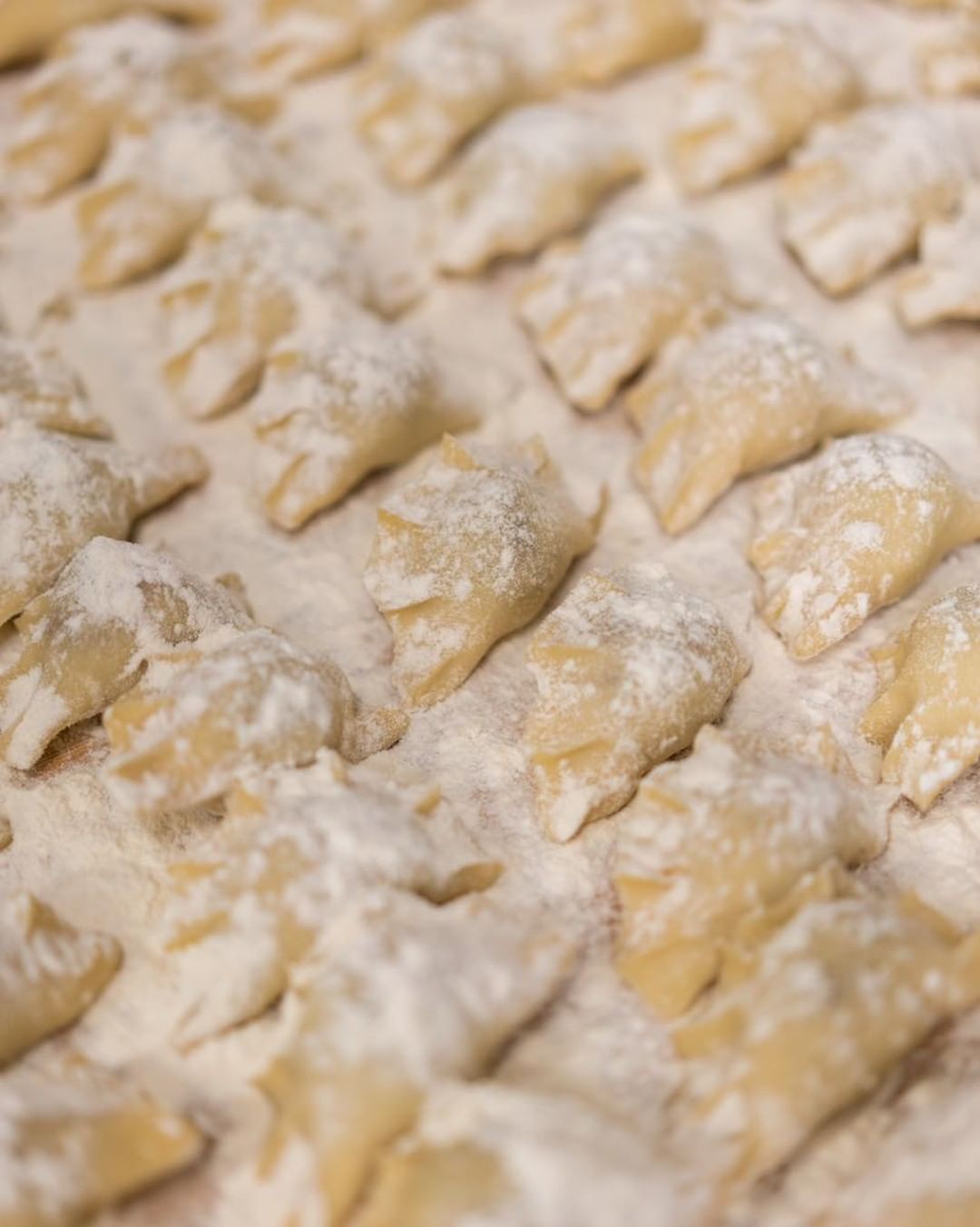 Taking place across Wednesday 5 and Thursday 6 October from 3pm until sell-out (or at 9pm, whichever comes first), diners will have the chance to try Platzki's perfect homemade pierogi in a range of mouth-watering flavours.
There will be plenty of different fillings to try, including some brand new vegetarian pierogi for non-meat eaters.
That's not all, either. There'll also be a midweek vodka tipple on standby as Platzki shows off its huge range of favourite Polish vodkas.
Think salted caramel vodka, strawberry vodka, golden black cherry vodka, hazelnut vodka and delicious cherry-chocolate vodka, all of which are (as we know too well from experience) dangerously drinkable.
Each day, the team will be making hundreds of pierogi for local dumpling lovers to sample.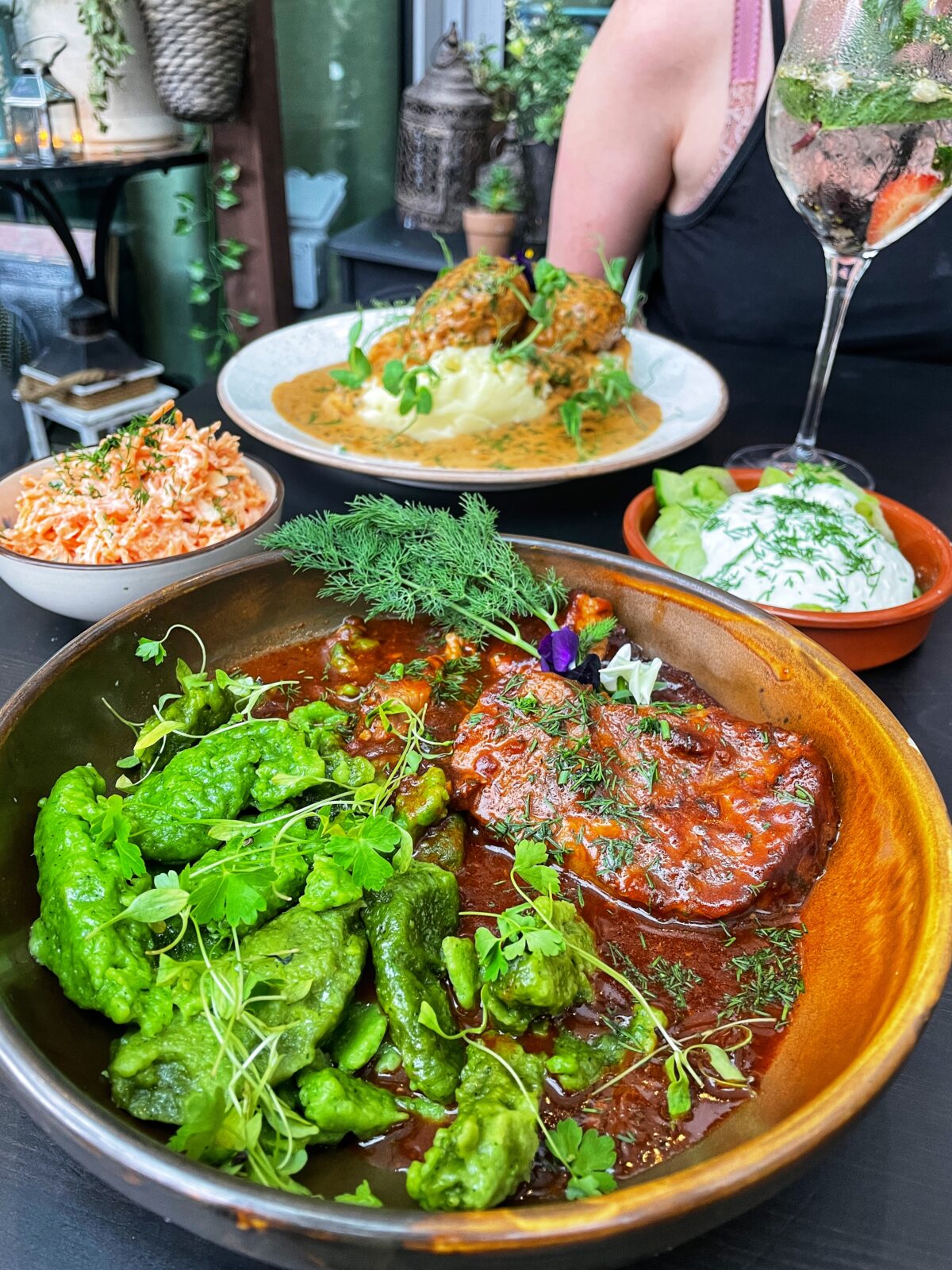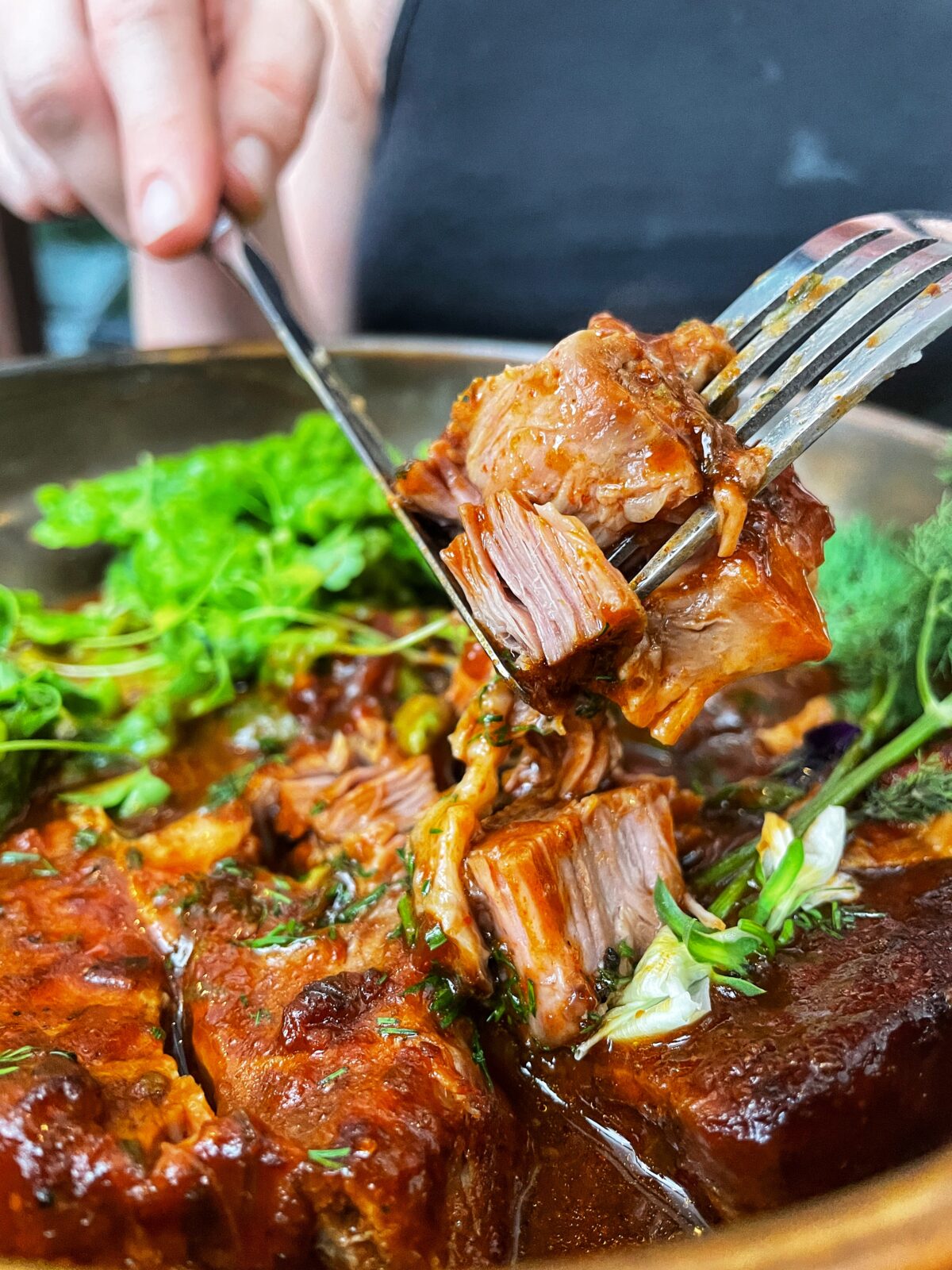 Elsewhere, they will also be serving up some of their favourite dishes from the menu including a hearty sausage stew with freshly-baked bread, and melt-in-the-mouth karkówka roasted pork neck with spinach egg noodles.
Read more: Inside Platzki, the city-centre Polish restaurant with an ever-evolving menu
A fixture in the city since 2018, Platzki has built up a reputation for serving an interesting list of Polish vodka and wine alongside traditional dishes like dumplings, pork neck and meatballs.
It has a gorgeous plant-filled restaurant and a bright terrace that backs onto the Great Northern Warehouse, giving diners views over the Great Northern Square as they dig into some of the best Polish food in the city.
To find out more about this week's dumpling festival, follow Platzki on Instagram here.
Feature image – The Manc Eats