News
Protestors interrupt Liz Truss' speech at Tory party conference
The climate protestors gatecrashed the conference by holding up banners and calling out the government before being ejected.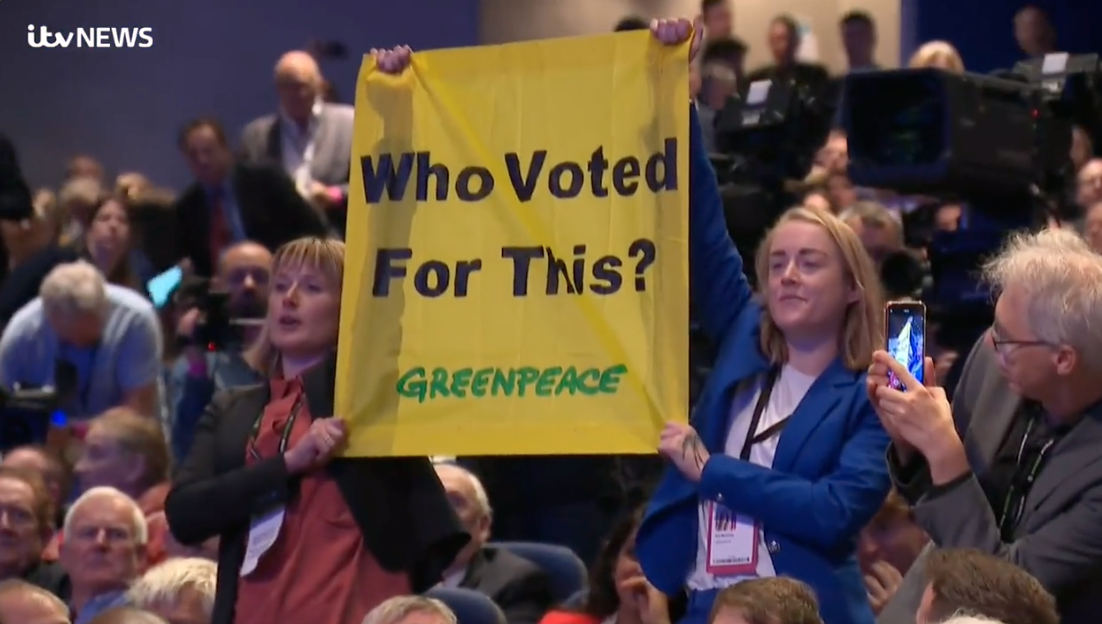 Two protestors who snuck into the Conservative Party Conference in Birmingham managed to interrupt Prime Minister Liz Truss' speech by shouting "who voted for this?"
Derailing the PM's closing speech after just a couple of minutes, the two Greenpeace demonstrators held up signs asking the same question, citing issues like fracking and other environmental issues.
As you can see, their comments are ultimately drowned out by the noise of Tory boos and chants of "out, out!". They also produce a second sign after the first is ripped out of their hands by an attendee.
Always bring a back up.
It is unknown under what pretence the protestors were able to infiltrate the conference's closing event in Birmingham but they both appeared to have official lanyards, one of which can be seen being ripped from the woman in blue's neck as she was quickly escorted from the premises.
Nevertheless, they have received the support of many such as former Green Party leader Caroline Lucas who tweeted: "Great to see @greenpeace in Tory party conference asking who voted for this?
"They're right – nobody voted for more fracking, tearing up nature protections or the £ in free fall. We need a general election now."
She also went on to state that the PM "won't find it so easy to remove the huge number of opponents [to] her climate-wrecking, nature-destroying policies right across the country".
You can see the incident from another angle here as those in the audience continue to chant before giving Truss a standing ovation and shout "go on Liz!"
Read more:
The fledgling Prime Minister went on to joke: "Later on in my speech I'm going to talk about the anti-growth coalition. I think they arrived in the hall a bit too early".
Jokes aside, pressure has been growing on the Conservatives and Liz Truss ever since she took office, especially following Kwasi Kwarteng's controversial mini-budget.
It was received so poorly, in fact, that they've already committed a number of U-turns on the likes of the proposed tax cuts — something the Prime Minister insists she "absolutely no shame" about.
Truss also ruffled a few feathers following her choice of entrance music:
It remains unclear whether the two individuals have been charged on any grounds following their disturbance.
For all the latest news, events and goings on in Greater Manchester, subscribe to The Manc newsletter HERE.
Featured Image — ITV News