News
Re-elected mayor Andy Burnham unveils plans for new transport network
On his first day of his second term, the mayor put forward plans to integrate buses with the Metrolink, bring trams to Middleton, and create hundreds of electric vehicle charging points across the region.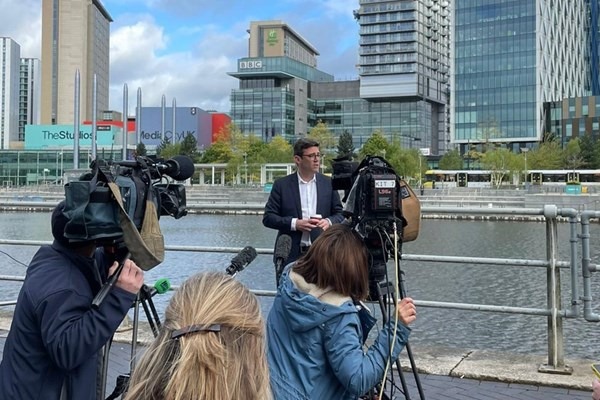 Andy Burnham has unrolled a new set of blueprints for a "revolutionary" local transport network following his re-election as Mayor of Greater Manchester.
The Labour candidate waltzed to a 67.3% landslide victory in the polls last week – receiving 473,024 votes to start a second term as leader of the region.
Speaking to press on Monday on his first official day as re-elected mayor, Burnham elaborated on his strategy to improve Greater Manchester's public transport system – making it "more affordable and easier to use."
The mayor is aiming to integrate GM buses with the Metrolink by 2024 – which could involve passengers having a single price-capped pass for both forms of transport.
Initial priorities include bringing the Metrolink to Middleton as part of a masterplan for the town centre: talks are being held with Transport for Greater Manchester (TfGM).
The mayor also pledged 95 new Electric Vehicle charging points by the end of the year, with plans for a further 200 in 2022.
A new Greater Manchester Bike Hire scheme is set to launch in November, with 100km of cycling and walking routes completed before January.
Burnham revealed that negotiations are also underway with Network Rail to make all rail stations in the city-region accessible by 2025.
Addressing press on Monday (May 10), Burnham said that "people in Greater Manchester have made it clear that they won't settle for second best any longer."
He stated: "Across the world, the most successful city-regions have one thing in common – an affordable, integrated and accessible transport network.
"… I'm vowing to accelerate the delivery of a world-class transport network for our city-region and its people. It is absolutely critical to our future economic and social prosperity.
"People here deserve a transport network where you can seamlessly travel across our city-region on buses, trams and trains – without spending a fortune each time.
"We will deliver this alongside hundreds of new Electric Vehicle charging points, a bike hire scheme and world-class cycling and walking corridors which will make everyday trips to school, to work and to the shops safe, easy and fun.
"This will benefit our people and our planet as we step up our plans for carbon neutrality."
Burnham will chair the first meeting of the Bee Network – the new new name for Greater Manchester's transport system – today.
Featured image: Mayor of Greater Manchester