News
River Irwell breaks banks at Castlefield as Storm Christoph batters Greater Manchester
"Shin-high" water has been reported by eyewitnesses at St George's Island this afternoon.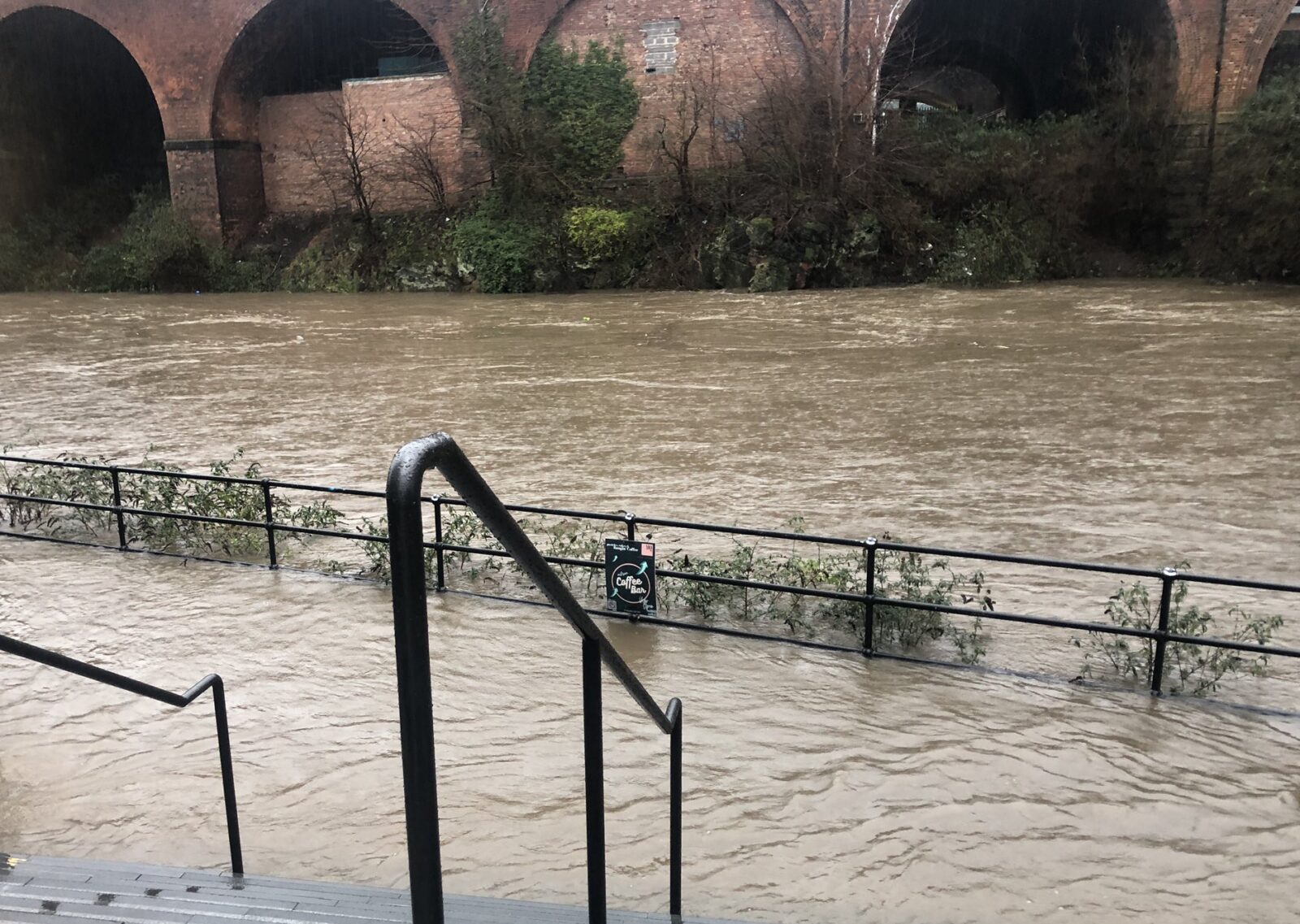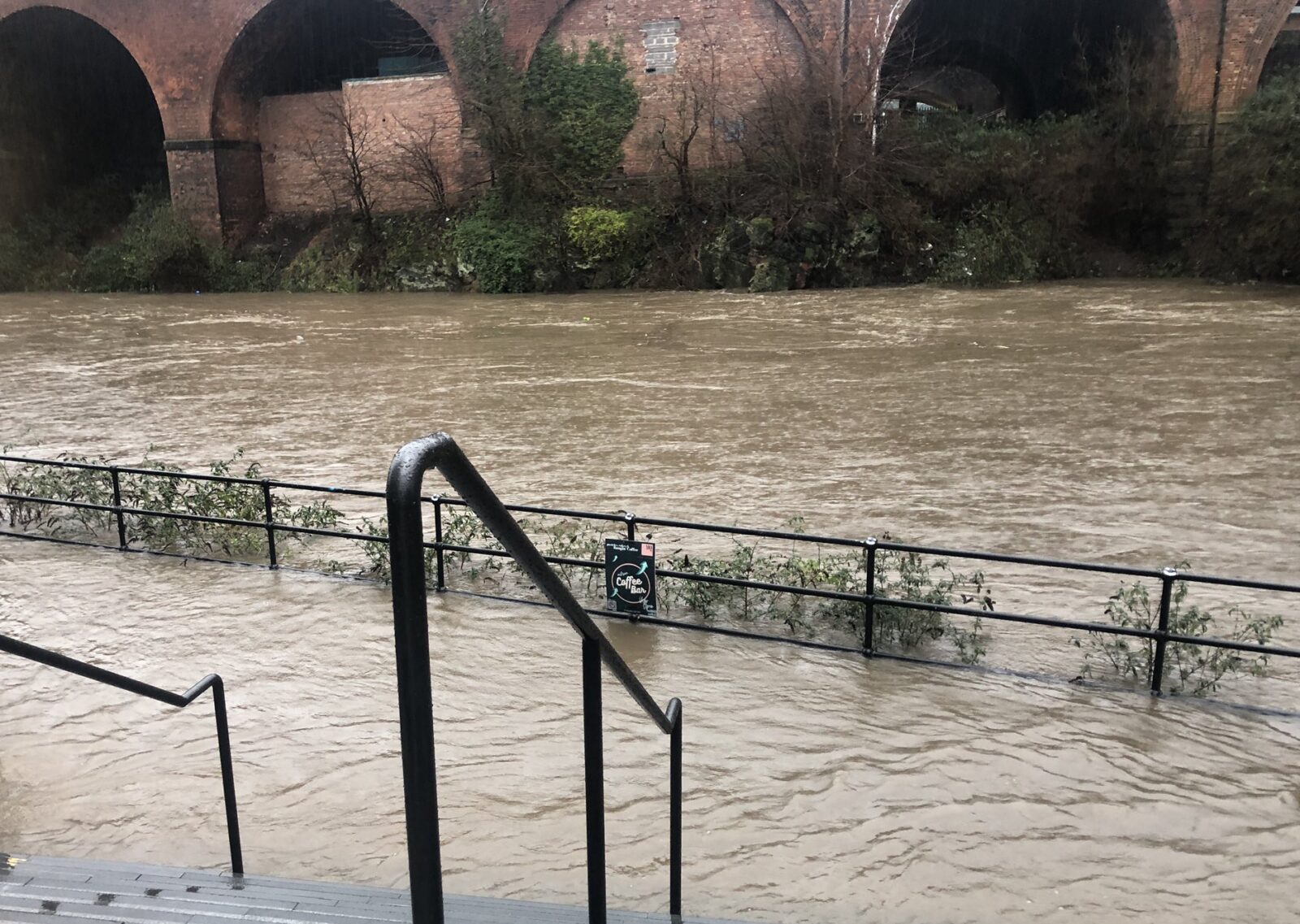 Eyewitnesses have reported that the River Irwell has broken banks at St George's Island in Castlefield in Manchester city centre this afternoon.
It comes as the effects of Storm Christoph continue to batter the region.
Significant heavy rainfall has fallen in the North West since Monday evening – with a number of flood warnings in place across Greater Manchester – and is expected to continue through the rest of the week.
An amber weather warning for rain is currently in place for Greater Manchester.
The Met Office defines the amber weather warning as:
Homes and businesses are likely to be flooded, causing damage to some buildings.
Fast flowing or deep floodwater is likely, causing danger to life.
Delays and some cancellations to train and bus services are likely.
Spray and flooding probably leading to difficult driving conditions and some road closures.
A good chance some communities cut off by flooded roads.
Power cuts and loss of other services to some homes and businesses likely.
The amber alert is currently in place until 12pm on Thursday 21st January.
The Flood Information Service has put warnings in place for 12 locals areas so far.
This includes the River Roch at Littleborough, River Roch in Rochdale, the River Mersey at Cheadle Wood and Ford Lane, and Walsden Water.
The River Mersey has been highlighted as the main area of current concern.
This relates to Didsbury, Northenden, Sale, and potentially leading into parts of Stretford and Flixton.
Greater Manchester Police has also declared a 'major incident', warning residents that flooding is now expected in several parts, and stating that: "The safety of the public is our number one priority and we're continuing to work alongside partner agencies across the region.
"Whilst we appreciate that everyone has been told to stay home due to the coronavirus pandemic, we want to make it clear that should members of the public need to evacuate to protect themselves due to flooding then that is the priority and you should follow your local authority's advice regarding evacuation."
At the Mayor Andy Burnham's press conference this afternoon, Assistant Chief Constable Nick Bailey – Chair of the GM Strategic Coordination Group for Storm Christoph – gave an additional update on the latest information across the region.
He said the main risk in the Greater Manchester area is around the River Mersey relating to Didsbury, Northenden, Sale, and potentially leading into parts of Stretford and Flixton.
"As we speak, residents across those areas are being contacted by the Environment Agency and local authorities to advise them. Alerts have already been put out [and] people there are being advised to consider evacuation procedures should that happen.
"We are going to start to see the overflow contingency provisions at around 5pm.
"That will reach a peak at around 11pm this evening where we will see flooding of those areas."
He continued: "In its worst-case scenario, estimated by Environment Agency, that could impact on up to 3,000 properties across all the areas
"This is a significant incident in terms of disruption to population."
ACC Nick Bailey said those 3,000 properties may not have to evacuate, and local authorities would work "right up to the last minute" to prevent it.
What should I do if I get a flood warning?
A flood warning means you need to act as flooding is expected, and you should:
Move vehicles to higher ground, if it's safe to do so.
Move family and pets to safety.
Move important items upstairs or to a safe place in your property, starting with cherished items and valuables, then furniture and furnishings.
Turn off gas, electricity and water supplies if it's safe to do so; never touch an electrical switch if you're standing in water.
If you have property protection products such as flood barriers, or air brick covers, use them now keep track of the latest situation.
___
You can find further details regarding the flood warnings issued across the region on the gov.uk website, and more information can also be found via the Met Office.