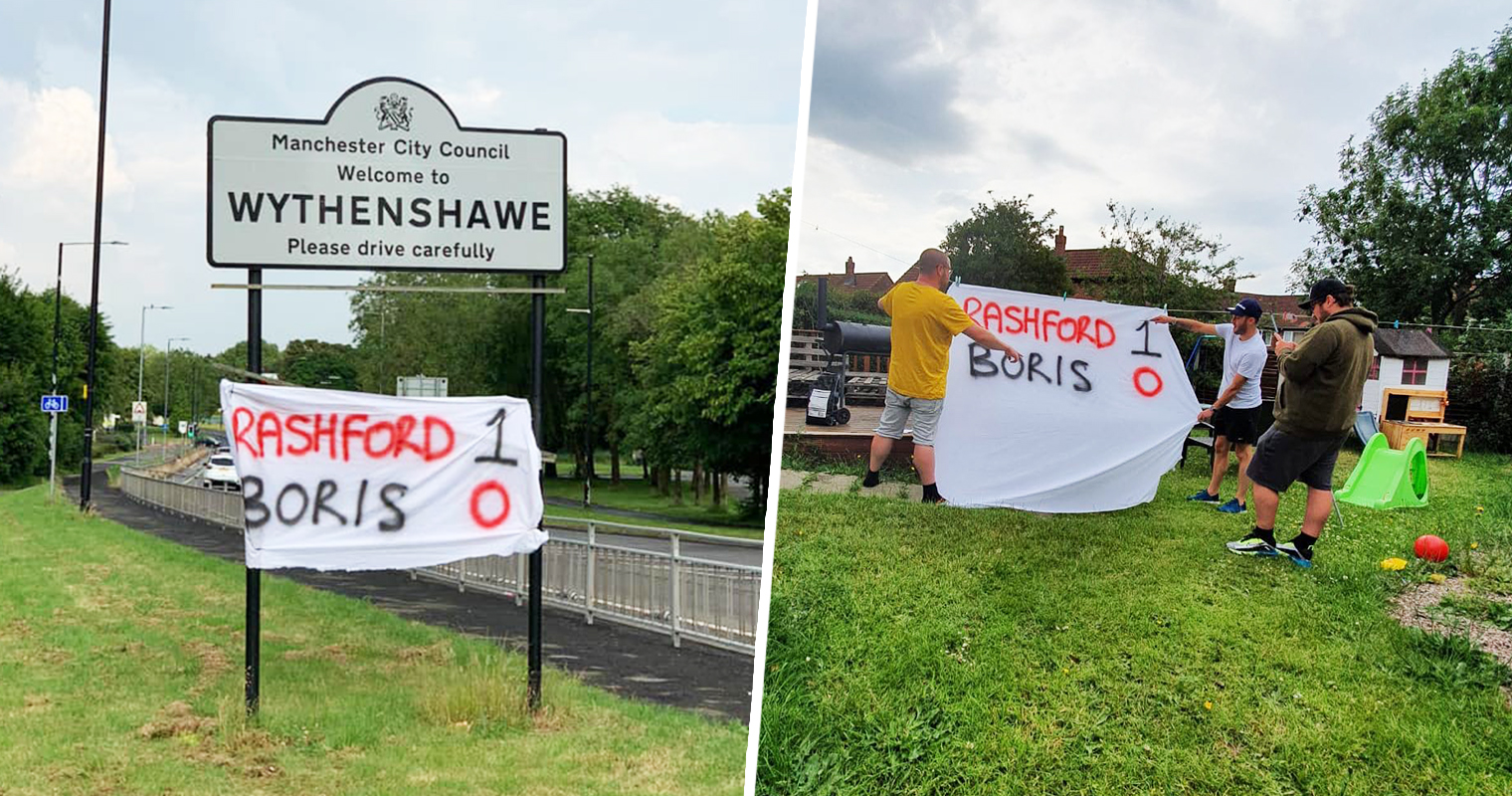 Yesterday, in the midst of all of the Marcus Rashford news regarding his whopping win over MPs who were refusing to provide free school meals to kids over the summer, a little bedsheet in Wythenshawe went viral.
The bedsheet, fashioned into a flag, was created by the guys behind Facebook community Wythenshawe Whispers and friend of The Manc, Andrew Ellis, who is also one of the stars of This Is England. Yeah, there's plenty of dynamics involved here.
The flag was then pinned up to a Welcome to Wythenshawe sign in a prominent part of the busy south Manchester town and it didn't take long to go viral on social media.
The once used bedsheet then quickly found its way onto Twitter, being liked and shared by literally tens of thousands of people, including The National Football Museum, who saw an opportunity.
The flag had become instantly famous, and quite arguably, a piece of footballing and political history within hours – symbolising a rare win for the people that will result in thousands of children not going hungry during what will be a very tough summer for families in poverty.
So, England's most famous football shrine saw a place for it in their collection, and took to social media to find its owner.
But this story has a twist, and it's not a surprising one at that. Because within hours of the flag going viral, some scoundrel had nicked it – and the National Football Museum are not happy.
It's not currently known who stole the banner (obviously), or whether it was simply removed by council officials, or Boris Johnson himself (although it's unlikely he's ever stepped foot in Wythenshawe) – but one thing is for sure, whoever has it is a targeted man or woman.
If you do have the flag, do the right thing. Rashford's rallying cry for a simple life necessity for children in need is the perfect symbol of standing up and getting the job done when the odds are stacked against you, and we think it's important to have this small piece of history hanging in the middle of a football mecca in Manchester city centre.
So hand it in, you wally.