News
Tameside community 'stands together in face of hate' after racist vandal continues to target Denton
Racist graffiti has appeared across Denton in recent weeks - being sprayed on a defibrillator in the town centre, a car, and signposts and benches in Hulmes Wood Nature Reserve.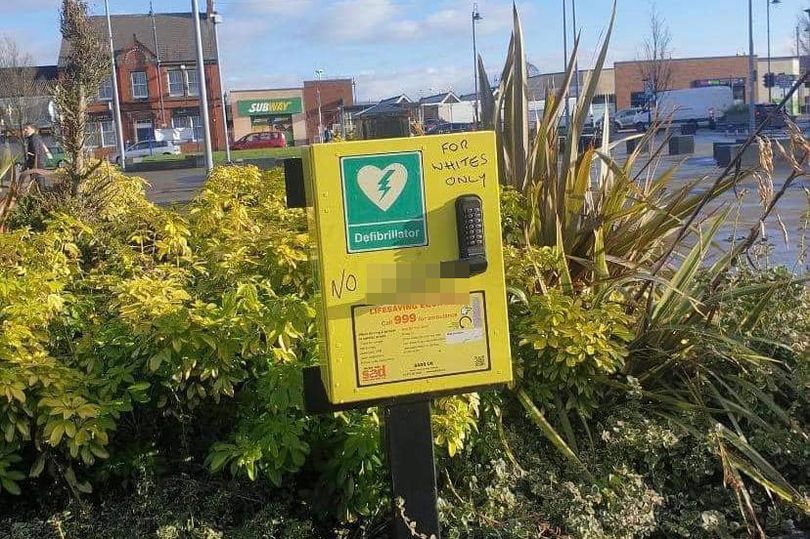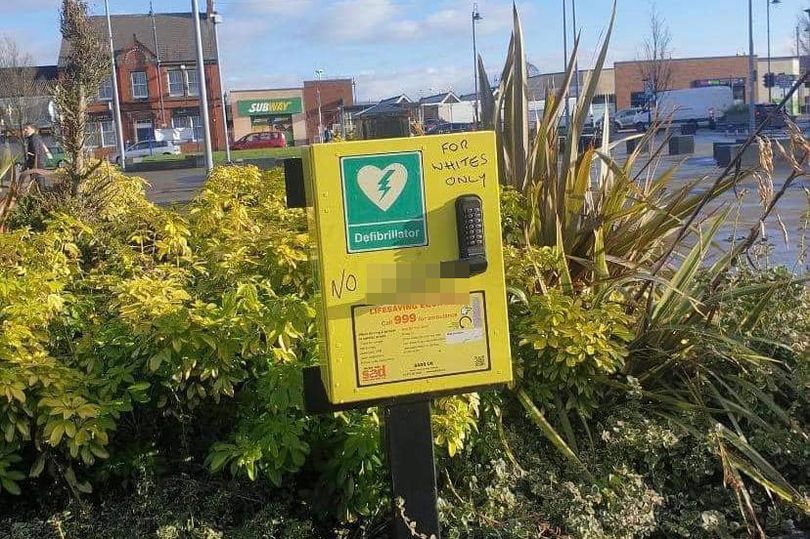 The Tameside community has joined together as part of a united front against 'the face of hate' as one town continues to be vandalised with toxic messages.
Over the past few weeks, racist graffiti has appeared in various spots across Denton – being sprayed on a defibrillator in the town centre, a car, and signposts and benches in Hulmes Wood Nature Reserve.
Images of the defacement have been posted to social media – prompting outrage across Tameside and instigating a police investigation.
It is not yet known who is behind the hate messages – which may have been scrawled by the same perpetrator.
Local officers have urged the culprit to turn themselves in.
Chief Inspector Lee Broadstock stated: "I'm asking you, no requesting you, to hand yourself into the police, so we can understand why you did what you did and you can understand the disgust and outrage at what you have caused.
"If you do not hand yourself in, be rest assured that we will find you."
He added: "In Tameside we have no place for hate.
"I have a request to the residents of Denton and Tameside who have shown their outrage at these actions, please come forward if you have information about the perpetrator – let's come together and unite against hate crime."
Members of the local community have also spoken up about the graffiti, sharing words of inclusivity and togetherness to spread the message: 'Hate crime has no place in Tameside'.
Steve Marsland, Headteacher at Russell Scott Primary School in Denton, lauded the spirit of the "strong and proud town" and urged others to "call hate out to isolate and vaccinate another virus".
He added: "Racism is taught….it's a grown-ups illness cured through education and on the lap of their parents.
"I've spent a lifetime teaching children to be brave and bold, to question, to learn and to show tolerance where achievement is not determined by colour.
"Whoever is spreading racist hate across our town has been poorly educated and has become sick."
Revd Philip J Cooper, Minister of Fairfield Moravian Church & Ecumenical Officer for the Moravian Church in Great Britain & Ireland, stated: "Racism grows out of ignorance and fear.
"It seeks to unfairly and unjustly blame certain sections of our society for problems that they are not responsible for at all.
He added: "The diversity of our culture in Tameside is to be celebrated and that diversity enriches us all."
Support is available for victims of hate via www.letsendhatecrime.com.
Contact crime stoppers to give information anonymously on 0800 555 111.