News
The Lyrid meteor shower will be visible from tonight – here's how to see it
News
Herd of Santas descend on Manchester healthcare clinic for pre-Christmas 'elf check'

Daisy Jackson
A gaggle of Santas have been spotted visiting Pall Mall Medical healthcare clinic in Manchester city centre, getting their 'elf checks' in before Christmas.
The group were also joined by TV doctor Dr Hilary Jones, who has issued a stark health warning ahead of the festive season – especially for Father Christmas who doesn't exactly have the healthiest lifestyle.
So scores of Saint Nicks gathered in Manchester today for an exclusive appointment with Dr Hilary ahead of their 41 million mile journey on Christmas Eve.
The private healthcare clinic on King Street, right in the heart of Manchester, will be offering health screens for everyone, with 20% off in December.
Today's event at Pall Mall Medical was demonstrating the seasonal once-overs offered there with its 'Santa Stop Here – Free Elf Check'.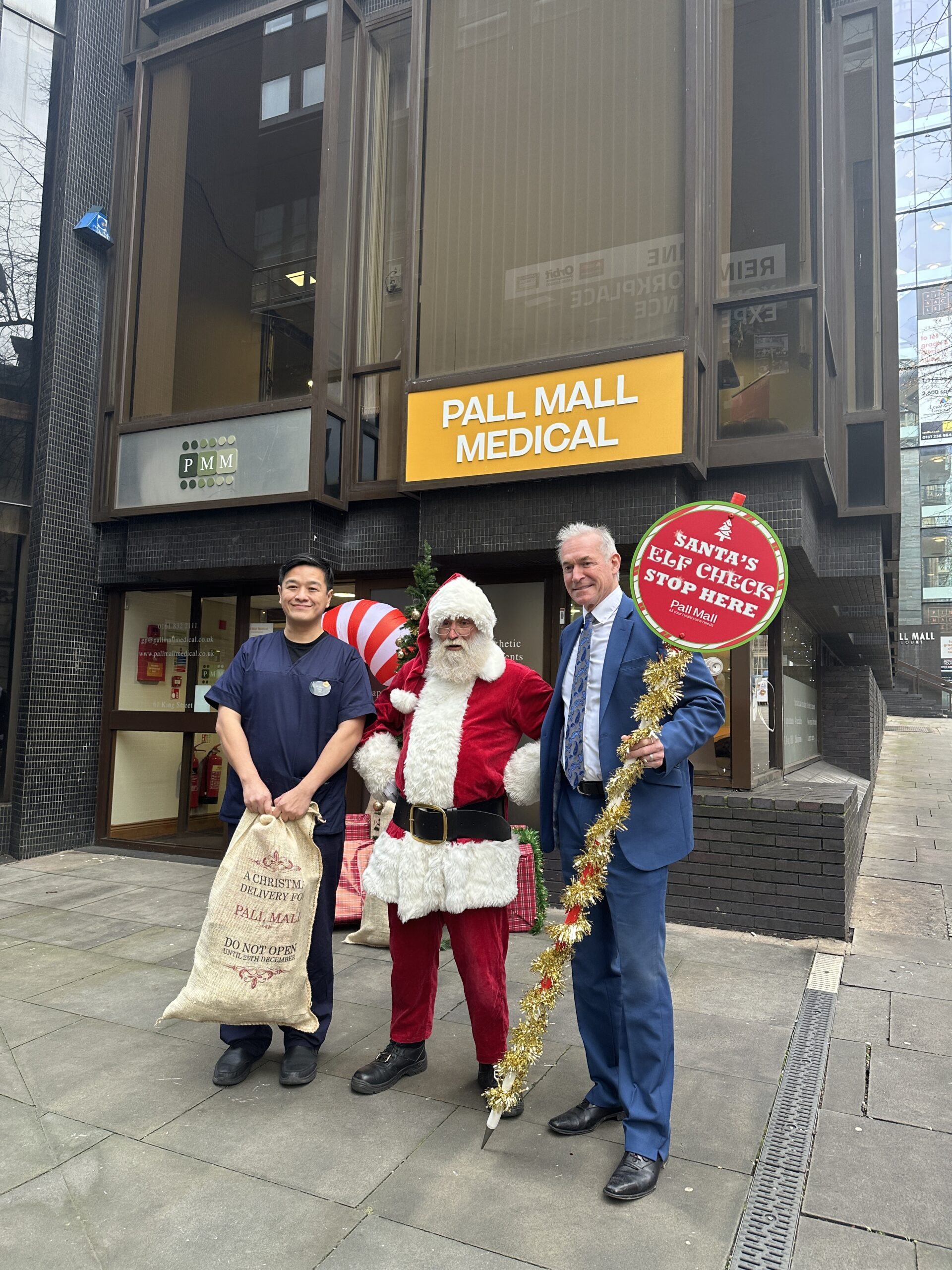 It's estimated that in one day, Santa Clause eats 2.3 billion mince pies and guzzles 138,389,578 litres of sherry – the same as 55 Olympic-sized swimming pools, or 181 million times the recommended weekly intake.
Concerned Dr Hilary, who is Pall Mall's ambassador for health screens, said these eye-popping statistics justify Father C is in dire need of an elf MOT.
The health checks can detect ailments from prostate cancer to heart issues.
Dr Hilary said: "When you digest the figures, it's a miracle Santa is still going strong.
Read more: Police issue update after Sterling flies home from World Cup following home invasion
"A lifestyle like his could lead to chronic fatigue at best – diabetes or heart disease at worst.
"We all love a mince pie or three during the festive season, but without sounding too much like a nutcracker he is going way Ho Ho Ho-verboard!
"Of course, Christmas is a time to indulge, but it is still smart to limit food and drink on the naughty list.
"Hopefully, Santa will take note and adopt an elfier lifestyle this year, so he doesn't become a ghost of Christmas future next year!"
Watch more on Pall Mall Medical here:
Dr Chun Tang Medical Director of Pall Mall, who conducted the Santas private health screens added: "There is nothing more important than health and prevention is better than cure. A private health screen can detect issues before they become a serious medical concern."
Throughout December Pall Mall Medical is gifting people a discount on private health screens to mark the festive period.
Simply quote 'Ho Ho Ho' at the reception desk and receive 20% off a Well Woman or Well Man health screens throughout December, and quote WINTER10 for 10% off GP appointments.
To book your health check today, contact 03300 27 26 47 or enquire online at pallmallmedical.co.uk.
Featured image: The Manc Group
News
Manchester gaming bar NQ64 claps back at one-star review harassing its staff

Georgina Pellant
A popular gaming bar in Manchester has clapped back at a one-star review that attacked a staff member by calling them a 'progressive student gimp' for wearing a crop top.
NQ64, which has two sites in Manchester – one in the Northern Quarter, and a second on Peter Street – hit out at the rude reviewer this weekend in an act of bartender solidarity. The bar shared the insulting review, left by username Corbin A, to its Instagram page on Sunday alongside a sunny picture of its bar team: all wearing crop tops and grinning sassily into the camera.
The caption on its response post, which has already been liked over 2,200 times, read: "This one's for you, Corbs – stay progressive x" with a peace sign emoji.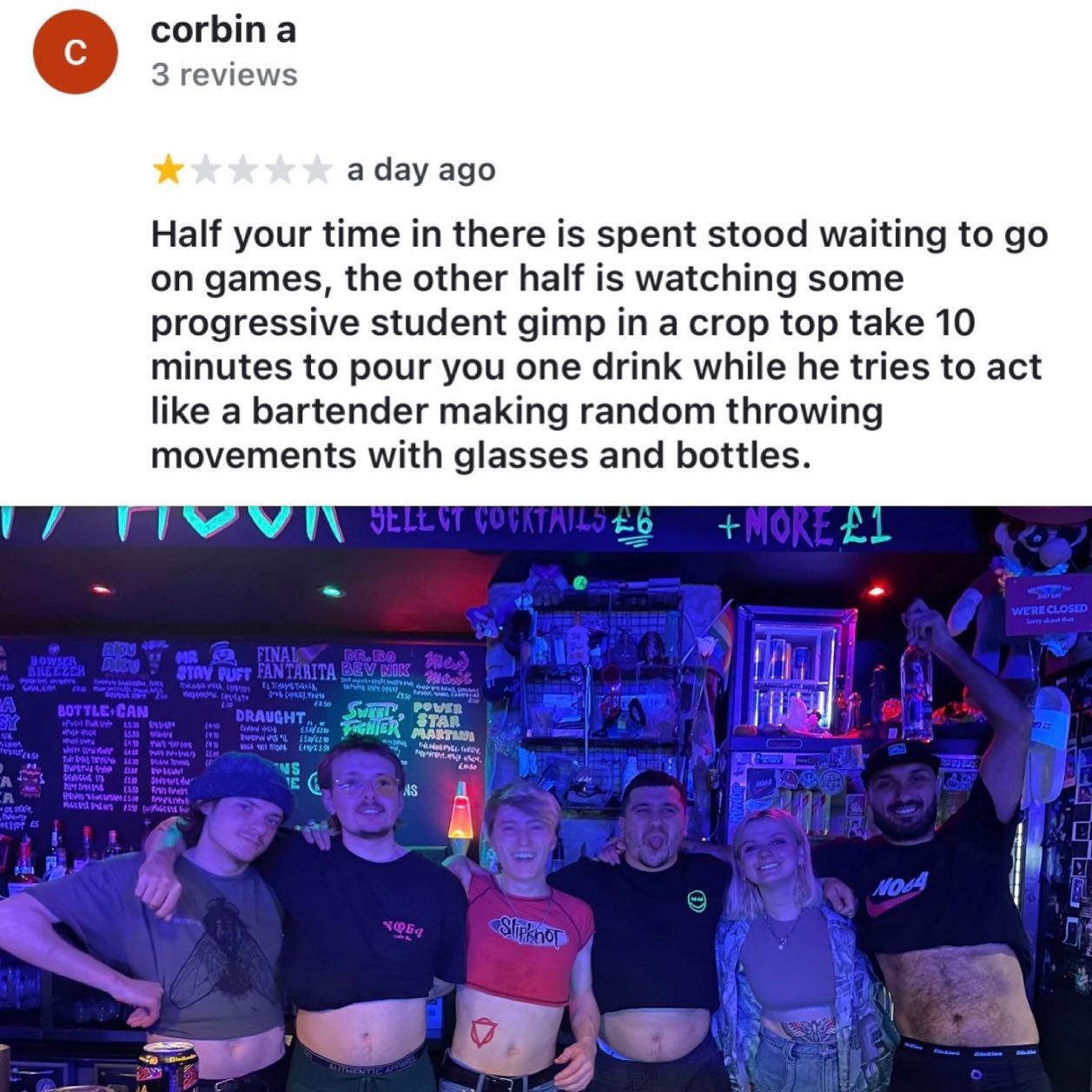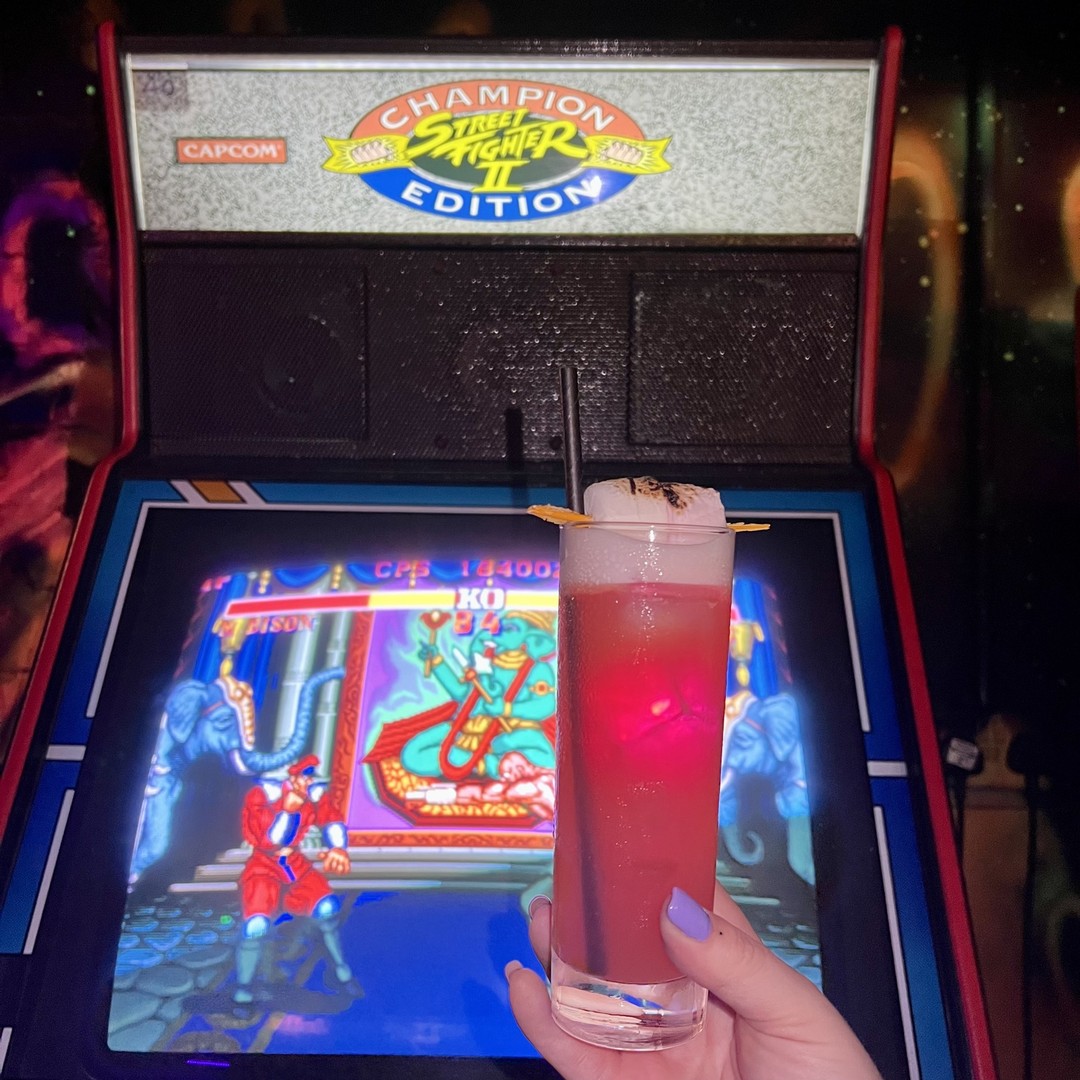 The full one-star review from the unimpressed Corbin A, who has left three reviews on the platform in total, read: "Half your time in there is spent stood waiting to go on games, the other half is watching some progressive student gimp in a crop top take 10 minutes to pour you one drink while he tries to act like a bartender making random throwing movements with glasses and bottles."
Commenting underneath, followers chimed in thick and fast with their support for the bar and its staff, with one writing: "Please start selling crop tops that say 'Progressive Student Gimp.'"
Another person said: "Bar staff solidarity! You love to see it ❤️ still the best bar(s) in Manchester."
A third wrote: "f*ck yeah. This is why I love you guys!!"
A fourth added: "That review should surely be 5 stars! I mean this is a bloody good reason to go, no?!"
Read more: You can go on a festive tour of the Coronation Street set this Christmas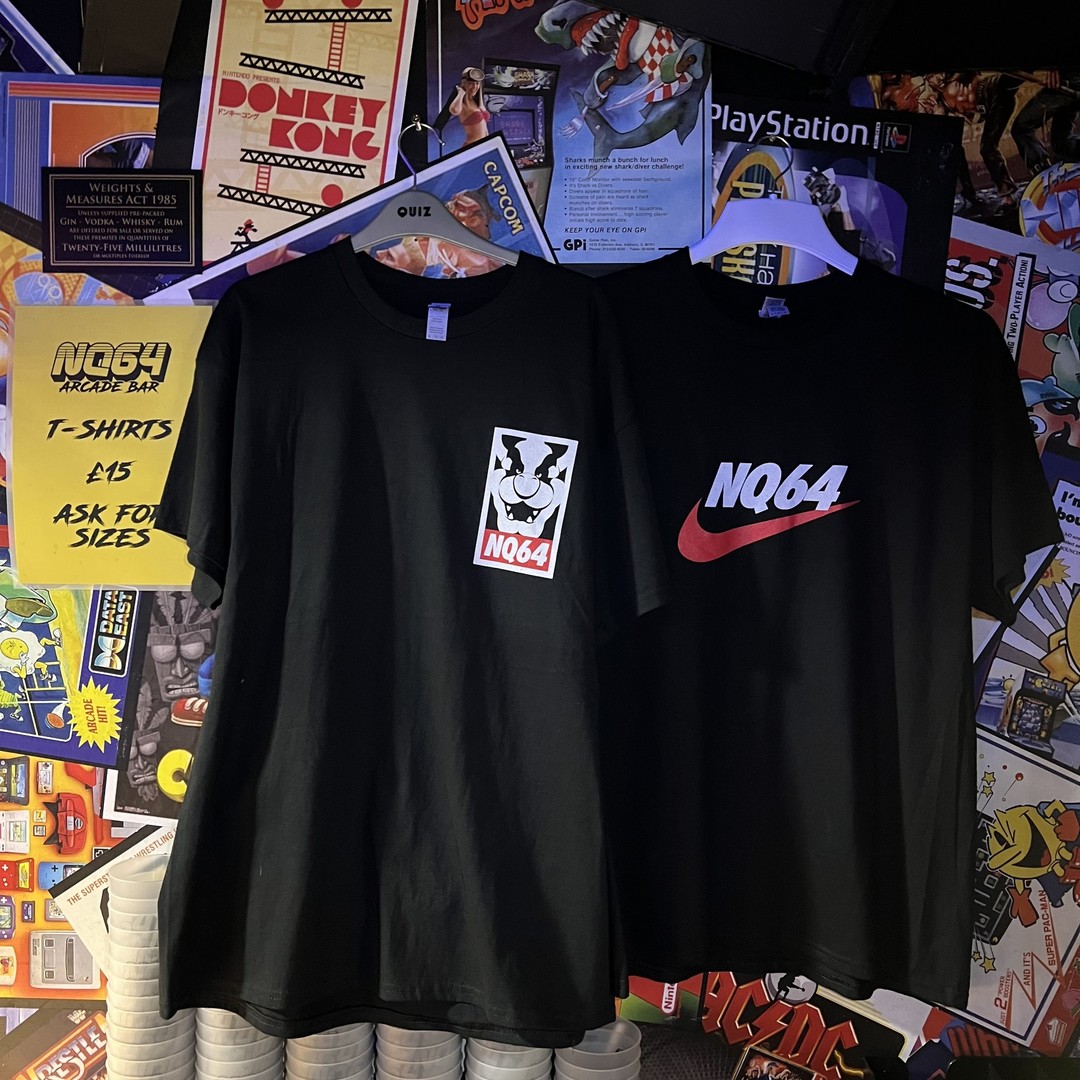 A fifth said: "Sounds like he's come down with Karenovirus… stay cropped and progressive."
A sixth chimed in: "So much time for this."
The popular gaming bar has long been a favourite in Manchester – allowing locals to revel in nostalgia by button-bashing on classic machines such as Time Crisis, Pac Man and The Simpsons.
Its menu also references gaming culture, with drinks including the Ms Stay Puft, which nods to cult film favourite Ghostbusters, to the Super Coco Ball, inspired by the arcade game Super Monkey Ball.
The neon-splattered bars originally launched on the Northern Quarter's Short Street in 2019 before opening its second site on Peter Street in 2021.
Read more: This Manchester gaming bar is selling Simpsons and Mario Brothers-inspired cocktails
Full of retro arcade games and classic consoles, gaming fans can sip on cocktails, craft beers and spirit mixers whilst playing all of their favourites – including the likes of Pac-Man, Time Crisis 2 and Guitar Hero will be additions such as the Mario Kart arcade game, Time Crisis 3 and NBA Jam.
Arcade games are played using a token system, whilst elsewhere there are a selection MegaDrive, PlayStations, GameCube and Super Nintendo consoles for people to get stuck into.
Feature image – NQ64