News
Travel chaos across Greater Manchester as Storm Franklin cancels trains, trams and closes roads
Greater Manchester's transport network is struggling to cope as Storm Franklin batters the region, and people are being advised not to travel.
Trams, trains and the road network are all experience delays, cancellations and closures due to high winds.
The Met office has issued a yellow weather warning across much of the UK until 1pm today.
Many train companies are urging people not to travel unless absolutely necessary.
Some of the most major disruption to travel caused by Storm Franklin today is on the M60.
A section of the busy motorway near Trafford Park is closed in both directions due to an overturned lorry.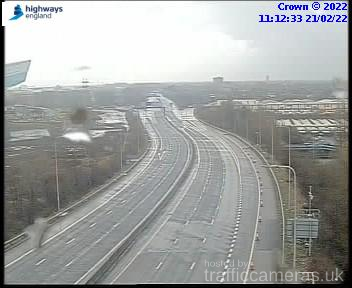 The M60 is closed clockwise between J9 and J11, and anti-clockwise between J11 and J10, while the vehicle – which is resting on the central reservation – is recovered.
You can check National Highways for the latest information.
The A34 Kingsway is closed in both directions near Mauldeth Road due to a fallen tree, while flooding has closed Flixton Road in Carrington and the A555 near Styal Road.
Several smaller roads across the region are also blocked by fallen trees, so avoiding travel is advised.
On public transport, train services in and out of Manchester are facing delays and cancellations.
Northern Rail cancelled all of its services this morning.
They announced: "Due to the severe weather and numerous incidents, caused by #StormFranklin, we will be terminating all services in the North West.
"No further trains until at least 10:30, and this might be extended. Do not attempt to travel, do not head to stations as there are no alternatives."
Services are now being reintroduced but disruption is expected to last all day.
Disrupted services have also been reported on Avanti West Coast, Transport for Wales, Cross Country, and TransPennine Express.
Read more: Over 400 homes in south Manchester evacuated as Storm Franklin continues to hit region
Check National Rail for the latest updates.
Storm Franklin has also wreaked on Metrolink lines today, with a fallen tree near Victoria halting services on the Bury and Rochdale lines.
The tree has now been removed, but services are still experiencing delays while everything gets back up and running.
Metrolink passengers are still able to use their tram tickets on bus services 41, 97, 98, 135 and 524 (for the Bury line) and 59, 81, 83, 181, 182 and 184 (for the Rochdale line).
Featured image: Wikimedia Commons