Sponsored
The Corn Exchange turns Christmas gift shop for one week only
Christmas gifts, festive hampers, seasonal vouchers and more are on offer, as well as the usual suspects.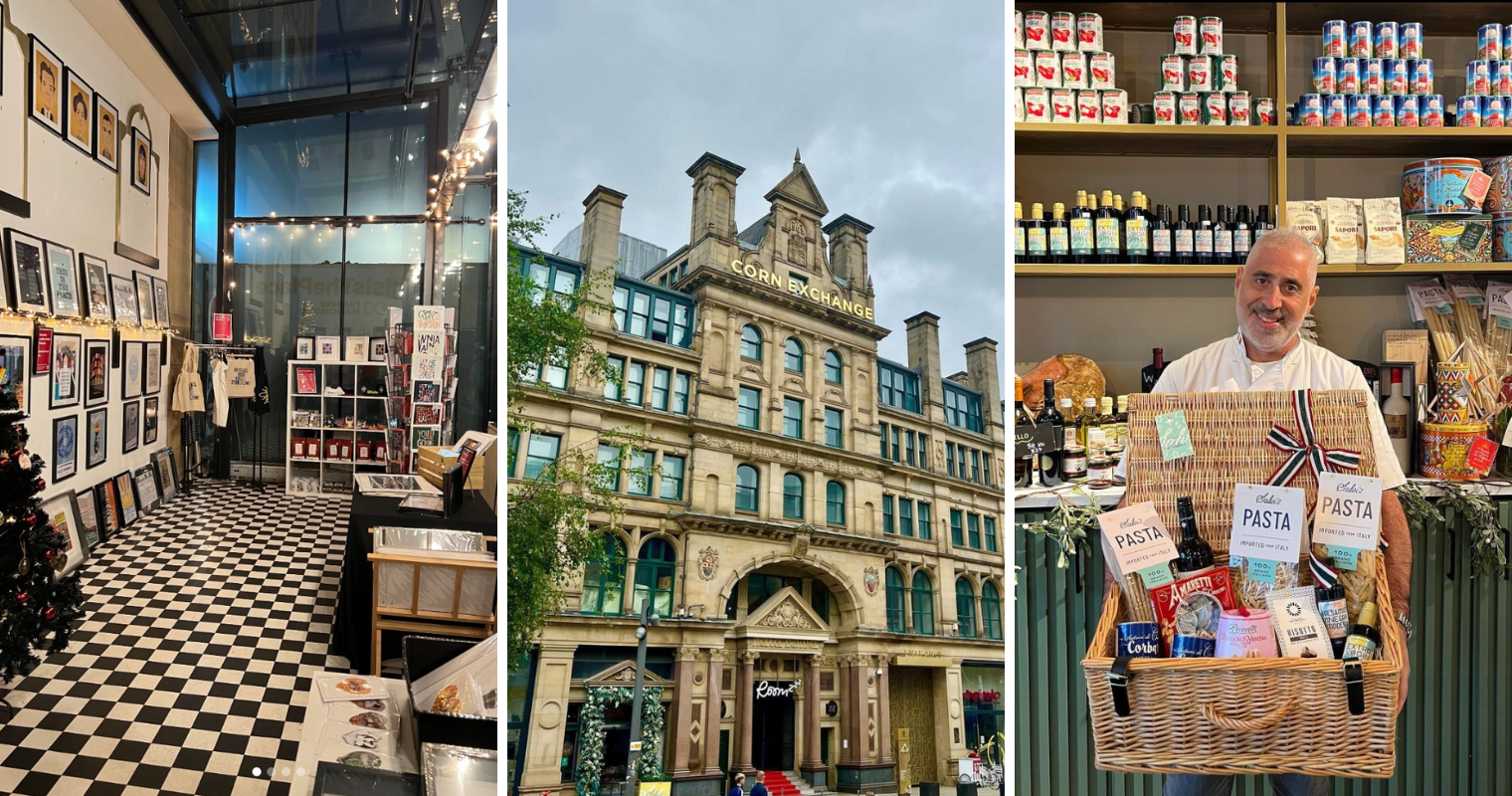 The Corn Exchange is transforming from a food hall, bar and leisure venue to a festive gift shop for one week only and there are some serious gems on offer.
While the cornerstone of Exchange Square is best known for its numerous restaurants, bars and leisure sites, the likes of Salvi's have been selling produce and pantry items from its glamorous shopfront for some time now.
With that in mind, the rest of the courtyard is joining in for a limited time only this holiday season, with various restaurants offering festive specials and vouchers, not to mention a new pop-up Christmas gift shop courtesy of Forever Manchester.
Here's how you'll find it and everything else the Corn Exchange has on offer this week:
Christmas gifts at the Corn Exchange
1. Forever Manchester pop-up shop
The popular Manchester-themed gift and tourist shop that stocks everything from custom prints by local artists, to hand-crafted jewellery and everything in between, this place specialises in all things Manc.
Setting up a satellite shop from the Cross Street site, their new festive pop-up at the back of the Corn Exchange on Cathedral Gardens stocks iconic Stanley Chow coasters, posters and porcelain, Joy Division-inspired themes by Bee Mancunian, books, tote bags and much, much more.
2. Salvi's Christmas hampers
As alluded to already, Salvi's Corn Exchange site has always stocked plenty of fresh produce, pantry items and seasonal items. Better still, there have plenty of great stocking fillers available.
Whether it's a limited edition Dolce & Gabbana panettone, festive hampers full of the best olive oil, pasta, and vinegar or even just a nice bottle of wine, they'll make a perfect addition to your Christmas shopping.
3. Sixes Cricket vouchers
The Corn Exchange isn't all about bars and restaurants, there are also plenty of activities to get stuck into all year round and one of those is a Manc favourite: Sixes Cricket.
With vouchers starting from £25, you can help give the gift of a virtual cricket game or day at the batting cages, or simply put some money towards the food and drink. It's a good day out and better than the bog-standard socks and deodorant set we know you're debating as you do every year.
4. Escape Hunt Experience vouchers
Another popular activity in this leisure venue are the escape rooms courtesy of Escape Hunt Manchester. It's sure to have you arguing with friends and family but it's also a bloody good laugh.
Like with Sixes, you can grab gift vouchers starting from £20 for those still left to cross out on your Christmas shopping list — just remember, they may invite you along, so make sure it's someone you can tolerate in small spaces for a prolonged period of time.
5. Charlotte Tilbury Masterclass Experience
This one is for beauty fans and those whole like a bit of glamour in their life. The Charlotte Tilbury Masterclass hosted in Banyan Bar & Kitchen is a limited-time-only experience on 3 January and 24 January, so you'll have to be quick.
This one will set you back £55 but that figure not only includes a taste of some of the most high-end make-up on the market, but it also includes welcome drinks, food, a gift bag and £30 voucher for the recipient to spend on the evening as they see fit. We all deserve a posh night every now and again.
6. Mowgli cook books
Just next door, popular Indian street food chain Mowgli isn't just serving up some absolutely sensational dishes, they're also giving you the tools to make them yourself.
The Mowgli Cook Books have been flying off the shelves ever since they were first published and you can give your loved ones the secrets to this wonderful food for Christmas at a discount. Might buy one for ourselves while we're at it.
7. Variety Box of Macarons
One of the things we love about Mowgli is their fun-sized tiffin boxes and if you're looking for something a neat little package to take away and hand gift someone with a sweet tooth this Christmas, you won't go far wrong with Croyaki Tea.
This bubble tea and dessert bar has become a cult favourite in Manchester and, lucky for you, you can grab a box of their colourful and flavoursome macarons for just £9. That's pudding for Christmas day sorted, though we wouldn't encourage sharing — these little guys are too good.
8. Tampopo cookery class
Last but certainly by no means least, another one of our city-centre favourites: Tampopo. The Pan Asian spot specialising in street food is packed virtually all week round across its multiple Manchester sites, but you can get exclusive access behind the scenes this Christmas.
Tampopo Cookery School Experience is a foodie's dream as for £70 or £120 for two people, you can learn how to make their incredible dishes yourself whilst you eat, not to mention take what you've learned home. Their next Corn Exchange class is on 25 February, so don't wait until it gets booked out.
Read more:
You can even play it safe and simply buy vouchers for their in-house hotel Roomzzz and the Corn Exchange in general; they once again start from £20 but you can set the amount yourself.
Check out the full list of what the Corn Exchange Christmas gift shop has to offer HERE.
And remember, the Forever Manchester gift shop pop-up is only there until Sunday, 18 December, so be sure to stop there while you still can.
For all the latest news, events and goings on in Greater Manchester, subscribe to The Manc newsletter HERE.
Featured Image — Instagram (Various)