Sponsored
Dog-friendly restaurants in Manchester's beautiful Corn Exchange
These local businesses LOVE dogs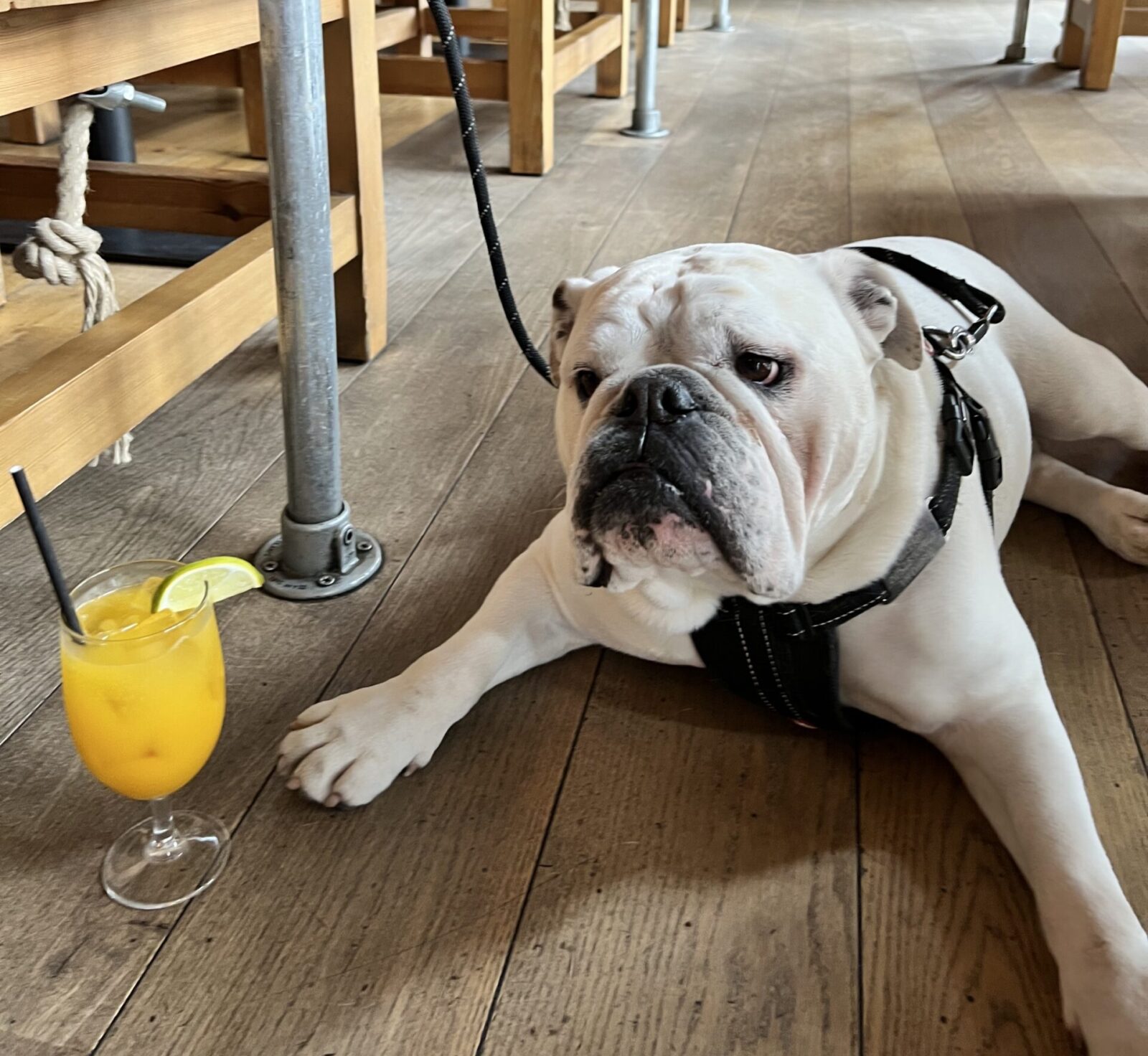 Finding somewhere to eat with your beloved pet can be tricky, but one of Manchester's grandest buildings is surprisingly dog-friendly.
The Corn Exchange is a landmark building in the city centre, which over the years has operated as a merchant building, a shopping centre, and now in its current guise as a food and drink hotspot.
With more than a dozen restaurants and cafes under one roof, there's something to suit every appetite, from curries to pasta to kebabs.
And perhaps surprisingly, a massive chunk of the businesses based here in the Corn Exchange welcome you bringing your dog along with you.
With three of our five office dogs in tow (yeah, we love dogs at The Manc), we went to explore exactly how dog-friendly the Corn Exchange is – and it was Mowgli we had in our sights.
The Indian street food restaurant, founded by barrister-turned-chef Nisha Katona, has been a staple of the Corn Exchange for almost a decade.
With its signature monkey logo plastered all over the walls, it's no great surprise that they're animal friendly here – but what we didn't expect was the staff to be such animal lovers.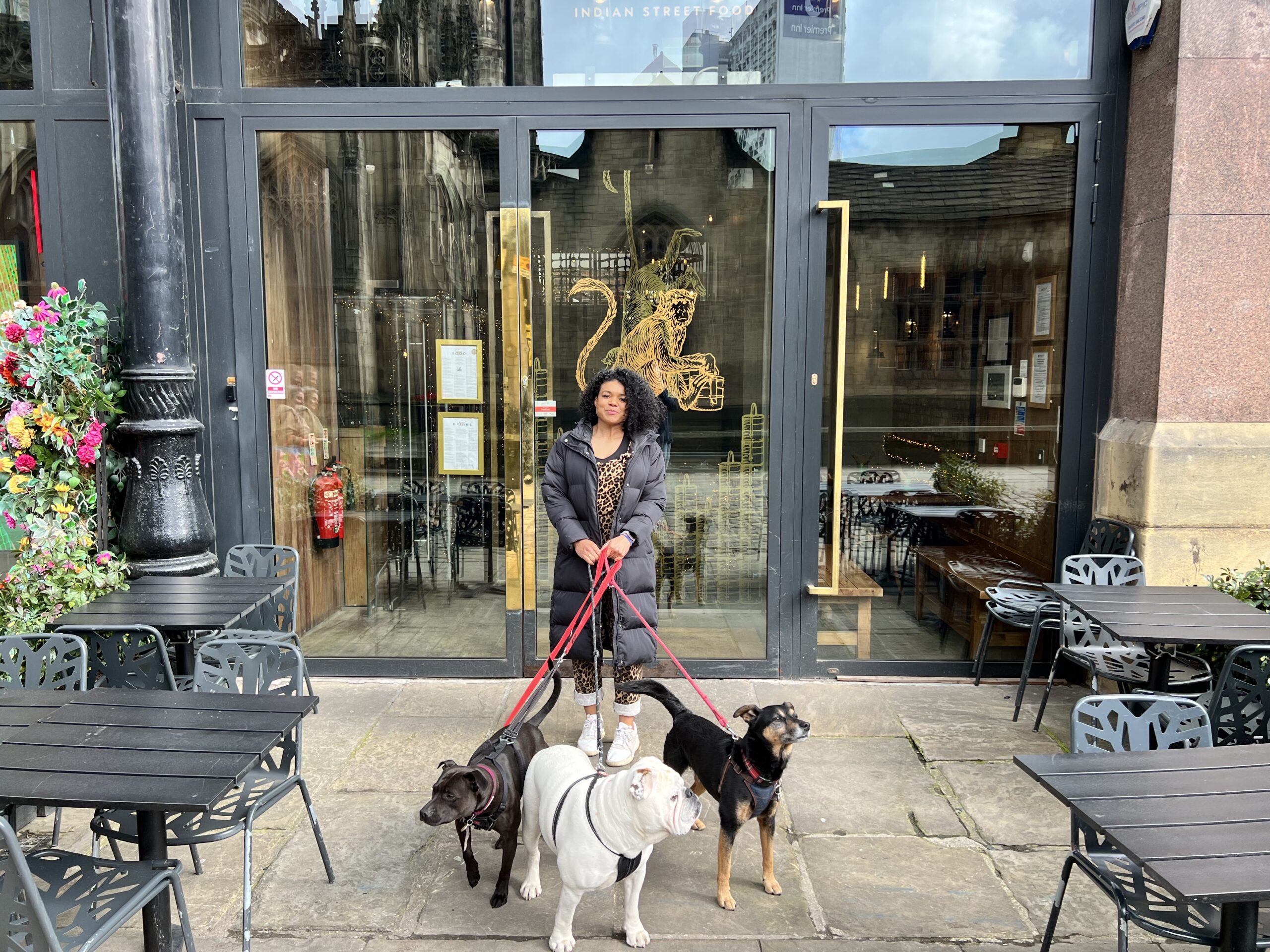 Bringing your pooch into Mowgli is a delightful way to spend a lunchtime. The restaurant is super accommodating for all guests, whether they have four legs or two.
Our unruly trio of hounds are given a bowl of water and a treat as soon as we arrive, and the staff barely blink an eye when the watchful eyes of a very hungry young Staffie stare at them every time another dish is brought over.
When one of our mutts climbs up on the restaurant's signature swing seats (then immediately panics about his choices), the staff again don't even flinch.
Their friendly approach means that both dogs and humans can relax and enjoy our lunchtime feast of chilli cheese toast, paneer curry, rhubarb dahl and perfectly puffed-up puri breads.
And if you don't fancy a curry, here are all the dog-friendly restaurants inside Manchester's Corn Exchange.
Banyan
This huge, colourful bar, famed for its crowd-pleasing menu and its cocktail happy hour, will welcome pooches.
Dogs are allowed in certain areas of the bar – just ask a member of the team for help and they'll steer you in the right direction, and give your four-legged friend a water bowl too.
The Cosy Club
Beloved Corn Exchange bar The Cosy Club is well-loved locally for its cosy interior, with oil paintings all over the walls and a balcony facing out over the atrium for prime people-watching.
Well-behaved dogs are welcome in the bar area, which is filled on a first-come first-served basis.
Croyaki Tea
This little business based in the Corn Exchange serves up a massive range of bubble teas, as well as Hong Kong sweet treats like Taiyaki (fish-shaped cakes with different fillings), bubble waffles, macarons, and milkshakes.
They're totally dog-friendly – the only rule is that they want to see photos of your pooch enjoying the cafe on Instagram.
Delhi House Cafe
The team at Delhi House Cafe are huge dog lovers, with their own pooch travelling from Delhi to create their home in Manchester.
The inventive Indian restaurant is totally open to you bringing your pet dog along with you.
Garten Bar
This space is part of Doner Haus, the Corn Exchange restaurant that serves authentic, top-quality kebabs, just like the ones you find in Berlin.
Well-behaved furry friends are welcomed to the Garten Bar, and also to the Doner Haus's outdoor seating area.
Mowgli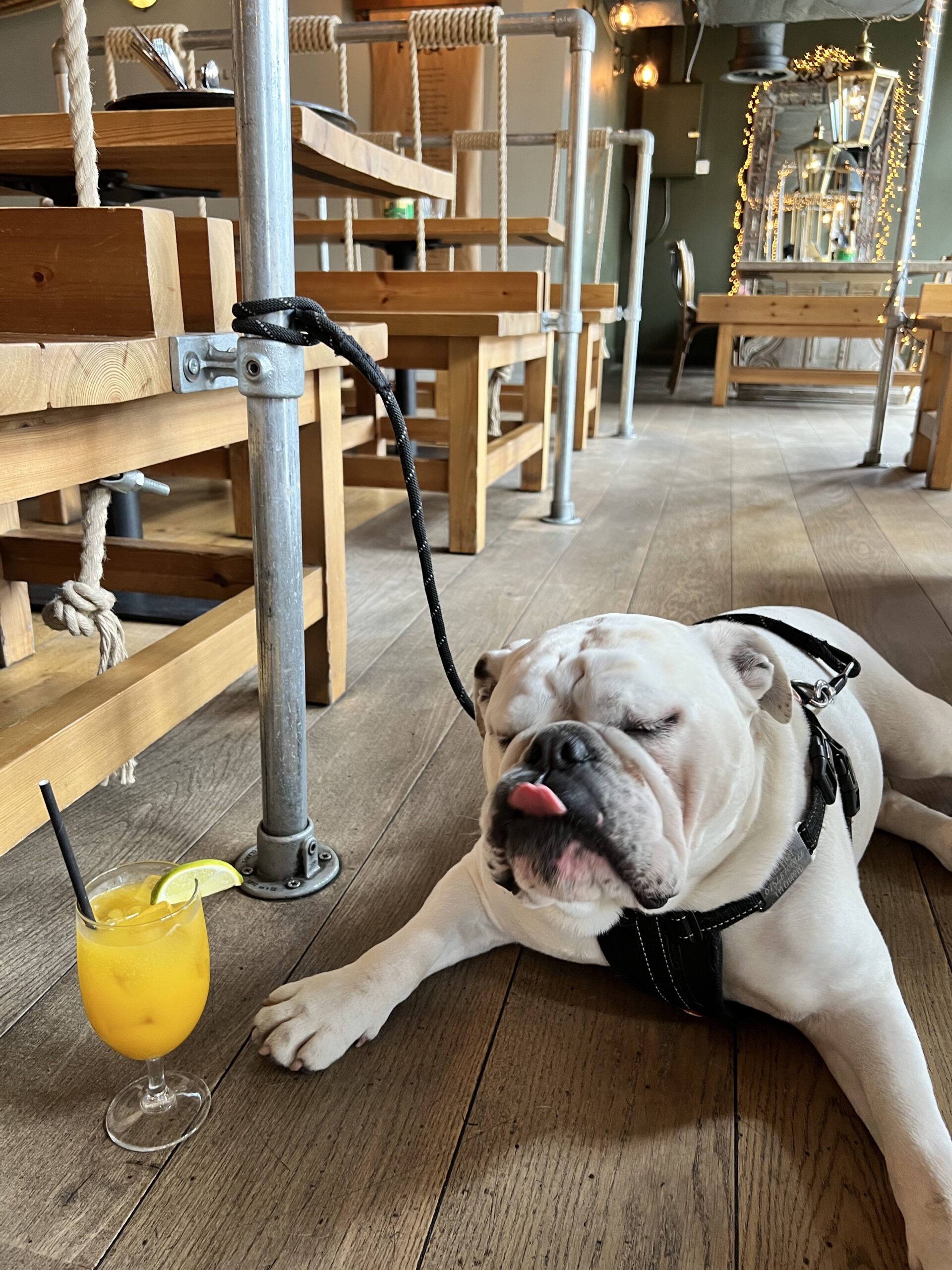 Indian restaurant Mowgli is so dedicated to dogs, they even have their own Mowgli Dog Show.
So yeah, you can bring your pet in here with you, while you chow down on their menu of grilled meats, vibrant curries, snacks and street food.
Pho
Big, steaming bowls of noodles, fresh salads, spicy stir-fries… and a dog under the table. Heaven.
Pho has a dog-friendly section in its restaurant, where it welcomes both well-behaved pooches and well-behaved adults.
Tampopo
This local institution, where you can eat your way around South East Asia with curries, noodles and stir-fries, welcomes all good dogs.
And if you ask the general manager inside, he'll tell you all about his own dogs too.
You can find out more at cornexchangemanchester.co.uk/dog-friendly.
Featured image: The Manc Group