Sponsored
Manchester United Women are on the verge of breaking two WSL records and you can help them smash both
They could make even more history under the lights at Theatre of Dreams.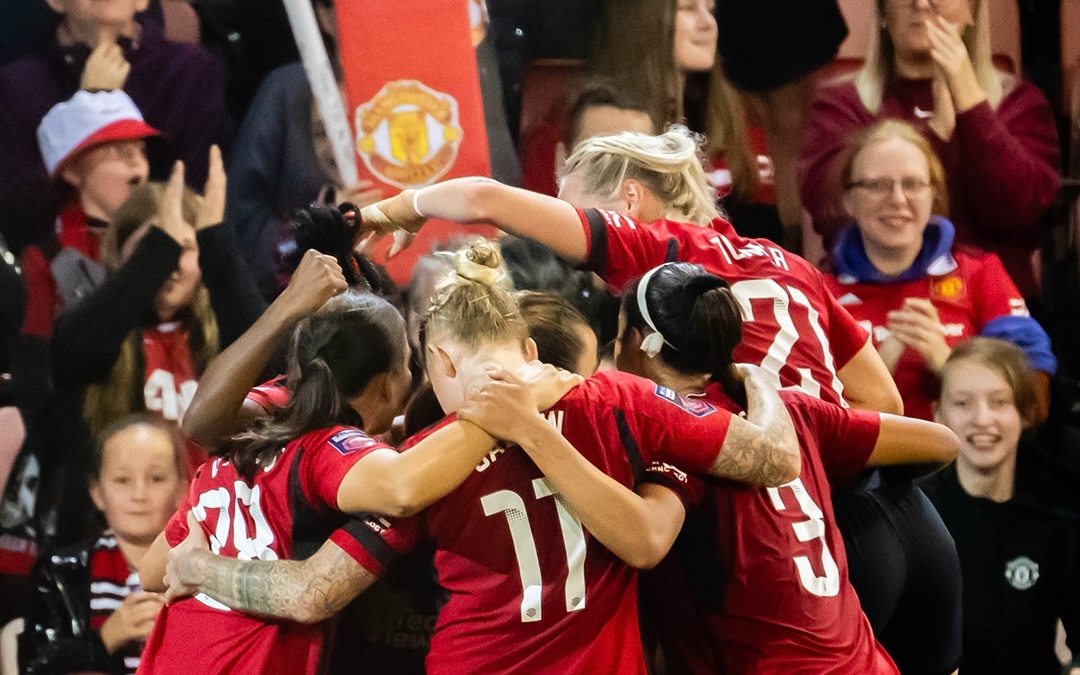 The first-ever Manchester Women's derby at Old Trafford is looming and as both United and City prepare for their biggest game of the season yet, they are staring down a pair of potential Women's Super League record breaks.
Not only are the women's derbies being held at both the Theatre of Dreams and the Etihad for the first time in history, but with over 40,000 tickets sold by the home team already, Manchester United Women could soon break not one but two WSL attendance records.
And you can help them over the line by buying a ticket HERE, with super affordable prices.
With Man City Women setting a club milestone earlier this year as 44,259 turned up to watch the Manchester derby at the Etihad back in May and the Red Devils having nearly reached that tally already, one final push could see them make derby day and league history.
As if that wasn't enough, with less than a week to go until the massive Manchester fixture and City's away support numbers still yet to be added on, it is very possible that they could beat the all-time best attendance record for a women's league game — and you can help them smash by simply going to watch one of the biggest Manc sporting events of the year.
While the confirmed numbers are already set to make this the largest crowd in the history of United Women's games, the WSL record for the highest attendance belongs to Arsenal, who saw 54,115 fans watch their home defeat against Liverpool this past October.
That being said, since there are not only points on the line but pride, office bragging rights come Monday and plenty more at stake for both teams this weekend — as is always the case with the Manchester derby — there is a very strong chance that the two teams could break that record too.
Let's not forget that Old Trafford still boasts a capacity of nearly 75,000, the largest of any football stadium in the UK, and there isn't another city in the country that does football better than Manchester.
Both Man United and Man City are at the forefront of what is truly a special moment for the women's game and sport in general right now, and you can be part of the story by getting your colours on for derby day.
Read more:
The Manchester Women's derby kicks off at 4:30pm this Sunday, 19 November at Old Trafford and no matter what the final attendance is, it's already going to be a historic day for both clubs.
The best part is, no matter how big both teams are getting, the tickets are still super affordable, with adult admission only £15 and those under 16s or over 65 able to come along for just £7.50.
You can grab yours HERE and we hope to see you there!
For all the latest news, events and goings on in Greater Manchester, subscribe to The Manc newsletter HERE.
Featured Images — Man United Women/Manchester City (via Instagram)